NCAA Tournament 2011: Missouri Vs. Cinncinnati Live Blog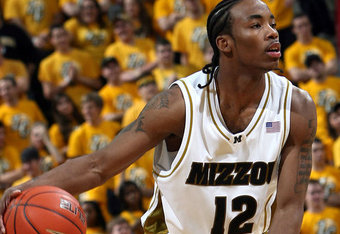 Hello everyone, my name is Andrew Kessel, budding sportswriter and college basketball enthusiast. I'll be blogging live updates of Mizzou vs. Cincinnati.
This should be an exciting game, as Missouri's "40 Minutes of Hell" style clashes with the physicality on the interior of the Bearcats.
While Mizzou has been to the tournament the last two seasons under Mike Anderson, Cincinnati is making its first appearance since 2005.
However, Mizzou has battled inconsistency issues all season and find themselves underdogs here against big man Yancy Gates and his squad.
This game could really go either way. If Cincy can dominate the interior and Gates can win the matchup with Mizzou's Ratliffe, they could win handily. On the other hand, if Mizzou can force the young guards into turnovers and get Gates into foul trouble, this could end up being a big win for the Tigers.
This one was pretty noneventful, so im going to sign-off. The 3rd ound match up between UConn and Cinncinnati will pit a gifted point gurard in Kemba Walker against a dominant post presence. Two red hot teams collide. Should be an exciting matchup. Thats all for tonight folks.
The Bearcats led by Yancy Gates turned in a dominant performence all night, dominating down low, and Missouri's defensive pressure was mediocre at best. Easy win for Cinncinnati.
And thats the buzzer. Final score 78-63 Bearcats. The 6th seended Cincy team advances to play 3rd seeded UConn
One minute to play, Cinncinnati has all but won it, leading 78-63
An update from another game, UCLA leads the surging Spartants 77-76 with 4 seconds to play.
Mizzou finally forces a turnover. Back-to-back buckets for Ratliffe
Dion Dixon stretches the lead to 74-55. This Cincy has only 10 turnovers against the Mizzou press. This one's about over, folks.
Pressey nearly forces the turnover, a lone bright spot for the Tigers
Gates has 18 points on 7-for-8 shooting. Thats dominance
Gates shows his range, drilling a three. Cincy has broke the lead open to 15. Mizzou may be out of time for any comeback.
Another inside bucket for Gates. The Missouri defenders simply cannot contain him.
Jumper for wright from the elbow. The lead is 12
Nifty put back layup for Bowers. Teams are trading baskets.
In other action UCLA is up on MSU 75-66
7:35 to play. 61-51 Bearcats.
Excellent sequence for the freshman Kreklow. Drilling the three then applying the perssure.
Sweeping layup across the lane for Bishup. 59-48 Cincy.
Gates headed to the line for Cincy.
Pressy is trying to do this all by himself it seems
Floater from "Flip" Pressy again cuts it to single digits
Cincy has a massive 30-12 points in the paint advantage
Pressy with the NBA range 3! Wow. Cincy now leads by only 8
Nice low post move from Gates. Mizzou has no answer for him in the paint. The lead is 13.
A threeball from Safford (his first points) cuts it to 10. Do i see a flicker of life?
Cinncinnati: 41% Missouri: 26% What a shooting disparity. Cincy looks to be in good shape to gold this lead
This article is
What is the duplicate article?
Why is this article offensive?
Where is this article plagiarized from?
Why is this article poorly edited?

Missouri Tigers Basketball: Like this team?