NFL Draft 2011: A Miami Dolphins Mock Draft Scenario, Rounds 1-3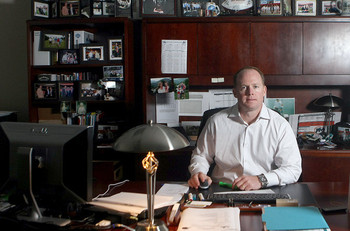 General Manager Jeff Ireland at work
I've seen some pretty interesting Miami Dolphins mock drafts over the web this off season, but the majority consensus has Miami taking Mark Ingram. I disagree. The drafts over the past three years under the watchful eye of Bill Parcells have been nothing short of unpredictable, and now that Jeff Ireland is at the helm, who's to say what draft strategy will be? Will Ireland follow the Parcells guidelines, or will he go for the flashy picks? I haven't the slightest clue what the front office will do, but here's a possibility I wouldn't mind seeing.
Round One: Trade Down with the Seattle Seahawks, Draft Pouncey at 25
An unlikely trade partner in some opinions, but think about it...The Seahawks have an aging, injury-prone starting QB in Matt Hasselbeck and a backup-at-best (my opinion) in Charlie Whitehurst. They shouldn't have won ANY division last season, and definitely have more needs than an actual division leader should. They've reportedly shown a lot of interest in inner-state QB Jake Locker, who may or may not fall to 25. Even if he wasn't on their radar, they could also use some serious defensive help.
Mathematically, the move pans out. According to the draft positions value chart, Miami's number 15 pick is worth 1,050 points. Seattle's first and second round picks, the 25th and 57th, are worth that amount. If Seattle sees a player they really want who is still around at 15, they could be trade partners with Miami. Does it seem like a fair trade for Seattle? Maybe not, but stranger things have happened on draft day.
With the 25th overall pick in the 2011 NFL draft, Miami should stick to the Parcells mold and take Mike Pouncey. Not a flashy pick, but practical and well worth a late first round pick. Pouncey would step in and play guard, not center in Miami. He has the potential to jump in and start immediately, and has the athleticism to pull that Miami so drastically missed this last season. Many will say he's not as good as his brother coming out of college. I would agree, but a the same time I feel he could be more than adequate at guard. The addition of one solid, young, lineman would boost our line. I'm one who believes Incognito can be an effective center based on his past experiences and limited time at center this last season.
Our line could be much better than 2010, and our lineup could look as such: Jake Long, Mike Pouncey, Richie Incognito, Garner/Jery, and Vernon Carey. Doesn't sound too terrible to me.
Round Two: Colin Kaepernick, Pick 57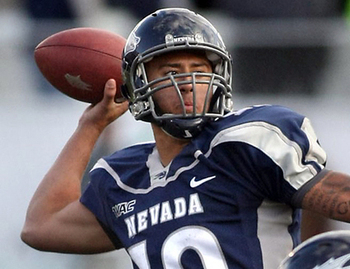 This pick is very subjective. I personally think Miami should continue the round two trend of snagging a quarterback. They've got to make a hit sometime, right? I only think they should make a move here if a good tier-two QB remains on the board. I personally think Mallett deserves to be off the board here, but if he happens to free-fall such as others in the past, Miami shouldn't think twice about picking him up. Some big boards have him ranked lower than the likes of Christian Ponder and Colin Kaepernick. I, however, see Miami's chances of picking up Ponder or Kaepernick more likely, specifically Kaepernick.
For this pick, I'm going with Kaepernick. Ponder seems to be rising too much in a lot of people's rankings, and as I stated previously, I don't think Mallett will fall all the way to 57, let alone out of the first round. As sited by multiple sources, Miami is big on Kaepernick, and they recently set up an interview and workout with him. Some will throw all the negativity in the world at this pick. Some compare him to Pat White and others just think this is an Ireland "smokescreen." I personally think Kaepernick has much more upside than Pat White and is in the actual mold of a QB, whereas White was always questionable in my eyes. The addition of Kaepernick and a possible free agent (CBA permitting) would make for an interesting QB competition (once again, CBA permitting).
Round Three: Edmund Gates, Pick 79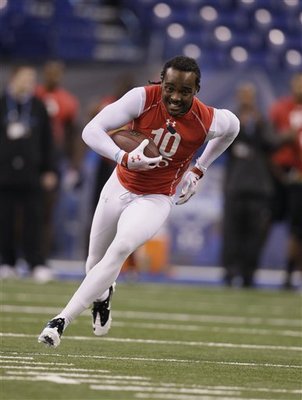 I believe a burning Wide Receiver is more important than a Running Back this early in the draft. Jerrel Jernigan may still be available here, and he seems like a more complete receiver at this point, but he just doesn't seem that fast to me on tape. He ran an official 4.43 second 40-yard dash at the combine, but I'm still just not that impressed.
Edmund Gates is a burner, plain and simple. He has 4.37 speed, and the ability to stretch the field and open things up underneath for Marshall and Bess, and he could also prove to be a solid return man. Like many of the later round receiver prospects, he's not the most polished of receivers, but is capable of being the deep route guy this offense desperately needs. Can you imagine having a speedster running a Randy Moss-like route tree while taking double coverages off the likes of Marshall and Bess? Its an awesome thought.
Summary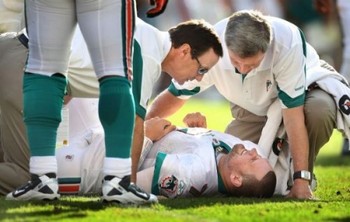 Offensive woes plagued this team in 2010, and I think the front office will do to offense as they did to defense last season, and draft offense-heavy. As stated previously in this article, this is very subjective and I would love to hear your opinions. Each player, In my opinion, has tremendous upside, and at least two of them have the capability to start right away. Pouncey and Gates could both provide offensive help immediately, whereas Kaepernick has the drive and athletic ability to push Henne for the starting job. With the right offensive game plan, he could play right away. But what do YOU think?
Keep Reading

Miami Dolphins: Like this team?