NCAA Tournament Live Blog: No.15 Northern Colorado vs. No. 2 San Diego State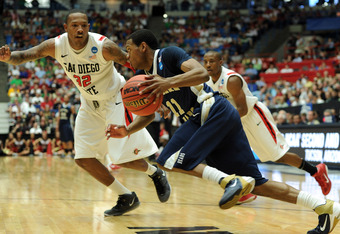 Harry How/Getty Images
Good afternoon, college basketball fanatics and welcome to another year of exciting March Madness basketball.
My name is Jay Brown and I'm a Featured Columnist here at Bleacher Report. I will be with you this afternoon providing play-by-play action and analysis of the No. 15 Northern Colorado Bears vs. No. 2 San Diego State Aztecs.
The San Diego State Aztecs are coming off their best season in school history, with a second consecutive Mountain West Conference title, and a second straight NCAA tournament berth. The Aztecs will be looking to notch their first win in NCAA tournament play having been bounced from the first round last year again Tennessee.
San Diego State will need to continue playing with the same intensity that fans saw when the Aztecs took down BYU in the Mountain West Conference finals.
The Northern Colorado Bears, who are in their first trip to the NCAA tournament in school history, earned their automatic bid to the NCAA tournament by winning the Big Sky Conference. The Bears will be looking to upset the Aztecs and continue their hopes of a National Championship.
Stick around and enjoy the action from first tip to final buzzer.
Once again, final score San Diego State 68 - Northern Colorado 50. So long everyone, and enjoy the rest of March Madness.
I hope you all will join me on Saturday, when No. 7 Temple will take on No. 2 San Diego State in the third round. Winner gets a trip to the Sweet Sixteen.
Thank you everyone for following along during this afternoon's action between No. 15 Northern Colorado and No. 2 San Diego State.
It will be intersting to see how San Diego State coach Steve Fisher prepares for what could be a tough game against a good Temple Owls team. I'm not the only one who favors a win over Temple, according to President of the United States Barack Obama's bracket, he has the Aztecs beating the Owls and advancing to the Sweet Sixteen. I hope he's right with the choice.
TOURNAMENT UPDATE - The Spiders bite the Commodores! No. 12 Richmond upsets No.5 Vanderbilt, 69-66.
Kawhi Leonard was the top performer for San Diego State once again. Collecting another double-double this season. Leonard had 21 points, 11 rebounds, 2 assists, and 1 block.
While this wasn't the Aztecs best game, they did come out on top with the help of their bench. James Rahon was 4 of 7 from the field and 2 of 3 from beyond the arch for 12 points. A Rahon 3-pointer started an Aztec 13-0 in the middle of the second half.
The No. 2 San Diego State Aztecs defeat the No. 15 Northern Colorado Bears, 68-50. The Aztecs will move on to the third round and face the No. 7 Temple Owls on Saturday.
For the first time in school history, the San Diego State Aztecs will win an NCAA Tournament game!
Less than a minute to go, and the Aztecs are leading 68-50.
Billy White with another two to extend the Aztecs lead to 16. James Rahon with a steal.
James Rahon with another two, he has been a big help off the bench.
TOURNAMENT UPDATE - No.12 Richmond is poised to upset No. 5 Vanderbilt.
Really San Diego State!?!? 10-second violation? Cmon boys you know better than that!
Beitzel knocks down all three free throw attempts. 60-46 San Diego State.
Beitzel fouled beyond the arch, will shoot three.
Devon Beitzel with another three! This kid is starting to look like Jimmer Fredette.
Tapley hits his free throw and gives San Diego State their biggest lead of the game, 18 points.
Chase Tapley, with two on one coverage gets the basket and one!
Chris Kaba goes 1 for 2 on his free throws. The Bears need to put up points if they have any chase of upsetting San Diego State.
Foul on Chase Tapley, Northern Colorado to shoot two.
Is it just me, or are there too many darn television timeouts during college basketball games. I know the NCAA needs the advertising revune, but gee whiz. I just want to watch basketball, not commercials!
Northern Colorado scores two, then a bad pass by Billy White give the Bears another two points.
The flood gates have now opened and the Bears are starting to find themselves on their heels instead of their toes.
Timeout - Northern Colorado, after 13-0 run but San Diego State.
This article is
What is the duplicate article?
Why is this article offensive?
Where is this article plagiarized from?
Why is this article poorly edited?