NCAA Tournament 2011: The Best Mid-Major Players in the Tournament
Dave Martin/Getty Images
The NCAA tournament is officially underway and the mid-major schools are fighting for a chance to become the next Cinderella team in basketball.
Most of a team's success rests on the top players from each school and this list will break down the top players to watch as the tournament progresses.
Here are the best players from the top mid-major schools starting with Old Dominion...
Old Dominion: Frank Hassell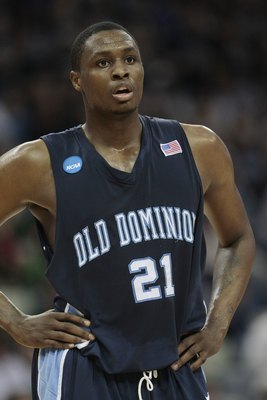 Dave Martin/Getty Images
Frank Hassell is a senior at Old Dominion and is making his presence felt more in his final season than he ever has before. Standing at 6'9", Hassell leads the team in scoring with 15 points per game and is also a consistent force on the defensive end.
Hassell has averaged nearly 10 rebounds a game this season and has 43 blocked shots.
Morehead State: Demonte Harper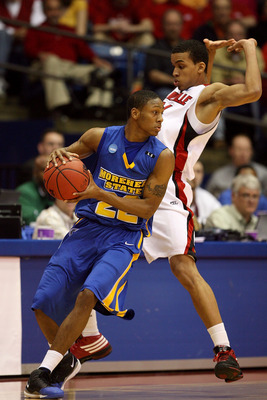 Andy Lyons/Getty Images
Morehead State always seems to be in the mix of things around NCAA tournament time and Demonte Harper has been a big reason why over the last four years.
Harper leads the team with 16 points per game this season and 3.4 assists. His best game of the season came against Austin Peay on Dec. 21 as he scored 34 points and collected four rebounds.
Richmond: Kevin Anderson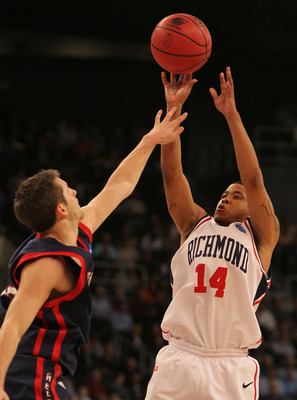 Jim Rogash/Getty Images
The Richmond Spiders may not only have the best team name in the entire NCAA tournament but they also have a pretty good point guard in Kevin Anderson.
Anderson has led Richmond in minutes played every season for the past four years and has become nearly automatic behind the three-point line.
Anderson has drained 67 three-pointers this season and leads the team with 16.5 points per game.
Wofford: Cameron Rundles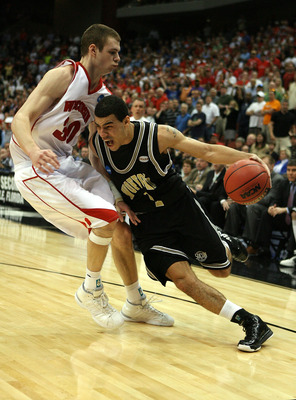 Doug Benc/Getty Images
Cameron Rundles has only spent two years with Wofford after he transferred from Montana after the 2008-09 season.
Rundles has put up good numbers on the floor but has become more of a vocal leader as the senior. He's said to be one of the most excitable members of the team and is always outspoken.
Even though Rundles leads the team in scoring, his ability goes beyond the offensive side of the ball as he is always strong with his defensive pressure and has collected 39 steals on the season.
Oakland: Keith Benson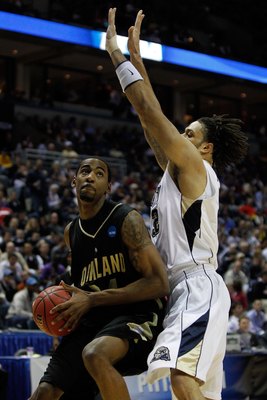 Jonathan Daniel/Getty Images
Keith Benson has been a force for Oakland this season as he leads the team in both points per game and rebounding.
Benson's 10 rebounds per game were among the top in the entire Summit Conference and were a big reason why the Golden Grizzlies finished 17-1 in conference play.
UT-San Antonio: Devin Gibson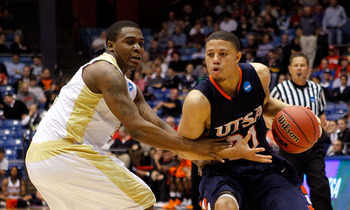 Gregory Shamus/Getty Images
Devin Gibson is leading the Roadrunners in scoring per game and defensive rebounding.
UT-San Antonio slipped into the NCAA tournament. The Roadrunners did not have a great record during the 2010-2011 season as they only went 9-7 in the Southland Conference.
The team did manage to go 20-13 over the course of the entire season as Gibson scored over 20 points in a game on 10 separate occasions.
Princeton: Kareem Maddox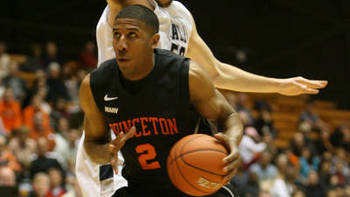 Image from GoPrincetonTigers.com
The Princeton Tigers have progressively gotten better over the last few years and have finally broken down the wall by getting into the NCAA tournament in 2011.
Kareem Maddox is a big part of Priceton's success as the senior has averaged a team-best 13.0 points per game and slightly less than eight rebounds.
Helping his teammates is also a big part of Maddox's game; he is among team leaders in assists and second-chance points.
Belmont: Ian Clark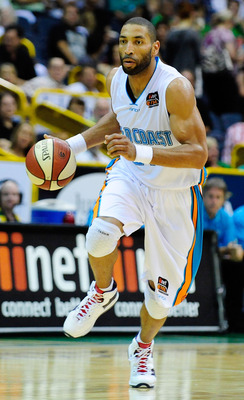 Ian Hitchcock/Getty Images
Ian Clark is only a sophomore on the Belmont Bruins but he has already made an impact that will not be soon forgotten.
Clark has carried the team in points as Belmont has made the NCAA tournament for the second time in the last five seasons.
Clark's numbers slightly decreased from his impressive freshman season but things seem to be looking up for the young Bruin as he scored double figures in nine of his last 10 games.
Who Did We Forget?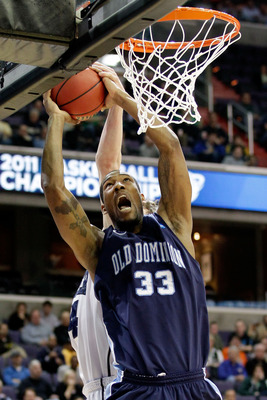 Rob Carr/Getty Images
There are many good players left in the mid-majors of the NCAA tournament.
Leave a comment below and tell everyone who you think should be on this list.
Keep Reading