2011 NFL Mock Draft: Picks and Predictions for First 3 Rounds of the NFL Draft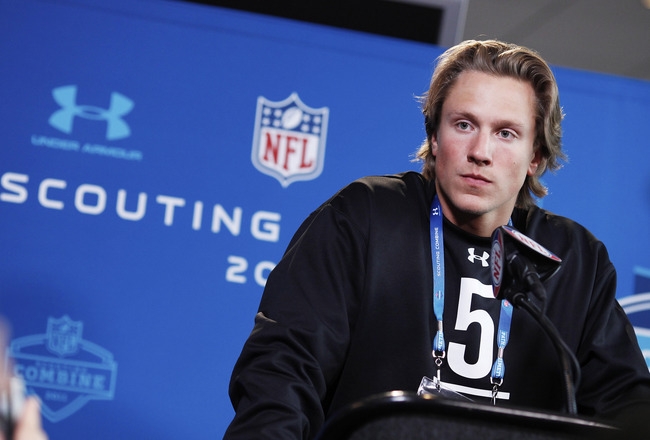 Joe Robbins/Getty Images
We are back with another NFL Mock Draft. The big boys at ESPN and NFL.com all put out new mocks this week, so it is time to update my three-round mock.
There are a few changes at the top with a handful of other changes down the board as I account for players who have risen or fallen based on all the reporting.
Blaine Gabbert is still a top 10 pick, but he is not No. 1. I am sticking with my belief that the Steelers will take Mike Pouncey, and they will trade up to get him one way or the other. While I'll keep the pick at No. 31, it is the only trade I am going to predict.
So will a quarterback go No. 1 overall?
You can find out by entering the draft room...
1. Carolina Panthers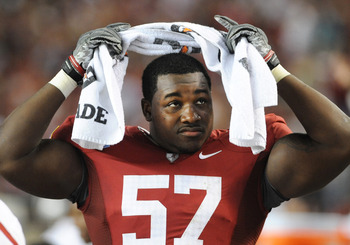 Al Messerschmidt/Getty Images
Marcell Dareus, DT Alabama
Yes, I've been swayed by Todd McShay. I had mocked Nick Fairley here previously because I still believe the Panthers will go with a defensive tackle before a quarterback, but Dareus is just the better prospect once you break everything down.
Dareus really made a mark at the NFL ScoutingCombine, and while I believe the combine should not be used as the primary factor in how you make your selections, Dareus backs up his combine performance with game film. When you compare Fairley and Dareus on film and then look at the combine, Dareus wins both battles.
The Panthers need a new quarterback because I believe Jimmy Clausen is a bust, but I do not believe there is enough support in the organization to pull the trigger on Blaine Gabbert or Cam Newton.
2. Denver Broncos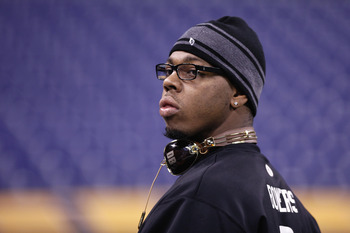 Joe Robbins/Getty Images
Da'Quan Bowers, DE Clemson
Da'Quan Bowers is recovering from knee surgery so he did not participate fully in the combine. This is one of those cases where it does not matter.
The combine is useful but what Bowers showed on the field during a game is more important than how he performs in shorts running between the cones.
With Champ Bailey signed, Bowers becomes the best fit for the Broncos at this pick. There are some who still think Patrick Peterson could go here, and their arguments are valid. I still think they will take Bowers, who is the best defensive end in the draft.
3. Buffalo Bills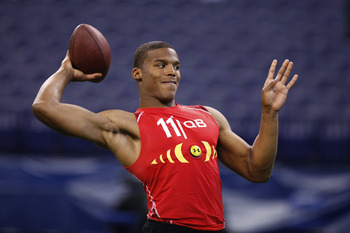 Joe Robbins/Getty Images
Cam Newton, QB Auburn
The Buffalo Bills will be sitting in the draft room drooling in anticipation of their pick once the Panthers pass on Cam Newton.
As long as Newton is on the board, this is the pick the Bills make. It is a very good move. Ryan Fitzpatrick can start in 2011 while Newton develops. This may not be the best situation for Fitzpatrick, but if he plays well, he either creates a quarterback controversy or a market for his services in 2012.
Bills general manager Buddy Nix has stated he wants a quarterback out of this draft, so with Newton on the board, I believe he makes this pick.
4. Cincinnati Bengals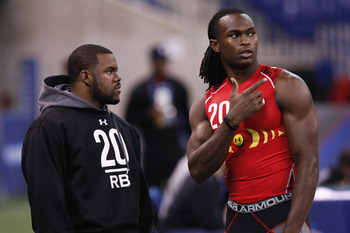 Joe Robbins/Getty Images
Julio Jones, WR Alabama
No one had a better combine than Julio Jones. Jones went from the consensus No. 2 wide receiver in the draft to a possible top-five pick by just being the fastest guy on the field. The big argument now is whether you should take him over A.J. Green.
Jones still will have the stigma of having inconsistent hands, but his breakaway speed and leaping ability were confirmed by his combine drills.
The Bengals do not do many things well when it comes to their front office. A.J. Green still is the most consistent wide receiver in the draft but the Bengals seem like the kind of team that will be seduced by Jones' combine performance and select him over Green.
Selecting Jones is not necessarily a bad pick, it just may not be the best pick at this slot.
5. Arizona Cardinals
Joe Robbins/Getty Images
Von Miller, OLB Texas A&M
The Cardinals are going to go with a veteran at quarterback in 2011. John Skelton still has a lot of development to go through and he already has a year in the system, so there really is no point in drafting another project rookie and starting from scratch.
With Marcell Dareus moving up in the eyes of many scouts, this leaves Von Miller as the best defensive prospect on the board.
The Cardinals have so many holes on their defense, and they will take the best player available. Picking Quinn still is a good option, but if Miller is on the board, his combination of size and speed will give the Cardinals a much more respectable defense in 2011.
6. Cleveland Browns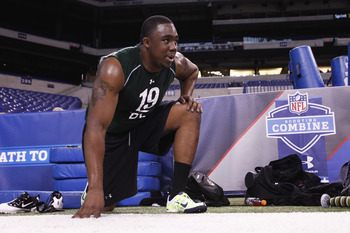 Joe Robbins/Getty Images
Nick Fairley, DT Auburn
The Browns need a wide receiver and A.J. Green still is on the board. Mike Holmgren said he wanted to get a "home-run hitter" out of this draft on offense.
So why have I mocked Nick Fairley here?
Because the Browns have to completely rebuild their defense from scratch. Even with the temptation of Green, the Browns can afford to wait until the second round to get a wide receiver while a talent like Fairley will not be available in the second round.
The Browns defensive line needs to get younger and faster, and Fairley plays with the kind of edge that will serve him well in the AFC North. He is the kind of guy who will not be intimidated by the Steelers or Ravens and the Browns will call his name if this scenario unfolds.
7. San Francisco 49ers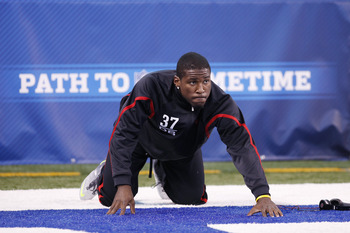 Joe Robbins/Getty Images
Patrick Peterson, CB LSU
What one signing does to a draft prospect's position in the first round can be amazing. With Champ Bailey signed, Peterson no longer is a major consideration with the second pick, and the Browns will turn to their line to beef up before the corners this year.
So the 49ers, which need a cornerback, will be elated to still see Peterson on the board here. The 49ers will pass on Blaine Gabbert because his accuracy may not be a good enough fit for the West Coast offense Jim Harbaugh wants to put in.
They can address the quarterback situation in the second round if they haven't already decided to do it through free agency or a trade.
8. Tennessee Titans
Joe Robbins/Getty Images
Blaine Gabbert, QB Missouri
The Titans still seem to be moving on without Vince Young. This is a good thing because Young is a headcase who will never win a Super Bowl. He doesn't have what it takes between the ears to be a truly elite quarterback in the NFL.
Blaine Gabbert showed at the combine he is an elite athlete, but he opted out of participating in the throwing drills. This is a good thing because Gabbert has had accuracy issues and throwing to unfamiliar wide receivers is not the best way to erase those issues from the minds of scouts and GMs.
The Titans are not going to go into the 2011 season with a new coach and an aging QB in Kerry Collins. Gabbert is the man, and the Titans hope they can rebuild around Gabbert quickly.
9. Dallas Cowboys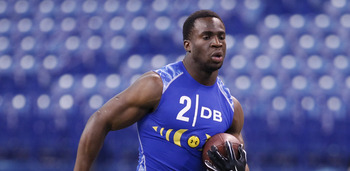 Joe Robbins/Getty Images
Prince Amukamara, CB Nebraska
The play of Mike Jenkins at corner in 2010 should have been criminalized. Jenkins looked like he either gave up, or just didn't understand what his role on the field was supposed to be. Either way, Jenkins should never be allowed to play professional football again.
With Amukamara on the board, the Cowboys get a good player and fill a need. Even with that in mind, don't be surprised if the Cowboys try and trade down out of this pick.
10. Washington Redskins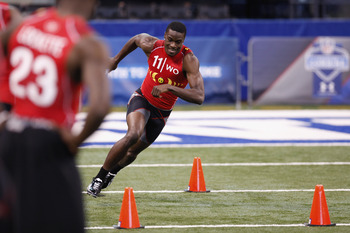 Joe Robbins/Getty Images
A.J. Green, WR Georgia
A.J. Green drops to tenth in this draft, but he will not fall past the Redskins, who need a wide receiver, among other things.
With Gabbert and Newton off the board, the Redskins will wait and see who is available in the second round before drafting a quarterback.
Green is a great value at this pick, and the Redskins will be very pleased with how the first round unfolded for them.
11. Houston Texans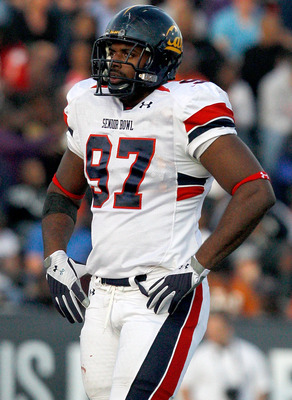 Sean Gardner/Getty Images
Cameron Jordan, DE California
The Texans can hit one of several spots on their defensive line and not go wrong, but Cameron Jordan makes a lot of sense with the 11th pick.
His stock is rising and he won't be available later. The Texans add a great pass rusher, and with Marcell Dareus and Nick Fairley off the board, they'll wait to add a defensive tackle later in the draft.
12. Minnesota Vikings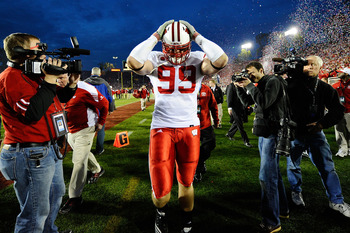 Kevork Djansezian/Getty Images
J.J. Watt, DE Wisconsin
The Vikings want a quarterback, but unless they trade up for Newton or Gabbert, they'll wait until the second round or trade back up into the bottom of the first round to take a quarterback.
Jake Locker has shown accuracy issues that could keep him from being drafted high. Ryan Mallett doesn't look like he has it between the ears to be a starting quarterback in the NFL, and the rest of the quarterback prospects are reaches at this point.
J.J. Watt has flown up draft boards and fills a need for the Vikings. This is a bit of a tougher decision now with Robert Quinn on the board, but I think the Vikings go with Watt.
13. Detroit Lions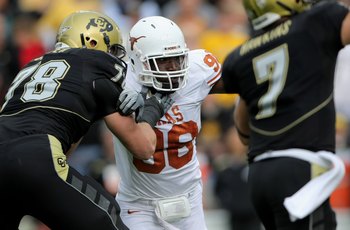 Doug Pensinger/Getty Images
Nate Solder, OT Colorado
The Lions have lost their franchise quarterback to injury the last two years, so protecting Matthew Stafford has to be the No. 1 priority going into this draft.
Nate Solder is a Hill Giant and will not fall past Detroit. Solder's job will be to keep Stafford's jersey clean and his arm healthy. The Lions will be all over Solder on draft day, and they hope to be drafting much lower in 2012 as a result.
14. St. Louis Rams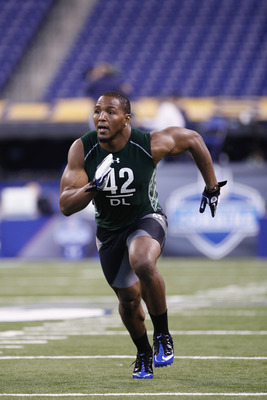 Joe Robbins/Getty Images
Robert Quinn, DE North Carolina
Robert Quinn becomes the first big story of the first round as he drops out of the top 10. While his combine performance was not bad, it did not live up to the expectations of the scouts, and the year off will work against him.
The Rams wanted a wide receiver with this pick, but both Julio Jones and A.J. Green are off the board now. So the Rams will have to wait until the second round to find a new wide receiver for Sam Bradford to throw to.
Quinn still can rise back up into the top 10, but for now I am making the bold prediction he falls to No. 14.
15. Miami Dolphins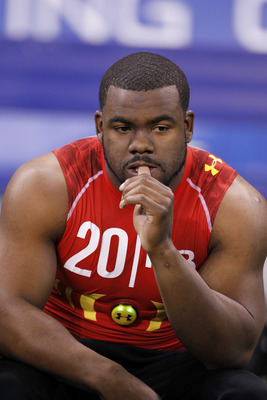 Joe Robbins/Getty Images
Mark Ingram, RB Alabama
The Dolphins need a quarterback, but Mark Ingram is a much better value pick at this position.
The draft bust record of running backs in the first round is a lot better than the quarterbacks. The Dolphins can try and get one of the several quarterbacks on the market in the NFL and take a running back here. This will hopefully solve the Dolphins' running game issues going into 2011.
The Dolphins do not have a second-round pick this year, so they have to get the first-round pick right. Ingram is a very safe pick who can be very productive for the Dolphins this year provided he is not misused by the Dolphins coaching staff.
16. Jacksonville Jaguars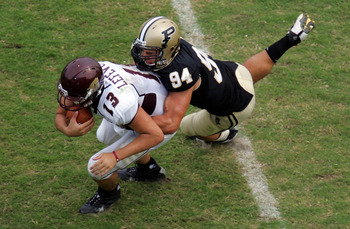 Ronald Martinez/Getty Images
Ryan Kerrigan, DE Purdue
There is an argument over whether the Jaguars will take Ryan Kerrigan or Aldon Smith with this pick. I think it will be Kerrigan. Kerrigan is a three-year starter and he is smart.
The Jaguars have to have a good pass rush to compete against Peyton Manning in the AFC South. This is the Jaguars' biggest need this offseason, and it is best filled through the draft.
Head coach Jack Del Rio has been told he has to make the playoffs in 2011 or his job is in jeopardy. The Colts are vulnerable, and with Kerrigan coming at them twice a year, the Jaguars could get over the hump and into the playoffs.
17. New England Patriots (Via Oakland)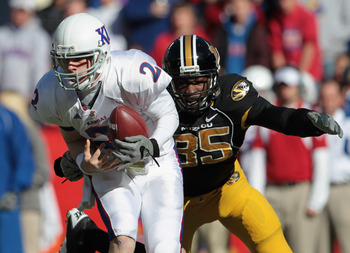 Jamie Squire/Getty Images
Aldon Smith, DE Missouri
Given the depth of talent in the pass rushing area, Bill Belichick will address the pass rush first (assuming he doesn't trade down here). The Patriots could address the offensive line or the need for a deep receiving threat here, but with one more pick in the first round, they'll go with the best pass rusher first.
Aldon Smith is projected as an elite pass rusher, and Belichick will jump all over him at this pick. The Patriots need an upgrade at rush, and Smith is catching a lot of people's attention. Belichick thrives on finding those guys other teams pass on, and Smith will be a great addition to the Patriots defense.
Smith is a versatile player who can fill multiple roles, which is exactly the kind of player Belichick looks for.
18. San Diego Chargers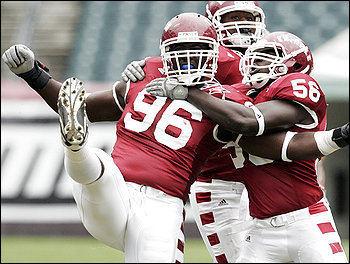 Muhammad Wilkerson, DE Temple
Muhammad Wilkerson is a prospect that flew under the radar most of the season, but has been getting more and more notice as the pre-draft evaluations swing into full gear and more people see his game tape.
The Chargers need to re-energize their defense, and Wilkerson is big enough and athletic enough to get the job done.
19. New York Giants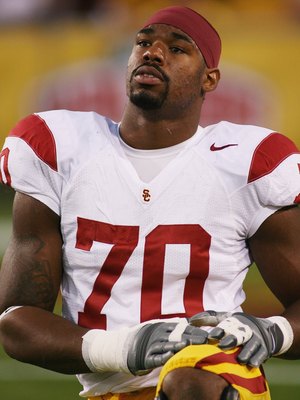 Jeff Golden/Getty Images
Tyron Smith, OT USC
For those wondering, I think the Steelers trade up to No. 18 to take Mike Pouncey to avoid the chance of the Giants drafting him.
With that in mind, even if the Steelers do not trade up, with Tyron Smith still on the board, I think the Giants would choose Smith over Pouncey.
Smith is a big guy who weighed in at 307 at the Combine. Scouts note he has tremendous talent and should be a first-year starter.
20. Tampa Bay Buccaneers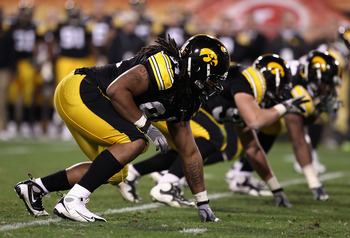 Christian Petersen/Getty Images
Adrian Clayborn, DE Iowa
With Akeem Ayers, Ryan Kerrigan and Aldon Smith off the Board, Adrian Clayborn becomes the target of the Buccaneers.
The Bucs had no pass rush against the Falcons at the end of the season, and they're not going to go far in the NFC South against the Falcons and Saints if they can't get to the quarterback. The Bucs saw all their flaws exposed down the stretch, so this is their best opportunity to plug those holes.
With Matt Ryan and Drew Brees in the division, it's the same problem the Jags and the Texans face. If you have dominant quarterbacks in your division, you have to build a defense that can put pressure on the quarterbacks and take them out of their game.
Clayborn showed great speed and agility at the Combine, which will serve to keep him in the first round on draft day.
21. Kansas City Chiefs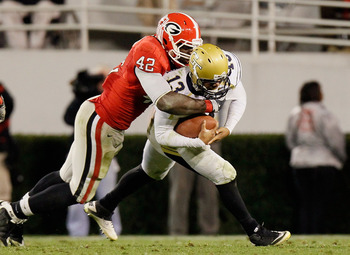 Kevin C. Cox/Getty Images
Justin Houston, DE Georgia
The Kansas City Chiefs went from drafting ahead of the Cleveland Browns in 2010 to the playoffs. The Chiefs opened a lot of eyes in 2010, but they did have a relatively easy schedule.
The Broncos and Chargers were competing against each other to see who could torpedo their season faster and the Raiders just are not a playoff team yet. So the Chiefs had enough talent and enough good coaches on the sideline to bring the 2010 season together.
In 2011 Justin Houston gives the Chiefs a great option in their pass-rushing schemes and is one of the best players available. The Chiefs could go to other positions on the defensive line, but I'm going with Houston at the moment.
22. Indianapolis Colts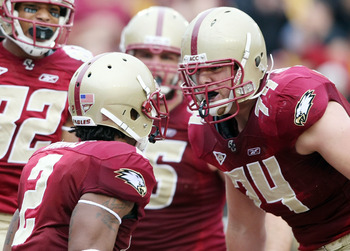 Elsa/Getty Images
Anthony Castonzo, OT Boston College
The Indianapolis Colts did not do a good job of protecting Peyton Manning in 2010. They need to do a better job of it in 2011.
Manning will sign a huge new contract at some point before the 2011 season starts, and he isn't getting any younger. Manning has been very resistant to injury throughout his career, but how long can that last? Brett Favre really wasn't a victim of the injury bug until he passed the age of 40, but you can't just say Manning will be the same way.
Colts fans hope he'll be as healthy as ever, but a lot of that depends on protection. The Colts changed up the offensive line last year and it didn't work, so it's back to the drawing board and the Colts will welcome Anthony Castonzo into the fold.
23. Philadelphia Eagles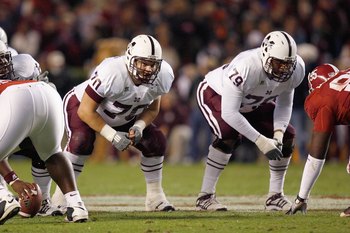 Kevin C. Cox/Getty Images
Derek Sherrod, OT Mississippi State
The Eagles will be putting the franchise in the hands of Michael Vick, who will be signing a fat new contract at some point. He will get this huge contract despite being injured twice during the course of the 2010 season. That is just how good Vick is, and it shows why the Eagles have to do everything they can to protect Vick in 2011.
Enter Derek Sherrod. Sherrod is the kind of raw offensive line talent Andy Reid can plug right in and have him start in Week 1. Sherrod is big and athletic and should be able to make the transition to the pros in short order.
The Eagles gave up 52 sacks last year, so Sherrod's job will be to reduce that number significantly.
24. New Orleans Saints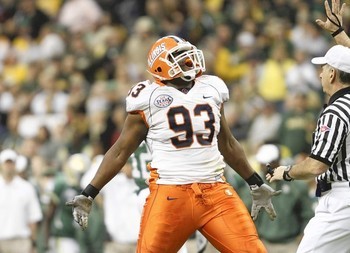 Corey Liuget, DT Illinois
The Saints need to acquire better run defenders, which was made quite obvious by Marshawn Lynch in the playoffs. The Saints have to shore up their line, and Corey Liuget becomes a steal at this pick.
Liuget also is a good pass rusher, so the Saints get double the value out of this pick. Liuget has great hands and can beat blockers who are a step too slow. Liuget is big and strong and will be a great addition to the Saints line.
25. Seattle Seahawks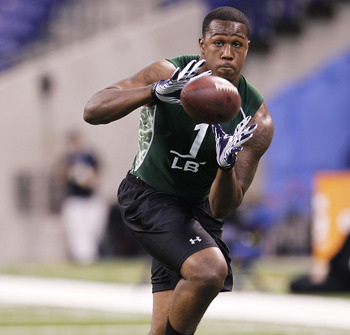 Joe Robbins/Getty Images
Akeem Ayers, OLB UCLA
The Seahawks can go in plenty of directions with this pick, even quarterback. Todd McShay just mocked Jake Locker here, but I do not think that will happen.
If Locker goes in the first round, it will be because one team decides to trade back up into the end of the first round to get him.
Ayers had a good year but only a so-so Combine. In my book, you go with the game tape, so Ayers stays in the first round and becomes a steal for the Seahawks here.
Ayers is a great player who manages to be in almost every play and he can get to the quarterback.
26. Baltimore Ravens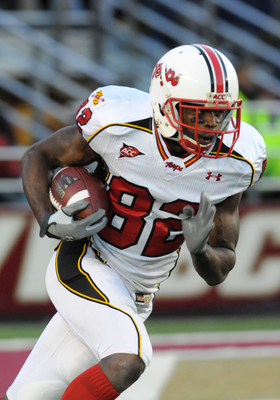 Torrey Smith, WR Maryland
The Baltimore Ravens have a lot of ways they can go with this pick, but going with a wide receiver is the best move they can make at this point. Torrey Smith will help stretch the defenses in 2011.
Joe Flacco just didn't have a legitimate enough wide receiver downfield to keep defenses like the Steelers from creeping up on him. The Ravens also need a new center to replace the aging Matt Birk, who will be 35 years old when the 2011 season begins. But everyone has said that for the last two years, so don't hold your breath.
If the Ravens take a center, I'm now convinced they won't do it any earlier than the third round.
Jonathan Baldwin previously was mocked here, but his Pro Day showed he has no burst off of the line and he is just is not worth a No. 1 pick.
27. Atlanta Falcons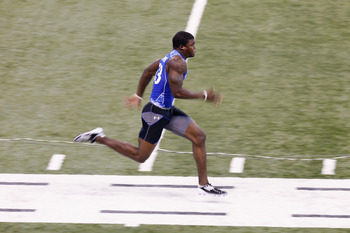 Joe Robbins/Getty Images
Aaron Williams, CB Texas
The Atlanta Falcons have a big choice in front of them on draft day. Roddy White is the only big threat they have at wide receiver, but they need another corner as well.
This is a coin toss and I'm choosing pass rusher. There are a lot of good wide receivers between this pick and when they come up again, but the quality of the cornerbacks is going to start really dropping after the top of the second round, so they take Aaron Williams.
Williams automatically is better than most of the corners on the Falcons roster, and it will give them a better chance against Drew Brees and other big quarterbacks in the league.
28. New England Patriots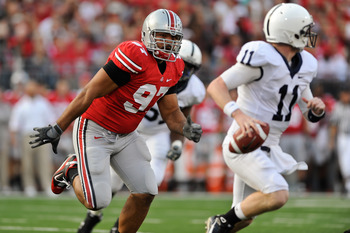 Jamie Sabau/Getty Images
Cameron Heyward, DE Ohio State
The Patriots have two picks in each of the first three rounds, so how they spend them is a matter of some debate.
In addition to having to improve the pass rush, the Patriots could use a downfield threat at wide receiver and some upgrades on the offensive line.
With this pick, Bill Belichick continues to improve his team's pass rush as the offensive linemen he most likely will target in the first round are off the board and he can draft a good wide receiver with the first pick in the second round.
With Cameron Heyward still on the board, the decision becomes easy and now the Patriots will be poised to have the best pass rushing unit in the NFL for years to come.
29. Chicago Bears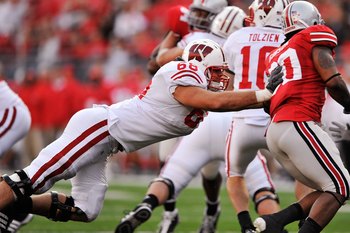 Jamie Sabau/Getty Images
Gabe Carimi, OT Wisconsin
The Chicago Bears had one of the worst offensive lines in the league in 2010. The awfulness of the line was covered up somewhat by different schemes implemented as the season went on, but all that did was put a band-aid on the situation.
The first step toward rebuilding that line is by drafting Gabe Carimi. Carimi will help reduce the 60 sacks the line allowed in 2010. With Carimi, you stop talking about if Jay Cutler was healthy enough to come back in the game because Cutler isn't getting the crap kicked out of him.
If the Bears don't address their line at the top of the draft, it should be an offense worthy of termination for every person in that front office.
30. New York Jets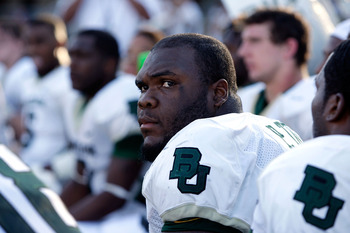 Jamie Squire/Getty Images
Phil Taylor, DT Baylor
The New York Jets have a very good defense, but Phil Taylor will be the future anchor of the Jets defense. Taylor has a lot of talent, and if not for some marks against him from his time at Penn State, Taylor might have been considered a Top 10 pick.
Jets head coach Rex Ryan won't care about that one bit and will be happy to take Taylor with the 30th pick. With so many free agent questions, Taylor fits a need that doesn't involve a veteran waiting to sign a contract. Plus he will be a playmaker on the defense, which you can't have enough of when you play the Patriots twice a year.
31. Pittsburgh Steelers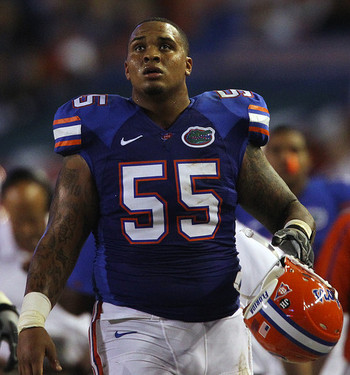 Mike Pouncey, OG Florida
The Steelers draft 31st in this year's draft, and the guy they will want the most, Mike Pouncey, probably won't last that long. I'm mocking Pouncey here because I believe the Steelers will trade up to get him.
The Steelers drafted his twin brother Maurkice last year and he has become the best player on the offensive line and one of the most popular players in the locker room.
Drafting his twin is the top priority for this team. Not only will it fill a position of need, but the chemistry between the two brothers already is there and there will be no questions about character. This is a "can't miss" pick, and the Steelers will do what they have to do to get this guy on their squad.
32. Green Bay Packers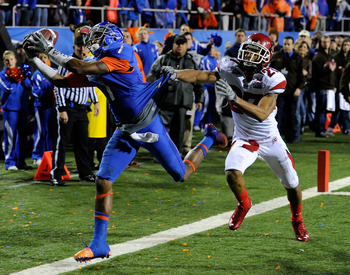 Ethan Miller/Getty Images
Titus Young, WR Boise State
The Green Bay Packers do not have any glaring needs, so they could try and fill one of several "wants" with this pick.
With the receiving unit the thinnest on the team, Titus Young makes the most sense here. Donald Driver is getting old, James Jones could go in free agency, and Aaron Rodgers needs plenty of good targets to throw to.
Round Two: Picks 33-35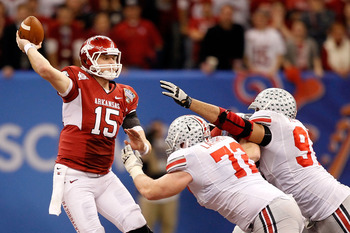 Matthew Stockman/Getty Images
33. New England Patriots: Benjamin Iljana, OT Villanova. The Patriots will address their offensive line issues with this pick.

34. Buffalo Bills: Stephen Paea, DT Oregon State. With a quarterback in the first round, the Bills turn to the defense in the second round. Paea "won" the bench press at the Combine and will go early in the second round..

35. Cincinnati Bengals: Ryan Mallett, QB Arkansas. The Bengals will not wait any longer than this to take a quarterback. They all but admitted even they believe Carson Palmer is serious about leaving.
Round Two: Picks 36-38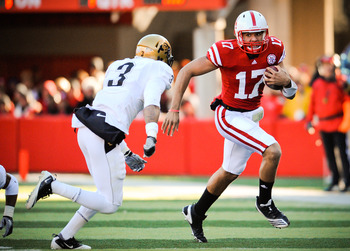 Eric Francis/Getty Images
36. Denver Broncos: Jimmy Smith, CB Colorado State. The Broncos still need help at the corner and will take Jimmy Smith here.

37. Cleveland Browns: Randall Cobb, WR Kentucky. The Browns and Mike Holmgren go for their home run hitter here and give Colt McCoy another receiver to throw to.

38. Arizona Cardinals: Danny Watkins, OG Baylor. The Cardinals need better offensive lineman. All three of their quarterbacks suffered injuries last year.
Round Two: Picks 39-41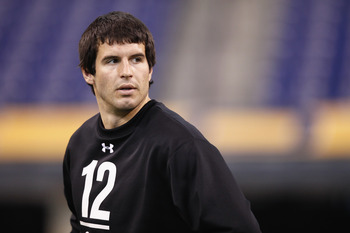 Joe Robbins/Getty Images
39. Tennessee Titans: Stefan Wisniewski, C Penn State. The Titans have to beef up the middle of their line and get someone who can pass block and open holes for Chris Johnson.

40. Dallas Cowboys: Rahim Moore, Safety UCLA. The Cowboys will continue to address their poor secondary with the second-round pick.

41. Washington Redskins: Christian Ponder, QB Florida State: The Redskins do not wait any longer to get a new quarterback. With Ponder on the board, this pick is a no-brainer.
Round Two: Picks 42-44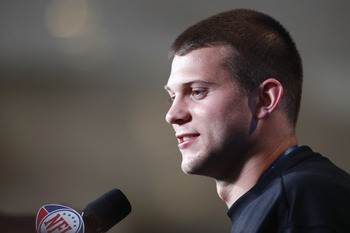 Joe Robbins/Getty Images
42. Houston Texans: Brandon Harris, CB Miami. The Texans rebuilding on defense continues.

43. Minnesota Vikings: Jake Locker, QB Washington. This does seem too low for what probably is the third best quarterback in the draft, but I do think the Vikings are going to trade back up into the first round to grab him, so I'll just mock him here and be done with it.

44. Detroit Lions: Curtis Brown, CB Texas: The Lions will look to improve their secondary with this pick.
Round Two: Picks 45-47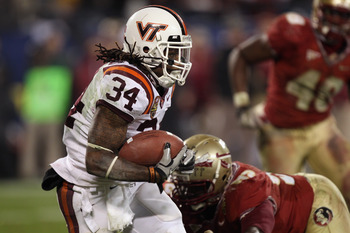 Streeter Lecka/Getty Images
45. San Francisco 49ers: Sam Acho, DE Texas. The 49ers will continue to make their defense and pass rush younger and faster.

46. Denver Broncos: Drake Nevis, DT LSU. The Broncos beef up their defensive line with this pick. Nevis is a steal at this slot.

47. St. Louis Rams: Ryan Williams, RB Virginia Tech. The Rams need another option at running back and Ryan Williams is a great pick here.
Round Two: Picks 48-50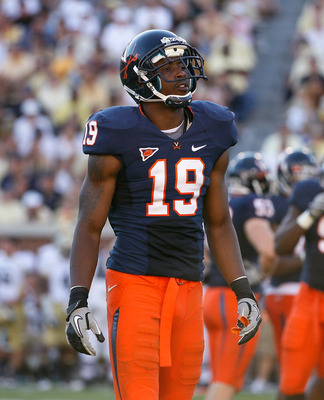 Kevin C. Cox/Getty Images
48. Oakland Raiders: Ras-I-Dowling, CB Virginia (FL). The Raiders officially enter the draft by taking Nnamdi Asomugha's replacement.

49. Jacksonville Jaguars: Quinton Carter, S. The Jaguars will look to shore up their secondary with this pick.

50. San Diego Chargers: Martez Wilson, LB. Martez Wilson is a sleeper pick. This guy has first-round skills and should be a nice addition for the Chargers.
Round Two: Picks 51-53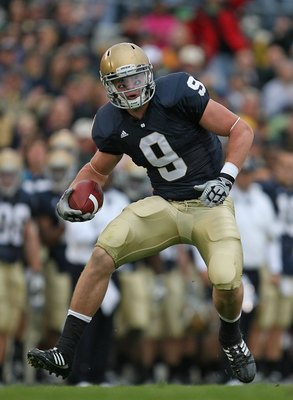 Jonathan Daniel/Getty Images
51. Tampa Bay Buccaneers: Dontay Moch OLB Nevada. Dontay Moch had a great Combine, and he will reap the benefits of that by getting taken here.

52. New York Giants: Kyle Rudolph, TE Notre Dame. Kyle Rudolph is the best player on the draft board who keeps getting passed up because teams have greater needs. That ends here.
53. Indianapolis Colts: Clint Boling OG Georgia. Two offensive lineman to open the 2011 draft? Yes. That line needs a complete rebuild. If Manning has time to throw, the rest takes care of itself.
Round Two: Picks 54-56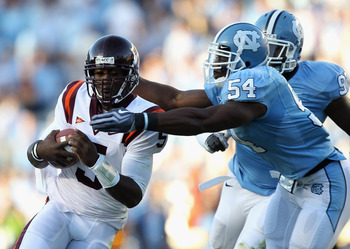 Streeter Lecka/Getty Images
54. Philadelphia Eagles: Brandon Burton CB Utah. The Eagles will look to add depth to their defense with their second pick.

55. Kansas City Chiefs: Luke Stocker, TE Tennessee. The Chiefs look to give Matt Cassel another option while beefing up protection when needed.

56. New Orleans Saints: Bruce Carter OLB North Carolina: The Saints continue to try and plug holes and shore up their defense with their second pick.
Round Two: Picks 57-59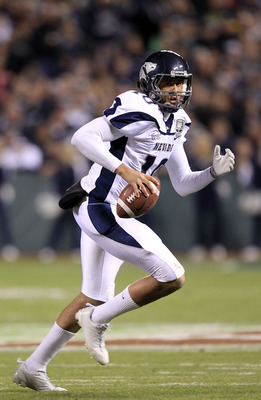 Ezra Shaw/Getty Images
57. Seattle Seahawks: Colin Kaepernick, QB Nevada. The Seahawks are not going to rely on Matt Hasselbeck and Charlie Whitehurst in 2011. Pete Caroll will see if he can develop Kaepernick, who has shown some really good stuff the last few months.

58. Baltimore Ravens: Rodney Hudson, C Florida State. Matt Birk's replacement comes to Baltimore with this pick.

59. Atlanta Falcons: Jonathan Baldwin, WR Pitt. The Falcons give Matt Ryan another option opposite Roddy White and become just that much more dangerous.
Round Two: Picks 60-62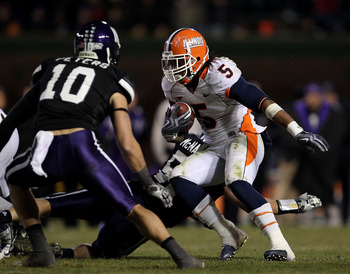 Jonathan Daniel/Getty Images
60. New England Patriots: Mikel Leshoure, RB Illinois. The Patriots need more depth at running back and will be happy to get Leshoure here.

61. San Diego Chargers: Mason Foster, OLB Washington. The Chargers could use more help and some depth on the outside.

62. Chicago Bears: Jurrell Casey DT USC. The Bears need more youth and speed on their line and Jurrell Casey would solve that problem.
Round Two: Picks 63-64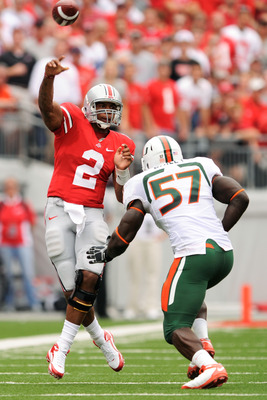 Jamie Sabau/Getty Images
63. Pittsburgh Steelers: Tyler Sash, S Iowa. The Steelers need a new cornerback but all the quality ones for the first two rounds are gone, so they will invest in a backup for Troy Polamalu, who has spent the last two seasons fighting injuries.
.
64. Green Bay Packers: Allen Bailey, DE, Miami. Allen Bailey will help pull blockers away from Clay Matthews and make the Packers just that much better.
Round Three: Part One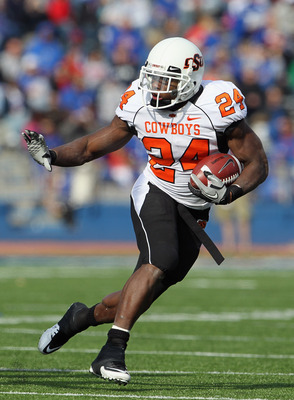 Jamie Squire/Getty Images
As the draft moves to round three, picks are as much about adding depth as they are about addressing needs.
The beginning of the third round is fairly quiet with no big surprises here. Brooks Read vaulted all the way into Todd McShay's second round, going to the Packers. I do not know if I'm ready to mock him that high, but it certainly is worth taking into consideration the next time I do a three-round mock.
65. Carolina Panthers: Kendrick Burney, CB North Carolina
66. Cincinnati Bengals: Kendall Hunter, RB Oklahoma State
67. Denver Broncos: Marvin Austin, DT North Carolina
68. Buffalo Bills: Christian Ballard, DE Iowa
69. Arizona Cardinals: Marvin Austin, DT North Carolina
70. Cleveland Browns: Jabaal Sheard DE Pittsburgh
71. Dallas Cowboys: Andrew Jackson, OG Fresno State
72. New Orleans Saints: Brooks Read DE Arizona
Round Three: Part Two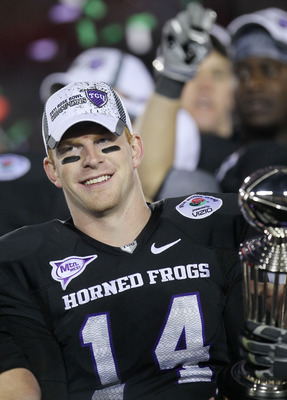 Stephen Dunn/Getty Images
The Miami Dolphins come back on the clock in the third round and choose Andy Dalton out of TCU to compete for a job. If nothing else, it gives the Dolphins another option.
The Patriots will add depth to their running game with DeMarco Murray while the Texans keep focusing on the defense.
73. Houston Texans: Jarvis Jenkins DT Clemson
74. New England Patriots: DeMarco Murray, RB Oklahoma
75. Detroit Lions: Rashad Carmichael, CB Virginia Tech
76. San Francisco 49ers: Leonard Hankerson, WR Miami
77. Tennessee Titans: Quan Sturdivant, ILB North Carolina
78. St. Louis Rams: Robert Sands, S West Virginia
79. Miami Dolphins: Andy Dalton, QB TCU
80. Jacksonville Jaguars: Curtis Brown CB Texas
Round Three: Part Three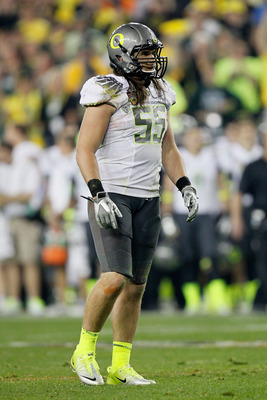 Kevin C. Cox/Getty Images
Casey Matthews goes to Tampa Bay in the third round. Casey does not appear to have the size or game-changing ability his brother Clay does. Plus, he has a shoulder injury that may hamper his development.
The jury still is out on if Casey can approach the kind of impact play his brother has had in the NFL, but he is intriguing enough that I do not see him falling much further than the end of the third round.
81. Oakland Raiders: Orlando Franklin, OG Miami (FL.)
82. San Diego Chargers: Chris Hairston, OT Clemson
83. New York Giants: Lee Ziemba, OT Auburn
84. Tampa Bay Buccaneers: Casey Matthews, ILB Oregon
85. Philadelphia Eagles: Marcus Cannon, OG TCU
86. Kansas City Chiefs: Kelvin Sheppard, ILB LSU
87. Indianapolis Colts: Jerrel Jernigan WR Troy
88. New Orleans Saints: Pernell McPhee, DE Mississippi St.
Round Three: Part Four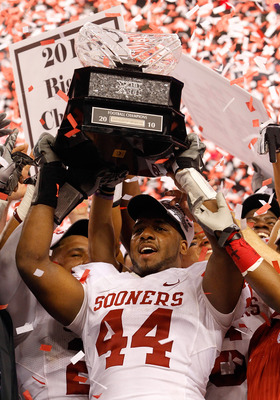 Tom Pennington/Getty Images
The Patriots will take another receiver while the Ravens will add depth to their offensive line. The Green Bay Packers will take another running back and see what happens in 2011.
The Bears take another offensive lineman because they really need better guys out there.
The Jets also will take another running back because LaDainian Tomlinson is not getting any younger.
89. San Diego Chargers: Jeremy Beal OLB Oklahoma
90. Baltimore Ravens: Jason Pinkston, OT Pittsburgh
91. Atlanta Falcons: Jordan Todman, RB Connecticut
92. New England Patriots: Greg Little, WR North Carolina
93. Chicago Bears: William Rackley, OG Lehigh
94. New York Jets: Derrick Locke, RB Kentucky
95. Pittsburgh Steelers: Terrell McClain, DT South Florida
96. Green Bay Packers: Jacquizz Rodgers, RB Oregon State
Keep Reading