NCAA Tournament 2011: Running Diary of Everything March Madness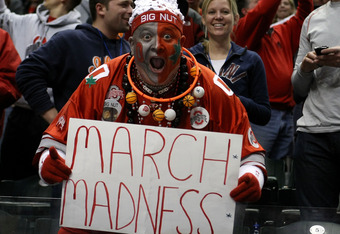 Chris Chambers/Getty Images
The NCAA tournament is set to finally kick off later today with its field of 64 teams officially determined. These 64 teams will be trimmed down to one over the next three weeks as part of one of the most exciting sporting events in the country.
There will be upsets, there will be buzzer-beaters and there will be career-defining performances. But while almost all eyes will be on the basketball court, there are a lot of things still going on off it.
This running diary is to address some of those off-court issues. You will get the breaking news, you will get the insight and, most importantly, you will get the unconventional.
I'll keep this live until the tournament is over and post my thoughts and reactions along the way. Read, enjoy and share.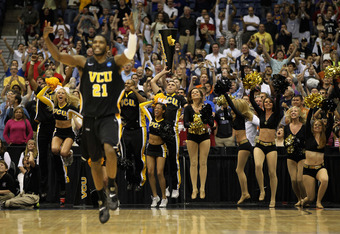 VCU went from the First Four to the Final Four with a shocking upset win over No. 1 Kansas last night, putting the finishing touches on an unbelievable run that was never even supposed to start.
Most college basketball pundits had VCU narrowly missing the tournament altogether because of a lackluster resume that included losses to such teams as Northeastern and Georgia State. But the NCAA Tournament selection committee felt differently and gave the Rams a first-round match-up with USC and the opportunity to play into the round of 64.
VCU beat USC, and then Georgetown, and then Purdue, and then Florida State and now Kansas. They've made it further than everybody believed they could, including their coach, Shaka Smart, who didn't even let his team watch the selection show for fear of not getting in.
But does their remarkable performance in the NCAA Tournament prove the selection committee right? Did the committee see something in this team that nobody else did?
The answer to both questions is a resounding no. The NCAA Tournament is reserved exclusively for the teams that performed at a high level during the regular season, not teams that might do well if given the chance. They already had their chance.
The UAB's and Colorado's of the world may not have made it anywhere near the Final Four, but they still deserved to be in the NCAA Tournament over VCU. The only thing that VCU's run has proven is that parity still exists in college basketball and that any team can beat any other team on a given day.
The 68-team experiment seems to have worked thus far, but the NCAA also got very lucky. They'll need to establish a more structured selection process if they want it to keep working.
This article is
What is the duplicate article?
Why is this article offensive?
Where is this article plagiarized from?
Why is this article poorly edited?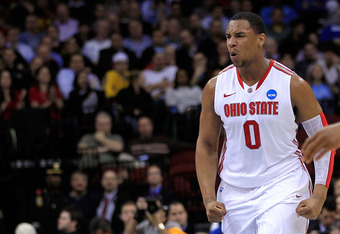 In the aftermath of Ohio State's upset loss to Kentucky in the Sweet 16, star freshman forward Jared Sullinger said he would return for his sophomore season.
Sullinger quickly emerged as one of the nation's best players and finished the season averaging 17.2 ppg and 10.2 rpg. The 6'9", 280-pound forward dominated in the post and led Ohio State to a No. 1 seed in the NCAA Tournament.
He met his match in Kentucky's senior center Josh Harrellson in a crushing 62-60 loss last night, but Sullinger still would have easily been a top five pick in the NBA Draft.
The promise of millions of dollars and NBA glory is seemingly not enough to entice Sullinger to call an end to his college days and go pro. But the chance to win a national title is apparently more than enough to get him to stay in school.
I wouldn't blame Sullinger for declaring for the NBA Draft. He's an incredibly talented player who should be able to contribute immediately at the next level. There's also always the risk he suffers a serious injury while still in college, potentially destroying his draft stock. Without any sort of compensation system in place for college athletes it's no surprise that so many rookie stars bolt for the pros as soon as they can.
That's what makes Sullinger's decision so admirable.
He's putting his education and his game ahead of fame and money. His on-court game, despite his brilliant performance in his rookie season, still needs lot of work if he wants to be anything more than a complementary player in the NBA. But his off-court game is even more important.
Too many basketball stars go to the NBA before they're athletically or mentally ready and spend their entire careers wasting away on the bench or playing professionally elsewhere. Playing in the NBA as a 19-year-old is a daunting task, and though I believe Sullinger is fully capable of handling it, another year of seasoning never hurts.
Now Ohio State get another chance at a national title next year and Sullinger will be expected to assume the role of captain with so many seniors leaving. That's good for Sullinger and good for the Buckeyes.
Everybody wins.
This article is
What is the duplicate article?
Why is this article offensive?
Where is this article plagiarized from?
Why is this article poorly edited?
As the NCAA Tournament continues to shatter ratings records, one man wants to make a controversial change that would spell the end of March Madness forever: Ralph Nader.
The one-time presidential hopeful wants to get rid of athletic scholarships, saying that college sports have become too professionalized.
Nader's proposal, which he hopes to take to Congress, calls for schools to either eliminate all athletic scholarships or, at the very least, "openly acknowledge the professionalism in big-time college sports, remove the tax-exempt status currently given to athletic departments, and make universities operate them as unrelated businesses."
Nothing Nader says is false. The NCAA is a multi-billion dollar business in large part because of the immense cash flow from sports like men's basketball and football. The so-called "non-profit" makes millions off of the heroics of guys like Kemba Walker and Jimmer Fredette while paying them the equivalent of just four years of tuition, room and board (about $200,000 for a private university and $80,000 for a public school).
The system is flawed—there's no question about that. The biggest names in college sports are not fairly compensated for what they do on the court or field and deserve their appropriate share of the economic pie. But removing the only incentive that gets them to come to college in the first place is not the solution.
Here's what will happen if Nader gets his wish and athletic scholarships are eliminated:
The top high school athletes in the country will bypass college entirely and go play professionally in Europe or elsewhere until they are eligible to be drafted.
The remaining athletes who now can't afford to go to the school of their choice will have to settle for state school, creating a massive competitive imbalance in favor of public institutions.
Thousands of athletes who wouldn't even be able to get into college without an athletic scholarship now lose any chance of getting a good education.
The high school athletic system will collapse because there will less incentive to compete in sports, potentially leading to a youth health crisis.
And, perhaps most importantly, the entertainment industry would lose billions. Think about how many jobs are dependent on college athletics. From coaches to trainers to stadium employees, all of them would potentially be out of work. All the revenue generated from ticket sales and merchandising will disappear. Universities need this money to continue to operate school programs, especially the dozens of sports that don't make a profit. The economy needs this money, especially while it's still recovering from a recession.
I admire Nader and his goal to "finally address the myth of amateurism surrounding big-time college football and basketball in this country." It's a serious problem that deserves attention.
But Nader's proposal is about the worst possible solution. He seems to forget that only a miniscule percentage of athletes ever play professionally. What will happen to them if the NCAA gets rid of scholarships? What will happen to the American educational system? What will happen to the economy?
Nader needs to think long and hard about these questions before he goes any further with this and makes one of the biggest mistakes of the century.
This article is
What is the duplicate article?
Why is this article offensive?
Where is this article plagiarized from?
Why is this article poorly edited?
Everyone and their uncle was glued to the TV for the first two rounds of the NCAA Tournament, but there were other things going on around the world too. Among them were civil unrest in Libya and a natural disaster in Japan.
President Obama scheduled a press conference on each of the first two days of the tournament to address the nation regarding these issues, but CBS opted not to air them.
On Thursday Obama attempted to assure the country that radiation from Japanese nuclear pants would not reach American soil. CBS summarized the conference with a one-minute report during a break in the action.
On Friday Obama warned the country about possible U.S. military intervention in Libya. CBS ran a split-screen with Obama on top and the Texas-Oakland game on the bottom.
The college basketball crowd may not be concerned with what Obama has to say, but that's not something that should be left up to a television network. CBS's responsibility is to air the news, and a presidential address definitely ranks higher than a basketball game.
The only reason CBS didn't give the Obama top priority is money. The NCAA Tournament is the network's single biggest source of revenue. CBS and partner Turner Sports are in the first year of a 14-year, $10.8 billion contract to air the tournament, and this year's ratings are up 16 percent from last year.
However, I seriously doubt that any self-respecting college basketball fan would have thrown a fit if CBS gave Obama the country's full attention. There were still three other networks showing NCAA games, and there are countless ways to get score updates even if you can't get a live feed.
There may be a lot of money riding on this tournament, but CBS forgot that basketball is just game. Nobody's life is at stake when they step onto the court. No country is at the risk of complete collapse. On the scale of things that an average human being should care about, a college basketball game doesn't even register.
CBS needs to get its priorities in order. Money is only good for so much.
This article is
What is the duplicate article?
Why is this article offensive?
Where is this article plagiarized from?
Why is this article poorly edited?
Arne Duncan, U.S. Secretary of Education, thinks that basketball teams that can't graduate at least half of their players don't deserve to play in the NCAA Tournament.
"The math on this is not complicated," Duncan said in an interview with USA Today. "If you can't graduate one in two of your student-athletes, I just question the institutional commitment to academics. And I think if the NCAA were to draw a line in the sand, you'd see this behavior change very rapidly."
The NCAA has a system in place that tracks academic progress and penalizes teams if they fall below a score of 900 for three seasons, something that has happened to two schools so far. But Duncan wants a stricter system that bans schools for falling below 925 once, a measure which would eliminate schools such as Syracuse, Kansas State, Purdue, USC and San Diego State.
That would be a big blow to a tournament that relies on big schools like Syracuse and USC to get huge TV ratings. But would it help the sport of college basketball escape the constant allegations of students cheating and taking shortcuts?
Jim Boeheim, head coach of the Orange, called the proposal "completely nuts" because basketball rosters are so small. Certain schools like Memphis, UNC or Kentucky may have as many as five players go to the NBA, which would make it very difficult for them to maintain a high graduation rate regardless of the academic program.
Duncan can't stop college players from leaving school early to go to the NBA, so it makes no sense to punish teams that regularly bring in top recruiting classes. But schools do have to be held accountable for honoring the "student" part of "student-athlete". Too many college basketball players go pro and flame out and are left in debt for the rest of their lives because they never learned how to do anything else. You can't underestimate the value of an education.
The current system is definitely flawed and, though I disagree with Duncan's solution, something must be done. How about altering the scoring system so there's more of an emphasis on grades rather than graduation rates? What are your ideas?
This article is
What is the duplicate article?
Why is this article offensive?
Where is this article plagiarized from?
Why is this article poorly edited?
Demonte Harper sunk a three-pointer with just seconds left to give Morehead State (No. 13) a 62-61 lead over No. 4 Louisville. The bucket would prove to be the deciding factor as Kenneth Faried, the NCAA's all-time leading rebounder, blocked Mike Marra's three-point attempt as the clock ran out on Louisville.
Or did he?
There was a lot of contact on the final play and the call could have easily gone either way, but no self-respecting referee would ever blow the whistle in that scenario. Teams deserve to play out the final seconds with little to no intervention from the guys in stripes. But rules do exist for a reason.
If Marra really was fouled by Faried then he deserves his three free throws. It wouldn't be a popular call, but referees have already had their share of controversy this year (see St. John's—Rutgers) and it's their job to keep the game fair and balanced.
Sure, the Eagles outplayed the Cardinals and should have won regardless. But none of that should matter.
This article is
What is the duplicate article?
Why is this article offensive?
Where is this article plagiarized from?
Why is this article poorly edited?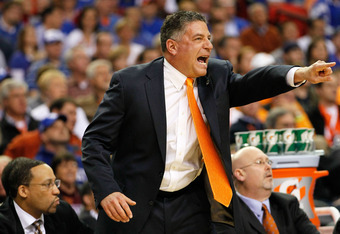 With Tennessee's second round match-up against Michigan just a day away, UT athletics director Mike Hamilton decided it would be a good time to put head coach Bruce Pearl's job in jeopardy.
Pearl has been under NCAA investigation for an alleged recruiting violation and has been working without a contract since September. Tennessee reduced his salary by $1.5 million over four seasons and banned him from off-campus recruiting as a punishment for lying to NCAA investigators. The two parties had been working on a new contract for Pearl, but apparently negotiations broke down and now Hamilton has publicly stated that he's unsure if Pearl will be back next season.
"We don't know the answer today," said Hamilton in an interview with WNML-AM in Knoxville. "We've done a lot of soul searching about the direction of our program, and we'll continue to do that, and we'll decide after we're out of the NCAA Tournament what direction it is that we're going to go next."
Pearl's been on the hot seat all season and was even suspended for eight games by the SEC, but why the extra pressure from a man who has a lot to gain from a strong NCAA Tournament performance by the Vols?
It's an unnecessary distraction for a coach and a team that must now exceed expectations for Pearl to keep his job. Violations or not, that's a ridiculous standard to hold Pearl to. The man is one of the most accomplished coaches in college basketball history, with a career 231-98 record and six consecutive Tournament appearances as Tennessee's head coach.
The Vols have a tremendously difficult path ahead of them. If they can get past a pesky Michigan team then they would likely have to find a way to beat defending national champion Duke. With those kinds of teams on the schedule, the Tennessee athletic department has to show its support for Pearl and his players instead of putting his head on the chopping block.
The players deserve to have their moment of fame in front of a national TV audience. Instead, all the attention will be on Pearl and whether he deserves to keep his job. This tournament should be about basketball, not business. Unfortunately, Hamilton doesn't seem to be particularly good at either.
This article is
What is the duplicate article?
Why is this article offensive?
Where is this article plagiarized from?
Why is this article poorly edited?