UFC 128 Fight Card: 5 Keys to Victory for 'Shogun' Rua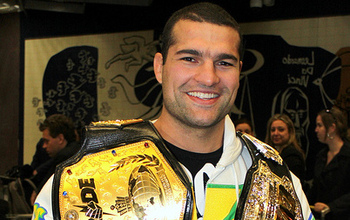 Has any fighter ever experienced the savage, unforgiving extremes of Mixed Martial Arts as much as UFC Light-Heavyweight champ Mauricio "Shogun" Rua?

When he first came onto the scene in PRIDE in the early 2000s, he was the young phenom: the ultimate incarnation of the Brazilian "Chute Box" style; a Muay-Thai pit bull with a black belt in BJJ.
When he won the PRIDE Middleweight (205 lbs) Grand Prix in 2005, some proclaimed him the No. 1 fighter in the world, period. The hype was strong with this one.

Rua's move to the UFC shortly thereafter was one of the most anticipated debuts in company history. To many fans, it was only a matter of time before he cleaned house in the UFC as he had in PRIDE.
Instead, a heaving, mediocre "Shogun" was handled by TUF winner Forrest Griffin en route to a humiliating submission defeat.

Rua would next go on to squeak out a win over Mark Coleman, but the Curitiba native looked so poor in victory that the W was next to meaningless. The geriatric Mark Coleman had given him the fight of his life and to many, it was a death knell for his career. The knee injuries had taken their toll, fans said. The "Shogun" who tore through PRIDE was long gone.

Then he went on to relieve Chuck Liddell of some more brain function and battered Lyoto Machida's legs to a bruised, hobbled pulp. When he knocked out Machida clean in their title rematch in Montreal, it was a crowning moment in his career; the UFC title, long having eluded him, was finally his. Many crowned him the best 205-pound fighter in the world.

And as night follows day, the same MMA mob that rushed to heap praise on the new king is now—one year and a major knee surgery later—brushing him aside once again. Most fans have already acclaimed Rua's UFC 128 opponent Jon Jones as the "uncrowned champion," including Jones himself.

If "Shogun" wants to defy the legions of fans writing him off yet again, he'll have to fight his kind of fight on Saturday night.
Here are the five keys to victory for Mauricio "Shogun" Rua.
Be Content to Work from Guard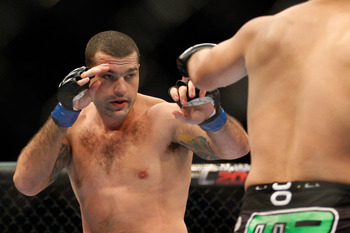 Richard Wolowicz/Getty Images
Let's get something out of the way right up front: If Jon Jones wants to take you down, he's going to take you down.

Jones has faced more then a few high-level wrestlers: Ryan Bader, Vladimir Matshushenko, Brandon Vera and Jake O'Brien. Jones handled all of these men like they were children.

"Shogun," meanwhile, has conceded takedowns to every one of his last four opponents. And the only one of these with any kind of wrestling pedigree was Mark Coleman—and he was just a hair under 1,000 years old when he fought Mauricio.

So "Shogun" needs to accept that even if things are going his way and the fight is proceeding exactly in his favour, sooner or later, he's going to be on his back with a lanky, powerful Jones on top of him. So it's time to go the Eddie Bravo route and tighten up that guard (and smoke a bunch of pot as well—what the hell?).

Rua's BJJ skills and pedigree are beyond question—or are they?
After all, he's only won a single fight via submission—and it was over Kevin Randleman, not exactly known as a submission wizard. That being said, we've seen enough grappling exchanges from Rua in his PRIDE days—and brief glimpses of it in his UFC tenure—to know he can get the job done on the ground.

Rua needs to tighten up his guard to pitch perfect and drill sweeps and escapes from his back endlessly. Rua needs to take Jones out of his comfort zone and make the New York native defensive rather than offensive when he's working from guard.
Most of all, Rua needs to control Jones and prevent him generating space and posturing up for strikes. He only needs one clean strike on top to end a fight—just ask Brandon Vera.
Avoid the Clinch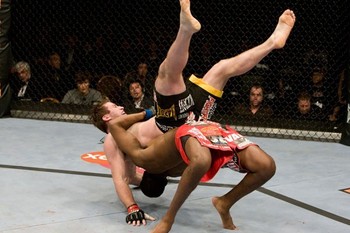 Shogun will want to avoid this
This might seem like a strange bit of advice since Rua is a Muay-Thai wrecking machine (to borrow a Mike Goldberg-ism) and his striking in the clinch is some of the best in the sport.
Just ask Quinton Jackson how it feels to be on the receiving end of a "Shogun" clinch knee to the face.

All that said, "Shogun" should try to stay out of the clinch in this fight as much as possible.

As I mentioned previously, Jones' aptitude in wrestling is in the clinch, a la Randy Couture—tripping, throwing and otherwise rag-dolling opponents down to the mat. Try to play the clinch game with Jones and you'll be spending more time in the air than Debbie's legs when she "did Dallas."

The last time Rua fought in the clinch against Lyoto Machida at UFC 114, he was taken down twice—in addition to shredding his knee trying to stuff a takedown. Rua doesn't need the risk of both a takedown or another eight months on the shelf that comes with playing the clinch game against Jon Jones.
Better to stay away.
Foootwork, Footwork, Footwork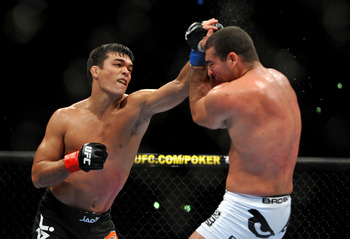 Jon Kopaloff/Getty Images
One of the most finely honest—and least appreciated—aspects of Rua's game is his phenomenal footwork.

Watch his fight against Chuck Liddell. His sense of timing and distance is excellent. He cuts off the cage against Liddell, forces the Iceman to chase him and stays out of reach of Liddell's power shots. Liddell never gets a chance to feel comfortable before "Shogun" shuts his lights off.

It was the same against Lyoto Machida. The Karate expert was himself a master of footwork, controlling distance and setting the tempo of the fight. Rua negated these advantages right from the word "go" in both fights. Once again, he forced a counter-striker to leave his comfort zone and chase him, and he responded with vicious leg kicks. His control of cage space denied Machida that chance to ever really get "off the blocks" in either fight.

Against Jones, it is crucial that "Shogun" use his footwork to dictate distance and pace. Jones has a tremendous reach advantage and will no doubt look to keep Rua at the end of an effective, Greg Jackson-inspired jab.

"Shogun" needs to use footwork to move in and out and force Jones to chase him. "Bones" is already a flashy, wide-open kind of striker; if "Shogun" can frustrate him early, it's likely a less-experienced Jones will leave himself open pursuing Rua around the cage.
Take the Fight to Jones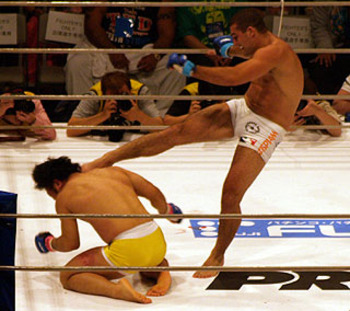 This is the kind of poised, precise attack Rua needs to throw at Jones
Ok, so I just talked about how "Shogun" needs to use smart footwork and fight a tactical, well-paced kickboxing match against Jones. And that's true.
But it's important that "Shogun" doesn't take a further step back from that, moving from "fighting smart" to "sitting back on his heels."

In short, "Shogun" needs to take the fight to Jones from the opening bell.

Rua needs to make Jones feel uncomfortable, confused and frustrated. He needs to fight a tactical fight standing up, but not a lacklustre one. He can't wait for Jones to dictate the action, because once the surging "Bones" gets a head of steam, he's proven (thus far) impossible to stop.

When he gets taken down, he again cannot rest on his laurels. He needs to be attacking, looking for submissions, trying to sweep and generally making life as hard as possible for the heady Jones.

He needs to bring the fight to Jones.

Not in the silly, Leonard Garcia "walk-forward-and-throw-wild-haymakers" kind of "bring the fight" (though that might help him sew up the judges decision).
He needs to bring the fight to Jones like he brought the fight to Machida, to Liddell, to "Little" Nogueria, to Alistair Overeem and to "Rampage" Jackson: with precision, poise, and a killer instinct that's second to none.
Leg Kicks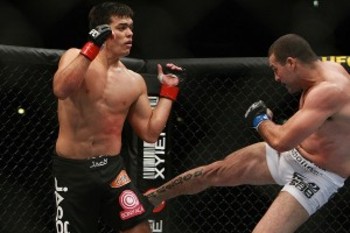 Ouch
Last, but certainly not least, "Shogun" needs to win this fight by—to borrow a colloquialism—dancing with the girl that brought him. Leg kicks slow a fighter down, rob him of his power and explosion and sap his will and energy.

I don't know about you, but those sound like three things Rua could use on his side against Jones.

"Shogun" is one of the sport's premier leg-kick artists, if such a thing as hobbling a man with your shins can be called "art." His technique is perfect and brutal. He gets his whole frame into every kick, whipping out his leg like a baseball bat, impacting an opponents' quadriceps with the force of a 12-gauge. And while he's doing it, his guard is tight and his balance is perfect. Very few in the sport throw better leg kicks than "Shogun".

Rua single-handedly ended the "Machida Era" with his thundering, whip-fast leg kicks. If he wants to double up on the feat and derail the Jon Jones hype train as well, he'll have to stick to this same strategy. A few "Shogun"-style axe chops to Jon's instep and I guarantee you "Bones" won't be pulling any spinning elbows or WWE-style slams.

This strategy is not without its risks, however. Jones is an explosive wrestler, but he's not known for his power single and double-leg takedowns. Ok, he took down Ryan Bader with a double—but generally speaking, he's not known for catching an opponent's kick and then diving for his shoelaces.

If Rua uses the same speed and sense of timing he showed against Machida, I don't see Jones catching his kicks for the trip—not every time, anyways.

Besides, so what if he does? "Shogun" will have been tightening up that guard—right, Mr. Rua?
Keep Reading