March Madness 2011 Predictions: The Latest Buzz and Picks in the West Region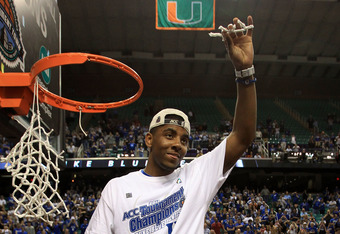 Streeter Lecka/Getty Images
March Madness Predictions for the Entire West Region.
If you were reading my earlier tournament thread, you saw us cover a lot of the expert predictions and pundit opinions so as to properly bet our houses.
Now, let's get a little more specific. We'll be focusing on the West Region, and let's say you can bet your chimney.
Some of the questions we'll be tackling:
- Can Duke escape this loaded bracket?
- Is UConn actually the team to beat?
- Can Texas regain its midseason form?
- Does anyone know who San Diego State is?
- And is Kyrie Irving coming back for the tournament?
That latter-est inquiry is of particular interest to Cavs fans, who would like a glimpse of their franchise savior (part deux) prior to his drafting.
It's the most difficult region in the NCAAs and, as such, the most difficult to predict.
Luckily, you can rely on me for accurate predictions, because I can rely on the Internet.
(Check out the B/R NCAA tournament page for more tourney info.)
(Download your B/R NCAA bracket here!)
Brackets aside, is Kemba Walker the best player in the NCAA Tournament?
Kemba Walker's been resting.
It's been more than a week since the start of UConn's history Big East run, and now he's gearing up for the encore: Game one of the NCAA Tournament is Thursday, when the Huskies play Bucknell.
It was just seven days ago that Walker and his No. 21 ranked Huskies embarked on a stretch that saw them become the first team in NCAA history to win five games in as many days, and by doing so they captured their seventh Big East championship.
Walker was astonishing.
He shattered the Tournament's scoring record, dropped a buzzer-beater to defeat top-seed Pittsburgh…
Three of Connecticut's first four wins came against ranked teams.
Here is a small passage from ESPN reporter Dana O'Neil's column: Kemba Walker wows 'em at the Garden, written just before the championship game at MSG:
"Walker has played 157 out of a possible 165 minutes here, including all 45 against the Orange. There is no easy version of 157 minutes, but Walker's are especially hard.
He is Allen Iverson-esque, a generously listed 6-foot-1 squirt who drives his body into the forest of big men with little care. When he's not splitting a defense, he's sprinting downcourt leading the offense.
At one point against Syracuse, Walker corralled a rebound and came down grimacing. He'd been poked in the eye, and with his eyes squinting and blinking, he continued to dribble until an official offered up a mercy whistle.
Walker didn't come out. Of course he didn't. He just squinted a little and kept dribbling.
It is a brutal daily beating, even for someone who smiled to remind people, 'Hey, I'm only 20.'"
Walker, a junior guard from the Bronx, will do whatever it take for Connecticut to win. He averaged 23.5 points a game this year, along with 4.3 assists and a size-defying 5.4 rebounds. The Huskies went 9-6 against top 25 teams, and Walker averaged just under 25 points a game in those contests. And then there was the tournament.
Jim Calhoun, via Jim O'Connell(AP):
"He's as special as any player I've ever coach. No one's going to surpass him. They may equal him but no one is going to surpass him. … Five games in five days, he's amazing."
That's high praise coming from Jim Calhoun.
I don't know if this tops it, but let's close with Michael Carvelli (The Daily Anthenaeum) musing, again, on Walker's Big East Tournament performance:
"Nobody has ever led his team on a run like Walker led UConn last week at Madison Square Garden.
Think about it for a second.
He nearly played every second of five games on five consecutive nights, and, even though he surely felt tired, he had that team on his back the whole time.
At no time during the Big East Tournament did anybody question whether or not there was another player on the floor who was even close to as good as he was. That's pretty impressive, considering this was the best conference in the country.
Counting the Maui Tournament at the beginning of the year, that's twice this season that Walker has not only excelled in big games, he's thrived and has shown he shines most when the spotlight is on him."
Come this Thursday the spotlight will be on him again, and Kemba Walker knows exactly what his team is trying to do.
"Were trying to shock the world," Walker said.*
With Kemba Walker, there's a good chance they might.
(*Here's an example of 'Kemba giveth, Kemba taketh away.' That quote's in reference to the Big East Tournament and totally taken out of context...but what an ending!)
(Check out the B/R NCAA tournament page for more tourney info.)
(Download your B/R NCAA bracket here!)
This article is
What is the duplicate article?
Why is this article offensive?
Where is this article plagiarized from?
Why is this article poorly edited?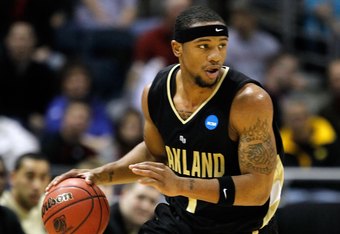 Is the Oakland-Texas matchup 2011's big Bracket Buster?
Fresh off an insightful entry in which I implied Texas was the most dangerous team in the Tournament, allow me to present an alternative point of view: That they get knocked out in the first round.
Admittedly, this wasn't my idea. I don't know enough about Oakland to pull that one out of thin air. But if anyone does, it's probably Seth Davis.
From his CNNSI column:
"What has two thumbs and is crazy enough to pick Oakland over Texas in the first round? This guy! If my assessments of Texas have been all over the place --like many others, I voted the Longhorns No. 1 on my AP ballot just four weeks ago -- it's because the Longhorns themselves have been all over the place. The only thing this team lacks is -- you guessed it -- experience. The four most important players are two freshmen and two sophomores. The Golden Grizzlies, on the other hand, have an NBA-caliber senior center in 6-foot-11 Keith Benson (though he's more of a finesse player than I'd like him to be for this matchup). Their second-leading scorer is redshirt junior guard Reggie Hamilton, and their glue guy is 6-9 senior Will Hudson. All upperclassmen. Plus they played a great schedule, winning at Tennessee and losing by a point to Michigan State on a neutral court. The Grizzlies lost just once in the Summit League, so they're used to winning, and they played in the last two NCAA tournaments so they won't be fazed."
SD, as always, makes an interesting and well-informed case.
I'm just not quite as sure as he is that Oakland is getting past round one. I certainly don't have the metrics to back up my assertion, but here it is anyway:
Only twice have the Golden Grizzles been able to hang within 15 points of a top 25 team, and neither of those teams (L vs. Michigan St. and a W at Tennessee) are as athletic as Texas. Additionally, the Longhorns' biggest on court weakness is their size, and if Oakland is unable to take advantage of that through physicality, I'm not sure they'll have anything to take advantage of.
That's about the best rebuke of a Seth Davis column as you're likely to find from a guy on his couch.
(Check out the B/R NCAA tournament page for more tourney info.)
(Download your B/R NCAA bracket here!)
This article is
What is the duplicate article?
Why is this article offensive?
Where is this article plagiarized from?
Why is this article poorly edited?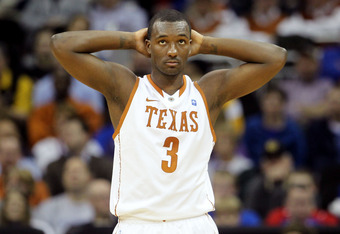 Are the Texas Longhorns the bracket buster in the West region?
Texas started the season 23-3 (and heard talk that they were the best team in the country), but then stumbled severely in losing four of their last eight. That the losses came at Nebraska, Colorado, then vs. Kansas St. made things even worse, and the Longhorns saw their stock plummet.
Now, the number four seed in the West region, the questions surrounding Texas aren't regarding their talent – the Longhorns are as gifted a team as any in the nation – but rather if they're mature enough to re-gather themselves for one final run.
During the season, this team beat six top 15 seeds, and lost to one other (Connecticut) by a point. They defeated no. 2 Kansas in Lawrence, ending what had been a Jayhawk record 69-game home winning streak. That same Kansas team is predicted by most to win the NCAA Tournament.
They may be a no. 4 seed, but Texas can play with anybody.
What I see most pundits pointing to in debunking Texas' chances is a relative lack of Longhorn experience. Quite probably their top four players are either freshman or sophomores, and those four produce an average of 52.2 points per game.
Individually, they are:
Sophomores:
Jordan Hamilton (18.6 pts, 7.7 reb) and J'Covan Brown (9.5 pts).
Freshman:
Tristan Thompson (13.5 pts, 8.0 reb) and Corey Joseph (10.5 pts).
That's a hefty bit of production coming from a group with limited/no tourney experience. So I get where the concerns are coming from. Still, Texas relies on those fresh/sophs because they're as talented as they are, and as much as a young team can shrink from the moment, they're equally as capable of disregarding that moment altogether, of not even noticing as they play right through it.
I guess, in short, the argument goes as follows: When hot, Texas is as good as anybody in the Tournament.
And this team is as capable of getting hot as any.
One last thing on Texas (From Chip Brown, Orangebloods.com):
"[Texas coach Rick Barnes] once told me that the team the usually wins it all is the team with the most future NBA players.
Texas has three of those: Jordan Hamilton, Tristan Thompson and Cory Joseph. Maybe four: J'Covan Brown."
Maybe the young guys won't be so bad after all.
(Check out the B/R NCAA tournament page for more tourney info.)
(Download your B/R NCAA bracket here!)
This article is
What is the duplicate article?
Why is this article offensive?
Where is this article plagiarized from?
Why is this article poorly edited?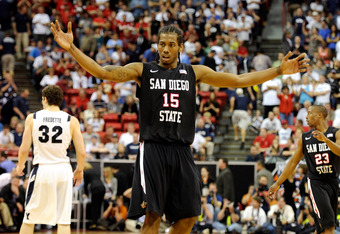 Is San Diego State a threat to Duke during March Madness?
This is where I'm doing you an injustice.
Not once all season have I watched San Diego State, and as such, I find them intimidating in ranking only. I find them confusing in ranking as well, because I tend to be familiar with No. 2 seeds.
So let's do a little research, shall we? The following is courtesy of NYDailyNews.com:
"Coach: Steve Fisher
Record: 32-2 RPI: 3
STRENGTHS: The back-to-back Mountain West champs started 20-0 - including a win at Gonzaga - and shot into the top 10 of the polls, where they've remained. The Atzecs have a domineering front line with Kawhi Leonard (15.4 ppg, 10.7 rpg) and Malcolm Thomas (11.5 ppg, 8.2 rpg). They have an excellent floor general in D.J. Gay. The nation's best defense (58.9 ppg) make SDSU dangerous in the tournament.
WEAKNESSES: San Diego State's bench is thin as Fisher has six core players and little else.
PLAYER TO WATCH: While Leonard is the star and well worth watching, the fate of this team may lie with Thomas. He is 6-9 and can alter shots with his length."
First off, let me say that I actually do know Kawhi Leonard as a player, and he is awesome. One of the most fun guys to watch in college basketball.
But moving on to the team as a whole: I think the reason San Diego State is looked down upon (at least relative to their seed) is that they went only 2-2 against top 25 teams all year, and three of those games were against BYU. To say they're untested is an understatement.

And then there's this little tidbit –
"The Aztecs have never won an NCAA tournament game in [their] history."
– Which Steve Fisher comments on by way of Yahoo! Sports:
"I don't want to get too far ahead of anything. Our goal and our fans' goals are, 'Let's win a game.' We have never done that. I've had the privilege to go to three at San Diego State. I haven't won one yet. So we need to find a way to win one."
I like his deferential tone – I'm a deferential guy. But as an impartial observer trying to figure out who might be a threat in the NCAAs? Well, in that role, listening to a coach list aspirations to win a single game doesn't make me think his team is poised to tackle an entire region.
In short, I'd like to have a cup of tea and talk politics with San Diego State, but I'm not putting money on their coming out of the West.
(Check out the B/R NCAA tournament page for more tourney info.)
(Download your B/R NCAA bracket here!)
This article is
What is the duplicate article?
Why is this article offensive?
Where is this article plagiarized from?
Why is this article poorly edited?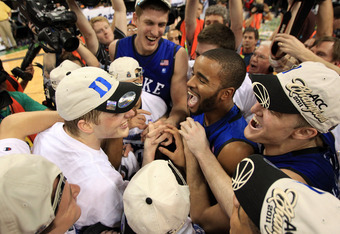 Can the Duke Blue Devils Escape the Madness of the West?
This is probably the region's most interesting question (aside from who the heck is San Diego State) – can Duke escape what looks to be an absolutely loaded field in the West?
Let's pillage some info from the staff at the New York Daily News (thank you guys – you are handsome and talented):
First, on Blue Devils' strengths:
"The Blue Devils have a Hall of Fame coach in Krzyzewski, and he has two senior mega stars - forward Kyle Singler and guard Nolan Smith - back from last year's national champion team. Smith, who should be a first team All-American, has rescued the Devils more than once with offensive explosions. Singler has struggled with his shot, but has more than made up for it with his rebounding and individual defense."
Weaknesses:
"Blue Devils took a big hit when gifted freshman guard Kyrie Irving, a New Jersey product, damaged the bone and ligament in his right big toe in early December and was lost for the season. Coach K must hope either Seth Curry or Andre Dawkins steps up in the tourney."
Two interesting notes:
1. As we touched on earlier, Kyrie Irving may be coming back! I doubt he would be in top form, having not played a game since December 4th, but I could see his presence alone deciding an otherwise evenly matched contest.
2. Another from NY Daily News, one more player to watch: "Sophomore forward Mason Plumlee is a wild card who, at 6-10, is one of the best rebounders and shot blockers in the ACC, but is not much of an offensive force."
Now let's take a look from a different angle.
Seth Davis, the tremendously thorough writer of SI fame, gives us his take on one potential Blue Devil matchup:
"The one team in this region that Duke wants to avoid is Texas, but even if the Blue Devils faced the Longhorns, I think their maturity would prevail."
He goes at it in more depth in the article (click on the SI link), but ultimately concludes that Texas doesn't make it far enough to play Duke. And this is where I disagree with him. I don't think Texas is getting eliminated in the first round (as Davis suggests in his bracket), and I think they present an enormous hurdle for the Blue Devils to jump.
Admittedly, Texas was all over the place this season, but they have the talent of a no. 1 seed.
Davis, meanwhile, is down on the Longhorns solely because of their inexperience (and conversely high on Duke because of their "maturity"). Regarding their youth, I'll say only this – Duke better hope that Texas gets bounced early, because if the Blue Devils meet the Longhorns it will be in the Sweet Sixteen, and by that time I think Rick Barnes' team just might be getting a feel for things.
(Check out the B/R NCAA tournament page for more tourney info.)
(Download your B/R NCAA bracket here!)
This article is
What is the duplicate article?
Why is this article offensive?
Where is this article plagiarized from?
Why is this article poorly edited?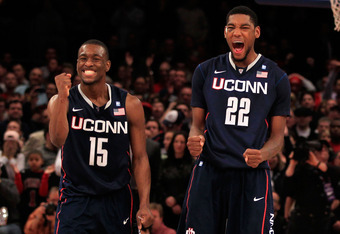 The Connecticut Huskies gear up for March Madness' toughest region.
I touched on this a bit earlier in the day, but let's do so with increasing detail this time around.
Can UConn get out of the West?
Seth Davis, of CNNSI.com, take it away:
"Count me as one of those silly folks who think that UConn is going to have a hard time regenerating after its epic five-games-in-five-days march to the Big East championship. The issue isn't physical as much as it is intellectual and emotional. And this is yet another young team. (They're 332nd in Pomeroy's experience ranking.) Why, then, did I pick UConn to go to the Elite Eight? Because I like the matchups. Bucknell is not a formidable first-round opponent, and in the second round the Huskies would face either a Missouri team that has had trouble winning away from home or a Cincinnati team they have already beaten on the road. And I am also not a huge believer in San Diego State, even with its potential advantage in Anaheim. If BYU did not lose Brandon Davies, it probably would have beaten SDSU in the Mountain West tournament, and the Aztecs would not be a two seed in the West."
Okay, point taken. Seth Davis says: Almost.
But I don't discount UConn quite as easily. At least not on account of fatigue.
As much as they've been fatigued, they have to have been emboldened. Coming off a history run in the Big East Tournament, and sporting one of the most dynamic players in the Tournament, I too see the Huskies reaching the Elite Eight. And once there, I think they have a legitimate shot to beat Duke. In fact, that's as even a matchup as we're likely to see in the entire Tournament, and in an even matchup a player like Kemba Waker can make all the difference.
Jim Calhoun is as tested a coach as any in the region (even Krzyzewski), having guided his teams to two NCAA Championships and three Final Fours in his 22 years at UConn. And as aforementioned, they have the type of elite star guard who could single-handedly swing any game in question.
Now back to the questions of fatigue.
Calhoun addresses them head on (via Yahoo! Sports):
"If I was worried about the idea of fatigue, we wouldn't have won (the Big East tournament championship) game, and chances are we probably wouldn't have won the fourth game on Friday night. They're kids."
If they've sufficiently recovered from their tiring week in New York City, as Calhoun suggests they will have, I think Connecticut is as likely as anyone to come out of the West.
Why stop there?
If they've sufficiently recovered, as I predict they will have, UConn will be in the Final Four.
The Huskies are the best team in the West.
(Check out the B/R NCAA tournament page for more tourney info.)
(Download your B/R NCAA bracket here!)
This article is
What is the duplicate article?
Why is this article offensive?
Where is this article plagiarized from?
Why is this article poorly edited?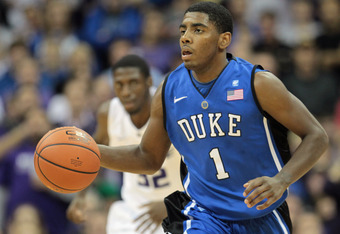 Is Kyrie Irving returning to Duke for 2011 March Madness?
Hands down, the biggest story of the NCAA Tournament to me. (That said, I'm primarily an NBA fan and my team presumes to have the first pick in the draft.)
Two hours ago, word came from none other than Mike Krzyzewski himself that injured point guard Kyrie Irving could potentially return for the Blue Devils Tournament opener.
Courtesy of Yahoo! Sports:
"You don't want to get where he gets hurt and hurts something else because you extend him past his limits," Krzyzewski said. But he went on to say that Irving practiced a "little bit" with the team on Tuesday and that Duke will be holding their pre-NCAA tournament open practice Thursday in Charlotte and "we'll know a heck of a lot more by then."
Irving, perhaps the top NBA prospect currently in the college ranks, had injured the big toe on his right foot in a Dec. 4 win against Butler. He spent nearly two months in a hard cast, and has been in a walking boot ever since. Never once during his rehabilitation process was a return date declared, leading to speculation that Irving may have played his last college game.
How would it be to transition him back in during the most pressurized time of year?
More from Coach K:
"All the guys, if he's able to play, would welcome him back," Krzyzewski said. "He's been the best guy ever on a sideline with his teammates. It'd be different if he wasn't that way. I think that would be a smooth transition, and if we're fortunate enough to win, and he's able to play, then you get more accustomed to it."
Said forward Kyle Singler: "He just fits in."
(Check out the B/R NCAA tournament page for more tourney info.)
(Download your B/R NCAA bracket here!)
This article is
What is the duplicate article?
Why is this article offensive?
Where is this article plagiarized from?
Why is this article poorly edited?