March Madness 2011 Predictions: Bo Ryan Still Trying to Break Through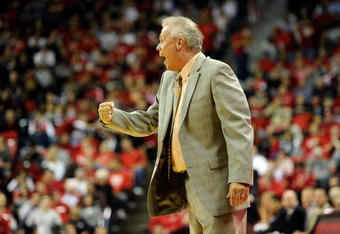 March Madness 2011 Predictions Haven't Paid Off Yet For Bo Ryan And Wisconsin
There's no doubting Bo Ryan's pedigree as a top head coach in college basketball. Ryan has won a few National Championships at the Division III level and he's been a consistent winner at the Division I level at Wisconsin.
At least in the regular season, anyway.
For all the success Ryan has had in the regular season, it hasn't translated into Tournament success. In his nine previous seasons in Madison, Ryan and his Badgers have only made it past the Second Round three times and only one trip into the Elite Eight. What might be more worrying is that the Badgers have lost to a lower seed three of the last four years and two of those seeds have been No. 10 or lower.
The Badgers don't usually win with stars, but that's been part of the reason why it's worked so well for them in the regular season. But the defense-first, grind-it-out offense has been exploited by faster teams in recent years with more up-tempo offenses.
Pat Forde of ESPN had a somewhat tongue-in-cheek column today about the best and worst-case scenarios for each team in the Tournament. This is part of what he wrote about Wisconsin's worst-case scenario.
"Team that scored a Cro-Magnon 33 points last time out shows up in Tucson and gets upset-romped in the first round," Forde wrote about the Badgers. "Badgers shoot 29 percent from the field and drive fans out of the McKale Center shielding their eyes from the horror. Wisconsin backers who feverishly defended Bo Ryan's plodding approach as "playing the right way" now wonder why the right way keeps turning out wrong in March."
Unfortunately for Badgers' fans, Forde is not that far off. Ryan has pieces on offense, especially considering the Badgers have a guard in Jordan Taylor who can be dynamic and take the game over. Still, it just hasn't worked out the way Wisconsin fans have hoped.
The Badgers will still support Ryan, as will the fan base. But if the trend of early-round exits continue, how much longer will that last?
For more March Madness, head to Bleacher Report's March Madness page, where you can find a printable bracket and a guest column by Northern Colorado coach B.J. Hill.


Most recent updates:
This article is
What is the duplicate article?
Why is this article offensive?
Where is this article plagiarized from?
Why is this article poorly edited?