March Madness 2011 Predictions: The Pressure's on Temple's Fran Dunphy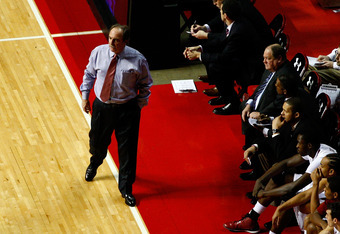 March Madness 2011 Predictions Could See Fran Dunphy And Temple Making A Final Four Run Or Another First Round Exit
There's no doubting that Fran Dunphy is an accomplished coach. He built an Ivy League powerhouse at Penn and he's turned Temple around and taken the Owls back to one of the top teams in the Atlantic 10.
But there's also no hiding the fact that Dunphy is 1-12 in the NCAA Tournament all-time, with his only win coming against Nebraska in the Round of 64 in 1994. And the fact of the matter is, that's not exactly a sparkling resume when the Owls are a trendy pick by some to perhaps come out of the West Region.
Dave Zeitlin of CSNPhilly.com had an interesting article breaking down Dunphy's record and how it might be overstated because of the matchups some of Dunphy's Quakers teams had.
"Of Dunphy's 12 first-round opponents, eight were ranked in the Top 25," Zeitlin wrote. "And in those games, Dunphy's teams lost by an average margin of 11 points – a respectable number when you look at some of the other lopsided early-round tourney games."
Zeitlin continued, with his point being that his record was more a fact of him overachieving at Penn and having matchups Dunphy wasn't expected to win.
And to be honest, there is legitimacy to that argument. Zeitlin makes the point that last year was the only time a Dunphy-coached team was ever favored in a Tournament game. And yes, the fact that he was the heavy underdog at Penn for every one of those games does make the record seem worse than than it is.
But one has to remember that Dunphy is now at a school where considering how successful it's been in a pretty decent conference, it's not unreasonable to expect Tournament wins. And the fact his Temple team got waxed as a favorite, ironically by a Ivy League school, isn't exactly a vote of confidence.
As of yesterday, Temple was a 2.5 point favorite against Penn State. It's a game the Owls can easily win but it's one the Owls can lose too because both teams are so similar in the way they play.
If Dunphy wins, then the questions will stop. But if the Owls get knocked out again, how much does the pressure get ratcheted up?
For more March Madness, head to Bleacher Report's March Madness page, where you can find a printable bracket and a guest column by Northern Colorado coach B.J. Hill.


Most recent updates:
This article is
What is the duplicate article?
Why is this article offensive?
Where is this article plagiarized from?
Why is this article poorly edited?