NCAA Bracket 2011 Predictions: Players and Coaches Most Likely To Choke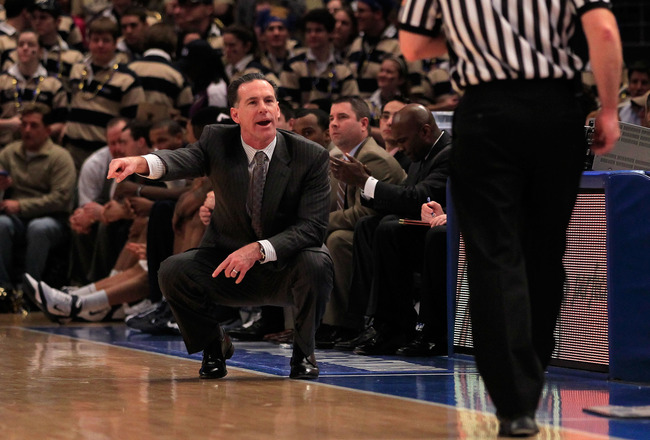 Chris Trotman/Getty Images
The 2011 NCAA Tournament is already one night old, and we've already seen one overtime game as UNC Asheville came back in the second half to beat Arkansas-Little Rock. And as the NCAA Tournament really gets going with the second round tomorrow, the next three weeks will be filled with great performances, thrilling finishes and exciting basketball.
But for all the great performances, there is, unfortunately, the other side of the madness. The teams that will fall short, the small schools who will run out of gas and yes, the ones who will choke.
It's not a knock against some players and coaches, who have earned the right to make it to this point, and some of the players and coaches on this list are some of the more recognizable figures in the game today. Some of these coaches and players are from high-profile schools who are also expected to go far in this year's tournament.
But the point is as the pressure has ratcheted up, these coaches and players haven't been able to live up to the billing during their careers. And while all of the players and coaches who make this list have the ability to change their fates during this NCAA Tournament, the point is unless they can step up and break through that wall, history could be doomed to repeat itself.
This is the place to get my breakdown on who could be the players and coaches most likely to choke during the next couple of weekends. If you're filling out a bracket and need some last-minute advice, this might help you as well.
So read on for the latest updates, and for more March Madness, head to Bleacher Report's March Madness page, where you can find a printable bracket and a guest column by Northern Colorado coach B.J. Hill.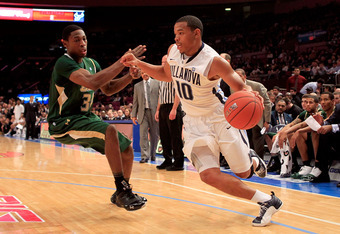 March Madness 2011 Predictions Can Go Either Way For Corey Fisher And Villanova
Jay Wright has been very fortunate to lure some phenomenal guards to the Main Line during his time at Villanova. From the quartet that included Kyle Lowry and Randy Foye to Scottie Reynolds and now the duo of Corey Stokes and Corey Fisher.
But as the Wildcats have struggled down the stretch for the second consecutive season, the fan base is looking at Fisher to be who he was recruited to be: The man for the Wildcats.
And for the last few weeks, that hasn't happened. The blame shouldn't fall on him, as he's been publicly battling injuries that have kept him less than 100 percent for the last few months. The fact that he's tried to play is commendable, to say the least.
But whether it's fair or not, something Mike Kern of the Philadelphia Daily News pointed out in a piece today, Fisher is the face of these Wildcats.
"But the 6-1 Bronx native has had his moments both ways," Kern wrote of Fisher. "And he's viewed as the face of the program, the role that Scottie Reynolds filled for so long. It's not without its burdens."
And just like the Wildcats struggled down the stretch into a Second Round loss last season, they've backed into the Tournament again this season. Under Wright, Villanova has played very well as the underdog and when the experts have counted them out. But if the Wildcats want to be part of the National Championship conversation again, Fisher's going to have to be that player.
If he can't, the questions will just keep coming about Fisher, however fair or not it might be. But if he wants to be that player who can held in the same regard Reynolds and some of those other guards were, he'll have to be able to do that.
For more March Madness, head to Bleacher Report's March Madness page, where you can find a printable bracket and a guest column by Northern Colorado coach B.J. Hill.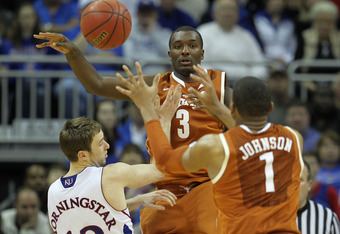 NCAA Bracket 2011 Predictions For The Texas Longhorns Will Depend On What Jordan Hamilton Shows Up For The Longhorns
I've already said earlier this week that the Longhorns have the tools, the skill and the ability to be the darkhorse team out of the West region. They can compete down low, they can shoot from the outside and they have the athletes to match up with Duke and some of the other teams in that bracket.
But the Longhorns are somewhat in the same boat as the Gators in that they sometimes don't play to their potential, and the truth is the Longhorns will go as far as Jordan Hamilton can take them. He's not the end-all, be-all on a Longhorn squad filled with Division I and future NBA talent. But Hamilton is also the leader, the catalyst and the guy who makes the Longhorns go.
And there's no doubting the talent Hamilton has as a scorer and a shooter. When he's on, Hamilton can hit from anywhere on the floor.
He's a strong perimeter shooter who can create his own shot. But when he's off, he's a lot like the Gators guards: He can get trigger-happy and start taking his teammates out of the game. Doug Gottlieb of ESPN even mentioned during the Big 12 title game that Hamilton has the ability to become disinterested and lax on the defensive end when things aren't going well for him.
And unfortunately for the Longhorns, they're like the Gators in that they're a Jekyll-and-Hyde-esque team. When things don't go right, they can become disinterested and individualistic. Now that being said, Hamilton was one of the catalysts in leading a big comeback win at Kansas nonetheless, so I have more faith in them then I do the Gators in the Tournament.
But it'll depend on Hamilton and his mentality. If he can get into the game, Texas is in great shape. But if he gets out of rhythm, then the Longhorns are in trouble as well as their National Championship hopes.
For more March Madness, head to Bleacher Report's March Madness page, where you can find a printable bracket and a guest column by Northern Colorado coach B.J. Hill.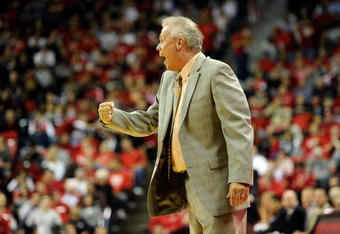 March Madness 2011 Predictions Haven't Paid Off Yet For Bo Ryan And Wisconsin
There's no doubting Bo Ryan's pedigree as a top head coach in college basketball. Ryan has won a few National Championships at the Division III level and he's been a consistent winner at the Division I level at Wisconsin.
At least in the regular season, anyway.
For all the success Ryan has had in the regular season, it hasn't translated into Tournament success. In his nine previous seasons in Madison, Ryan and his Badgers have only made it past the Second Round three times and only one trip into the Elite Eight. What might be more worrying is that the Badgers have lost to a lower seed three of the last four years and two of those seeds have been No. 10 or lower.
The Badgers don't usually win with stars, but that's been part of the reason why it's worked so well for them in the regular season. But the defense-first, grind-it-out offense has been exploited by faster teams in recent years with more up-tempo offenses.
Pat Forde of ESPN had a somewhat tongue-in-cheek column today about the best and worst-case scenarios for each team in the Tournament. This is part of what he wrote about Wisconsin's worst-case scenario.
"Team that scored a Cro-Magnon 33 points last time out shows up in Tucson and gets upset-romped in the first round," Forde wrote about the Badgers. "Badgers shoot 29 percent from the field and drive fans out of the McKale Center shielding their eyes from the horror. Wisconsin backers who feverishly defended Bo Ryan's plodding approach as "playing the right way" now wonder why the right way keeps turning out wrong in March."
Unfortunately for Badgers' fans, Forde is not that far off. Ryan has pieces on offense, especially considering the Badgers have a guard in Jordan Taylor who can be dynamic and take the game over. Still, it just hasn't worked out the way Wisconsin fans have hoped.
The Badgers will still support Ryan, as will the fan base. But if the trend of early-round exits continue, how much longer will that last?
For more March Madness, head to Bleacher Report's March Madness page, where you can find a printable bracket and a guest column by Northern Colorado coach B.J. Hill.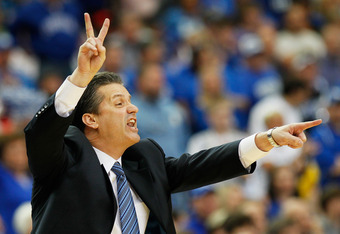 NCAA Bracket 2011 Predictions Usually Favorable For John Calipari But He's Still Looking For His First National Title
There's a lot of things we already know about John Calipari. We know the man can coach because he's one of the most highly-regarded coaches in college basketball. We know he can build and rebuild a program, because he's turned each school he's been at into a National Championship contender.
We know he can win, because he's taken two schools to a Final Four and all three schools to an Elite Eight. And we know he can recruit, because there's a whole laundry list of NBA players and stars he's recruited.
Yet we don't know if Coach Cal can ever win a big game. And I'm not talking about an SEC Championship or even getting to the Final Four, because he can do that. It's winning a National Championship, the one thing missing from Calipari's resume and the one thing he's still searching for as a head coach.
The closest he's come to a National Championship was still in 2008 with Memphis when he was a few missed free throws and less than 10 seconds away from a National Title. The talent has never been able to get Calipari over the hump, and one has to wonder if he'll ever be able to get there after missing out with last year's Kentucky team.
Calipari will have chances. Kentucky has two future stars in Brandon Knight and Terrence Jones and should make it to the Round of 32 at least. Of course after that the road gets a lot tougher, with potential matchups with West Virginia, Ohio State and North Carolina in the East region alone. Even then, West Virginia might be the biggest problems considering Bob Huggins' history against Calipari.
But Calipari is once again in the hunt for a possible National Championship. Whether or not Coach Cal can finally seal the deal is still to be seen.
For more March Madness, head to Bleacher Report's March Madness page, where you can find a printable bracket and a guest column by Northern Colorado coach B.J. Hill.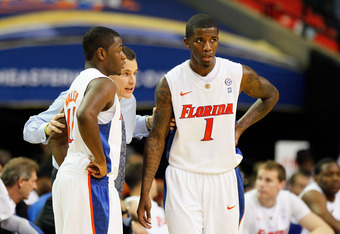 March Madness 2011 Predictions For The Florida Gators Hinge On The Play Of Kenny Boynton
The Florida Gators are a hard team to figure out. On one hand they have one of the best coaches in college basketball in Billy Donovan, a guy who's won two National Championships, and one of the most talented starting lineups in the country.
But on the other hand, they also look the part of a team that doesn't play up to its potential some nights and lost at home to Jacksonville back in December. That led to many college basketball experts suggesting the Gators were over-seeded as a No. 2 in the Southeast region.
The Gators have the potential to prove the doubters wrong, as well as the pure talent at forward and guard. But there's the question of moving the ball around, and guard Kenny Boynton among others putting up a ton of shots from the perimeter. Boynton can be a solid shooter, but he has a tendency to throw up shots indiscriminately, as proven by his 4-for-15 shooting effort against Ohio State.
That's not a problem, but when Vernon Macklin and Chandler Parsons are sitting in the paint and waiting for a ball that never comes, that can be a problem. Now Boynton's shouldn't get all the blame, as Erving Walker is just as much to blame. But it's pretty clear that the Gators are a much better team when Macklin and Parsons are involved.
But if Boynton and Walker get trigger-happy, that's a bad sign for the Gators. Especially if they're shooting like they did against Ohio State earlier in the season and taking bad shots. If that's the case, couldn't you see one of those two taking a bad shot in the final seconds with the game on the line while Macklin and Parsons watch?
Florida has the talent, it's just a matter of which team shows up.
For more March Madness, head to Bleacher Report's March Madness page, where you can find a printable bracket and a guest column by Northern Colorado coach B.J. Hill.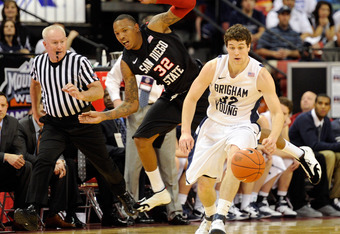 NCAA Bracket 2011 Predictions Hinge On Star Peformances, But How Will Jimmer Fredette Perform On The Big Stage
Jimmer fever has taken over college basketball, as Jimmer Fredette might be the best player to come out of BYU since Danny Ainge in the early 1980s. He's an electric player that only comes along once in a while (of course we said that about Adam Morrison and J.J. Redick to when they had their scoring race not that long ago), but the point remains he's just fun to watch.
That being said, these aren't same Cougars who were blowing the competition away earlier in the season. It may not all be about Brandon Davies getting kicked off the team, but BYU has struggled since then as has Fredette.
So with the eyes of the nation now on him as the NCAA Tournament kicks off for BYU, one has to wonder if Jimmer can hold up the scrutiny and pressure he's going to receive.
We all know about the scoring prowess, and even without Davies Jimmer put up some phenomenal numbers. But if there is a weakness to Fredette, it's that he usually needs a lot of shots to put up his numbers.
In the last five games without Davies, Fredette has taken 133 shots. While he's shooting 45.8 percent from the field in those games, that's somewhat skewed by the 22-for-37 performance, which was his 50-point game in the conference tournament. Take that out and Fredette is shooting just a hair better than 38 percent (38.2 to be exact) from the field.
Fredette is a phenomenal scorer, we all know that. But he also needs to hit his shot consistently for the Cougars to have a real chance without Davies. He's done it before, but he's been struggling from the field the last few weeks. How much longer can he carry the team on his back?
Basically at this stage the Cougars need Fredette to shoot the lights out every night to advance. That's not going to happen.
For more March Madness, head to Bleacher Report's March Madness page, where you can find a printable bracket and a guest column by Northern Colorado coach B.J. Hill.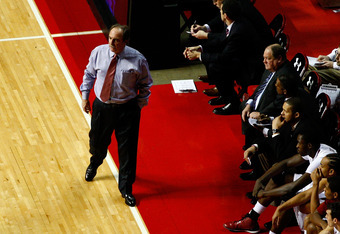 March Madness 2011 Predictions Could See Fran Dunphy And Temple Making A Final Four Run Or Another First Round Exit
There's no doubting that Fran Dunphy is an accomplished coach. He built an Ivy League powerhouse at Penn and he's turned Temple around and taken the Owls back to one of the top teams in the Atlantic 10.
But there's also no hiding the fact that Dunphy is 1-12 in the NCAA Tournament all-time, with his only win coming against Nebraska in the Round of 64 in 1994. And the fact of the matter is, that's not exactly a sparkling resume when the Owls are a trendy pick by some to perhaps come out of the West Region.
Dave Zeitlin of CSNPhilly.com had an interesting article breaking down Dunphy's record and how it might be overstated because of the matchups some of Dunphy's Quakers teams had.
"Of Dunphy's 12 first-round opponents, eight were ranked in the Top 25," Zeitlin wrote. "And in those games, Dunphy's teams lost by an average margin of 11 points – a respectable number when you look at some of the other lopsided early-round tourney games."
Zeitlin continued, with his point being that his record was more a fact of him overachieving at Penn and having matchups Dunphy wasn't expected to win.
And to be honest, there is legitimacy to that argument. Zeitlin makes the point that last year was the only time a Dunphy-coached team was ever favored in a Tournament game. And yes, the fact that he was the heavy underdog at Penn for every one of those games does make the record seem worse than than it is.
But one has to remember that Dunphy is now at a school where considering how successful it's been in a pretty decent conference, it's not unreasonable to expect Tournament wins. And the fact his Temple team got waxed as a favorite, ironically by a Ivy League school, isn't exactly a vote of confidence.
As of yesterday, Temple was a 2.5 point favorite against Penn State. It's a game the Owls can easily win but it's one the Owls can lose too because both teams are so similar in the way they play.
If Dunphy wins, then the questions will stop. But if the Owls get knocked out again, how much does the pressure get ratcheted up?
For more March Madness, head to Bleacher Report's March Madness page, where you can find a printable bracket and a guest column by Northern Colorado coach B.J. Hill.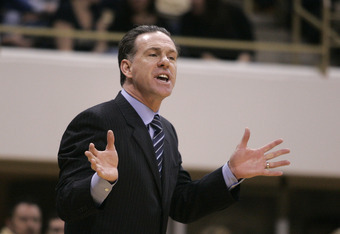 NCAA Bracket 2011 Predictions Are A Risky Proposition For Jamie Dixon and Pitt
To a man, Jamie Dixon has accomplished some remarkable things at Pittsburgh. Think about it, when he took over the program from Ben Howland in 2003, the Panthers had come off of back-to-back tournament appearances for the first time since 1987-1989.
Since then, he's built a powerhouse in Oakland that garnered itself another No. 1 seed in this year's bracket. But at the same time, his Panthers haven't lived up to the expectations of being a top seed. The Panthers have only made the Elite Eight once in Jamie Dixon's time at coach, which was also the only time the Panthers made the Elite Eight since 1974.
Now they've lost to some very good teams along the way. Oklahoma State, UCLA and Villanova all went to the Final Four when they beat the Panthers in 2004, 2007 and 2009 respectively. We all remember Scottie Reynolds going coast-to-coast to nail the game-winning shot. But that's indicative of the type of problems Pitt has in Tournament games.
The Panthers struggle to hit shots, the offense goes cold and they are susceptible to making mistakes on the defensive end. While we all remember the 2009 Elite Eight, we also have to remember that Pittsburgh almost became the first No. 1 to lose to a No. 16 in the First Round of 2009 when the Panthers let East Tennessee State hang around for most of the game.
If there's any chance for the Panthers to redeem themselves and finally make a Final Four, this is the year. They have an extremely easy road in their region with a crumbling BYU and a skeptical No. 2 seed in Florida. But we've also said that before with the Panthers.
The Panthers and Jamie Dixon will have chances to redeem themselves during the next couple of weeks. I wouldn't count on it though.
For more March Madness, head to Bleacher Report's March Madness page, where you can find a printable bracket and a guest column by Northern Colorado coach B.J. Hill.