UFC and Strikeforce: Top 8 Dream Fights of the Future
Where were you when the news broke Saturday? Will you remember what you were doing milliseconds before the people over at MMAfighting.com clicked the "post" or "publish" button, while digitalized 1's and 0's surged through the open wireless airwaves and closed circuits, bouncing from satellite to antennae to phone to processor to screen?
Did the phone's vibration, mini-light show or annoying dying fire alarm beep make you think your mom was calling back for the 14th time that day to remind you of the time change?
I got four calls and eight texts within five minutes, while I was wheeling and dealing with a mechanic who was trying to sell me air on a breezy afternoon. This partially exaggerated scenario might give off the wrong impression, like I'm the Fonzie or Mr. Popular on my block (not so true, I'd take the real life Ritchie Cunningham over Henry Winkler any day).
After the onslaught of notifications, I knew something was up. I just needed to find a few free seconds to slip out of view into a quiet place to get the low-down on what had all my MMA pals in a knot. Shortly after leaving the mechanics, I was blessed with some…um privacy to say the least.
If you're anything like me—confident, witty, handsome, okay I'll stop there—you have a sensitive stomach from hell that doesn't agree with all things spicy.
Thanks to my friends at Chipotle, who doused my burrito with hot sauce instead of mild, I was able to collect my thoughts and digest (no pun intended) the groundbreaking news in the confines of a peaceful Old Navy bathroom—where all great men do their thinking.
Coincidences work in mysterious ways; I was able to stay in the loop by being in the loop.
There are many hallmarks in one's life: first kiss, significant other, driving license, first hangover and where you were when you found out that the UFC bought out Strikeforce.
While yours truly was in his stall sanctuary, pondering the ins and outs of such a colossal deal sprung onto the MMA world with little-to-no-notice, I immediately decided that the glass was half-full, in a broader sense, as a result of this deal.
Now with Strikeforce's future as a separate entity in question after their contract with Showtime expires, the UFC is bound to absorb their talent into the fold similar to what transpired with the WEC.
With the great wall of contractual differences coming to an end, it creates exciting possibilities for huge "cross-promotional" affairs or superfights under the UFC banner. So let's take a gander at some dream match-ups we could see in the next couple of years.
Begin Slideshow

»
Both of these middleweights are two of the most eccentric fighters in the business. They command attention through their big personalities, stealing it with their ADHD tendencies when they don't get their way.
Pairing Miller and Lawlor together would not only produce pre-fight hilarity, but a memorable entrance showdown of showmanship.
Everybody remembers Miller's youtube sensation, an exuberant entrance at DREAM 9 that included costumes, techno music and a handful of Japanese schoolgirls, choreographed to a tee. The whole production lasted damn near ten minutes.
Lawlor is no slouch, he has walked Seth Petruzelli in a dog chain to the octagon and came from behind the curtain as Hulk Hogan and Apollo Creed during his stint as a middleweight in the biggest MMA promotion.
Who knows, maybe they would team up for a gut-busting co-produced walk out where we get to see both "perform" together down to the cage.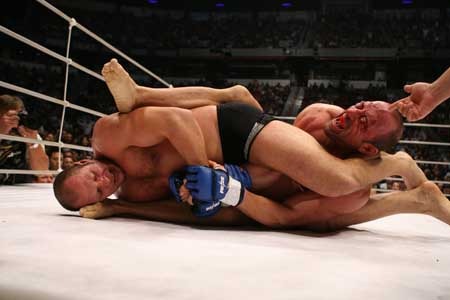 During the course of the last three to four years, fight fans have been infected with an obsession to see Fedor, arguably the most enthralling pound-for-pound fighter to grace the MMA mats, against whoever happens to hold the UFC heavyweight belt.
Before Brock had the belt, the public dreamed of a superfight between the Russian and Randy Couture, who held the heavyweight strap during a time when Fedor was unmatched overseas—literally.
Now looking forward, Brock still remains a force of nature regardless of tumbling under the waves of punches from Cain Velasquez. Despite dropping two consecutive losses, Fedor would be the perfect piece to possibly the greatest physical mismatch, freak fight in history.
Something tells me the results would mimic the Cain fight with Fedor unleashing fists of fury with Brock screaming "Vince" instead of tap until the ref called it.
Champion versus champion, an elusive scenario all fans from every corner of the MMA world would clamor over. As long as promoters don't undermine the intrinsic value of their champions, like boxing has, it's hard to go wrong pairing two titleholders together to discover the true king of the divisional hill.
Melendez, who believes he is a top-three, if not the best, lightweight in the world, would finally find some stiff competition in the UFC to help either validate or destroy his claims.
What would set Frankie apart in this match-up would be his speed advantage over a more methodically-paced Melendez, who likes to stalk, set up his shots and then explode. Technically speaking, both fighters have sound boxing, but unfortunately for Melendez, the contents that make up Edgar's chin might be the newest element on the periodic table.
If you enjoyed St-Pierre vs. Josh Koscheck, the epitome of good guy vs. bad guy, a match against Strikeforce welterweight champion Nick Diaz would provide all the mouthy mental warfare leading up to what would certainly be a more competitive fight.
Unlike Koscheck, who stubbornly disobeyed his corner's game plan by standing straight in front of GSP's jab, the craftier Diaz would have the unorthodox striking to disrupt the Canadian's "riddum"on the feet.
Hold the phone lines and reroute the hate emails; I'm not saying Diaz would win, but he is the best welterweight in the game aside from St-Pierre and deservingly the top pound-for-pound fighter outside the UFC.
Plus, who doesn't want to see Diaz rambling and cursing in all directions, trying his hardest to infiltrate GSP's rhino skin in hopes of making him vulnerable to fighting emotional on the big night?
For many of Overeem's past opponents, the horse meat chugging Golden Glory superstar is an unmovable object who has devastating accuracy in both his hands and knees and respectable speed for a man his size.
Facing a deadly combo like that in the octagon would give any and all UFC heavyweights serious problems, including the current champ Cain Velasquez. On the other hand, what Cain gives up in size and power, he makes up for in unfaltering determination, wrestling pedigree and explosive speed.
Gone are the days of the sumo-sized, beer chugging Goliaths who terrorized all the heavyweight divisions with their size alone, a testament to a failed understanding of the importance of dieting and nutrition. Being the size of a shed doesn't cut it anymore; a heavyweight fighter must combine his build and strength and learn to move like a middleweight if the long-term plan includes competitive longevity.
Neither of these guys are faced with that dilemma, which makes a potential fight all that more appetizing.
This banger would essentially be a historic MMA homerun derby between the Albert Pujols and Jim Thome of fighting. Both Lawler and Silva combined have knocked out 37 opponents in their careers—head damage is their specialty.
Once the bell rings, the roulette game begins with each fighter inching towards each other until they engage in the pocket, not backing down until one of them falls—preferably face-first and unconscious.
More than likely, nearly all the punches thrown in this fight will be looping haymakers, void of much technical flare. Despite Lawlor's slight technical boxing advantage though, he would have to avoid Wandy's underrated—often mysterious—ground game.
Strategically, Silva would want to get Lawler down. Realistically, neither brawler will back down at the opportunity of putting on a slugfest for the ages.
One-time teammates at Team Quest, both Olympic-caliber wrestlers, both undisputed legends of the sport with combined accomplishments surpassing most and both older than many of their fighting peers. The list of similarities between Henderson and Couture is staggering—both have won belts in different divisions to boot and are irreplaceable ambassadors of MMA.
Looking past all the shared professional accolades, these two competitors have similar personalities etched together by hard work, a modest attitude, great sportsmanship and primitive desire to compete at the highest level.
Nothing would beat watching these two try to out clinch, grapple and wrestle each other. Hendo locking and loading that H-Bomb and Randy scoring damage and points from his vintage style of dirty boxing and ground and pound.
Personally, a superfight between these two fighters would be the ultimate way for each to exit a sport they both have permanently altered and dominated like no other before them.
All great legacies are put in harm's way as fighters get older, an irreversible trait of all biological beings—Anderson turns 36 in April and Fedor 35 in September—who compete in combat-related sports. Despite being older, Anderson has momentarily avoided this slippery slope unlike Fedor, who seems to be entering a phase of unpredictability as he continues to battle top-flight guys hungrier and younger than himself.
A catchweight match between Fedor and Anderson would be an epic epilogue to their storied careers as undeniable pound-for-pound fighters. There's no better way to lose or win when fighting a fellow legend.