NCAA Bracket Update 2011: The Latest Scores, Predictions and Updates
Streeter Lecka/Getty Images
Here we go. The first game of the 2011 NCAA Men's Basketball Tournament has been completed in Dayton, Ohio with UNC-Asheville defeating Ark.-Little Rock 81-77 in overtime for the right to be the Southeast's No. 16-seed and play Pittsburgh in the first round.
Clemson and UAB play next to see who will face West Virginia in the first round as the No. 12 seed in the East.
With the tournament underway, the madness is welcome to unfold. By Thursday, we'll have the final field of 64 set. There is plenty more to figure out than just what teams will still be playing.
There are players with injuries aiming for comebacks to help their teams advance. No. 1-seed Duke hopes to get back super freshman Kyrie Irving. Florida State's Chris Singleton is eyeing a return. Purdue paid out a suspension. How will these unfolding stories affect these teams?
Pittsburgh now knows that it will play UNC-Asheville in the first round and can begin preparing for that matchup. West Virginia finds out whom its first-round opponent is later tonight. The Mountaineers will surely be watching along with the rest of us to find out whom the No. 12-seed in the East bracket will be.
There are three more play-in games to get ready for and 32 first-round games.
Here's the latest news, updates and predictions for the NCAA tournament.
For a printable bracket of this year's NCAA Tournament, see here. For all you need to know about this year's NCAA Tournament, see here.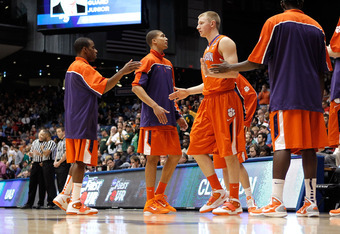 2011 March Madness: Tigers Will Move on To Face West Virginia in First Round of NCAA Tournament:
With the lead stretched to nearly 20 for most of the second half, the Clemson Tigers have put away the UAB Blazers 70-52 Tuesday night in Dayton, Ohio. With the win, Clemson has secured it's spot in the field of 64 as the No. 12-seed in the East bracket. It will take on West Virginia in Tampa, Fla. on Friday.
Clemson's defensive pressure never let the Blazers get comfortable offensively. Often, UAB was starting it's offense near half court and trying to bail itself out with wild dribble drives late in the shot clock. UAB continued to live by the three in the second half. In all, 12 of the Blazers 18 field goals came from outside. They only got to the line seven times, making four of their foul shots, and shot 18-for-48 in the game.
Ouch.
The Blazers were hoping to rebuke the theory that they should not have been selected for the tournament ahead of teams like Colorado, Alabama, Virginia Tech and Harvard. All UAB did was prove the selection committee critics correct.
It was an ugly game every since Clemson raced to a 25-7 lead with 9:37 left in the first half. With Jerai Grant scoring 22 points—on 10-of-16 shooting—the Tigers put together an impressive performance.
It's now time to see if they have what it takes to pull a first-round upset. West Virginia put together an impressive resume this season, going 8-6 against the RPI's top 50 and won three of their final four, including wins over ranked opponents Connecticut and Louisville.
Clemson will have to turn around in two days and play a gritty team with the experience of a Final Four run just a season ago under its belt.
For a printable bracket of this year's NCAA Tournament, see here. For all you need to know about this year's NCAA Tournament, see here.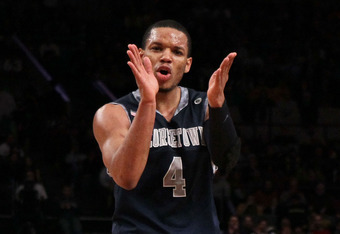 2011 March Madness: The Hoya Guard Tweeted That He Will Be Playing In the NCAA Tournament:
Georgetown is hoping and praying that it gets Chris Wright, its point guard, back for the NCAA tournament. He broke his hand earlier this season and had surgery on Feb. 24. He returned to practice Monday and there is nothing keeping him out of the Hoyas' first round matchup with either Virginia Commonwealth or Southern Cal.
The senior point guard is the key to Georgetown's success. The Hoyas lost four straight games without Wright, including the Feb. 23 matchup with Cincinnati in which he was injured. Wright averages 13.1 points and 5.4 assists per game.
Georgetown was 21-6 before losing Wright and ended the season thirteenth in the RPI rankings, the Hoyas were seeded sixth in the Southwest bracket. With Wright back, are they grossly under-seeded?
They navigated the toughest schedule in the country, winning eight games over teams in the top 50 of the RPI.
If Georgetown gets past USC or VCU and Purdue is bothered by the distraction created by Kelsey Barlow's suspension, the Hoyas could very easily end up in the Sweet 16.
The Big East received 11 bids this season with the general consensus being that, despite the league's depth, it had few elite teams that stood out as Final Four hopefuls. Adding Wright to the mix may elevate Georgetown to that level. He's their most important player and shouldn't have lost much conditioning with the hand injury.
However, the Hoyas would likely meet up with Notre Dame in the Sweet 16. The Fighting Irish beat the Hoyas by 14 Dec. 29.
For a printable bracket of this year's NCAA Tournament, see here. For all you need to know about this year's NCAA Tournament, see here.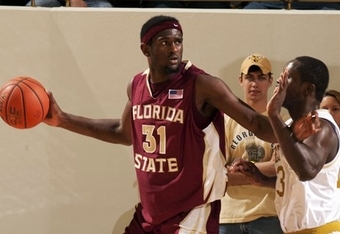 2011 March Madness: It is Doubtful That Singleton Will Return From Fracture Foot to Play Texas A&M:
Florida State coach Leonard Hamilton said today that the possible return of Chris Singleton is still in doubt. The forward fracture his foot February 12 and has been trying to rehab his way back ever since.
If Singleton is ready to go, he would be a gigantic boost to the Seminole's chances to win in the first round against Texas A&M. Singleton averaged 13.8 points and 7.1 rebounds per game for Florida State in becoming one of the best post players in college basketball and creating a first-round NBA draft profile.
The Seminoles are 3-3 without him.
Considering that Singleton practice for about a third of the team's practice on Monday, shouldn't he be ready to go Friday?
Conditioning may be a concern, but 20 minutes of Singleton is better than zero minutes of him, even if it's mainly for his defensive presence. He still has two full days and most of Friday to get comfortable. It seems like a player that dressed for the team's final ACC tournament game and is back in practice should be ready to play in the biggest game of the season three days from now.
Is Leonard playing games leading up to the game? Texas A&M is probably delivering a two-part game plan and Leonard knows it. Withholding information is one the oldest coaching tricks in the book.
Singleton has to be itching to play. He'll likely opt for the NBA draft and be rewarded with a first-round selection. He could provide an all-time tournament story by returning and taking Florida State to a surprise Sweet 16.
For a printable bracket of this year's NCAA Tournament, see here. For all you need to know about this year's NCAA Tournament, see here.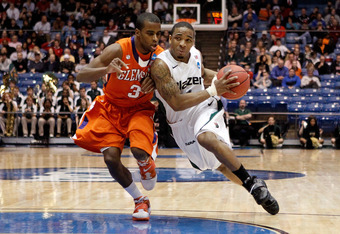 2011 March Madness: Clemson Built a Large Lead Before UAB Climbed Back In:
The Tigers seemed to have one foot in the field of 64 when it led the Blazers 31-13 with 6:20 left in the first half. Clemson put together a 13-point run to put UAB in a tough spot.
The Blazers haven't given up, battling back for a 39-27 deficit at halftime.
The teams are vying for a first-round matchup as the East's 12-seed and a game against the West Virginia Mountaineers.
Clemson was led by Jerai Grant, who scored 12 points on 6-of-9 shooting. He also grabbed seven rebounds. Forcing UAB into 12 first-half turnovers didn't hurt either.
The Blazers still have an entire half to earn a spot in the first round of the tournament. Flipping the teams' shooting percentages should be priority No. 1. UAB bricked its way to 33.3 percent shooting in the first half while Clemson set the nets on fire at 53.6 percent.
UAB stayed in the game with the three-point shot. Seven of their nine field goals were from long distance.
Picking up the pace of the game will help UAB. Firstly, slowing things down while behind doesn't help. Get up and down the court and create more possessions. Lengthen the game. Run and find easy baskets and get the energy level up.
Dexter Fields has already hit three treys with Jamarr Sanders and Aaron Johnson each hitting two. If that trio can stay hot, UAB has a great chance to climb back in. There are 20 minutes left, and this is the time of year for the improbable to happen.
For a printable bracket of this year's NCAA Tournament, see here. For all you need to know about this year's NCAA Tournament, see here.
2011 March Madness: Backup Guard Is Gone for the Season for Conduct Detrimental to the Team:
Purdue looked like a strong choice to make a Final Four run. But the Boilermakers resume took a hit Tuesday when coach Matt Painter suspended backup guard Kelsey Barlow for the season for conduct detrimental to the team.
Barlow averaged 5.1 points and 1.6 assists in 20 minutes per game this season. He'll be providing none of that production in the tournament.
It is unknown why Barlow was suspended, but it is know that it will have an effect on the team.
Why is it that a college student athlete loses all sense when the season ends? Who knows what Barlow did. It could have been something small or a combination of things. Either way, it's an unfortunate trend among players.
It seems like at the exact moment that the college football season ends and teams are waiting for their bowl games, players start getting in trouble. The must have too much time on their hands or something. They get themselves suspended from the postseason.
Unfortunately, Barlow has done something that has prompted Painter to leave him off the roster in the tournament.
Now Purdue has to make up for the loss of Barlow. More than anything, it just thins out the bench for the Boilermakers. JuJuan Johnson and E'twaun Moore will have to make up for the loss of Barlow, which they are capable of doing.
St. Peter's just got a boost in its chances to upset Purdue and keep the Boilers from any deep tournament run.
For a printable bracket of this year's NCAA Tournament, see here. For all you need to know about this year's NCAA Tournament, see here.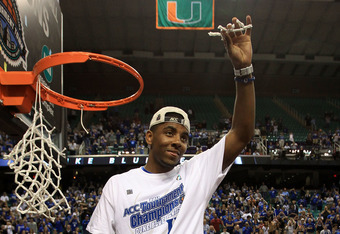 2011 March Madness: Star Freshman Irving Could Return from Toe Injury After Three Months Out:

It's been since Dec. 4 that Duke's stud freshman guard Kyrie Irving has played for the Blue Devils. He went down with a toe injury in that game against Butler and hasn't returned to the floor since. Duke has been missing Irving's ability to get to the rim and also shoot from the outside.
But the Blue Devils may not be without him any longer.
Irving's protective boot was removed March 4 and he was cleared to begin working out again. He's participated in limited basketball activities and hasn't been ruled out of playing again this.
While Duke has remained an elite team without Irving, earning a No. 1-seed in the West bracket. With Irving, however, Duke was a favorite to defend it's 2010 national championship. Irving is expected to be one of the first players taken in the 2011 NBA draft thanks to his quick first step and smooth shooting stroke.
He was averaging 17.4 points and 5.4 points per game before hurting his right big toe. He was shooting a ridiculous 53.2 percent from the field a a ridiculous 45.2 percent from three-point range.
Duke coach Mike Krzyzewski recently said that there is a chance that Irving would return, even if it is in a reduced role off the bench. The addition of Irving changes the makeup of the team altogether. As long as he can blend back in—and all signs from earlier in the season say he can—Irving would bring the Dukies back to the forefront of title contenders.
For a printable bracket of this year's NCAA Tournament, see here. For all you need to know about this year's NCAA Tournament, see here.