UEFA Champions League: Manchester United vs. Marseille Live Blog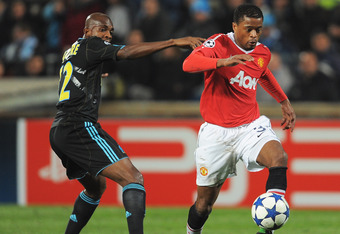 Michael Regan/Getty Images
Manchester United take on Olympic Marseille in the second leg of the Round of 16 in the UEFA Champions League at Old Trafford Tuesday night. The two teams played out to a 0-0 draw three weeks ago at the Stade Velodrome in France.
The aggregate score simply means that the winner of tonight's match will move on to the quarterfinals. However, Marseille simply need a scored draw to advance on the away goals rule.
The last time these two teams met, Manchester United were incredibly underwhelming, with Marseille being the better team. However, things will be different for United this time around with their home fans behind them.
Follow along with all the action right here as there will be updates throughout the match.
That'll do it for here. Thank you to all of you who followed along.
Final whistle blows and Manchester United defeat Marseille 2-1 to advance to the quarterfinals of the UEFA Champions League. It wasn't pretty but United were patient as they broke down the Marseille defense. Javier Hernandez scores both United goals with Wes Brown's own goal getting Marseille on the score sheet.
Two minutes left. At this point United is just contempt to just boot the ball as far down the field as they can. I have no problems with this. Just try keeping it there.
Four minutes of stoppage time. Four more minutes for United to hold on. Four more minutes of Wes Brown...
Marseille have been in absolute control since scoring their goal. Suddenly this match isn't fun anymore.
Suddenly the though of Wes Brown trying to hold a one goal lead over the last six minutes is a TERRIFYING thought.
And look at that, replays also show that Marseille didn't score a goal at all, rather it was Wes Brown! As if we didn't know that playing him wouldn't turn into a complete disaster!
Marseille get a header off a corner that is cleared off the line by Paul Scholes, after a slight delay, the referee rules it a goal. All of a sudden it's 2-1 and Marseille have a chance of advancing.
Replay reviews showed that the ball clearly was over the line.
Judging by the way Rooney is moving around now, I think it was scenario two that went down.
Rooney emerges from that corner holding his junk and grimacing. Either Rooney injured his groin, or Rooney doesn't wear a cup. There are no other options here.
Manchester United seem contempt with a 2-0 lead and have morphed into their "we have no interest in scoring, we'll just pass it around" attack style... Somehow this style leads to United winning a corner kick.
£6 million pounds for Hernandez can join Sir Alex's list of other terrific cheap signing such as Nemanja Vidic, Patrice Evra and the Da Silva twins. Unfortunately with every great cheap signing, you also get the Gabriel Obertan's and Bebe's of the lot, and unfortunately Sir Alex is not one to cut his losses.
Aside from all the other things Hernandez does well, Chicharito is an absolutely fantastic finisher. He really does not miss from in front of goal.
Meanwhile right back on the other end, Valencia finds Giggs who slides it into the middle where Javier Hernandez is waiting to finish. 2-0 United.
Cheyrou comes in unmarked to put a shot towards the bottom left corner but a terrific save is made by Van Der Sar. Defensive concerns continue to grow for United.
The fact that Paul Scholes has played 73 minutes in a Champions League match without picking up a yellow card is truly astonishing.
One word of advice for Rafael and John O' Shea. Don't go to the same hamstring doctor as Owen Hargreaves.
The injury bug is hitting United once again. Rio Ferdinand is still out, they lost Vidic prior to the match with a calf injury, and then they lost O' Shea and Rafael with hamstring injuries during the match. Jonny Evans is also still injured but that of course is good news.
Marseille kicks the ball out of bounds as Rafael is clutching his hamstring. Fabio begins warming up. United have just one substitution left. Two of them will have been used to change right backs. Two of them will have been used to bring on a Da Silva twin.
One hour gone by, still 1-0 to United, Nani now being replaced by Antonio Valencia who returns to Old Trafford for the first time since breaking his ankle during a Champions League match vs. Rangers back in September
Once again, I love how Fox Soccer Channel has the audio feed about a second before the visual feed. Hearing the announcers say things/the crowd react before I see it happen totally doesn't ruin anything at all.
United absolutely need a second goal. Marseille are attacking and nothing about Wes Brown and Chris Smalling is making me feel confident in saying "clean sheet"
And just like that Gignac comes right through United's defense after a header, Van Der Sar is first to the ball though. Wes Brown was employing the "Jonny Evans just watch the striker go right by you" defensive tactic on that one.
And we are now rejoined by match commentators Bill Leslie and Ray Wilkins restoring order to the galaxy.
Oh god, it just gets worse for Fox Soccer Channel. They've lost their commentary feed so now the studio guys are trying to give us live analysis.
What's even worse? Are they giving us play-by-play? No, of course not, that would make too much sense. Instead they are trying to give us analysis on the first 11 seconds of the second half.
This article is
What is the duplicate article?
Why is this article offensive?
Where is this article plagiarized from?
Why is this article poorly edited?

Manchester United: Like this team?