Alex Ovechkin and the Top 10 Goals of Last Week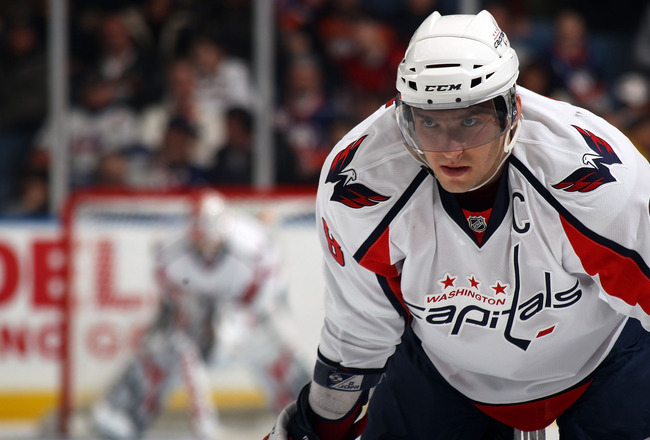 Bruce Bennett/Getty Images
There's no question that the NHL is packed with some of the world's greatest athletes who night after night can dazzle fans with displays of their skill and grace.
However, in a league that plays about 30 games per week, there are a few select plays where a goal is scored in truly spectacular fashion. These "Goals of the Week" are the type of thing that are spread around the Internet, or even crack the nightly SportsCenter's "Top 10" that night. Even though they were done last week, these goals deserve a second look.
Here are my picks for the top 10 goals in the NHL from last week.
Click here to follow me on Twitter for news, updates, links, and more!
10. Lars Eller vs. Boston Bruins (March 8, 2011)
Lars Eller's second goal of this game was a pretty spectacular tally, capitalizing on a pretty bad defensive mistake by the Bruins.
Having the sense to hang back behind the defense for the extra couple of seconds really paid off as Eller showed his beautiful hands and mature patience to stickhandle around a floundering Tuukka Rask and lift the puck into the net. It was a goal that told the story of just how much Montreal dominated their long-time rivals that night and just how skilled the Montreal Canadiens can be when they're on their game.
9. Alexander Semin vs. Edmonton Oilers (March 9, 2011)
Ladies and gentlemen, the Washington Capitals are back, and when they're scoring goals like this, there's no telling what their on-fire offense is capable of.
Alexander Ovechkin is heating up again, and guys like Nick Backstrom and Alexander Semin are scoring goals by the bucket again, bringing the Caps back to within two points of the top of the Eastern Conference, and back on track to a second-straight Eastern Conference championship. This is just one example of what they're capable of, with Semin and Marco Sturm teaming up for a brilliant goal.
8. Brett MacLean vs. Calgary Flames (March 10, 2011)
Brett MacLean might have received the credit for the goal, but this was a brilliant team effort from the entire Phoeix Coyotes line, all of whom touched the puck on this play.
Starting with a pass from one defenseman to his partner, the Desert Dogs moved the puck up the ice with precision passes, resulting in an offensive passing play that ripped apart the Calgary defense at the seams. Don't blink with this Phoenix team as they've proven they have the talent like this to beat any team in the league.
7. Torrey Mitchell vs. Vancouver Canucks (March 10, 2011)
It may have been his first NHL goal since December 16, 2010, but Sharks fans really didn't care.
When a guy known more for his grit and toughness can score a goal like this to tie the score in the dying minutes of the game, it's something truly spectacular. Mitchell will no doubt remember this one, getting a pass at center ice and weaving his way through four Vancouver Canucks players (including an impressive through-the-stick dangle against Dan Hamhuis) on his way to jamming the puck through the five-hole against Corey Schneider.
Even more memorable is that this is the game-tying goal in what might go down as the best regular season game of the year.
6. Pavel Datsyuk vs. Edmonton Oilers (March 11, 2011)
The hero in Detroit strikes in the clutch.... again.
After a frustrating game for the Red Wings, where they tied the game in the last minute of regulation after getting absolutely stonewalled by a young Devan Dubnyk, Pavel Datsyuk ended this one in the five-minute overtime period with a brilliant snipe from the high-slot. Even prettier was Datsyuk's awareness to recognize a diving Liam Reddox, stickhandle around him, and then let his shot go into the top corner of the net through a series of bodies piled up in front.
5. Matt D'Agostini vs. Montreal Canadiens (March 10, 2011)
I don't know how this goal got dropped to No. 10 on the NHL's top-10 list because this is truly spectacular.
Not only does the pressure of St. Louis cause a turnover in the neutral zone, but Matt D'Agostini, a guy with 15 tallies on the year now, shows just how great his hands can be by picking a pretty poor setup pass from Andy McDonald out of midair and tapping it into the frame behind a very good Carey Price in net.
For a team like St. Louis that's reeling down the standings from injuries, it's great to see goals like this being scored from your "depth" forwards.
(Note: Fast-forward to the 3:30 mark of this video for the highlight)
4. Erik Kondra vs. New Jersey Devils (March 8, 2011)
Often times it's the little things, like Ryan Shannon winning a race and then a battle for the puck along the boards, that can create a spectacular goal.
This is the case with Erik Condra's goal here, actually the first of two he would score that game. Of course, Condra's having the presence of mind to completely stickhandle through the Devils' defense is one thing, but then on top of that getting a shot off and then knocking your own rebound out of midair into the net with that entire Devils' defense draped all over your back...well that's pretty spectacular in my opinion.
(Note: It's the first goal of this video clip.)
3. Chris Stewart vs. Columbus Blue Jackets (March 9, 2011)
If skills are ugly, l then this goal was just plain filthy.
Chris Stewart, who has been the best trade deadline move the Blues could have ever hoped for since coming over from Colorado, demonstrates not only his offensive prowess, but his youthful stickhandling skills and incredible boldness to be using them in such a clutch situation. I mean come on, a fantastic toe-drag dangle to school Grant Clitsome was beautiful enough, but then topping it off with a backhand goal (in overtime, by the way), that beat Matthieu Garon shortside over the shoulder...mind-blowing.
2. Joel Ward vs. Colorado Avalanche (March 12, 2011)
This is one example of an absolutely amazing personal effort from Joel Ward, and really demonstrates how complete of a hockey player he is.
He had brilliant anticipation to intercept the clearing pass from Jay McClement, great patience to out-wait and skate around a diving Peter Budaj, and extreme creativity to skate out from the goal line and one-hand backhand the puck into an empty goal. Nashville's going to need a few more of these goals if they want to have any hope of squeaking back into the playoffs.
1. Alexander Ovechkin vs. Edmonton Oilers (March 9, 2011)
NHL.com had this goal in the number-two 2 slot on it's top-10 list, but I firmly believe that this was the prettiest goal of the week.
Ovechkin not only started the play by stripping the puck from Edmonton's Kurtis Foster, but he also finished it on a pretty back-and-forth passing play with Marcus Johansson that left Nikolai Khabibulin floundering in the net like a fish out of water. Ladies and gentlemen, the Capitals are back, and if you needed any evidence, here it is.
If you liked this article: Click here to follow me on Twitter!
Keep Reading