NHL Entry Draft: Four Players Who Will Determine the First Round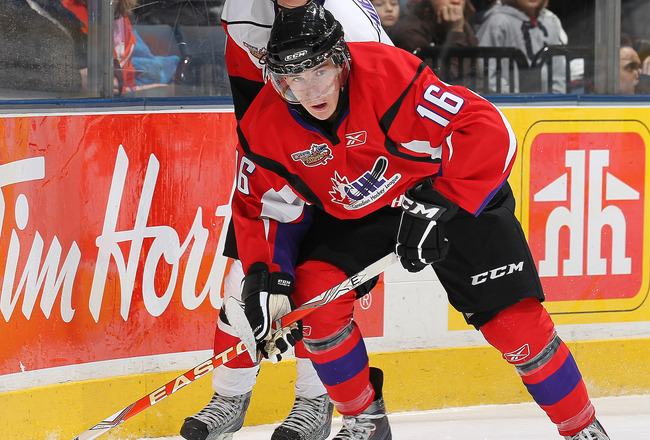 Claus Andersen/Getty Images
We all know about the Big Four.
At some point over the last few months you've heard about Adam Larsson, Gabriel Landeskog, Ryan Nugent-Hopkins and Sean Couturier.
Larsson's unlikely to escape the top two draft spots. Even if he were to cap out as a 35-40 point defender, the whole package is too tempting to pass up.
Some combination of Landeskog or Nugent-Hopkins will also make up the top three. It's really going to come down to a team's need to either take a cerebral center or a pure power forward.
Then Sean Couturier slides in at number four. A safe pick in a draft without safe picks. A comfortable consolation prize for the team that misses out on the top three.
But with the Big Four locked in at the top of the Draft order, what comes next? The rest of the first round is almost never determined by the surefire kids at the top of the order, but by who comes after them. The fifth to fourteenth picks tell you where general managers are putting their priorities. It tells you where the question marks on some players lie and how widespread those questions are.
Here are the four guys to keep your eyes on for the first round. We'll call them "the next four."
Ryan Murphy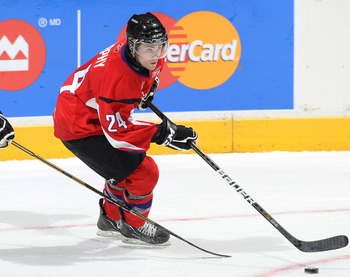 Claus Andersen/Getty Images
Central Scouting Rank: 10th
ISS Rank: Fifth
Bob McKenzie's Midterm Rank: Seventh
Craig Button's March Rank: Fifth
ESPN Rank: 14th
Height: 5'11"
Weight: 170
Current Team: Kitchener Rangers (OHL)
NHL Comparable: Paul Coffey
Rundown: The concerns with Murphy are obvious. He's not big for a defenseman. The prototype for what you want on your blue-line is big, rough and rugged. Murphy—though he does throw a mean hipcheck—is absolutely none of those things.
But I spoke to one scout who said Murphy could be an elite offensive talent from the blue-line. "He's just got that sense, you saw it in guys like Coffey, they always know what to do with the puck." While comparing Murphy to maybe the second or third best offensive defenseman of all-time could be considered a significant reach, no one doubts he has the tools.
Gifted with great hands, agile feet, incredible hockey sense and a booming shot, it's hard to see exactly what's supposed to hold him back at the NHL level.
What it Means if He's Picked Early: Picking Murphy early could mean that his size isn't viewed as a general concern or at least it's not seen as enough of one to hold a team back. It could also be a sign of lacking confidence in the defensive depth of this year's draft class.
Dougie Hamilton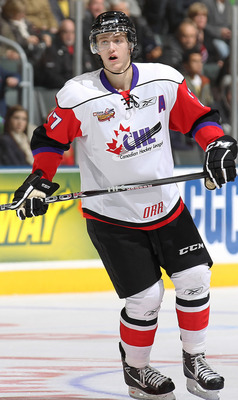 Claus Andersen/Getty Images
Central Scouting Rank: Seventh
ISS Rank: Ninth
Bob McKenzie's Midterm Rank: Fifth
Craig Button March Rank: 12th
ESPN Rank: Eighth
Height: 6'4"
Weight: 190
Current Team: Niagara Ice Dogs (OHL)
NHL Comparable: Pavel Kubina
Rundown: Hamilton is pretty much the polar opposite of Murphy. He's not pure undistilled offence and his size is obviously unquestioned.
But what a lot of scouts like about Murphy is flash and they just don't see that in Hamilton. "There are about 730 players in the NHL at any time and only about 70-80 names you hear regularly. Hamilton will be one of the other 650," one scout said. Hamilton's big but not as mean or physical as fellow draft eligibles Duncan Siemens and David Musil. He has good offence, but it's not as natural as it is for Murphy or Nathan Beaulieu. That tweener tendency could hurt him with GMs.
What It Means if He's Picked Early: Someone is sold that his size and offence are enough to overlook his lack of snarl. They think he can contribute on the PP and at even strength even if he's never a shutdown defenseman. Because Hamilton isn't as much of a risk as Murphy, his going early could mark a tendency of general managers to be reaching for "safer" players.
Ryan Strome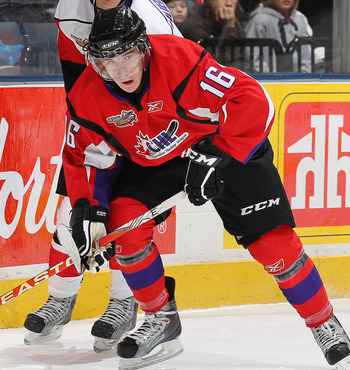 Claus Andersen/Getty Images
Central Scouting Rank: 19th
ISS Rank: Seventh
Bob McKenzie's Midterm Rank: Sixth
Craig Button March Rank: Seventh
ESPN Rank: Fifth
Height: 6'
Weight: 183
Current Team: Niagara Ice Dogs (OHL)
NHL Comparable: Bryan Little
The Rundown: Projecting what kind of player Ryan Strome will be is totally dependent on what kind of player you think Strome currently is. If that sounds like equivocation, that's because it is. But if you ask scouts, you'll get a lot of the same groaning that I'm giving you right now.
Strome has tools. First class hands, a good shot, serious creativity when the puck hits his stick, but I just don't see the mile high hockey sense other people see. I don't think he's going to be a top tier offensive center at the next level. I do see a lot of Bryan Little, another Marty Williamson product, in him. He's a creative player who will use that to create chances.
What it Means if He's Picked Early: Some team is sold that he at least has number one center upside. Like Hamilton, Strome is a "safer" pick. He will probably be an NHLer in some capacity, but it's easy to see him frustrating some team with flashes of brilliance that aren't sustained over long periods.
Jonathan Huberdeau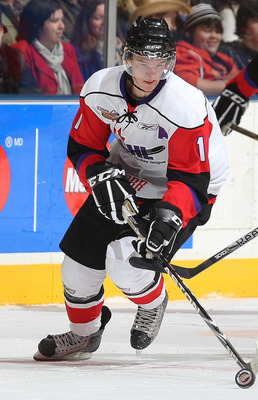 Claus Andersen/Getty Images
Central Scouting Rank: Fourth
ISS Rank: Thirteenth
Bob McKenzie's Midterm Rank: Ninth
Craig Button's March Rank: Fourth
ESPN Rank: Sixth
Height: 6'1"
Weight: 165
Current Team: Saint John Sea Dogs (QMJHL)
NHL Comparable: Derick Brassard
The Rundown: You're either sold on Huberdeau or you aren't. This one is that simple.
There are four Saint John Sea Dogs projected as possible first round picks this year. That has drawn both considerable attention and considerable criticism. The criticism of the Sea Dogs players is that they're force-fed all kinds of ice time and opportunity that they're unlikely to receive at any other level. They're also on the most dominant team in the weakest of the three CHL Leagues which could lead to some serious statistical inflation.
However, if you take their performance at the Prospects Game into account, Huberdeau comes out head and shoulders above his teammates. He's got the game-breaking hockey sense you're looking for, but not necessarily getting with Ryan Strome. He can stickhandle just as well and he's even a bit of a chippy player.
The drawback? Anyone whose witnessed the Nazem Kadri drama in Toronto will testify how important size is in the current NHL. Guys who are lights out at 170 pounds maybe aren't when they hit 185 pounds because they aren't conditioned to skate with the additional weight. They can't take the pounding of the league if they play at 170. That's a realistic concern here.
What It Means if He's Picked Early: Risk over reward. Last year, a lot of scouts said that Ryan Johansen was the only player not named "Tyler Seguin" who could become a franchise center in the NHL. Everything Johansen has done since that date has justified that level of faith. Huberdeau is much the same. If you think the upside is worth the risk, you take him early. Huberdeau going off the board early could mean general managers are more willing to roll the dice on prospects than in previous years.
Keep Reading