10 Best Lions Draft Picks of the 2000's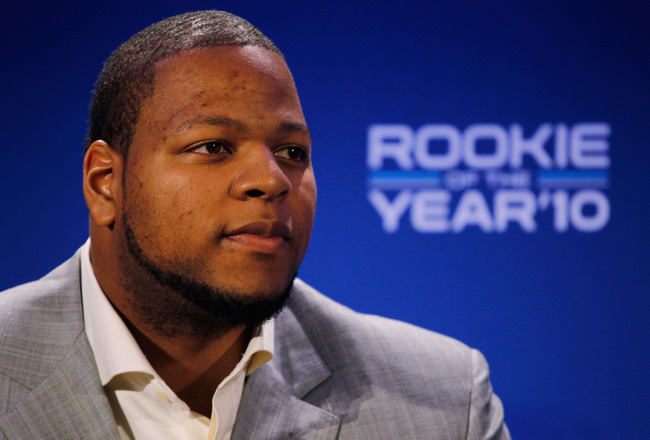 Ndamukong Suh won AP Defensive Rookie of the Year in 2011
Scott Halleran/Getty Images
With the Lions' staff working tirelessly to find the next impact players to don the Honolulu and blue, it is a great time to take a trip down memory lane and relive some fond draft day moments.
I created a list the team's best picks from the years 2000-2009. This list is based on four different variables: how productive the player was, the player's projected future, where the player was drafted and the other players drafted after him.
This list is very subjective, and was tough to narrow down and order. The most staggering thing about the list: four of the 10 players on the were drafted in 2008 or 2009. This is saying something, because these guys have had so little time to prove themselves on the field. The players that were drafted earlier in the decade had time to develop and mature as players, and then produce at a high level once they reached their primes. These four players are already playing well for the Lions and filling nice roles for the team, despite not not having much time to develop.
One noticeable omission is Matthew Stafford. I wanted to stay away from uncertainties with this list, and ultimately, Stafford's health is too big of an issue moving forward. I like the kid's mental toughness and physical tools, but I need to see more productivity and durability before I anoint him as a 'great draft pick'.
No. 10—Roy Williams: 1st Round, 7th Overall in 2004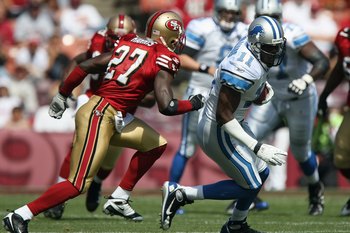 Jed Jacobsohn/Getty Images
The seventh overall pick in the 2004 draft notched 3884 receiving yards, 28 touchdowns and 395 "over-the-top first down signals when his team is down 35 points" while wearing a Lions uniform (that last stat is unofficial).
Williams was a productive player for the Lions, but did not perform at the level you hope a seventh overall pick would. He is not regarded as a good locker room guy, and has caused many issues in the Lions and Cowboys locker room. Still, he makes the list, mostly because of the lack of quality picks in the Matt Millen era.
Another reason he made the list was that the Lions traded Williams to Dallas, and got a ton in return. They got a first round pick (Brandon Pettigrew), a third rounder (Derrick Williams), a sixth rounder (Aaron Brown) and a seventh rounder in 2010.
Williams gave the Lions a few solid seasons, and helped replenish the teams young talent because of his trade. The impact of his draft selection will be felt for many years down the road.
No. 9—Sammie Hill: 4th Round, 115th Overall in 2009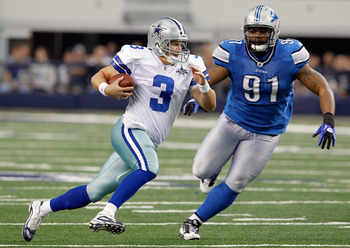 Tom Pennington/Getty Images
The Lions appeared to find a capable starter in Hill. Most fourth round picks are not expected to come in play a big role right off the bat, but Hill has, and has performed admirably with this responsibility.
Hill appears to have a future as the man standing next to Ndamukong Suh in the middle of Detroit's defensive line. Given his age, early production and where he was drafted, Hill was a nice pick by Martin Mayhew and Company.
No. 8—Cory Redding: 3rd Round, 66th Overall in 2003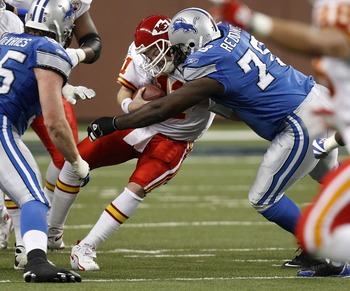 Gregory Shamus/Getty Images
The defensive end was drafted in the third round in 2003. He played six seasons with the Lions, peaking in 2006 with eight sacks and two forced fumbles.
As a third rounder, the Texas grad performed above expectations. He was eventually swapped for Julian Peterson in 2009. Now, Redding plays for the Baltimore Ravens.
One strike against the Redding pick: three of the five players drafted after him turned out to be very good players, two of which have gone to the Pro Bowl. Redding was drafted 66th overall; the 68th pick was Lance Briggs, 69th was Jason Witten and 71st was current Lion Nate Burleson.
No. 7—Jeff Backus: 1st Round, 18th Overall in 2001
Christian Petersen/Getty Images
The Lions caught a tough break in the 2001 draft. The team was targeting a guard out of Michigan named Steve Hutchinson. Unfortunately, the Seahawks took him at No. 17, one pick before the Lions drafted.
So, Detroit had to settle for his college teammate, Jeff Backus. Hutchinson has made seven straight all-pro teams; Backus allows over seven sacks per season. You get the drift.
Some good players were drafted after Backus; Casey Hampton of the Steelers was drafted one pick later. Reggie Wayne, Nate Clements and Drew Brees each went in the next 15 picks.
Backus has taken his fair share of heat from Lions fans over the years, but he has been a solid starter for a decade. No, he is not your ideal left tackle, but he has never missed a game in his career, appearing in 160 straight games for the team. He is very mediocre compared to many left tackles around the league, but at least he has been durable and reliable in his career.
No. 6—Dominic Raiola: 2nd Round, 50th Overall in 2001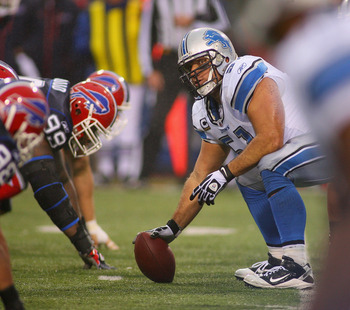 Rick Stewart/Getty Images
The center from Nebraska was picked the same year as Backus, and the two have been mainstays on the Lions offensive line ever since. Raiola has been a good player for the Lions, and an excellent value at the 50th overall pick. No stars were picked after him in the second round that season, so it appears the Lions got this pick right. In an era where they got so many picks 'wrong', it was refreshing to read that.
No. 5—Cliff Avril: 3rd Round, 92nd Overall in 2008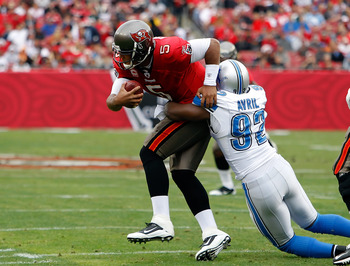 J. Meric/Getty Images
The Lions had a mediocre 2008 draft, but Avril was a great value for the team late in round three. The 6'3" DE has turned in at least five sacks in each of his NFL seasons, and finished with eight of them last year. He also has forced eight fumbles in his three-year career, and at the age of 24, he looks to be a important part of the Lions future.
With young players like Avril, Hill and Ndamukong Suh, it appears that the Lions should have an above defensive line for years to come. As football fans know, having a good defensive line is vital to the success of a team, and Detroit should be solid in this facet of the game the next five plus years (assuming they can keep their young players). Avril is a good pass rusher who should only improve with age and experience.
No. 4—DeAndre Levy: 3rd Round, 76th Overall in 2009
Jed Jacobsohn/Getty Images
Levy missed five of the first six games in 2010, only playing sparingly in a week three game against the Vikings. Once he got healthy and got in to game shape, he was a beast. In the team's four game win streak to end the season, Levy totaled 34 tackles, two interceptions and one defensive touchdown.
He is still young, but the early returns on this third round pick out of Wisconsin are looking fantastic. He has to overcome a bad history of injuries, but if he stays healthy and continues to improve he could be one of the better middle linebackers in the league. Lets hope he stays healthy and continues to produce as the middle man in the Lions defense.
No. 3—Louis Delmas: 2nd Round, 33rd Overall in 2009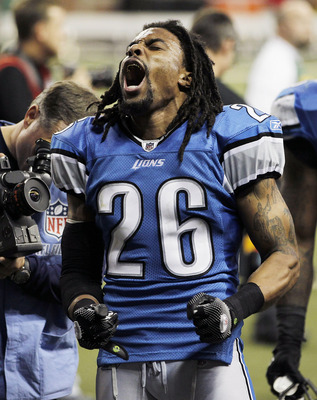 Gregory Shamus/Getty Images
As Lions fan, it is exciting to know that Delmas and his dreadlocks will be roving the Lions defensive backfield for the next few years. His numbers regressed a little bit from 2009 to 2010, and he still needs to improve his pass coverage skills.
Delmas is a beast at stopping the run, and is the type of playmaking safety who has the ability to alter a game. The picks after him in the second round have not been overly successful, and Louis has a bright future in a Lions uniform.
#2- Shaun Rogers: 2nd Round, 61st Overall in 2001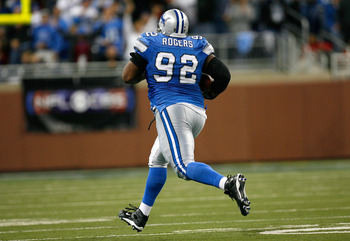 Kevin C. Cox/Getty Images
Many people will remember Rogers for his messy separation from the Lions, how he never won anything, or did not consistently perform up to his potential. Yes, he drew the ire of lions fans a number of times, but Rogers was a beast in the middle of the defensive line for the better part of a decade.
In his seven years with the Lions he recorded 250 tackles, 29 sacks and did a number on opposing team's running games. He was a really good player for the Lions, and performed well above what you expect from a late second round pick.
He also left us with this hilarious memory: http://www.youtube.com/watch?v=K2vks25u-r4&feature=related
No. 1—Calvin Johnson: 1st Round, 2nd Overall in 2007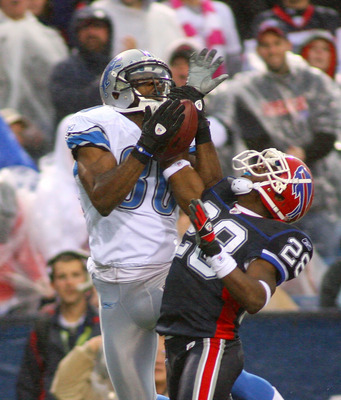 Rick Stewart/Getty Images
He went very early in the draft, but no one else drafted in the 2000s has contributed more, or had the ability to change a game than Megatron. The 6'5" specimen is only 25-years old, and already has had two years of 1100+ receiving yards and 12 touchdowns under his belt.
Coming in to the 2007 draft, the Lions had already spent first round draft picks on Mike Williams, Charles Rogers and Roy Williams in recent years. Matt Millen's propensity to draft WR's became a running joke amongst football fans, and certainly was mocked for Johnson's selection. Kudos to Millen (I can not believe I just said that) for ignoring the barrage of insults for selecting the best player available.
When you combine his physical ability, his production and the many good years he has ahead of him, it is clear that he was the best selection of the 2000's by the Lions staff.
Keep Reading

Detroit Lions: Like this team?