March Madness 2011: Likeliest Upsets, Biggest Questions in the Southwest Region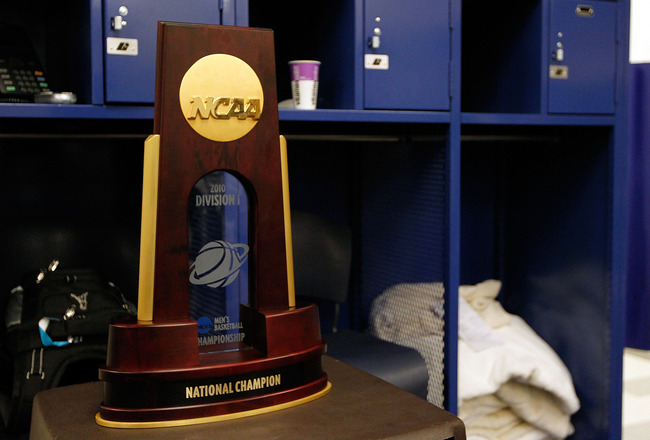 Kevin C. Cox/Getty Images
Finally, we have a bracket! No more guessing who's in and who's out, now we debate who wins and who goes home early.
As soon as it's March we know the madness is coming. If the NCAA Tournament is anything like the conference tournaments then we're in for a real treat.
Six games sit between a team and a championship. Will their be another surprise team such as a Butler or a George Mason? Or will we have all four No. one seeds make it to the Final Four?
My guess would be neither of that, but you never know what can happen in March.
I'll be focusing on the Southwest Region and giving you my predictions on the upsets.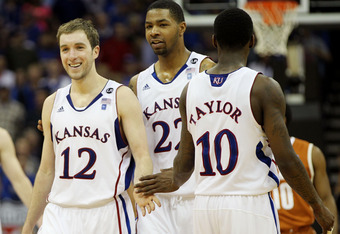 Can The Jayhawks Avoid Being Upset and Make it to the Final Four?
The Kansas Jayhawks were an obvious choice for a No. 1 seed. They don't have an easy road to the Final Four, but really nobody does. At least it appears that way, sometimes in reality upsets happen and a higher seeded team sails by with ease.
The Southwest Region isn't going to give us many upsets therefore the Jayhawks will be battling the top seeds in route to the Final Four. Many have them squaring off against Notre Dame in the Elite Eight while others say they'll be facing Purdue. However a few people see them losing to Louisville in the Sweet Sixteen. After all, Rick Pitino is 9-0 in the Sweet Sixteen.
This year Rick loses his first because the Jayhawks are a much better team than the Cardinals, and a cooler bird at that. Kansas won't be dominating in their wins, with the exception of the first round match up against Boston University. 16 seeds always get demolished.
The Morris twins are the reasons why Kansas will excel in this years tournament. The Jayhawks have learned from their mistake a year ago and will not be over confident heading into any game. Marcus and Markieff Morris are exceptional basketball players and they will greatly improve their draft stocks this March.
Kansas has great depth and leadership, which is why they are best suited for a Final Four run. Even the young guns contribute on this team and we will see one of the best freshmen in the country in Josh Selby. He has the clutch gene and if needed he will answer for the Jayhawks.
Prediction: Kansas beats Notre Dame 75-73 to advance to the Final Four
Need a Printable Bracket? Get one here.
Also be sure to check out the March Madness page for all your tournament needs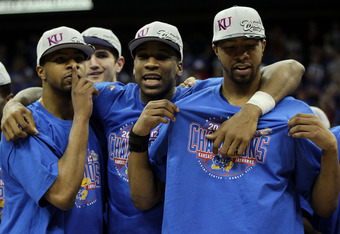 Will the Top Four Seeds Advance to the Sweet Sixteen?
It's not going to be easy but if there's any side of the bracket that will get the top four seeds into the Sweet Sixteen it has to be the Southwest Region. Kansas, Notre Dame, Purdue, and Louisville all have a good path ahead of them to make the Sweet Sixteen.
The Jayhawks are arguably the best team in the nation and well deserving of a No. 1 seed. Some feel Notre Damn was snubbed from a No. 1 seed, but I believe a two seed is the best fit for them. Had the Fighting Irish won the Big East Tournament then yes a No. 1 seed indeed, but they failed to reach the finals of the tournament thus pegging them with a No. 2 seed.
Purdue has done a great job all season long in the absence of Robbie Hummell. JaJuan Johnson has stepped up big time for the Boilermakers. Louisville benefits from playing in the toughest conference in the country, which has made them a much stronger team.
Other teams with a chance at advancing to the Sweet Sixteen from the Southwest Region would be Vanderbilt or the winner of the 11 vs 6 seed game. Vanderbilt has a good shot if John Jenkins and Festus Ezeli do what they need to do. They'll most likely meet up against Louisville and to take them down they'll need Ezeli to have a spectacular game.
The winner of the 11 vs 6 seed will either be Georgetown or USC in my opinion. I give the edge to USC but who knows if they even make it past Virginia Commonwealth on Wednesday's play in game. Whoever emerges as the winner of this game could easily take down Purdue if they play great defense. The Boilermakers have lost their last two games and with an easy game against St. Peters Purdue could be over thinking their second round game.
However, all of that is highly unlikely to happen. The madness makes it a possibility, but the chances are very slim. The top four seeds are certainly the favorites to represent the Southwest Region in the Sweet Sixteen. Do you have anyone knocking them off? I don't.
Prediction: Kansas, Notre Dame, Purdue, and Louisville all make the Sweet Sixteen.
Need a Printable Bracket? Get one here.
Also be sure to check out the March Madness page for all your tournament needs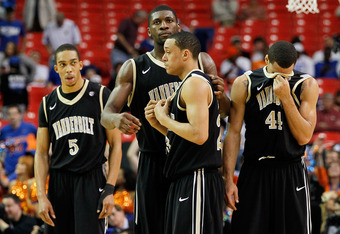 Is Richmond Over Vanderbilt Your No. 12 over No. 5 Lock?
You have to have a 12 seed upsetting a five seed. It goes hand-in-hand with the tournament year in and year out. There's always one, sometimes multiple, and somehow you must pick the right one.
The 12 vs 5 matchup in the Southwest Region pits the Vanderbilt Commodores versus the Richmond Spiders. In a battle of mascots the Commodores would definitely win, unless the spiders are this huge.
On the court though it's going to be a very good game. Vanderbilt is the better team here, but that doesn't mean you should count the Spiders out. Justin Harper is a very talented player and it should be very fun to watch him go head-to-head with Festus Ezeli on Thursday evening.
Harper averages 17 points and seven rebounds per game. Ezeli averages 12 points and only six boards per game but his presence down low could have a huge impact on how Harper plays the game.
Another intriguing matchup to watch here is Kevin Anderson versus John Jenkins. Anderson averages 16 points per game while Jenkins averages 19 points per game. The play of these two guards is very important for their teams.
In the end I say this not one of the 12 over 5 upsets because Ezeli will be too much for Harper to handle. Jenkins three point shooting will be ridiculously on fire for the Commodores and Richmond won't be able to do anything about it. Vanderbilt narrowly escapes another first round upset.
Prediction: Vanderbilt 68 Richmond 65
Need a Printable Bracket? Get one here.
Also be sure to check out the March Madness page for all your tournament needs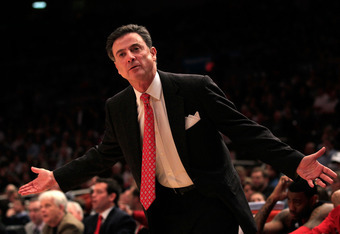 Can Morehead State Do the Unthinkable?
Louisville is a four seed and they will face the 13th seeded Morehead State Eagles on Thursday afternoon. Is there any chance of an upset here? Actually yes, more than you would think.
The Cardinals are not great at rebounding, which is unfortunate for them because the Eagles have Kenneth Faried who happens lead the nation in rebounds with 14.5 per game. Faried will dominate the boards on both ends of the floor and Louisville will be in a dogfight, or rather bird fight.
There's no doubt in my mind this will be a close game. Faried is an exceptional player that also averages 17 points per game. He will have to be on his A-game if the Eagles are hoping to ruin everyones bracket.
Preston Knowles and Kyle Kuric have been quite surprising for the Cardinals this season. Louisville has done a great job in the toughest conference in the country mostly thanks to head coach Rick Pitino. He's coached his kids up well but they are at a huge disadvantage in this game because no one will be able to stop Faired. If the Eagles can get some players to step up to Faried's level of play they could very well knock off the Cardinals.
In the end though I have to give the edge to experience. Pitino knows what he's doing here and when the game comes down to the crucial last few possessions the Cardinals will make the most of them. Faried can't do it all for the Eagles, which is why I see Louisville squeaking on by in a close one.
Prediction: Louisville 63 Morehead State 60
Need a Printable Bracket? Get one here.
Also be sure to check out the March Madness page for all your tournament needs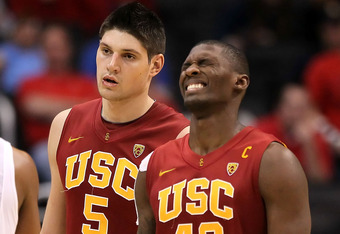 Will There Be Any Upsets in Round One of the Southwest Region?
I believe that the Southwest region is one of the tougher sides of the bracket. You could make a case for seeds one through four all to advance to the Final Four. It's very hard to say that there won't be any first round upsets in this region because that would mean I'm denying the madness of March, and I cannot do that.
There's a small possibility it could happen because the Southwest Region is filled with great higher seeded teams. But since upsets always happen you need to know which ones are the most likely to occur. If you were to pick just one upset from the Southwest Region I would pick the USC Trojans over the Georgetown Hoyas.
The Trojans are one of the more controversial teams in the tournament. Many people feel they don't belong in the field of 68. Had the tournament not expanded I don't believe the Trojans make it. However, USC did make it, and first they must take on Virginia Commonwealth in the first four play in game on Wednesday.
I like the Trojans here because of Nikola Vucevic. The 6'10" 260 pound junior averages a double-double with 17 points and 10 rebounds per game. He will team up with Alex Stepheson and together they will be a nightmare for Virginia Commonwealth. The Rams could handle one of them, but not both.
Georgetown will also have a tough time against these two. Stepheson is one rebound shy of averaging a double-double. Georgetown is physical, but the Trojans are going to want it more, especially after winning a close one against VCU.
The return of Chris Wright will help the Hoyas, but it is uncertain how much help it will be. Austin Freeman cannot do it alone so if Wright doesn't contribute as well as hoped, someone else will have to step up against the Trojans.
Prediction: USC 59 Georgetown 57
Need a Printable Bracket? Get one here.
Also be sure to check out the March Madness page for all your tournament needs