Chicago Bulls Vs. Boston Celtics: Breaking Down the Player Matchups Post-Perkins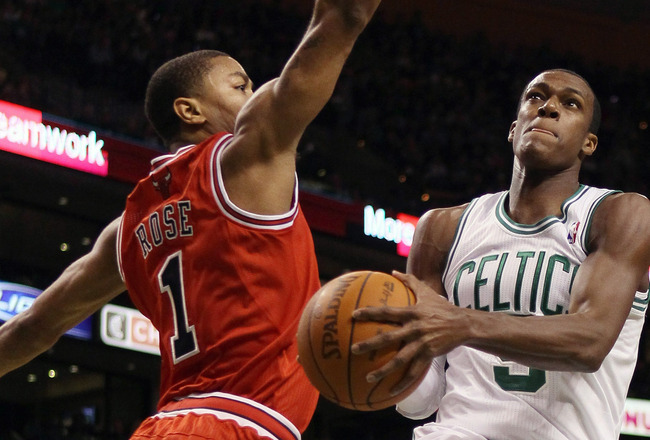 Elsa/Getty Images
The Bulls and Celtics played one of the most unforgettable playoff series in NBA history in 2009, featuring four overtime games, a Game 7 that set the national cable-television ratings record and a certain rookie by the name of Derrick Rose.
Rose hasn't forgotten about that series and neither have any of his teammates. Plus, for the first time since Michael Jordan retired, the Chicago Bulls are relevant again. Carlos Boozer may give them a second scoring option, but the Celtics are still the defending conference champions.
They've beaten the Bulls twice already this season, including an overtime win in the fifth game of the season. Chicago eventually inflicted some damage when they beat the Celtics, 90-79, in January, but still trail in the standings. The two top teams in the Eastern Conference have one game left this season, and that slug-fest will likely determine who receives the No. 1 seed in the playoffs.
With that game less than two months away and the playoffs in sight, here's a preview of how the new-look Celtics match up with the Bulls.
PG: Rajon Rondo vs Derrick Rose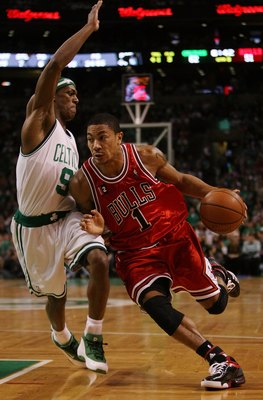 Elsa/Getty Images
Rose, at 22 years old, is the complete package. He has a size and speed advantage over pretty much everyone at his position. He can get to the basket at will and score from anywhere on the floor. This year, he's extended his range to the three-point line and improved his defense.
Rose is as capable of carrying the Bulls on his shoulders by putting up points as he is by distributing the ball to his teammates. Not surprisingly, he's the leading candidate for NBA MVP.
Rondo, 24, despises Rose and always takes these games extra seriously. The Celtics young point guard uses his elite quickness to get by defenders and drive to the basket. He may not be much of a jump shooter, but if his defender can't stay in front of him, then it doesn't really matter.
Rondo outplayed the rookie version of Rose in the 2009 NBA playoffs, but just barely. Both players have improved since then, but Rose is a once-in-a-generation talent. He's one of the few players in the league that can dominate Rondo on both ends of the floor.
Rondo: 37.7 mpg, 10.7 ppg, 4.4 rpg, 11.8 apg, 2.4 spg, 49.8 field-goal percentage, 31.3 three-point percentage
Rose: 37.7 mpg, 24.7 ppg, 4.3 rpg, 8.0 apg, 1.06 spg, 44.1 field-goal percentage, 33.7 three-point percentage
EDGE: Rose
SG: Ray Allen vs Keith Bogans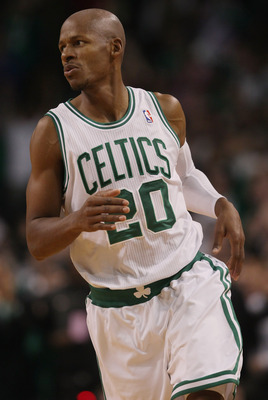 Elsa/Getty Images
Bogans is somewhat of an honorary starter. He plays less minutes than the two players behind him on the depth chart, yet has still started all 65 games for the Chicago Bulls this season. The 30-year-old is a solid NBA player and is especially tough on the defensive end, but he contributes next to nothing on offense thanks to historically poor shooting.
Meanwhile Allen, 35, is one of best scorers at his position ever and probably the best shooter in the history of the NBA. He can run for days and does a good job creating separation between him and his defender, even if it's just an inch. Allen's an above-average defender who, when committed, can really make a player work for his shot. But no amount of three's will put him on Kobe's level.
Bogans is quick enough to stay close to Allen running around screens, but the problem is that Allen doesn't need very much space to knock down his shot. The Bulls have no answer for Allen.
Allen: 36.2 mpg, 17.4 ppg, 3.5 rpg, 2.8 apg, 0.98 spg, 50.1 field-goal percentage, 46.8 three-point percentage
Bogans: 17.5 mpg, 3.9 ppg, 1.8 rpg, 1.1 apg, 0.43 spg, 39.0 field-goal percentage, 36.5 three-point percentage
EDGE: Allen
SF: Paul Pierce vs Luol Deng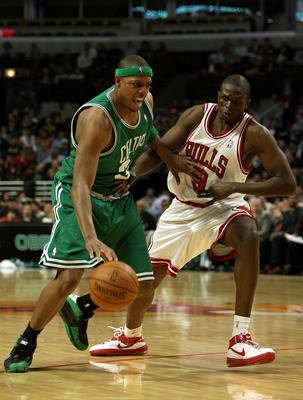 Jonathan Daniel/Getty Images
Luol Deng, 25, spent most of the offseason on the trade block as the Bulls tried to figure out a way to entice LeBron James to come to Chicago. But the former Blue Devil doesn't get nearly enough credit for being a great player in his own right.
Deng can do everything you could possibly ask for on a basketball court. He's a good scorer with a sensational ability to get to the basket and a strong mid-range game. He can defend anyone at his position and is a good passer. He's also begun to emerge as a team leader after securing his long-term future with the Bulls.
Pierce, 33, doesn't have the athleticism to blow by defenders anymore. But the 12-year pro has picked up a few more offensive tricks and is today one of the most complete scorers in the league. Pierce uses an incredible arsenal of body fakes to get his shot and is one of the best three-point shooters in the NBA.
He's a capable ballhandler and a strong defender when he wants to be, but he's at his best with the ball in his hands and the game on the line. Deng will play Pierce tough, but experience should win out in the end. This match up could easily flip-flop in a couple of seasons.
Pierce: 34.8 mpg, 18.9 ppg, 5.1 rpg, 3.2 apg, 1.00 spg, 50.3 field-goal percentage, 37.8 three-point percentage
Deng: 39.1 mpg, 17.6 ppg, 5.9 rpg, 2.8 apg, 0.94 spg, 45.5 field-goal percentage, 33.8 three-point percentage
EDGE: Pierce
PF: Kevin Garnett vs Carlos Boozer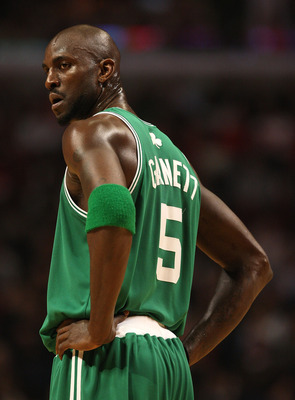 Jonathan Daniel/Getty Images
The Bulls needed another weapon to seriously contend for an NBA title. LeBron James was at the top of their list, but they got a pretty good consolation prize in Carlos Boozer.
Boozer, 29, is one of the best rebounders in the league and is incredibly strong. He's got a full arsenal of post moves and a steady mid-range game. He's athletic enough to beat his defender one-on-one and he's smart enough to find an open teammate on the perimeter. Defense is sometimes an issue for the 6'8" Boozer, but he has the strength to muscle up to bigger power forwards if needed.
Garnett, however, excels on the defensive end. The 34-year-old possesses great court presence and elite shot-blocking ability. Garnett is dangerous on the offensive side of the ball as well, with a polished mid-range game and above-average passing instincts. He's still good enough to beat his man one-on-one, but the 6'11" Garnett does most of his damage stretching the defense and hitting open shots.
Garnett and Boozer have pretty similar skill-sets, but Boozer's short fall has always been his commitment. The talent is there, but right now the edge has to go to the player who shows up every time he steps on the floor.
Garnett: 31.7 mpg, 15.0 ppg, 9.2 rpg, 2.5 apg, 1.44 spg, 0.8 bpg, 51.6 field-goal percentage
Boozer: 32.2 mpg, 18.3 ppg, 9.6 rpg, 2.2 apg, 0.67 spg, 0.36 bpg, 52.4 field-goal percentage
EDGE: Garnett
C: Shaquille O'Neal vs Joakim Noah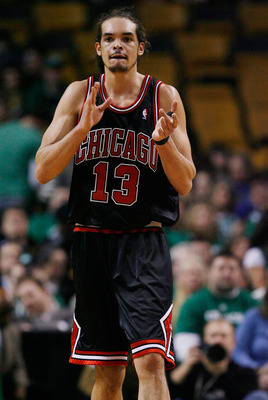 Elsa/Getty Images
One of the players that the Bulls kept firmly off the trade block this past offseason is Noah. And for good reason.
The 26-year-old center is Chicago's main energy guy. He plays hard every day and seems to be everywhere on the floor at once. He excels at rebounding and is a strong defender too. Noah's still raw on the offensive end, and he may never become a serious scoring threat, but he brings enough elsewhere on the floor to be one of the NBA's best big men.
O'Neal, 38, is the oldest player in the NBA with the expected lack of quickness and lateral movement. But Shaq's game has never relied on his ability to outrun his opponent. His defense is lackluster at times and he won't win any agility or conditioning drills, but Shaq is still good enough to put up a double-double on any given night.
Shaq is certainly the more polished player, but Noah can run circles around the veteran. Once O'Neal gets winded, the young Bull should be able to scoop up more than his share of rebounds and put-backs.
O'Neal: 20.7 mpg, 9.3 ppg, 4.9 rpg, 1.17 bpg, 66.2 field-goal percentage
Noah: 34.6 mpg, 12.5 ppg, 11.6 rpg, 1.49 bpg, 51.3 field-goal percentage
EDGE: Noah
Sixth Man: Glen Davis vs Taj Gibson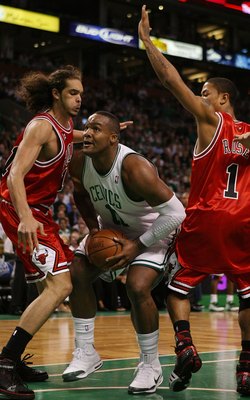 Elsa/Getty Images
Noah gets most of the press, but there's another pretty talented big man coming off the bench for Chicago. Gibson, 25, is just in his third season in the NBA, but the former USC star has already established himself as a good player. He's great in the post and is regarded as an above average defender. Gibson needs to improve his shooting, especially at the free-throw line, but his rebounding and shot-blocking are already good enough to keep him on the floor.
Davis, 25, was a leading candidate for NBA Sixth Man of the Year before suffering a knee injury last week. But odds are he's more worried about adding a different trophy to his mantelpiece.
Davis has been the first forward off the bench for the Celtics all season for good reason. He consistently knocks down jump shots and has an impressive arsenal of post moves. He's surprisingly agile for a man of his size, which helps make him a good defender who is among the league leaders in charges drawn. Davis has next to no vertical, so he's a poor rebounder for his size, but he's big enough to more than hold his own down low.
Davis has the better all-around game right now, but that may change if Gibson ever develops a reliable mid-range game.
Davis: 29.4 mpg, 11.6 ppg, 5.3 rpg, 1.2 apg, 0.97 spg, 44.8 field-goal percentage
Gibson: 21.9 mpg, 7.1 ppg, 5.4 rpg, 0.7 apg, 0.46 spg, 45.6 field-goal percentage
EDGE: Davis
Energy Guard: Delonte West vs Ronnie Brewer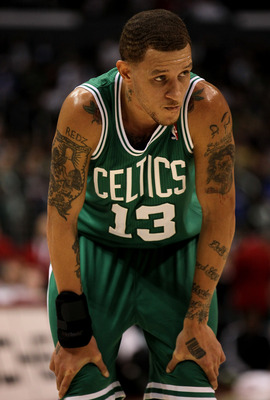 Stephen Dunn/Getty Images
West, 27, is on his second stint with the Celtics, and was brought back to bring some energy off the bench. He's capable of doing just that, with a solid skill set that lets him do a lot of different things on the basketball court.
He's a good shooter, a good defender, a good ballhandler and a good distributor. But there's not a single thing that he does exceptionally well, so his main value to Boston is to give the starters a breather.
Brewer, 26, is sixth on the team in minutes and regularly sees action on the floor with Rose. He's a strong ballhandler and a good passer, but he's never been much of a scorer. His main value is on the defensive end, where, at 6'7", he's big enough and athletic enough to give most shooting guards trouble.
West: 17.9 mpg, 6.6 ppg, 1.9 rpg, 2.3 apg, 0.88 spg, 44.7 field-goal percentage, 33.3 three-point percentage
Brewer: 22.7 mpg, 6.3 ppg, 3.3 rpg, 1.6 apg, 1.35 spg, 48.0 field-goal percentage, 25.0 three-point percentage
EDGE: West
Swingman: Jeff Green vs Rasual Butler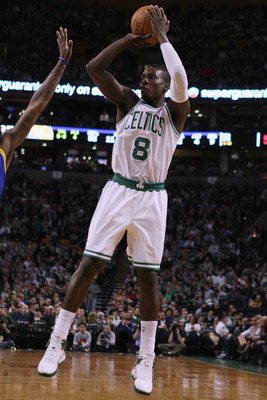 Elsa/Getty Images
Green, 24, is a jack of all trades. His size (6'9") lets him play power forward where he can use his speed to blow by defenders. His athleticism lets him play small forward where he can shoot over opponents. He's even a strong enough shooter to get some minutes at shooting guard, and he can defend at least three positions. His game doesn't really have any weaknesses, and he's only getting better.
The Bulls were pretty quiet at the trade deadline, but they did add Butler to the squad. The 31-year-old has bounced around the league for a few seasons, but he's always shown the ability to hit outside shots. He's very long and athletic, as well as a capable defender, but he's not particularly strong.
Both Green and Butler are valuable players, but Green is capable of being more than just a role player. He's essentially a starter coming off the bench and is skilled enough to fill in for Pierce at the 3 without the Celtics losing too much.
Green: 22.4 mpg, 10.6 ppg, 2.0 rpg, 0.4 apg, 0.5 spg, 50.0 field-goal percentage, 33.3 three-point percentage (eight games with Boston)
Butler: 17.8 mpg, 5.0 ppg, 1.8 rpg, 0.6 apg, 0.2 spg, 32.5 field-goal percentage, 32.8 three-point percentage
EDGE: Green
Second Big: Nenad Krstic vs Kurt Thomas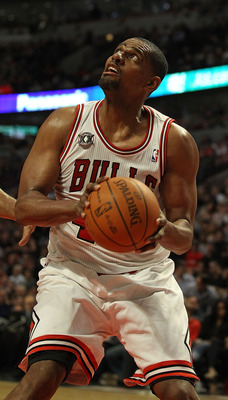 Jonathan Daniel/Getty Images
With the way Krstic has been playing lately, there's a good shot that he ends up starting for the Celtics with Shaq coming off the bench. That would give both Boston and Chicago a 38-year-old big man playing on the second unit. That just sounds weird, so until proven otherwise let's assume Krstic relocates to the bench once his teammate is healthy.
Krstic, 27, is quite gifted offensively, with a gentle touch around the basket and a feel for the ball. He can hit some short jump shots, but he's at his best backing down his defender in the post. Krstic is not a particularly strong defender and can get intimidated by more aggressive players.
Thomas is a good low-post defender, a good rebounder and a good offensive player. There's obviously a reason why he's hung around the league for so long, and he will continue to get minutes as long as he can stand. But Thomas is too slow to stay with most other centers and is undersized at 6'9". Krstic should be able to eat him up.
Krstic: 28.3 mpg, 13.5 ppg, 7.8 rpg, 0.38 bpg, 55.7 field-goal percentage (eight games with Boston)
Thomas: 24.7 mpg, 4.5 ppg, 6.2 rpg, 0.92 bpg, 50.7 field-goal percentage
EDGE: Krstic
Shooter: Von Wafer vs Kyle Korver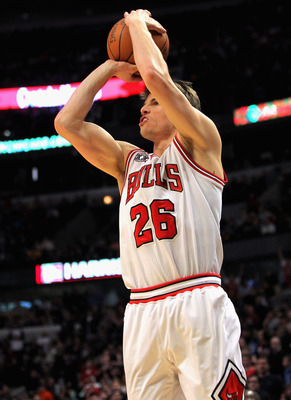 Doug Pensinger/Getty Images
This may seem like an unfair comparison since Korver is guaranteed to play more minutes than Wafer. But the reality is that Korver isn't that much better of a player.
The 30-year-old is an outstanding three-point shooter and always has been (especially this season), but he's otherwise limited. He can't create his own shot, he's not athletic or quick enough to play good defense. Korver is pretty weak despite his 6'7" frame and rarely passes up a shot if the ball is in his hands. If he's not feeling it, then he's probably hurting his team. Lucky for the Bulls, Korver has been feeling it all year long.
Wafer, 25, is also a good three-point shooter. But unlike Korver, he's also a good enough dribbler to get to the basket and possesses a promising mid-range game. He replaced Nate Robinson as the Celtics main energy guy off the bench and seems to improve with each additional appearance. He's not a good defender yet, and can't match his counterpart's production at the three-point line.
Wafer: 8.8 mpg, 2.9 ppg, 0.5 apg, 0.3 spg, 42.4 field-goal percentage, 27.3 three-point percentage
Korver: 20.5 mpg, 8.5 ppg, 1.5 apg, 0.48 spg, 44.1 field-goal percentage, 43.1 three-point percentage
EDGE: Korver
Emergency Big: Jermaine O'Neal vs Omer Asik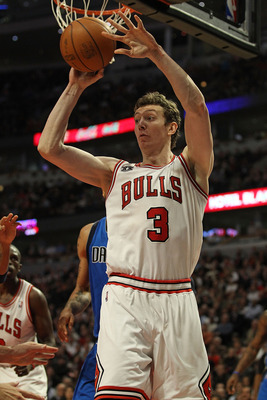 Jonathan Daniel/Getty Images
O'Neal, 32, was an unbelievable player not too long ago. He could beat his man off the dribble, back him down in the post or just simply shoot over him. For nearly a decade he was one of the league's best shot blockers and an explosive scorer. But that explosiveness is gone now, and O'Neal's offensive game has regressed to a crappy jump shot with little, if any, hustle.
Asik, 24, is a promising seven-footer from Turkey. He's a good rebounder and shot-blocker, and is surprisingly athletic for a man of his size. He doesn't contribute much, if any, offense, but as a capable big man he has a definite future in the NBA.
If O'Neal returns to the court, he should have no trouble schooling Asik. But to Asik's credit, the youngster has appeared in all 65 games for the Bulls this season, so they definitely value what he can do.
O'Neal: 18.1 mpg, 5.5 ppg, 3.8 rpg, 1.24 bpg, 44.7 field-goal percentage, 17 games played
Asik: 12.0 mpg, 2.6 ppg, 3.9 rpg, 0.71 bpg, 51.4 field-goal percentage, 65 games played
EDGE: Asik
Reserve Point: Carlos Arroyo vs C.J. Watson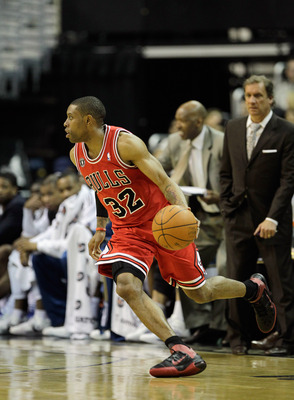 Rob Carr/Getty Images
Playing point guard behind someone like Derrick Rose is a thankless job. But Watson's happy to just be in the NBA.
The 26-year-old was never drafted, but carved out a successful career in the D-League. He was an unstoppable scorer and eventually landed an invitation to join the Golden State Warriors. Watson came over to Chicago in the offseason as a last-ditch resort and has played reasonably well thus far. He needs to add some size and develop better point guard skills, but he's still a good scorer.
Arroyo, 31, has bounced around the league for a few years and spent all of 2009 out of the NBA. But when he has gotten playing time, he's been reasonably productive. He's a good ballhandler with a strong mid-range game. He's not known as much of a defender or an outside shooter, but he's having a career year from beyond the arc and is steady enough to handle point duties for the second unit. Experience wins out here.
Arroyo: 17.7 mpg, 4.0 ppg, 2.0 rpg, 3.3 apg, 0.67 spg, 36.4 field-goal percentage, 0.0 three-point percentage (three games with Boston)
Watson: 13.1 mpg, 4.8 ppg, 1.1 rpg, 2.1 apg, 0.63 spg, 36.9 field-goal percentage, 39.3 three-point percentage
EDGE: Arroyo
Tall & White: Troy Murphy vs Brian Scalabrine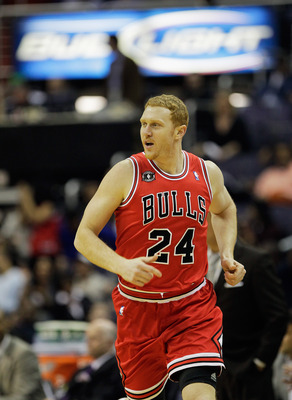 Rob Carr/Getty Images
It's almost comical that the Celtics would replace their proverbial unathletic white big man with another unathletic white big man. What's even funnier is that the two of them them may actually face each other in the playoffs.
Murphy, 30, is an outstanding rebounder who is a lights-out shooter from beyond the arc (career 39.0 percent), and isn't afraid to put the ball on the floor. He's not really strong enough to do much in the post, but he's definitely capable of stretching the offense.
Scalabrine, 33, was a fan favorite in Boston because seemingly every time he stepped on the floor something good happened. But the reality is that the red head is a very limited player. He's a terrible rebounder for his size (6'9") and hasn't been in shape in years. He's still a good outside shooter and always plays hard, but Scal's lack of athletic talent keeps him firmly on the end of the bench.
Murphy: 11.2 mpg, 2.8 ppg, 2.8 rpg, 0.17 bpg, 33.3 field-goal percentage, 0.0 three-point percentage (six games with Boston)
Scalabrine: 4.9 mpg, 1.2 ppg, 0.5 rpg, 0.24 bpg, 58.8 field-goal percentage, 0.0 three-point percentage
EDGE: Murphy
Keep Reading

Boston Celtics: Like this team?