Carmelo Anthony: New York Knicks Need to Give Anthony Time to Shine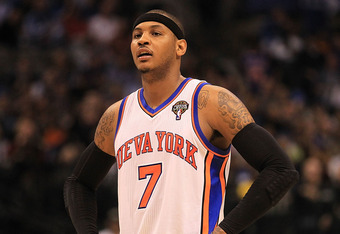 Move To New York A Long Term Solution, Not About 2011
Tom Weir of the USA Today recently nominated Carmelo Anthony for the NBA's LVP, the award given to the Least Valauble Player.
I understand why he did so. Not only is Anthony's former team, the Nuggets, on an 8-2 hot streak since they made the deal, but the Knicks are just 6-5 since Melo arrived in New York, having lost their last two games by a combined 31 point. And in his 11 games, with the Knicks, the former NBA scoring champion has only led the team in points twice.
But those who are jumping off the Melo bandwagon are terribly short sighted.
Sure it would be nice if Anthony's arrival in New York sparked a 9-1 or 10-0 run and helped the Knicks move higher in the Eastern Conference playoff seeding. (If the season ended today, they'd be sixth and would have to play the Heat in the opening round). But even if the Heat were to tumble out of the playoff standings, that wouldn't render the Melo deal disastrous.
The Knicks made the move for Anthony--and Anthony wanted to join the Knicks--because of the long-term possibilities.
Anthony is only 26 years old; Amare Stoudamire is only 28. That duo should be able to continue on together through the end of the decade. And with the Celtics quasi-dynasty running advancing in age, they should be a viable contender for the Finals very soon.
But it was never going to happen overnight.
The instant skepticism about the Miami Heat last summer, after signing LeBron James and Chris Bosh, was the need for time to gel to mold into a cohesive unit. And we've already seen that they had their share of growing pains. The same will be true with the Knicks.
Sure we live in a "results-first", "what have you done for me lately?" society, but it hasn't even been a month since Melo was dealt to the Knicks.
Careers are not built, or ruined, in a month. Derrick Rose isn't the league's likely MVP because of his play during one month of the season; Melo shouldn't be saddled with the LVP for a curious stretch where his new team struggled while his old team soared.
Knicks fans and the New York media need to Melo out.
For more on the NBA, see Los Angeles Lakers: Kobe Bryant and the Lakers Five Toughest Playoff Matchup
Most recent updates:
This article is
What is the duplicate article?
Why is this article offensive?
Where is this article plagiarized from?
Why is this article poorly edited?