NFL Lockout: Do Owners and Players Owe It to the Fans to Reach an Agreement?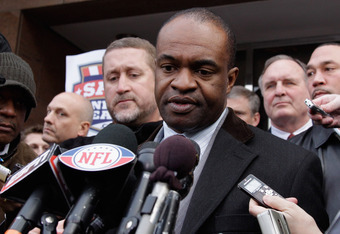 NFL Lockout Won't Go Away By Fans Wishing And Hoping
FoxSports.com's Adam Schein issued an interesting take on the NFL lockout today.
Trying to convey the feelings of the "common man" Schein said that "the NFL fan is frustrated" that the owners and players don't seem to care enough to get a deal done. Worse yet, the entire crisis seems to be centered around greed.
With good reason, most fans and many media-types feel that the owners and the players have an obligation to resolve their difference and end the lockout now so we can continue unfettered into an offseason with free agency, trades, a draft, training camp, preseason and the start of the regular season.
But the principles--the owners and players--don't share our view of the situation. And as painful as it may be, they have that right.
The greatest obligation that owners and players have to the fans and the public is putting out a good product. And if it takes an actual work stoppage (i.e. regular season games, playoff games, Super Bowl) to achieve that goal than so be it.
If the players don't want an 18-game season because they genuinely believe that it will lead to more injuries and devalue the game then they shouldn't agree to that change. But if they won't agree to an 18-game season because they don't think they will be compensated enough, than they are just being greedy.
Conversely, if the owners believe that they need to take a larger share of the league's profits in order to keep the NFL competitive and strong then they should fight for that in the CBA. But if they only want to increase their profits, then they too are just being greedy.
We'll never know the true motivation behind either side's bargaining stance. And with 32 owners and 1,800 players, it's impossible for everyone to be on the same page.
Still, a resolution for resolution's sake is not going to fix the problem: the NFL doesn't need a band-aid on this disease, it needs a cure.
And if it takes a prolonged stoppage, in which players and owners both have to lose money to see what's most important to them, then perhaps a lockout is a necessary evil.
For more on the NFL, see NFL Power Rankings: The Top 25 NFL Careers Derailed by Injury
Most recent updates:
This article is
What is the duplicate article?
Why is this article offensive?
Where is this article plagiarized from?
Why is this article poorly edited?