Miami Heat: Is It Time for Pat Riley to Leave South Beach?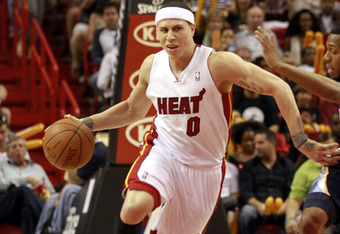 Miami Heat On A Mini-Resurgence, Means Nothing Longterm
After their vastly overblown "crisis" last week, the Miami Heat have won two in a row, one against the World Champion Lakers, and another against the playoff-contending Memphis Grizzlies.
Still, those victories will do nothing but temporarily blot out the memory of "Cry-Gate," and the alleged tearing up of a few Heat players after their loss to the Bulls on Sunday.
Given the pre-season expectations of this club--"Can they win 73 games?"--anything short of a NBA Finals victory for Miami in 2011 will be render this team a "failure" in the minds of many, both the media and the fans. That's what happens when three superstars team up with mega-hoopla at the cost of tens of millions of dollars.
And as of right now, that NBA Championship goal seems a bit unlikely: the Lakers, Spurs, Mavericks, Celtics, Bulls, and even the Knicks now pose a serious threat.
So for now, let's assume the Heat don't win the title this season. Speculation on what needs to change to reach that goal will center around young head coach Eric Spoelstra. We've already heard those whispers three times this year--first back in late November, then again in late January, and last week following his letting it slip that his players were crying after the loss to Chicago.
How many more of these episodes can Spoelstra survive?
Maybe Spoelstra isn't the best man to lead the Heat; Maybe he is. But having team president hover over him as some sort of backup plan is not good for the club. And make no mistake about it, as long as Riley is affiliated with the team--no matter what he says--there will always be the option of him replacing the head coach.
The so-called experts are always talking about teams needing to minimize "distractions." Well there is no bigger distraction than Pat Riley. If he steps in to replace Spoelstra--like he did in 2005 with Stan Van Gundy--it will just be for a year or two. And whoever takes Riley's place then, will come under fire the minute trouble hits South Beach.
Riley may be a great evaluator and be a great salesman for the franchise: how else did he nab LeBron James and Chris Bosh? But as long as he plays this "coach in waiting" no Heat head man will have job security, and that will keep the club from reaching it's full potential.
For more on the NBA, see Boston Celtics Set Tone for the Rest of the Season with Beat Down Against Bucks
Most recent updates:
This article is
What is the duplicate article?
Why is this article offensive?
Where is this article plagiarized from?
Why is this article poorly edited?