MLB American League Central Pitching Preview: Who Has the Top Guns?
March 14, 2011
J. Meric/Getty Images
There are question marks across the board for all five teams, but some squads have the talent to pull together a great season, and some simply do not. OctoberFever.com writer Alex Smith runs down his rankings and the issues surrounding each team's starting rotation and bullpen.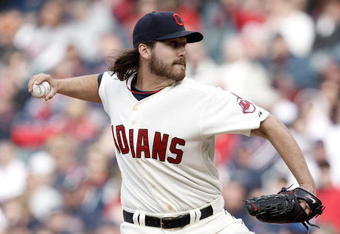 Jared Wickerham/Getty Images
5. Kansas City Royals
As promising as Kansas City's farm system is, the big league club's starting rotation resembles, well, a farm system. Household names like Bruce Chen (12-7, 4.17 ERA), Luke Hochevar (6-6, 4.81) and Kyle Davies (8-12, 5.34) will be leading the Royals pitching attack in 2011.
The departure of Zach Greinke to Milwaukee crippled an already weak staff, but the exits of Gil Meche and Brian Bannister are almost positives.
Perhaps the sole pitcher worthy of any attention this year is closer Joakim Soria, who collected 43 saves in 2011 to the tune of a 1.78 ERA. Many pundits have spent their previews fawning over Soria's numbers and comparing him with the legendary Mariano Rivera. Look for him to be the lone pitcher representing the royal and blue at the All-Star game this July.
Rob Tejeda (61.0 IP, 3.54 ERA) is one of the few solid options Kansas City has out of the bullpen, and Kanekoa Texeira (61.1, 4.84) has drawn surprisingly good reviews so far during spring training.
4. Cleveland Indians
Similar to Kansas City, the Cleveland Indians' stud hurler is in the bullpen. Righty Chris Perez coasted through the 2010 season with a sparkling 1.71 ERA while throwing 23 saves. Also similar to the Royals, the Indians starting rotation is alarmingly underwhelming.
Fausto Carmona (13-14, 3.77 ERA) looks to be the "ace" this season, with Mitch Talbot (10-13, 4.41) and Justin Masterson (6-13, 4.70) filling the other top spots.
Rafael Perez (61.0 IP, 2.35 ERA) is another bright spot in the bullpen, and looks to be a nice setup option for manager Manny Acta. Reliever Tony Sipp (63.0, 4.14) should also have another nice season.
3. Minnesota Twins
Inconsistency dominated the Twins' 2010 pitching staff, and all of the same starters are back. Carl Pavano (17-11, 3.75 ERA) was the closest thing Minnesota had to a steady hand last year, with the re-emerging Francisco Liriano (14-10, 3.62) coming in a distant second.
Opening Day 2010's supposed ace Scott Baker (12-9, 4.49) suffered through some miserable stretches, but played well enough to stay out of the sinkhole that is the bottom of the Twins rotation.
Young stud Brian Duensing (10-3, 2.62) showed plenty of promise last year, and will probably claim the fourth spot in the starting five, leaving Kevin Slowey (13-6, 4.45) and Nick Blackburn (10-12, 5.42) to battle for the last slot.
The best news for the bullpen is that perennial All-Star closer Joe Nathan is back after sitting out 2010 with an elbow injury.
The losses of Matt Guerrier, Jon Rauch and Jesse Crain hurt the staff, but there is still a plethora of options, namely Matt Capps (16 saves, 2.00 ERA), the now healthy Pat Neshek and the loser of the Slowey/Blackburn battle.
2. Chicago White Sox
The Chicago White Sox rotation is a steady, above-average nucleus that can lead the team into late October.
That being said, there are a lot of question marks this season. Can Edwin Jackson (4-2, 3.24 ERA) continue his strong stretch of pitching that began in the middle of 2010? Can Jake Peavy (7-6, 4.63) stay healthy enough to be the ace of the staff? Will Mark Buehrle (13-13, 4.28) continue his slight downward spiral or will he rebound?
Despite the departures of J.J. Putz and Bobby Jenks, the bullpen will be sound. Matt Thornton (5-4, 2.67) will be a great option, and the same can be said about Sergio Santos (51.2 IP, 2.96) and newcomer Jesse Crain (68.0, 3.04), who was swiped away from rival Minnesota in the offseason.
It's safe to say that if the starting five pitch to their potential in 2011, the road to the AL Central championship could run through Chicago's South Side.
1. Detroit Tigers
Optimism is the word of the spring in the Tigers camp, and their pitching staff is commendable enough to warrant those good vibrations.
Ace Justin Verlander (18-9, 3.37 ERA) was lights out for most of last season, and looks to throw himself into the Cy Young conversation in 2011. Past Verlander, however, there are a lot of names looking to prove themselves this season.
Max Scherzer (12-11, 3.50), Rick Porcello (10-12, 4.92) and Phil Coke (7-5, 3.76) are solid enough, but one of them needs to come up big for the Tigers to gain back the AL Central crown. The arrival of Brad Penny (3-4, 3.23) is a big plus for Detroit, as their starting five is now solidified.
Brad Thomas (6-2, 3.89) is a nice option in the 'pen, as is the 24-year-old Ryan Perry (62.2 IP, 3.59 ERA) and the newly signed Joaquin Benoit (60.1, 1.34). Jose Valverde had a good 2010 (3.00, 26 saves), and is mostly reliable.