NCAA Tournament 2011: The Georgia Bulldogs' Season Review and Tournament Chances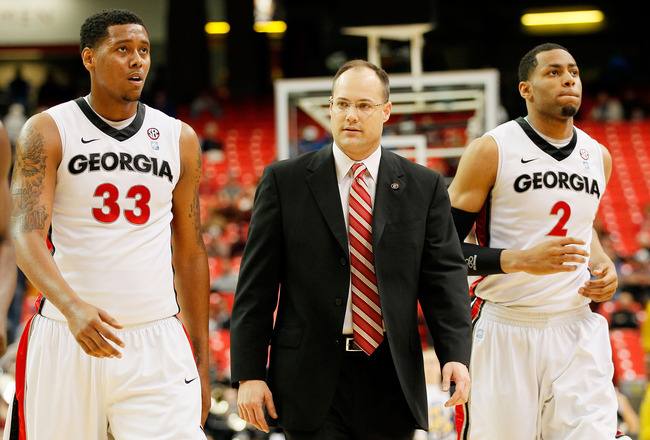 Kevin C. Cox/Getty Images
ESPN's Joe Lunardi's final "Bracketology" predictions had Georgia as one of the "first four out" but the Bulldogs were able to sneak into the tournament despite falling to Alabama 65-59 in the Southeastern Conference tournament.
Many Georgia fans would consider the Bulldogs' season a roller coaster ride to say the least.
There were many great triumphs to go along with heart-breaking losses, but all of that is in the past now. Anybody who has seen Georgia play can see the danger that they will pose to any team they face.
They have great balance on offense with guards that can shoot and drive and big men that can rebound and dominate in the paint.
Before we get too much into Georgia's tournament chances, let's take a look at their season to this point.
The Starting Five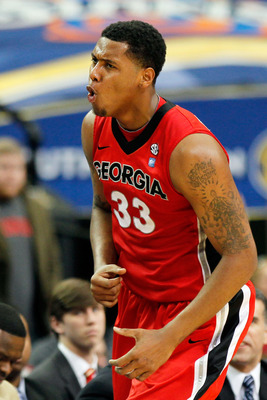 Kevin C. Cox/Getty Images
Gerald Robinson
Robinson has been claimed to be the "most important player" by Head Coach Mark Fox.
After coming from Tennessee State, Robinson has been an electric playmaker that gives the Bulldogs a great dribbler and shooter.
He will be a key player in the tournament, perhaps more so than he has been all year.
2010-2011 Key Stats
12.2 PPG, 4.2 APG, 1.3 SPG, 44.3 percent FG
Dustin Ware
Ware is Georgia's best three point shooter and has been a consistent big-shot guy all year.
Ware possesses solid speed and dribbling ability, and he is a good defender.
His three pointers are going to be big to take pressure off of the rest of the offense.
2010-2011 Key Stats
8.1 PPG, 3.5 APG, 1 SPG, 43.8 percent Three Pointers
Travis Leslie
Leslie is one of the best pure athletes in the nation featuring electric speed and leaping ability.
Leslie's game is complete on offense, and despite an inconsistent three point stroke, he makes up for it with his ability to get offensive rebounds and finish around the rim.
2010-2011 Key Stats
14.4 PPG, 2.9 APG, 7.2 RPG, 1.2 SPG, 49.9 percent FG
Trey Thompkins
Thompkins was a first team All SEC pick for this season, and deservedly so.
Thompkins is one of the best forwards in the game and is extremely balanced on offense and defense.
He has a good shot that has three point range and a great ability to get blocks and rebounds on defense.
2010-2011 Key Stats
16.1 PPG, 7.5 RPG, 1.7 BPG, 1.1 SPG, 47 percent FG
Jeremy Price
Most fans will look at Price's stats and see an average player, but those who have watched this team multiple times will see the excitement that the big man brings to this team.
Nothing can get this team in a rhythm quicker than a dunk from forward.
No matter what, you will see this guy bring down the house at least once a game.
2010-2011 Key Stats
9.2 PPG, five RPG, 0.8 BPG, 49.5 percent FG
The Key Reserves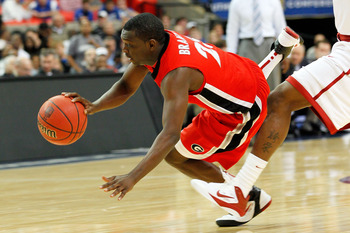 Kevin C. Cox/Getty Images
Chris Barnes
Barnes is our best big man reserve, and in my opinion is one of the most consistent reserves in the conference.
Barnes isn't a huge threat offensively, but his hard-working attitude gets him second chance opportunities and makes him a good defender off the bench.
He is more important to this team than most people think.
2010-2011 Key Stats
3.4 PPG, 3.7 RPG, 0.8 BPG, 45.3 percent FG
Sherrard Brantley
The junior college signee was brought in for his three point shot, but has been a bit inconsistent.
He is the Bulldogs' top backcourt reserve, and has had his moments as a playmaker for the Bulldogs.
2010-2011 Key Stats
3.0 PPG, 1 RPG, 31.3 percent FG
Connor Nolte
Notle is one of Georgia's best shooters, and will have to make an impact from three point range in the tournament if Georgia is to make a move.
2010-2011 Key Stats
1.7 PPG, 1.7 RPG, 41.2% FG, 40 percent 3PT
Regular Season: Non-Conference Games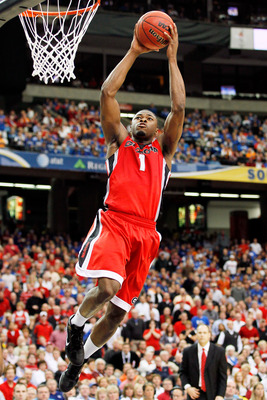 Kevin C. Cox/Getty Images
Non-Conference Record: 12-3
Biggest Wins: Colorado and UAB
Toughest Losses: Notre Dame, Temple and Xavier
Georgia got off to a great start in the season going 12-2 before starting conference play.
The two losses were by a total of 13 points to NCAA tourney teams Notre Dame and Temple. Those losses came back-to-back and left Georgia at 3-2 at that point. They then rattled off nine straight wins.
Colorado was a team that nearly made the tournament, but perhaps the loss to the Bulldogs was one of the reasons they were left out. The 83-74 win was one of Georgia's best games all year.
Midway through SEC play, Georgia hosted Xavier and lost to the tournament team 65-57. That was Georgia last non-conference game.
Georgia overall played very well out of conference, but the win over UAB was their only victory over a tourney team, while Notre Dame, Temple and Xavier are all going dancing with the Bulldogs.
Playing well in all of those games definitely helped Georgia when it came down to them making the tourney.
Regular Season: Conference Games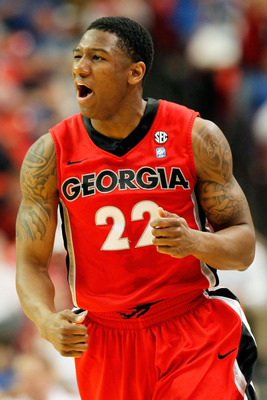 Kevin C. Cox/Getty Images
Conference Record: 9-7
Biggest Wins: Kentucky, Arkansas, At Tennessee, Auburn(SEC Tourney)
Toughest Losses: Tennessee, Both Florida games, Both Alabama games
Georgia got their conference schedule off with a bang with a huge 77-70 upset over the then No. 11 Kentucky Wildcats.
It was the biggest win for Georgia this season and was the first significant win in the Mark Fox era.
The 60-59 Arkansas win is bigger looking back on it than it was at the time.
The Arkansas team seemed to be well on its way to a possible tourney bid, but three straight losses to end the season put a damper on any chance.
Had Georgia lost that game, it would have given them a bit of a hit when the selections were made.
After losing to Tennessee on a last second basket (over the back, though it wasn't called), Georgia desperately needed to defeat the Vols when they made the trip to Knoxville in mid-February.
And after having not beaten them in Knoxville in 10 years, Georgia pulled out 69-63 win that may have been more beneficial than the Kentucky win.
The last big win was defeating Auburn in the first SEC tournament game.
It's not that Auburn was a team that was successful this year and really boosted their chances.
Instead, it was a game that many thought clinched a berth in the NCAA tournament.
It may not have, because I was still extremely nervous, but it was a big win because we didn't allow them to defeat us and hurt our standing with the selection committee.
If this year's Florida games are any sign for future match-ups, I don't know if I'll live through another season. While the final scores of both may lead some to believe it wasn't a close game, that was hardly the case.
The first game against Florida was an all time classic between the two teams, as Georgia made a late run and last second shot to send the game to its first overtime.
Florida's Erving Walker then hit a last second three pointer to send the game to a double overtime before foul troubles led to a rather easy win.
The second matchup was extremely close until the final minute, when Georgia's inability to make shots while Florida knocked down free throws stretched the lead.
Georgia should have won at least one of the games against Alabama, particularly the most recent matchup between the two.
Both losses were by a combined 14 points, with the one Friday as an overtime loss. The craziest thing? Alabama didn't make the tournament.
Overall, Georgia could have done much better in conference play, possibly even winning 12 games. But close losses at least means they didn't get put down too bad by the selection committee.
Tournament Chances: First Game Against Washington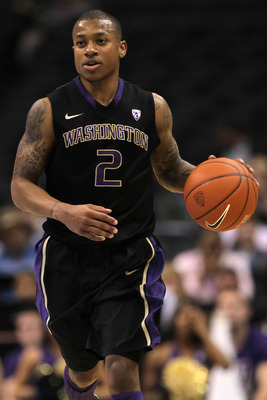 Stephen Dunn/Getty Images
The Bulldogs don't get any easy game in the opening round, as Washington was 23-10 for the season and 11-7 in the Pac-10.
Washington ranks higher than Georgia in every major statistical category.
Washington scores 83.5 points per game to Georgia's 68.8. Washington grabs 39.3 rebounds per game compared to Georgia's 37.7. Washington also beats Georgia in assists per game (17.2 to 15.2), and field goal percentage (47.1 to 45.1).
So how can Georgia possibly defeat the Huskies?
First, Georgia is going to have to stay out of foul trouble early on.
In the majority of Georgia's losses, multiple starters have gotten early fouls that have forced them to the bench, which is not a strength for this team.
If Georgia can keep their starting five on the court, they can beat just about anyone in the country.
Secondly, they need to keep control of the ball.
They average about 13 turnovers a game, which is way too many whenever you start playing the elite teams.
Not giving away fast break points will allow Georgia to play the way they play best, controlling the clock and utilizing Thompkins and Leslie to the fullest of their abilities.
It also wouldn't hurt for Robinson and Ware to catch fire from behind the arc, particularly if Georgia can get the lead.
It would allow them to possibly pull away, so that they wouldn't have the chance to stumble late in games like they have been known to do.
I think Georgia can pull this game out, but it is going to be a tough one, that's for sure.
Tournament Chances: The Rest of the Bracket and Verdict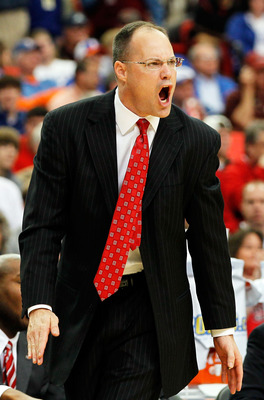 Kevin C. Cox/Getty Images
If Georgia defeats Washington, they will likely face two-seed North Carolina.
It would be Georgia's toughest game of the season by a large margin, and even as a fan, I couldn't see them defeating the Tar Heels without everything going their way.
A rematch with Xavier or Syracuse would likely be waiting for them if they survive the first two rounds.
From there on the other side of the bracket holds Ohio State, West Virginia, Kentucky, Georgia Mason and Villanova.
Could a magical tournament run be in store for Georgia?
As it is with every team every season, it is possible. However unlikely, fans should still be hoping against hope that this team can bring it all together at the right time.
This Georgia team has had its up and downs thus far in the season, and I would say that despite winning 20 games, I come into the NCAA tournament a little disappointed because of where we could be with a few lucky bounces.
Like I said earlier though, the past is the past.
Georgia needs to have their focus ahead, because there is enough talent on this team to go a long way in the Madness of March.
Keep Reading