NCAA Tournament: How Is Gus Johnson Buried on TNT?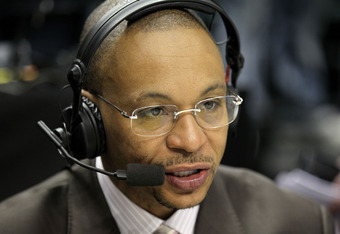 NCAA Tournament Announcer Schedule Released, How On Earth Is Gus Johnson Only On Once?!
This is an outrage; it's just flat-out not right. CBS has been tinkering with it's coverage of March Madness for several years now, and while most of the changes have been good, some, like this, are not.
What am I talking about? The network released it's announcing schedule tonight, shortly after revealing the 2011 brackets, and somehow, some way Gus Johnson only appears once during the week. On TNT and truTV.
Look, I get that you're trying to promote the game on your other networks, CBS. I understand that your top talent should make appearances on the other stations. But, not only do you not have all that many good games on your own network (it's Texas taking on Oakland! No, wait, it's BYU taking on Wofford!), you also give us a full day's worth of Jim Spanarkel and Ian Eagle, who are like the fifth team on the announcer depth chart.
Seriously guys, Gus has become a staple of most fans NCAA coverage; we don't want to have to go looking for him in the cable channels that brought us such stellar shows as "When Squirrels Attack 6" (that would be you, truTV), or "The Closer" (that's you, TNT). How are we supposed to hear his delirious calls when he's out in the boonies, and not on the big show?
While we're at it, why is he only doing his thing on Friday? No, Wednesday's games do not count, those aren't a part of the real tournament, just like the play-in games weren't a part of the tournament before. How could you not find a space for him on Thursday, but you could find space for Spanarkel and Eagle?
There's still time to fix this, CBS. Stick all of the good games on your flagship network, give Gus a couple of games on Thursday, and a couple of games on Friday, and everyone wins. You can even give Jim and Ian a couple of other ones, we promise.
Alright, I'm better now; back to those picks.
For more March Madness, check out Bleacher Report Tournament Central, and our printable March Madness bracket.
Most recent updates:
This article is
What is the duplicate article?
Why is this article offensive?
Where is this article plagiarized from?
Why is this article poorly edited?