NHL: Sidney Crosby Just One All-Star Hurt by Failure to Address Concussions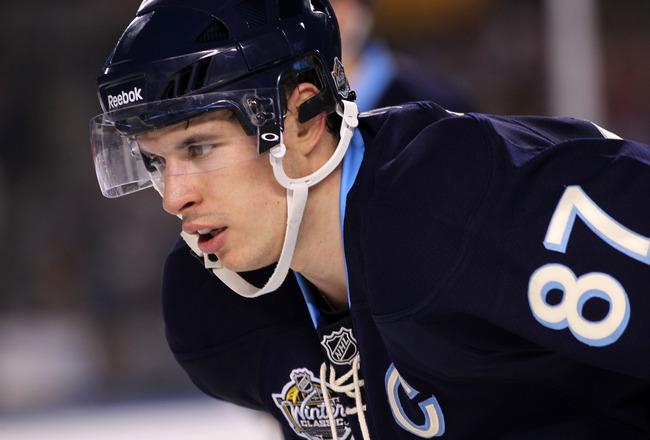 Jamie Squire/Getty Images
By now, anyone who cares about hockey knows the story of Sidney Crosby's concussion well enough that it doesn't need to be repeated.
That's not what this article is about. This is about what's been lost in the league because of concussions this season.
This is about the fact that the "First All-Star Team" at the end of the season could be rivaled by the "All-Concussion All Stars"—and the NHL doesn't seem to care a whole lot.
Here's a look at the "All-Concussion All-Star Team" and why the NHL isn't doing enough to fix the problem.
Follow Erik on Twitter: @ekpaul87
G: Jonas Hiller, Anaheim Ducks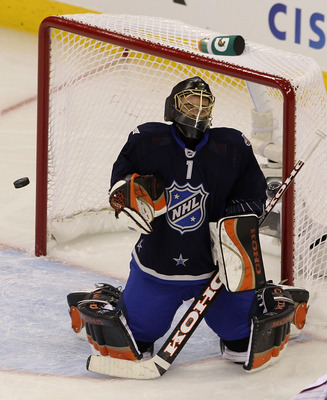 Bruce Bennett/Getty Images
The Anaheim Ducks refuse to call their All-Star goalie's injury a concussion, instead referring to it as vertigo; but according to The Concussion Blog, Hiller is concussed.
Hiller was leading the NHL in wins at the time of the injury, but he's missed 14 games to date because of it.
He was on pace for his first 40-win season and was being mentioned as both a Vezina Trophy and Hart Trophy candidate before suffering the concussion.
Honorable Mention: Ondrej Pavelec, Atlanta Thrashers
D: Drew Doughty, Los Angeles Kings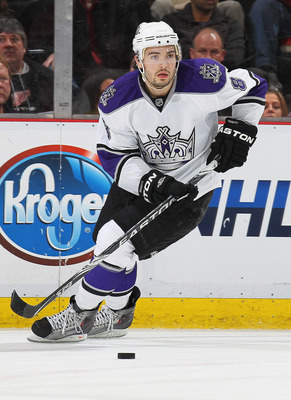 Claus Andersen/Getty Images
While Drew Doughty only missed five games due to an early season concussion, he likely returned too soon, causing his play to suffer for a few months.
Lately, Doughty has returned to the form that saw him win Olympic gold and finish as a Norris Trophy finalist last season, but he's on pace for 15 points less than last year.
Many people picked Doughty to take another step forward and win the Norris Trophy this year, but a concussion may have prevented that from happening.
D: Mike Green, Washington Capitals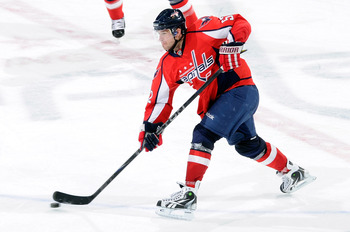 Greg Fiume/Getty Images
Mike Green's consecutive years as a Norris Trophy finalist will end at two, partly due to a concussion suffered February 6, when he took a slap shot to the side of the head.
He's missed 13 of 15 games since then, with no timetable set for his return.
After posting back-to-back 70-point seasons, Green has just 24 points this year.
Honorable Mention: Dan Hamhuis, Brad Stuart
F: Marian Gaborik, New York Rangers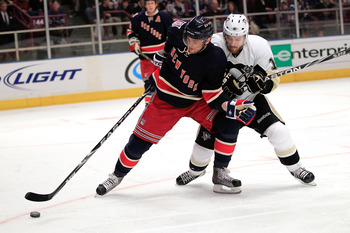 Chris Trotman/Getty Images
Marian Gaborik left a game on February 20 against the Philadelphia Flyers with a concussion—and no one on the New York Rangers had any idea when it occurred.
Rangers coach John Tortorella said postgame, "It didn't happen this game. I'm not sure when it happened. He's been off and on. I don't know when it happened."
Gaborik only missed six games because of the mysterious concussion, but it could have been plaguing him for several games before a minor secondary impact compounded the effects against the Flyers.
Gaborik has one goal and one assist in three games since returning, so it's still too early to tell if there are any lingering effects.
F: Brad Richards, Dallas Stars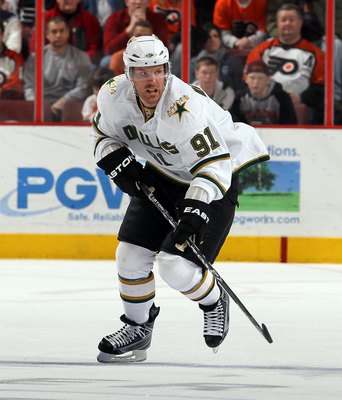 Jim McIsaac/Getty Images
Brad Richards had 63 points through 56 games, good for a spot among the top five scorers in the league, before he suffered a concussion on February 13.
Richards missed 10 games before returning to the Dallas Stars lineup. Since returning, Richards has a goal and an assist in three games, and it's still too early to tell if there are lingering effects.
If Richards does suffer any further effects this season, it could hurt him in unrestricted free agency this summer.
F: Sidney Crosby, Pittsburgh Penguins
Easily one of the most controversial concussions of the season for a number of reasons, Sidney Crosby was putting up numbers unseen since Mario Lemieux was playing and goalie coaches were unheard of.
Crosby was on pace for 64 goals and 132 points but has missed the last 29 games, and his return is far from imminent.
Even after being out for 29 games, Crosby is still sixth in the league in goals and 11th in points.
One of the reasons Crosby's concussion is so controversial is the David Steckel hit that caused it. Opinions are extremely divided as to whether or not it was an intentional blindside hit to the head—or whether intent should even matter.
It's also been controversial because Crosby played in a second game after that, in which he took another hit to the head.
Honorable Mention: Marc Savard, David Krejci, Ales Hemsky, Johan Franzen, John Tavares, Simon Gagne, David Perron, Andy McDonald, Peter Mueller, Paul Kariya, Matthew Lombardi
Four Major Problems with Current Concussion Rules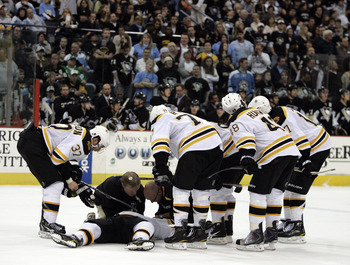 Justin K. Aller/Getty Images
Right now, there are four major problems with how the NHL is handling concussions:
Diagnostic Standards and Procedure
Unclear Rules Regarding Punishment and Intent
Dangerous Surroundings and Equipment
Disregarding Future Effects
1. Diagnostic Standards and Procedure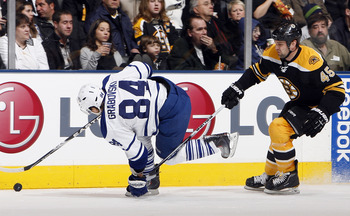 Abelimages/Getty Images
The NHL's concussion diagnosis process is shameful. Several times this year, players have seemingly suffered concussions and been right back out without missing a shift.
This has happened with Sidney Crosby and Drew Doughty, and it appeared to happen to Mikhail Grabovski as well.
The reason this is such a big problem is second–impact syndrome (SIS), a condition in which the brain swells dangerously when a second concussion is suffered before the symptoms of the original concussion have subsided.
Even the mildest of concussions can compound exponentially from SIS to create a severe concussion, and SIS can often cause death as a result of the brain's swelling.
If Crosby had sat out after the initial concussion, there's a very good chance he would have missed only a few games instead of several months.
2. Unclear Rules Regarding Punishment and Intent
The NHL takes far too much stock in a very subjective interpretation of both the headshot rule and the intent of the player doing the hitting.
The NHL headshot rule states that "A lateral or blind side hit to an opponent where the head is targeted and/or the principal point of contact is not permitted."
The guideline for suspension length is simply "at the commissioner's discretion," which leaves much to be desired.
Also, it's virtually impossible to decide if someone was trying to hurt someone else, and as much as we would like to think it doesn't happen, that's a ridiculous and naive sentiment.
One of the most controversial examples is this hit Zdeno Chara put on Max Pacioretty that resulted in a broken neck and a concussion for Pacioretty.
The NHL decided that there was no intent to injure and decided not to suspend Chara.
Similarly to the Matt Cooke–Marc Savard hit that brought about the headshot rule, this was the right decision by the NHL under the current rules. However, it needs to bring about a rule change so it doesn't happen again.
3. Dangerous Surroundings and Equipment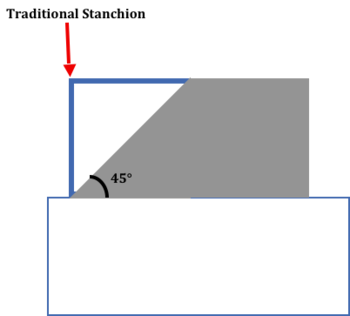 The Chara–Pacioretty hit also factors into the third major problem with the current concussion rules: the surroundings encourage head injury.
From stanchions and seamless glass, to hard plastic caps on elbow and shoulder pads, to the incredible speed in the game due to the crackdown on obstruction, many things contribute to head injuries that aren't difficult to fix.
The stanchion problem could be solved by having glass that angles up, as demonstrated in the picture, instead of the traditional 90-degree stanchion.
The league could put restrictions on the hardness of players' equipment, much like they did on the size of goalie pads, without risking player safety.
Seamless glass only exists in a few rinks in the league and some of those, like Montreal's Bell Centre, already have plans to replace it.
4. Disregarding Future Effects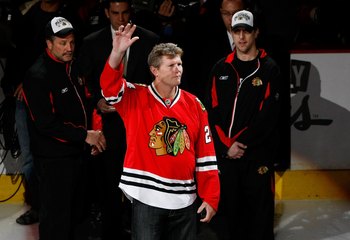 Jim Prisching/Getty Images
The more research that gets done on concussions, the more disturbing the NHL's weak stance on concussion prevention becomes.
People who suffer multiple concussions often suffer from Chronic Traumatic Encephalopothy (CTE), a degenerative disease that causes the accumulation of a toxic form of tau protein in the brain.
CTE is an incurable disease that leads to decreased cognitive function, severe depression and eventually dementia.
Former NHL enforcer Bob Probert, who died last July at age 45 from a heart attack, suffered several concussions during his career.
Probert's wife told ESPN that he had shown mental decline in his 40s, including problems with memory, attention and a short temper.
Probert donated his brain to the Sports Legacy Institute and it's been discovered that he did suffer from CTE, even at only 45 years old.
The NHL's resistance to institute a stricter headshot policy in the face of this ever-more-persuasive research is hard to believe.
How to Resolve the Concussion Problems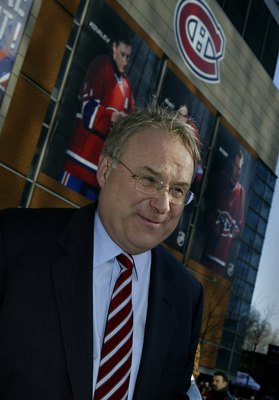 Phillip MacCallum/Getty Images
The NHL needs someone to take the lead on concussions, someone with a mindset like Hall of Fame former goaltender Ken Dryden.
The Globe and Mail featured a brilliant article last week, entitled "Ken Dryden on hockey violence: How Could We Be So Stupid?"
Dryden compared hockey violence, specifically concussions, to smoking and drunk driving, women having no rights and slavery—things that didn't seem like a big deal until years later when we knew how bad they really were; things that we'll look back on in the future and ask ourselves, "how could we have been so stupid?"
The NHL needs someone who will institute a clear rule against head shots of any kind, not just intentional blindside hits.
The NHL needs someone who will make the required changes to the equipment and arenas mandatory.
The NHL needs someone who people respect enough to listen to when they suggest a change to the game.
I don't know about you, but I'd happily give up a few big hits a year to see players like Sidney Crosby be able to have a full career and a long, healthy life.
Keep Reading