NFL Draft 2011: Breaking Down the Cincinnati Bengals' Interest in Andy Dalton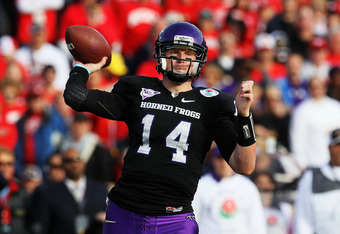 NFL Draft 2011 Is Cincinnati's Chance to Find and a Replacement for a Disgruntled Carson Palmer
For the first time since they drafted Carson Palmer No. 1 overall in 2003, it looks like the Cincinnati Bengals are going to need a new quarterback. This past Monday, sources told CBS Sportsline's Clark Judge that Palmer is quite serious about retirement if the team doesn't grant his request for a trade, which basically means that putting on a Bengals uniform again is the last thing he wants to do.
Because the Bengals are keepers of the No. 4 pick in this year's NFL Draft, they could have their pick of the top quarterbacks in this year's crop, which of course includes Auburn's Cam Newton. It is therefore not surprising at all that a report that came from NFL.com on Wednesday claimed that the Bengals have scheduled a private workout with the 2010 Heisman Trophy winner.
However, the Bengals reportedly have their eye on another quarterback that is not exactly as highly-regarded as Newton: TCU's Andy Dalton.
According to Gil Brandt of NFL.com, Bengals offensive coordinator Jay Gruden was in attendance at TCU's pro day on Friday so he could catch a glimpse of Dalton.
Exactly what Gruden thought about the whole scene is not on record, but Brandt described Dalton as "the star of the show," and he said that there was "not a single uncatchable" ball among the 50 passes that Dalton threw.
With no disrespect to Brandt, such praise is more or less stock dialogue when it comes to scouting quarterbacks, but I guess that's because one can only get so excited about a practice session.
Now, Gruden wasn't the only club representative there to scout Dalton. San Francisco 49ers head coach Jim Harbaugh and Jacksonville Jaguars offensive coordinator Dirk Koetter were there too. In total, some 46 representatives from 26 different teams were there, and Dalton apparently has private workouts scheduled with the Cleveland Browns, Chicago Bears, and New England Patriots.
It's easy to see why so many teams would be interested in Dalton, and TCU head coach Gary Patterson just about said it with his remarks in the Fort Worth Star Telegram.
"Obviously, by having a head coach and high-ranking coordinators and other people here to watch him throw and work out says a lot about what they think he brings to the table," said Patterson. "He has all the intangibles."
Indeed, Dalton may not be the most physically gifted quarterback with the greatest arm, but he is definitely a winner. Dalton finished his TCU career with a 42-7 record, and capped it all off by leading TCU over Wisconsin in the Rose Bowl.
Of all the teams looking at Dalton, you could say that the Bengals are in pretty good position to have him if they want him. He's obviously not worthy of their No. 4 overall pick, but he might be an attractive option when they're on the clock with the No. 3 pick in the second round.
Sounds good. Now all they have to do is rid themselves of Palmer.
For more draft coverage, check out our 2011 NFL Draft Home Page.
Most recent updates:
This article is
What is the duplicate article?
Why is this article offensive?
Where is this article plagiarized from?
Why is this article poorly edited?