NFL Draft 2011: Thoughts on the Tennessee Titans, Blaine Gabbert, and Cam Newton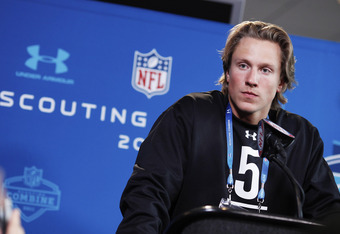 NFL Draft 2011 Will Come with the Titans Among Many Teams Looking for a Quarterback
There will be five AFC teams picking in the Top 10 when Draft Day rolls around, and the only one among them that likely won't be picking a quarterback is the Denver Broncos. For the other four teams, it suffices to say that Missouri's Blaine Gabbert and Auburn's Cam Newton will be rather coveted.
I recently shared my thoughts on how Cam Newton might fit with the Buffalo Bills at No. 3, but I'm going to turn my attention to one of the other AFC teams in the Top 10 that's in need of a quarterback: the Tennessee Titans.
As we all know, Vince Young is probably going to be on his way out of Nashville as soon as a new CBA is reached, and just about everyone and their uncle expects the Titans to use the draft to replace him.
Recently, former Houston Oilers great Warren Moon recently told The Tennessean that he is planning to sell new Titans coach Mike Munchak on the idea of drafting Cam Newton.
"I first wanted to give Munch time to get his staff together and get his philosophy set," said Moon. "I know he's been busy. But I think now it's about time I reach out to him and let him in on Cam."
Moon went on to say, "Now I have no idea what Mike is thinking as far as where he wants to go, but I know they don't have a [quarterback] right now and I know this guy is going to be special."
This sounds just fine in theory, but there are two problems with the idea of the Titans drafting Newton. The first is that it's unlikely in the first place that Newton even makes it to them at No. 8. In fact, a recent report from NFL.com said that both the Panthers and the Bills have dined with Newton, so it would seem that there are at least two teams ahead of the Titans that are quite interested.
The second reason, and this is a point that has been made by people such as ESPN's AFC South blogger Paul Kuharsky, is that Newton might be a little too similar to Vince Young.
I personally feel like the latter concern is actually a pretty legitimate deterrent. As such, you really have to think that if the Titans are going to take a quarterback, they would probably rather have Blaine Gabbert.
Gabbert could also come off the board before the Titans are on the clock. In fact, ESPN's Mel Kiper had him going first overall to the Carolina Panthers in his latest mock, an idea he sold by pointing out that it would give the Panthers two quarterbacks (the other being Jimmy Claussen) that they could use as trade bait.
In the event that Gabbert does fall to the Titans, however, I have a hard time seeing how they could avoid drafting him. Unless he comes out and totally bombs during Missouri's pro day, we know for a fact that he is just as talented as Newton is, so exactly why the Titans would pass on him is beyond me.
In fact, the only way I see the Titans not drafting a quarterback is if they go out and add a veteran. For example, Jim Wyatt of The Tennessean suggested that Matt Hasselbeck would be a nice fit, and it's hard to argue with him. Hasselbeck is an unrestricted free agent, and Jason Cole of Yahoo! Sports pointed out that the NFLPA's decertification will merely delay free agency, not cancel it altogether.
If the Titans do add Hasselbeck, or some other free agent, they'll look elsewhere. If they do, one intriguing idea would be Alabama wide receiver Julio Jones, who should be available for the taking at No. 8.
For more draft coverage, check out our 2011 NFL Draft Home Page.
Most recent updates:
This article is
What is the duplicate article?
Why is this article offensive?
Where is this article plagiarized from?
Why is this article poorly edited?