Jimmy Rollins, Shane Victorino and the Phillies Must Try to Redefine Small Ball!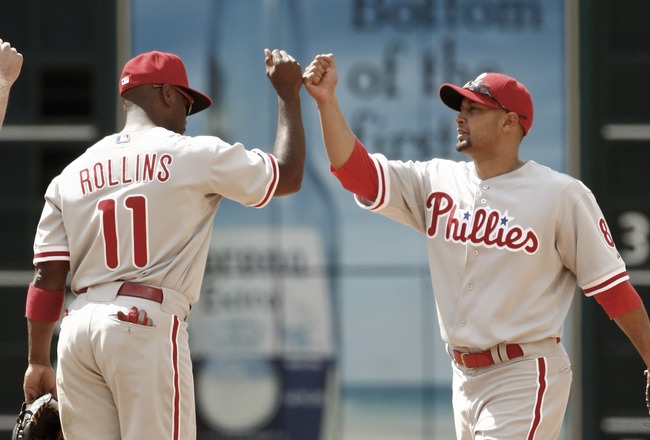 Can Jimmy Rollins and Shane Victorino "cut down" on the "upper cut?"
Bob Levey/Getty Images
For years now, Phillies fans have been screaming about the Phils playing what they consider to be "small ball."
Particularly, the criticism has fallen on the shoulders of top of the lineup team members Jimmy Rollins and Shane Victorino.
So what exactly is "small ball", especially in the modern age of baseball.
Too often, fans tend to associate the term with bunts, stolen bases and the hit-and-run play.
I contend that there is more to small ball than infield singles, sacrifice plays, steals and the old "hit and run."
All of these things are involved in "small ball," don't get me wrong, but you can play small ball and still manage to hit the ball hard.
This is where Jimmy Rollins and Shane Victorino come in.
Do these "little guys" go for the home run a little too often? Probably.
Could they steal more bases? That is probably a matter of conjecture.
I am certainly no batting coach, which is good, because I enjoy being gainfully employed, but I have noticed that when these guys keep their hands higher, they tend to hit more line drives and fewer fly balls and pop-ups.
Remember when Jimmy Rollins had his 38 game hitting streak? He was a line drive machine. When Jimmy won the '07 MVP, he did hit 30 home runs, but he also was hitting line drives.
Where should Jimmy Rollins hit in this year's lineup?
Victorino seems at his best when hitting line drives. Even his enormous grand slam against C.C. Sabathia in the '08 NLDS was a line drive that barely cleared the left field wall.
My point is that these guys don't have to chop the ball into the ground and bunt for their hits. The contention amongst fans is that they both have "Willie Mays Hayes Syndrome," which is somewhat valid.
They probably do go for the four-bagger more often than they should, but they guys do have some power for their respective, diminutive statures.
They are at their most successful as hitters when they are hitting line drives for base hits, or line drives in the gaps for doubles and triples.
Now, here's where the whole "modern definition of small ball" comes into play.
I look at the modern definition of "small ball" as being congruent with the old definition of "the rally."
For years now, the Phillies have been playing their version of "Earl Weaver Baseball," which is try to pitch well, and wait for the three run home run.
However, in recent years, when the Phillies pitching was less than optimal, it was more like, "Try to keep us in the game with pitching, and wait for three home runs."
Well, that is a good strategy when you've got the lineup to do it. Actually, it's pretty much never a good strategy.
If they level off on their swings, how high could Rollins and Victorino hit?
The home run is, admittedly, a big blow, and sometimes can really be a dagger in an opposing team, if it comes at the right time.
The rally, however, is continuous, and is harder to overcome for an opposing team, especially for a pitcher.
A pitcher gives up a home run, and if he has the mental wear-with-all, can proverbially "shake it off." It is much more difficult to shake off a rally of five consecutive hits.
When the rally begins, it's like trying to plug a hole. As the hits keep coming, the floodgates begin to open, and even the best pitchers out there will begin to crumble.
I like Victorino as a player, and at this point in his career, I consider Rollins to have a chance at Cooperstown. I just do not think that you take away the pop in their bats. With that said, perhaps they could concentrate on "leveling off", instead of swinging from the heels.
I'm not alone in this theory. Even the greatest third baseman of all-time, the one and only Mike Schmidt, agrees.
At one point in his career, I believe it to have been during his slump in the 1985 season, Schmidtty decided to change his batting approach and stop upper-cutting on the baseball.
He deliberately swung down on a ball, and actually hit it off the scoreboard in left. Now, he's trying to pass this along to the Phils speedsters.
Even the great Mike Schmidt changed his hitting approach, and when he did, he won his third MVP the very next year, and hit .293, his highest full season batting average as a pro!
Stephen Dunn/Getty Images
Again, this is not about asking these guys to bunt or chop the ball for infield singles. We want the pop in the bat, but we know that line drives can result in batting averages that are at least 30 points higher.
Honestly, I do not think that their home runs would be significantly diminished with this approach.
With the uncertainty of Chase Utley's knee, the first reaction is to say, "Well, we've still got Rollins and Victorino, and one of them can hit third. They can hit home runs."
One of them could hit third, especially when they cannot both hit leadoff, and Placido Polanco is such a consummate two-hole hitter.
That does not mean, however, that they have to swing for the fences. If they level off, the home runs will still come, but the hits will come more often.
Once they do get on base, let's hope that Sam Perlozzo is 10 percent as good with the stopwatch as Davey Lopes was, but that, my friends, is a subject for another time.
Please, as always, share your opinions on this one. I'd love to hear them. Thanks for reading!
This article is
What is the duplicate article?
Why is this article offensive?
Where is this article plagiarized from?
Why is this article poorly edited?

Philadelphia Phillies: Like this team?