UFC 129 Fight Card: Georges St. Pierre vs Jake Shields, an Early Breakdown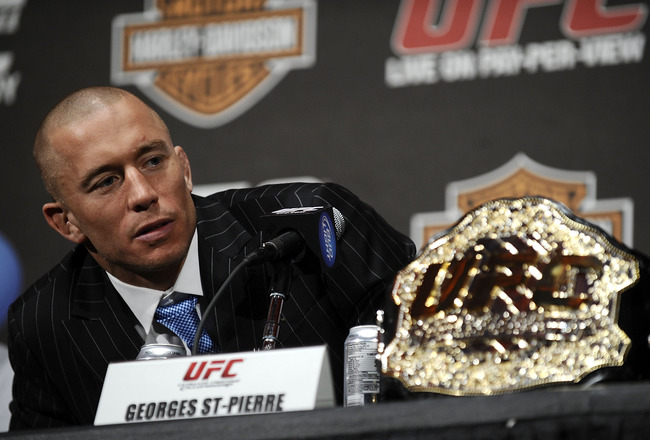 Jeff Zelevansky/Getty Images
After Georges St-Pierre successfully defended his title against Josh Koscheck at UFC 124, the Welterweight Champion will defend for the sixth time in his reign against challenger Jake Shields on April 30th in Toronto.

As the two fighters enter the upcoming title bout, both carry lengthy winning streaks, as GSP hasn't lost since the Summer of 2007 and Shields not losing since the November of 2005.

For St-Pierre, the Canadian has won his last eight contests since his loss to Matt Serra at UFC 69, which he did avenge nearly a year later regaining his Welterweight title in Montreal.

For the challenger Shields, the act of losing isn't in his DNA in recent years, as he has went an amazing 15-0 since his last loss to Akira Kikuchi on December 14, 2004. Six years without a loss is a staggering achievement in this sport.

With this marquee match up set to take place at the biggest event in the history of the UFC, as well as MMA as a whole, let's take a look at the main event between GSP and Jake Shields for the UFC Welterweight Championship.
Background: Georges St.-Pierre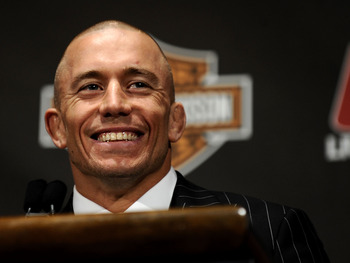 Jeff Zelevansky/Getty Images
Birthdate: May 19, 1981
Fighting Out Of: Montreal, Quebec
Nickname(s): 'Rush'
Years Active: 2002-Present
Team(s): Jackson's Submission Fighting, Grudge Training Center, Tristar Gym, Zahabi MMA
Background: Jake Shields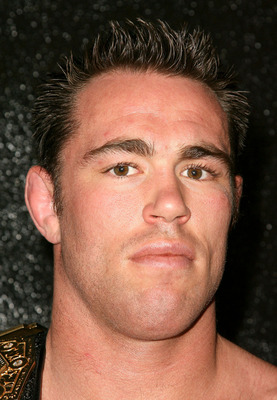 Valerie Macon/Getty Images
Birthdate: January 9, 1979
Fighting Out Of: Berkeley, California
Nickname(s): None
Years Active: 1999-Present
Team(s): Cesar Gracie Jiu-Jitsu


Height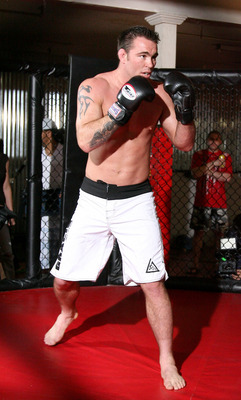 Valerie Macon/Getty Images
St-Pierre: 5'10"
Shields: 6'0"

While the difference in height is not a huge disparity between the two fighters, Shields will hold the advantage in this category, as he will be just two inches taller than the champion St-Pierre.
Reach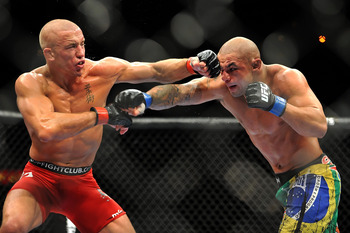 Jon Kopaloff/Getty Images
St. Pierre: 76.0 Inches
Shields: 72.0 Inches

With the four-inch reach advantage, GSP will lock down this category in the breakdown without question, as he will look to have a better use his striking ability against the shorter reach of Shields.
Fighting Styles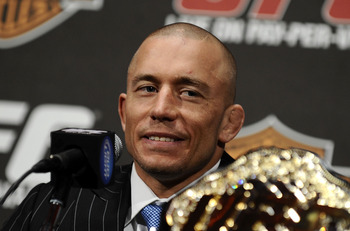 Jeff Zelevansky/Getty Images
St-Pierre: Kyokushin, Wrestling, Muay Thai, Boxing, Brazilian Jiu-Jitsu, Gaidojutsu
Shields: Wrestling, Brazilian Jiu-Jitsu, Kickboxing

As the two fighters both share two different fighting styles, the variety of fighting styles that GSP possesses in his skill set makes him the more dangerous fighter.
Overall Record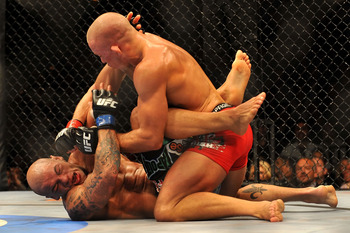 Jon Kopaloff/Getty Images
St.-Pierre: 21-2
Shields: 26-4-1

With a total of six career losses between GSP and Shields, this title bout will most likely be mentioned as one of the best Welterweight title bouts, if not best overall, in the history of the UFC.
Last Five Fights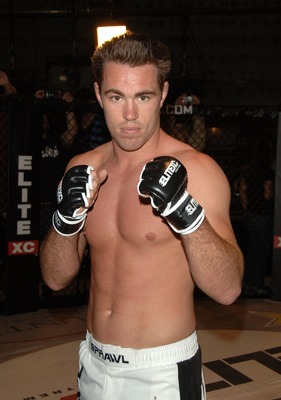 Stephen Shugerman/Getty Images
St-Pierre: 5-0
Shields: 5-0

In his past five fights, GSP scored four of his five victories by lasting the full allotted time for the bout, earning the win by unanimous judge's decision, while getting a TKO victory by corner's stoppage over BJ Penn in the other mentioned fight.

For the challenger, Shields won his first two fights over Paul Daley and Robbie Lawler via submission while winning the other three fights by decision, two by unanimous and his most recent result by a split decision against Martin Kampmann at UFC 121.
MMA Career Accomplishments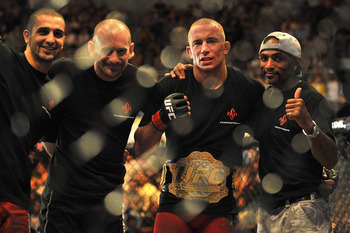 Jon Kopaloff/Getty Images
St-Pierre:
Current UFC Welterweight Champion (Second Reign - Five successful title defenses)
UFC Interim Welterweight Championship (Once)
Fight of the Night (Twice)
Submission of the Night (Once)

Shields:
Strikeforce Middleweight Champion (Once)
Prediction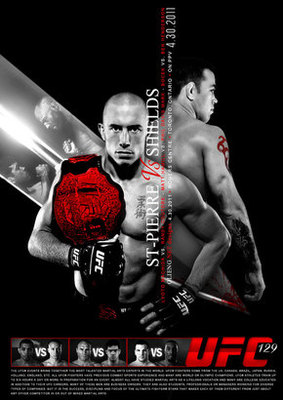 With the closest thing to home field advantage in the world of MMA, Georges St. Pierre will have the crowd rocking at the Rogers Centre on April 30th, as Jake Shields will the American outsider in the midst of a crowd of more than 55,000 Canadians in Toronto.

But with that said, Jake Shields will hit the biggest home run ever inside the Rogers Centre (Sorry Blue Jays Fans), knocking off GSP on his turf and walk out with the UFC Welterweight title.
Keep Reading