2011 MLB Predictions: American League West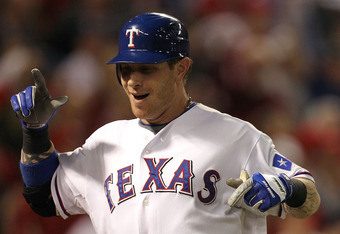 Ronald Martinez/Getty Images
The American League West looks like it will be a very interesting division this season.
The Rangers made it all the way to the World Series last year, only to come up short and lose to the San Francisco Giants. One of the main reasons that the Rangers made it that far was because of the midseason acquisition of Cliff Lee.
With Cliff Lee leaving the Rangers, the American League West is now up for grabs.
The Angels acquired Vernon Wells from the Blue Jays and they have a lot of their key players coming back from injuries. The Oakland Athletics had a nice offseason and really upgraded their bullpen. The Mariners didn't make any big moves, but they're hoping that they can revert to their 2009 form.
The American League West should come down to the wire this season.
1. Los Angeles Angels
The Los Angeles Angels' biggest move this offseason was acquiring Vernon Wells via trade from the Blue Jays. This was a questionable trade for the Angels due to Wells' hefty contract, but they feel like he can produce for them and help lead the team back to the playoffs.
The Angels will get a little younger by putting one of their top prospects, Peter Bourjos, in center field. Bourjos has a lot of potential and the Angels are hoping that he has a quick and easy transition to the major leagues.
The Angels lineup is solid; it's not sexy, but it can certainly score a lot of runs.
Kendry Morales will be coming back from his silly injury that he had last season and he is looking to have a fantastic year. Morales has a lot of power and if healthy, he will be the biggest part of this Angels lineup.
Jered Weaver will be the leader of the Angels rotation this season. He had a great season last year and solidified himself as the team's ace. Dan Haren, Ervin Santana, Joel Pineiro and Scott Kazmir follow Weaver in the rotation. That is the best rotation in the American League West this season.
I think that the Angels rotation will be what wins them the American League West this season. If they have a healthy season, I believe that the Angels will win the division by a very small margin. This team has a great blend of youth and experience.
Look for the Angels to have a great bounce-back season and capture the division title.
Key Batter: Vernon Wells
Key Pitcher: Dan Haren
2. Texas Rangers
Cliff Lee makes all the difference for the Rangers.
If Cliff Lee had returned to Texas, the Rangers would have been the hands-down favorites to win the American League West this season. Lee decided to leave Texas and left the team a big problem: The Rangers need a top-notch pitcher.
The Rangers ace this season will be C.J. Wilson. I like Wilson a lot and I think that he will perform well this season, but he will not put up Cliff Lee numbers. It's crazy to think that one pitcher can affect a team so much, but the truth is that the Rangers just aren't as scary without Lee. He pushed them over the edge and now that he's gone, the Rangers might just be an above-average team.
The Rangers pitching rotation has a lot of young question marks, but if some of them pan out, then this team will win a lot of games this season.
Brandon Webb will be the wild card for the Rangers this season. He is already having a tough time with injuries early in spring training, but if he can put together a healthy season, he will help the Rangers out a lot.
Webb has the potential to push this Rangers team over the top. If he has a healthy bounce-back season, the Rangers will compete with the Angels up until the last day of the season.
The Rangers' strength this season is undoubtedly their offense. They are a hard-hitting team and will win a lot of high-scoring games. If Julio Borbon can become a better contact hitter, then he will make the Rangers lineup so much better.
Borbon has great speed and if he learns how to get on base and steal a lot of bases, then he will be the catalyst of the lineup. Josh Hamilton and Nelson Cruz should also hit a lot of home runs for the team this season. Both of those players have to stay healthy for the Rangers to compete.
Adrian Beltre is new to the team and he will be a defensive upgrade at third base, as well as another bat in the middle of the lineup. Elvis Andrus will look to continue developing into a star player and Ian Kinsler will try to perform up to his potential this season.
This Rangers lineup is very well balanced and it has the potential to be the best lineup in all of baseball. The key for the Rangers will be their pitching. If they get decent pitching, they have a chance to win back-to-back division titles.
Key Batter: Julio Borbon
Key Pitcher: Brandon Webb
Who do you think will win the American League West in 2011?
3. Oakland Athletics
The A's had quite a productive offseason.
They signed Hideki Matsui, Brian Fuentes, Grant Balfour and many other players. Billy Beane is known for making great signings and I think that most of these offseason signings will be productive. Fuentes and Balfour make an already-solid bullpen great and Matsui could give the A's a strong presence in the lineup.
The A's will have an exciting season, but I just don't think that they will be good enough to compete with the Angels and Rangers. The Athletics have a young pitching rotation and no one really knows what to expect from it. Their lineup is average at best. I like the A's, but the truth is that they just aren't good enough this season.
Their bullpen is one of the best in the league, but bullpens don't solely lead teams to the playoffs. I think the team will get off to a strong start, but they will fizzle out by the All-Star break and the Angels and Rangers will take over the division.
This team has potential, but a lot of things will have to go right for them. They can compete and will be exciting to watch, but the truth is that it will be tough for them to keep up with the Angels and Rangers this season.
A's fans do have reason for hope, though. We've all seen crazier things happen. 2011 will be an interesting season for the Oakland Athletics.
Key Batter: David DeJesus
Key Pitcher: Brett Anderson
The Mariners had a great 2009 season and everything looked like it was going in the right direction. Many people had the Mariners winning the American League West a year ago. Those people were proven wrong, as the Mariners had an atrocious season.
Felix Hernandez is one of the only bright spots on this team, but he is a very bright one. Felix is one of the best pitchers in the league and he will need an amazing season in order for the Mariners to have any chance of competing in this division.
There is not much talent behind Felix, but the Mariners are really hoping that Erik Bedard can play up to his potential this season. If Bedard can put together a solid year, the Mariners will be very happy.
In addition to a limited starting rotation, their lineup is nothing to be excited about. Ichiro Suzuki is getting older and last year the Mariners had many players come up short of what was expected of them—Chone Figgins and Franklin Gutierrez included. All of this produced a nightmare season for Seattle in 2010.
Justin Smoak (acquired in the trade that sent Cliff Lee to Texas) will look to have a strong season and if he does, he will give the Mariners a much-needed offensive boost. The Mariners will need a lot of things to go their way this season if they want to contend.
This doesn't look like Seattle's season, but better days are ahead for Mariners fans.
Key Batter: Justin Smoak
Key Pitcher: Erik Bedard
This article is
What is the duplicate article?
Why is this article offensive?
Where is this article plagiarized from?
Why is this article poorly edited?

Los Angeles Angels: Like this team?