Deron Williams: 10 Ways for the New Jersey Nets To Ensure He Signs an Extension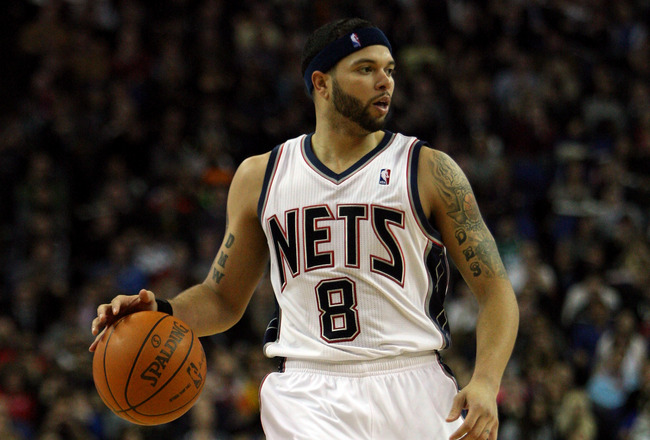 Warren Little/Getty Images
Deron Williams has been a God-send to the New Jersey Nets since they acquired him from the Utah Jazz before this season's trade deadline.
Though the Nets are only 3-3 in the Deron era and two wins came in London against the struggling Toronto Raptors, the energy the team has shown has rivaled the days of Jason Kidd.
Williams creates so many opportunities for his teammates, making them better players in the process.
He has been a machine dishing out assists in his brief tenure in New Jersey.
The Nets must do everything they can to sign Williams to an extension. He will be a free agent in the summer of 2012, and it would behoove the Nets to try to work something out before then.
Here are 10 ways the Nets can keep Deron Williams in New Jersey/Brooklyn.
10. Hope Other Teams Pursue Chris Paul as Their Top Choice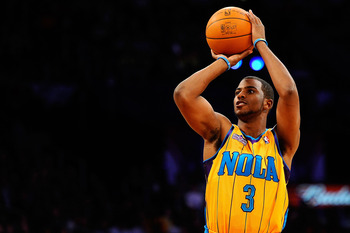 Kevork Djansezian/Getty Images
Another All-Star point guard, Chris Paul, will also be a free agent the same time as Deron Williams.
Assuming Paul does not sign an extension in New Orleans, teams will be lining up for his services and making serious attempts to sign him.
In the meantime, if the Nets instead make their serious run at Williams, Deron may be inclined to sign with Brooklyn rather than be considered second-best behind Paul.
If Paul signs before Williams, the Nets would really have to up their offer because all the losers in the Paul sweepstakes will come knocking on Williams' door.
9. Fans Continue To Make Him Feel Welcome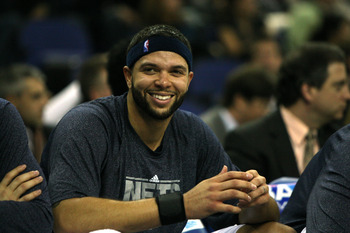 Warren Little/Getty Images
Deron Williams was treated to a standing ovation in his first game at the Prudential Center.
The fans have already fallen in love with his energetic and fearless style of play.
Over the next year, the fans will continue to do their part to make Williams feel welcome in New Jersey. It will almost be sort of a plea to keep him on the Nets long-term.
The fanbase is expected to be even larger and more supportive upon the Nets' move to Brooklyn.
8. Lots of $, Long-Term Deal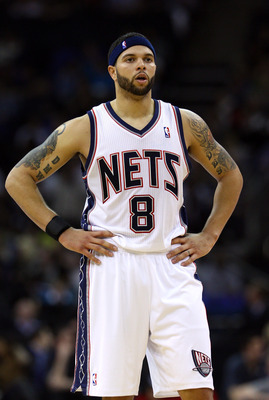 Julian Finney/Getty Images
Nets owner Mikhail Prokhorov has a ton of money that he's willing to spend on talented players.
If he threw $35 million for five years at Travis Outlaw, I'm sure he's prepared to offer Deron Williams the league maximum salary.
The salary cap will be a factor, especially if the Nets want to bring in any other pieces. However, if the Nets want to sign Williams to an extension, it better be a lucrative one.
Williams will likely command upwards of a five-year deal in order to attain some long-term security. I'm almost certain the Nets would be willing to make that work.
7. Finish This Season Strong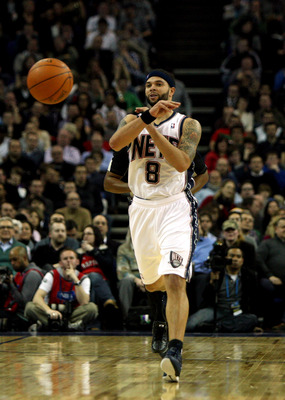 Warren Little/Getty Images
The Nets have 19 games left this season.
Barring a miracle, the Nets will miss the playoffs for the fourth consecutive season.
If the Nets can play some competitive basketball over the next month, it may convince Deron Williams that there is hope with this franchise moving forward.
However, if the Nets simply go through the motions, Williams may start exploring where he will play in 2012-2013.
6. Acquire or Sign More Pieces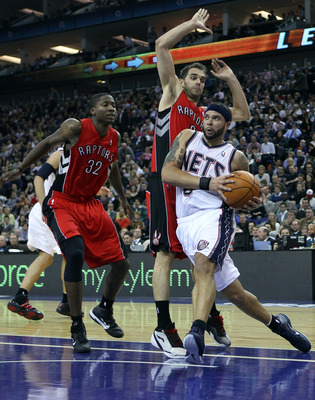 Julian Finney/Getty Images
The Nets are really only a piece or two from playing consistent basketball.
The acquisition of Deron Williams is the first step; now the Nets must acquire or sign another scoring option.
The Nets have Brook Lopez and array of players who could be strong off the bench. They need another forward who can score consistently and be an option down low for Williams.
Some options include Boris Diaw, Tyson Chandler, Caron Butler, David West, Zack Randolph, Tayshaun Prince and Glen "Big Baby" Davis.
Of this bunch, Chandler or Prince could be the best choice for the Nets.
Signing one or more of these players (if possible under the salary cap) would show Williams that the Nets are committed to winning.
5. Give Him a Chance To Bring a Championship Back to New York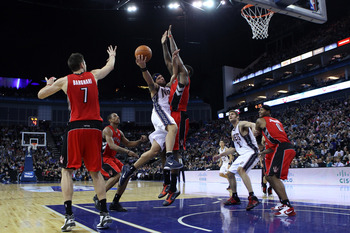 Julian Finney/Getty Images
The New York metro area has not seen a basketball championship since 1973, when the New York Knicks last won the NBA Finals.
The Nets won back-to-back Eastern Conference championships from 2002-2003, but they lost both times in the finals.
If Deron Williams re-signed with the Nets, he would be given the chance to bring an NBA Championship back to the city of New York.
The Nets will be playing in Brooklyn if Deron signs long-term, so he can rival names like Willis Reed, Walt Frazier and Dave DeBusschere if he can bring a back championship to New York.
4. Reach the Playoffs Next Year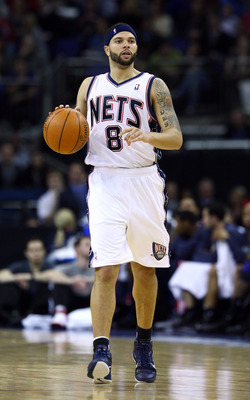 Julian Finney/Getty Images
In addition to finishing this year strong, the Nets are going to have to make the playoffs next year to ensure Deron Williams sticks around.
In the Eastern Conference, sometimes the final one or two playoff teams have sub-.500 records, so even if the Nets can't reach the .500 plateau, a playoff berth is essential.
A full season of Deron paired with Brook Lopez and consistent bench scoring should be enough to get the Nets back to the postseason, but they still have to go out there and do it.
Another poor season could send Deron packing.
3. Pursue Dwight Howard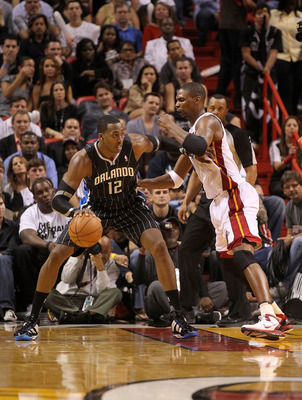 Mike Ehrmann/Getty Images
Dwight Howard will also be a free agent the same summer as Deron Williams.
These two would be a great match, and if the Nets show they are serious about pursuing Howard, Williams could be swayed to stay.
Howard is easily the best center in the game right now, and the scary thought is that he is still improving.
If Howard and Williams contacted each other and expressed their interest for playing together, I'm sure Mikhail Prokhorov would do all that he can to make that happen.
Let's just hope that this possible union would be in Brooklyn and not Madison Square Garden, which would be highly unlikely anyway since the Knicks have already a ton of money invested in Amar'e Stoudemire and Carmelo Anthony.
2. Give Him Total Control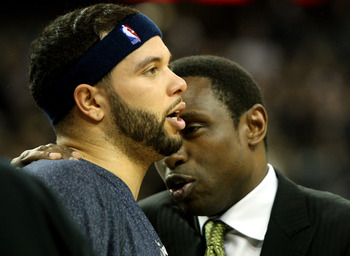 Warren Little/Getty Images
In the games he's played so far, Deron Williams has basically been on the court for every minute of every game, barring a few times where he sat due to aggravating an injury.
Avery Johnson seems willing to let Williams play as much as he wants and call whatever plans he wants.
Williams and former Utah Jazz coach Jerry Sloan didn't see eye-to-eye on play calling, which played a role in Sloan's resignation.
Williams is the type of player the commands total control, and the Nets are ready to oblige.
1. Highlight Him AS Face of Franchise Upon Moving to Brooklyn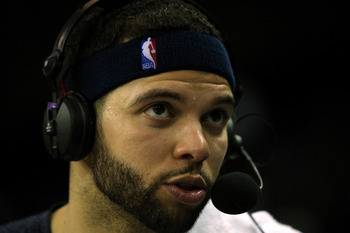 Warren Little/Getty Images
The Brooklyn Nets (or whatever they're going to be called) will be the talk of the league heading into the 2012-2013 season.
The team will be an even bigger story if Deron Williams signs on to be the leader of the franchise.
His face would be all over the New York area as the savior who will kick off the next chapter in Nets basketball history with a bang.
Having Dwight Howard as well would certainly further the hype, but the Brooklyn Nets would be in good shape with Deron Williams leading them into the Barclays Center.
Keep Reading

Brooklyn Nets: Like this team?