Kobe Bryant and the Top Ten Scorers in the NBA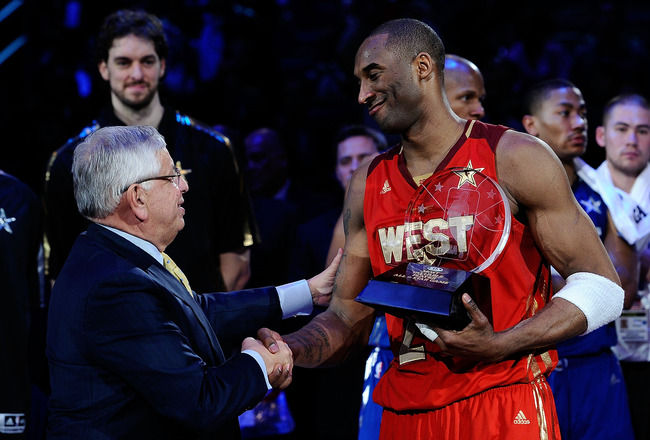 Kevork Djansezian/Getty Images
Scoring has become the focus of the NBA as of late.
"Who can put up the biggest numbers every game?" has become an everyday question throughout the course of the season.
But who are the best scorers in the NBA?
Let's find out what players have the most impact on the NBA through their ability to put the ball in the hole.
Russell Westbrook (Oklahoma City Thunder)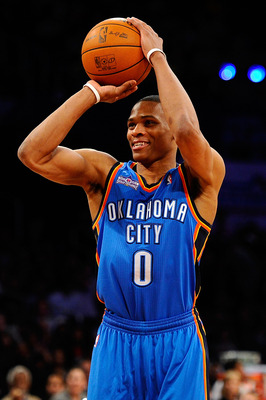 Kevork Djansezian/Getty Images
Russell Westbrook is one of the most explosive point guards in the NBA.
Averaging 22.4 points per game, Westbrook causes mismatch problems for slower point guards around the league. And now that he's beginning to develop his mid-range to three-point jump shot, Russell Westbrook is beginning to make a name for himself.
Oh and did I mention that he has a 36-inch vertical?
Dwight Howard (Orlando Magic)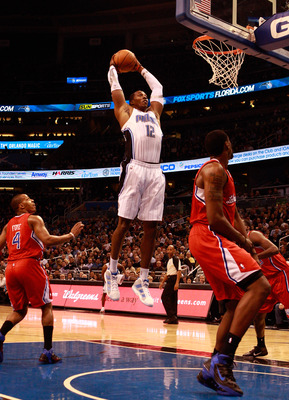 Sam Greenwood/Getty Images
C'mon! You didn't think I wasn't going to put Superman in here, did you?
Dwight Howard is tenth in the NBA in scoring, averaging 23 points per game. He's also in the top percentile when it comes to field goal percentage, as he shoots 59.9 percent from the field; probably because the majority of his shot attempts are dunks or alley-oops.
Dwight is a machine. He'll dunk anything he gets within five feet of the rim and he's developing that soft touch that every post player needs to be successful in the NBA.
Just wait until he gets that 10-15 foot jump shot. He'll be unstoppable!
Dwyane Wade (Miami Heat)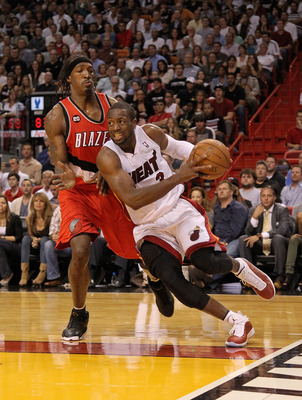 Mike Ehrmann/Getty Images
Dwyane Wade is fourth in the NBA in scoring with 25.6 points per game and he does it rather efficiently, shooting 50 percent from the field.
So how could I put him at number eight on the list?
If you ever watch The Flash play, you'll notice that he is an inside scorer. The majority of his points come from drives to the basket and the occasional pull-up jumper.
In Miami's three losses to the Celtics, who have arguably the best inside defense in the NBA, Wade scored eight, 13, and 16 points, averaging 12.3 points per game against Boston. That is unacceptable for the leader of a team like the Miami Heat.
Don't get me wrong, he's definitely one of the best players in the NBA, but his scoring is very one-dimensional. When he can consistently knock down the three-ball, Wade will get bumped up.
Dirk Nowitzki (Dallas Mavericks)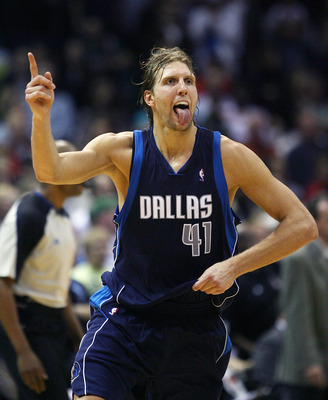 Jonathan Daniel/Getty Images
Sure he's got some crazy mannerisms and he celebrates in a very unique way, but Dirk is definitely one of the best scorers in the NBA.
He causes huge mismatches at the power forward position, because he's an automatic, 7-foot shooter. He can take you off the dribble, post you up or just shoot over you. Dirk is the biggest weapon that the Dallas Mavericks have.
And when your big man can do things like this, there's no answer for him on the defensive end.
You just have to grab a rosary and pray for a miracle.
LeBron James (Miami Heat)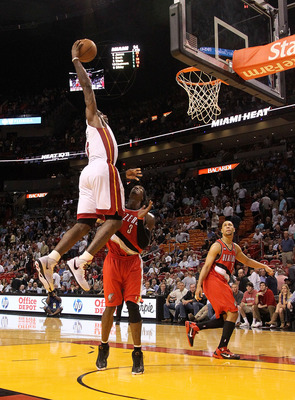 Mike Ehrmann/Getty Images
Yes, I am anti-LeBron James. Even before the whole "Bring My Greatness to South Beach" debacle, there was just something about his game that I didn't and still don't like. It's probably how easy he makes the game look.
But despite how much I might not like his game, I must respect it. LeBron is a hybrid. He's third in the NBA in scoring with 26.7 points per game on nearly 50 percent shooting from the field. He's averaging close to a triple-double with his 7.1 assists and 7.5 rebounds per game. And I even see improvement in his mid range and three-point jump shot this season.
And best of all, he's clearly unstoppable in the open court. Once he turns on the jets, he's like a runaway freight train.
King James is slowly closing in on Kobe's title of the best player in the NBA. As soon as LeBron stops doing things like this, I can begin to respect him.
If you're the best player in the league, you will take the final shot. LeBron shies away from those shots, and often times comes up short in the final seconds, especially this season. When he can start coming through in the clutch for his team, he will have my vote.
Kobe Bryant (Los Angeles Lakers)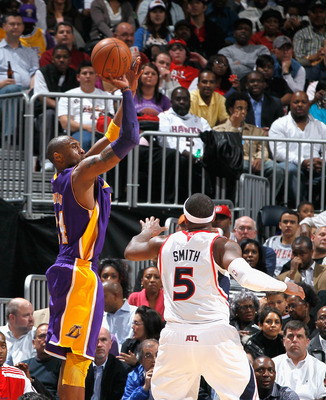 Kevin C. Cox/Getty Images
The only explanation I should have to give for this guy is why he's at number five and not at number one.
At 32 years old, Kobe's still "Doin' Work." He's sixth in the NBA in scoring with 25.1 points per game.
And though he's lost some of his athleticism and explosiveness, he's still finding ways to put points on the board night-in and night-out.
He's an android. He's one of the best inside scorers in the NBA. Just think about the different ways he can beat you:
—He can take you off the dribble
—He can shoot over you
—He can post you up
—He can post you up, and then shoot over you
—He can shoot the three
—He can shoot the mid range jumper
—If you foul him, he'll go to the line where he shoots 81.9%
And you can't double team him because he'll either split the double team or find the open teammate.
The ONLY reason that Kobe is number five is because the players in front of him seriously deserve their spots in front of him. Kobe is still the best player in the NBA.
Monta Ellis (Golden State Warriors)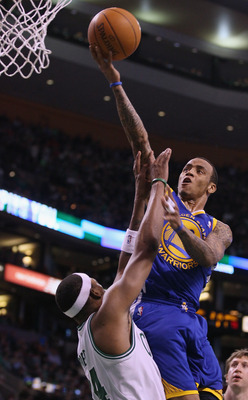 Elsa/Getty Images
Monta Ellis is equivalent to Russell Westbrook with an improved jumper. Ellis scores the easiest out of any other guards in the NBA.
Averaging 24.8 points per game, Monta Ellis is the one of the best scorers in the NBA. And the way he scores is ridiculous. His play style reminds me of—and I know I'm going to get killed for this—Allen Iverson. He attacks the basket with reckless abandonment, and now that he's added a knock down jumper to his game, Ellis has become "unguardable."
The only reason he doesn't go in front of Derrick Rose is because he's on a losing team: the Golden State Warriors.
Derrick Rose (Chicago Bulls)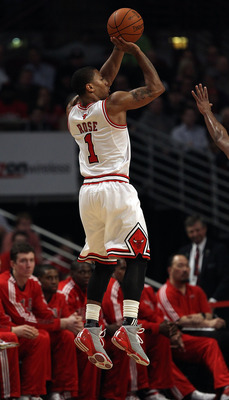 Jonathan Daniel/Getty Images
This season, Derrick Rose has emerged as the best point guard in the NBA. Sure there's Chris Paul, Deron Williams and Rajon Rondo, but looking at what Derrick Rose has done with what he has, they are clearly no competition.
Rose led the Chicago Bulls to 45-18, clinching the Central Division in the Eastern Conference and putting them ahead of the powerhouse Miami Heat for the No. 2 seed in the East.
And most of all, he did this without Boozer and without Noah on the court together for the majority of the season.
Rose is averaging 24.5 points, 8.1 assists and 1.1 steals per game. A prime candidate for the MVP Award, Derrick Rose is having the best season of his career. And now that he's extended his range to the three-point line, Derrick Rose has become the supreme mismatch.
Carmelo Anthony (New York Knicks)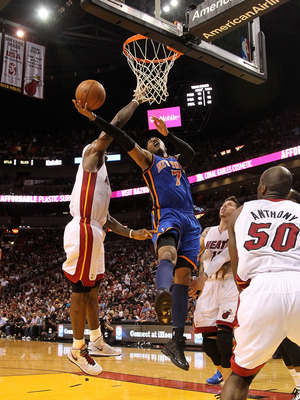 Mike Ehrmann/Getty Images
Oh yes.
Carmelo Anthony is a pure scorer. He's got one of the best mid range games in the league. He can finish around the basket, knock down the mid range jumper and hit the three. He does everything. He can score from anywhere, and he makes it look so easy.
Averaging 25.3 points per game, Melo has brought his offensive prowess to Madison Square Garden, where he will help the Knicks compete for their first playoff berth since 2004. And he's doing a great job, especially in the clutch.
He even hit his first game winner as a Knick against the Grizzlies, Wednesday night.
Kevin Durant (Oklahoma City Thunder)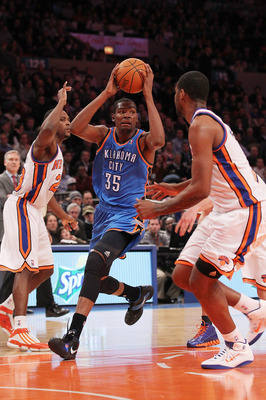 Al Bello/Getty Images
Who else did you think it could be?
Kevin Durant leads the NBA in scoring with 28.2 points per game.He can shoot the lights out, and though he weighs so little, he attacks the basket like a mad man.
And the fact that he's 6"9"-6"10" makes him even harder to guard.
There's nothing much to say about KD. He's going to be the best player in the NBA someday, especially if he keeps up his work ethic.
Keep Reading