LeBron James: 5 Things More Likely to Happen Before He Hits a Game-Winning Shot
Ronald Martinez/Getty Images
Thanks to the news and media, everyone knows the Miami Heat have lost their last five games heading into tonight's game in which they host the L.A. Lakers.
After their March 6 loss to Chicago, James fell to missing four of six potential game winning or tying shots.
In the final 30 seconds of games in which Miami is tied or trailing by three, James is 2-10 so far this season.
So why are the Heat still dishing him the ball?
A better question, why are the Heat even winding up in these situations?
It may be a while before James hits a winning shot, or the Heat even win a game. But until that happens, here are some things more likely to happen before he does.
Charlie Sheen Becomes Sane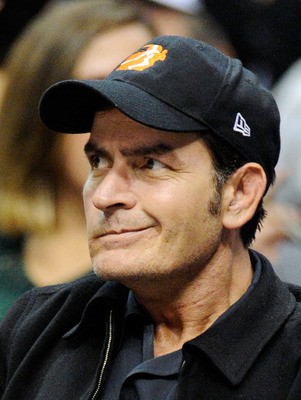 Kevork Djansezian/Getty Images
Where does one even start?
Sheen, 45, is quite possibly the most popular person on the planet right now thanks to his transformation from TV star to unemployed "winner." Before his firing from Two and A Half Men, he was the highest paid TV actor. Now, he is the star of his own YouTube videos full of rants and insults.
James has also been a star of his own TV show, "The Decision," in which he decided to take his talents to South Beach. At 26, he makes $14.5 million a season, but his season PPG average is below his career average.
Although it does not look like Sheen is going to come up for air any time soon, he may do so before James hits a game-winner.
The Cubs Make It to and Win the World Series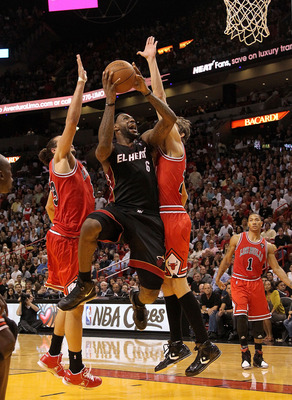 Mike Ehrmann/Getty Images
It has been 102 years since the Cubs have won the World Series (1908), which is the longest championship drought of any sports team. They haven't even appeared in it since 1945.
New Cubs manager Mike Quade has a long road ahead of him.
James has not won a NBA Championship either, despite being called "King James" and one of the greatest players in the game. Although he advanced to the Finals in 2007 with the Cavaliers, he and his team failed to close and win.
The curse of the Cubs may be one that lasts for another 100 years, but at this point, time is on their side. Good things come to those who wait, so they may reach the Fall Classic sooner than James hits that winning shot.
Tiger Woods Finds a New Relationship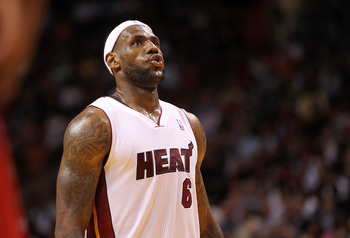 Mike Ehrmann/Getty Images
Despite being one of the most successful golfers of all-time, his legacy is tainted due to the extramarital affairs he had that ruined his marriage. The former world number one is worth close to $1 billion, but none of that matters when your family is torn apart.
He and his wife Elin Nordegren divorced in August, signifying the lowest point in his career. Since then, he has taken a leave from golf, lost his number one ranking and kissed endorsements good-bye.
James has two kids with his high school sweetheart, and although his marriage seems to be problem free, his public image is always under question. Here is where he and Woods relate, as they face more criticism and scrutiny than most professional athletes.
Woods did prove himself to be an unfaithful man, something most women can never forgive. His many affairs send the wrong signal to most women. Finding a new steady relationship is probably not even on his top list of things to do, but at the rate James is going, he may just do it before James hits a game-winner.
Tom Brady Cuts His Pony Tail off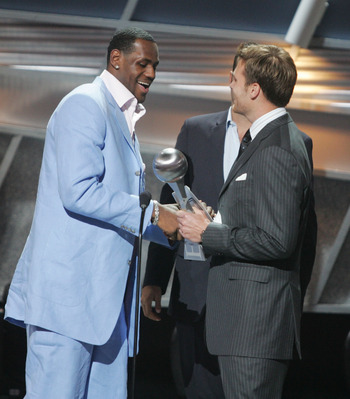 Carlo Allegri/Getty Images
What is that thing?
Tom Brady, at 33, is one of the most well-known, decorated athletes and NFL quarterbacks of our time. His career highlights and awards list is never ending, full of stats such as 2007 AP Male Athlete of the Year and three-time Super Bowl Champion.
Towards the end of the 2010-11 season, it was clear that Brady was not going to cut his locks, which were growing and growing. Normally clean-shaven, pictures have surfaced of Brady sporting a small ponytail while on vacation with his wife in Brazil. Many NFL fans, including women, are a little stunned at this hair transformation.
James, who has not had any crazy hair days, is most known for his flashy style and multiple tattoos. He's had endorsements with multiple brands and often appears in ads.
Eventually, Brady's hair will have to go. Especially with the craze and concern it has caused, it will most likely be cut before he begins spring practice. This may happen before James hits that buzzer-beater, especially with how easy it can happen.
Erik Spoelstra Himself Cries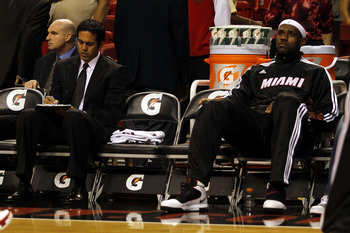 Marc Serota/Getty Images
James' head coach in Miami said after their loss to the Bulls, a few players were crying in the locker room. Those comments became the latest thing to tease Miami about, and he has since retracted them by saying that the news media twisted his words.
The entire "Crygate" ordeal was a hot topic, but has made many fans agree that the players should be crying.
Whether or not James has actually cried in the locker room after a tough loss doesn't really matter. There have been plenty of times where he's walked off the court looking less than happy and had the same sour look on his face at the post-game conference.
But Spoelstra even mentioning that his players were crying has gotten many people believing that they were, or at least should be.
The Heat are still 43-21, first in the Southeast Division and third in the Eastern Conference. They have not yet clinched a playoff berth like Boston and Chicago. If they continue to play the way they have been, Spoelstra may be adding his name to the list of coaches who has shed a few tears in an interview
Keep Reading

Miami Heat: Like this team?