Chicago Cubs: Top 5 Films Showcasing the Ivy-Grown Burial Grounds at Wrigley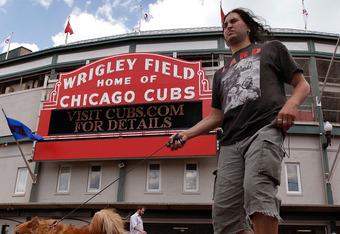 The ivy-grown burial grounds called Wrigley Field has appeared in its fair share of films.
Scott Olson/Getty Images
With the recent debate about "experts" finally reaching a decision on which Chicago Cubs game Ferris Bueller attended, it's important to also recognize some of the greatest showcases of the Chicago Cubs and Wrigley Field to appear on the silver screen.
ROOKIE OF THE YEAR
By far the most intimate portrayal of the inner sanctum of Wrigley Field, Daniel Stern's homage to his beloved Chicago Cubs gives us everything we need in an interesting sports movie. Henry Roovenflavor/Rosinbagger/Rowengartner loves his Cubs but stinks as a little league outfielder. The 12-year-old breaks his arm, and after the tendons heal a little tightly, he is able to touch 100 on the radar gun.
He then is signed by the Cubs and mentored by pre-psychotic Gary Busey, not the modern Busey who might be more inclined to rant about the coming apocalypse and how it was caused by aggressive colby jack cheese statues than life lessons about dealing from your "have-to."
Henry leads the Cubbies to a World Series when he floats an underhanded meatball to the villainous chubby bunny, Butch Heddo, whose John Kruk likeness and softball physique fails to save him from swinging through the floater. Cubs win, Cubs win!
Jonathan Daniel/Getty Images
TAKING CARE OF BUSINESS
Convict Jimmy Dworski (Jim Belushi) has a dilemma. He's won a pair of tickets to see the Cubs play the Angels in the World Series, but the game conflicts with his schedule, which consists of one hour of free time in the yard and plenty of reading time in his prison cell.
Loyal to the core, Jimmy (along with his deliciously awful pony tail) escapes from prison, finds the filofax of an uptight ad executive, Spencer Barnes, pretends to be Spencer for the week, hooks up with the boss's daughter and takes a meeting with a powerful food magnate while Spencer is left homeless and penniless wandering the streets of Southern California in a dirty sweater and a pair of Richard Simmons sweatpants.
The climax features Dworski catching a Mark Grace home run, fleeing the cops and sneaking back into the prison with the help of Barnes, who has a new lease on life. Shockingly, did anyone else know that Belushi is a Cubs fan? Oh wait, he's the go-to guy for every major Chicago sports promo the last 15 years on ABC. Can we get a Cusack please? I'll even take a Malkovich or a Joe Mantegna.
OPPORTUNITY KNOCKS
When con man Eddie Farrel (Dana Carvey) steals the car of local mobster Sal Nichols (which also happens to have a briefcase full of money inside), Farrel and his best friend, Lou Pesquino, go on the run.
Jonathan Daniel/Getty Images
Eddie returns to a house he and Lou had previously burglarized when he realizes the expected house guest cancelled his trip. Mistaken for "Jonathan Albertson," ad executive extraordinaire, Farrel lives the con and becomes a hit with the CEO, his family and especially, his daughter.
Seeing his clients blew their proposal off to go to the Cubs game, Eddie takes the CEO, Milt Malkin, to Wrigley for the afternoon and—in one of the best cons ever—pretends to be "President Bush 1" in the bathroom (which is somehow lacking the wonderful stage fright-inducing urinal troughs Cubs fans have grown to love) to convince potential clients they need to buy into their hand blower products instead of old fashioned paper towels. Hand blowers, good. Paper towels, bad. Real bad.
THE BLUES BROTHERS
While it only plays a blink of a role, many movie fans can't shake their immediate knowledge of Wrigley Field's address (1060 W. Addison to the layperson) thanks to Jake and Elwood Blues, who—while on a mission from God—give police and bounty hunters the Cubs ivy-grown burial ground as their home address.
Arguably the most popular film to ever showcase the city of Chicago, "The Blues Brothers" is one of the most popular comedies of all time and arguably the best performance by the late, great John Belushi.
Fans of Bluto ("Animal House") may disagree, but more Chicagoans have celebrity impersonator jobs thanks to this film and its two protagonists. It also features Carrie Fisher, while she was still in the smoking hot Princess Leia stage, not the current Ron Cey-shaped version blabbing about the other "snow" she enjoyed on Hoth while filming "The Empire Strikes Back."
A LEAGUE OF THEIR OWN
"Hey, cowgirls: see the grass? Don't eat it!" bellows scout Ernie Capadino (played by the perfectly sarcastic Jon Lovitz), as Dottie Hinson and Kit Keller walk out onto the lush green landscape of Wrigley Field for the first time.
A historically based dramedy about the All-American Girls Professional Baseball League (AAGPBL) that sprung up during World War II thanks to Phillip K. Wrigley (name ring a bell?).
Wrigley plays host for the tryout early on in the film. Walter Harvey, the character based on Wrigley, invites the girls to play at "Harvey Field," which exposed us (and more than likely Madonna, as per her resume) to great names like "All-the-Way" Mae, Betty "Spaghetti" Horn, and—of course—the "lovely" Marla Hooch. "What a hitter!"
RUNNERS UP: The Break-Up, Sleepless in Seattle, Uncle Buck.
This article is
What is the duplicate article?
Why is this article offensive?
Where is this article plagiarized from?
Why is this article poorly edited?

Chicago Cubs: Like this team?