Brandon Meriweather, NFL Labor Talks, Cam Newton and Thursday's Top NFL News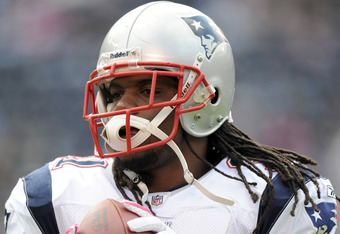 Harry How/Getty Images
Brandon Meriweather made the news for all the wrong reasons Thursday morning. Reports claiming he shot two people at a party February 27 surfaced on Profootballtalk.com.
Even bigger news, Jason Cole of Yahoo! Sports is reporting the union and the owners came to an agreement on a rookie wage scale, but reps are publicly denying this. In the game of public relations war, denials mean about as much as anything else—in other words, nothing.
Cam Newton is being wined and dined but there still are detractors who think he may not be worth a first-round pick.
It is going to be a wild day, something keeps telling me that, so keep checking back as we hit all the day's big news with analysis and commentary.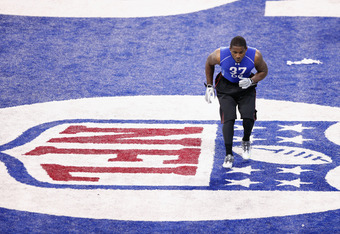 Reports Out Of D.C. Suggest The Two Sides Have Agreed On A Rookie Wage Scale
Yahoo! Sports reported earlier the league and the union have agreed on a rookie wage scale, which means one issue is off the table now and the two sides can continue to focus on disagreeing about profit-sharing.
As for the rookie wage scale, that issue has been talked about ever since discussions about a new collective bargaining agreement began a few years ago. The way rookie salaries have skyrocketed over the last decade, it has gotten to the point no team even wants a Top 10 pick because of the financial commitment involved.
This takes money away from the veterans who have earned their place in the NFL and gives it to guys who could bust out in their first year.
Washington Redskins linebacker London Fletcher brought this point up on Profootballtalk.com
"I believe in a rookie wage scale," said Fletcher. "I think that the contracts, in particular the first ten picks, are too much for a guy who hasn't played a down in the National Football League. They haven't proven themselves. . . . The one thing I do have concern with is that the NFL owners don't look to keep that money for themselves and keep it in their coffers. I want to make sure that money is now going to current players and former players in the form of benefits."
That is the key point of shifting the money. The veterans want to make sure they are taken care of rather than losing money to guys who could be one and done and not need the kind of health care coverage a player who has gone through 15 seasons and multiple injuries would need.
It is a "win" from the owners and coaches standpoint because there then would not be as much pressure to play top draft picks who may need some time to develop before being unleashed as a starter in the league.
Owners always are happy about spending less money, especially when it comes to first-round quarterback picks. If those bust out, like JaMarcus Russel did recently, they now will not be as "in the hole" as they were before.
Jason Cole, the reporter on the Yahoo! story, indicated his sources told him the players agreed the current system is broke.
"Three Years" is enough to tell if a player is good or not, according to his source, and the deals will be structured as four-year deals for first-round picks and three-year deals for all subsequent rounds with franchise tags available to be placed at the end of that timeframe.
This all makes a lot of sense, you just have to hope sanity prevails on the rest of the negotiations.
For a look at something completely different, check out A Complete Three-Round Mock Draft.
This article is
What is the duplicate article?
Why is this article offensive?
Where is this article plagiarized from?
Why is this article poorly edited?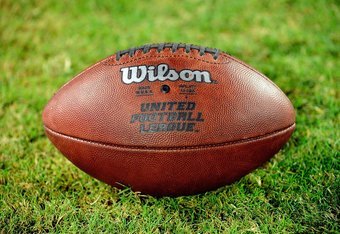 UFL Could Be The Big Winner If The 2011 NFL Season Is Delayed Or Lost
Are you ready for some football? The minor league kind?
The UFL, started in 2009, is ready to give football fans their fix this August whether or not there is an NFL season. If there is no season, than the spotlight will be shined directly on the fledgling league.
Right now the UFL is broadcast on Versus and Mark Cuban's HDNet. However, if the NFL locks out the players and the beginning of training camp is delayed, a network may step up to grab the league's broadcast rights if it legally can do so.
If not, Versus and HDnet's rating will skyrocket no matter what.
Michael Huyghue, commissioner of the UFL, addressed the potential lockout in an ESPN article.
"It's not part of the strategy," Huyghue insisted. "… You can't plan on it, but you can position yourself. If this happens, if people turn off to the billionaires-versus-millionaires argument, that creates an opportunity for a league like ours. It could benefit us incredibly."
If the football is good, it could benefit the UFL incredibly, which seeks to give NFL-style football in cities not represented by the NFL. The league consists of five franchises in 2011 based in Las Vegas, Hartford, Omaha, Sacramento and Virginia Beach.
The league was hoping to expand into the Los Angeles area, among others this year, but was unable to do so.
The problem with fledgling leagues who get the spotlight shined on them is the quality of play has to be good or the viewers will not come back. Look no further than the XFL which began with much fanfare but quickly fell apart after viewers were turned off by the quality of the product.
One way for the UFL to increase the quality of their product is to poach former NFL players, or try and sign away free agents. While the teams are not making enough money to sign away any big names, it is the perfect showcase to see if Tiki Barber still has any gas left in the tank.
Jim Fassel, head coach of the Las Vegas Locomotives, said earlier this week, "If he wants to come play in our league, I would be happy to have him."
If Barber needs money, the UFL may not be able to give him the multi-million dollar contract he desires, but it will increase his earnings in 2011. If Barber is good enough, he may get an endorsement deal out of it, or a spot on Dancing With The Stars.
Maybe JaMarcus Russell will lumber on to the field and eat a sandwich behind center since the blitzing rules are tighter in the UFL to increase scoring.
The UFL could have its chance to shine this summer, it is up to them to take advantage of the opportunity the NFL is giving should a lockout occur.
For a look back at the NFL, check out A Complete Three-Round Mock Draft.
This article is
What is the duplicate article?
Why is this article offensive?
Where is this article plagiarized from?
Why is this article poorly edited?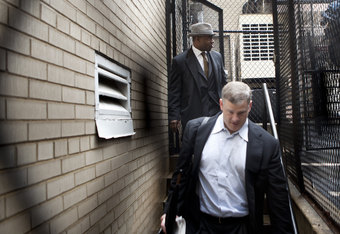 DeMaurice Smith Claims Victory On 18 Games, But No Confirmation From Owners
One of the key parts of the labor negotiations between the union and the owners was expansion of the schedule to an 18-game season.
Upon hearing this news, everyone had an opinion. You were either for it or against it, there was no middle ground.
That remains true today, although 18 games may no longer be on the table. According to Union Chief DeMaurice Smith in Sports Illustrated piece on the labor talks, the players flat out rejected the 18-game proposal and it no longer is a talking point.
"First of all, the league has never presented a formal proposal for 18 games," Smith said. "But more importantly, it's something that our players don't want. Eighteen games is not in the best interest of our players' safety, so we're not doing it."
Smith may be talking technicalities when he used the phrase "formal proposal," but the league wants it, and they threw it out there just so it could be taken off of the table as a concession. The owners certainly would like to have the revenue of two more games, but I do not think they ever seriously thought this proposal would go through.
Part of the bargaining process can be throwing items on the table as kind of a "wish list" that end up getting taken off as part of the bargaining process. I believe the 18-game schedule proposal was just that.
However, Pittsburgh Steelers wide receiver Hines Ward broke ranks with the players on Thursday.
"If they do, we still have to go out there and play it," Ward told Ed Bouchette of the Pittsburgh Post-Gazette. "It depends on how they do retirement plans. If you add two more games and talk about safety, you have to do something on the back end."
The "back end" Ward referred to was giving the players increased healthcare benefits, especially for retired players.
The players talk about the grind of 16 games and the effect it has on the body. Adding two more games does not decrease the grind any.
Michael Strahan talked about 18 games today on the Dan Patrick Show, quoting retired player and FOX Analyst Howie Long, Strahan said to imagine getting hit by a car, getting up and then being asked if you wanted to get hit 15 more times or 17 more times.
While an 18-game schedule would reduce the preseason by two games, most starters barely play the preseason, so trying to say it still is a 20-game season is a bit of a stretch.
When the deal finally is signed, I doubt very seriously there will be an 18-game season, there is too much downside for the players to agree to it.
For a look at something completely different, check out the Top 25 QB Busts Of All Time
This article is
What is the duplicate article?
Why is this article offensive?
Where is this article plagiarized from?
Why is this article poorly edited?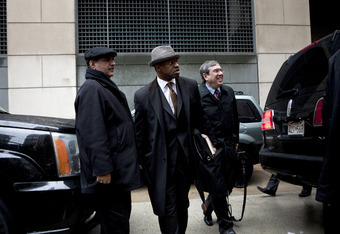 Owners, Union Continue Negotiations As One-Week Extension Draws To A Close
Progress has been made, whether it is enough to get a deal done, or at least warrant another extension of talks, remains to be seen.
The back-and-forth between the two sides continued on Wednesday, as the Cone of Silence asked for by mediator George Cohen evaporated. In regard to the owners opening the books to the players, Union Chief DeMaurice Smith said on the radio Wednesday it was not enough to satisfy what the players wanted to see.
"Just to be absolutely clear, the information that was offered wasn't what we asked for," Smith said, "and, according to our investment bankers and advisers, they told us that information would be utterly meaningless in determining whether to write an $800 million check to the National Football League."
The $800 million figure refers to the money the owners want off the top before revenue sharing begins. The owners currently get $1 billion and were asking for another billion. That figure reportedly now has been reduced to the $800 million referenced above.
That is a lot of money, and the players rightfully want to see what the owners are doing with their profits before signing a new collective bargaining agreement. But how much is too much?
At the end of the day, this is a private business. This is not a government operation being run by tax dollars, so for the players to demand full disclosure is a little arrogant. The owners are not asking the players to divulge what they do with their paychecks, so to ask the owners exactly how each dollar is spent seems a bit aggressive.
The players have a right to know how much money truly is profit, and they have a right to have an independent auditor go through the books, but anything more than that is just nitpicking. The auditor can determine if funds are being hidden and make his decision.
The NFL believes they have given the players what they asked for, though, as stated in an ESPN article about the situation.
"Has it gotten everything it wants? Evidently not. Have we offered to provide more? Absolutely," NFL lead negotiator Jeff Pash said. "And is it a subject that we're prepared to discuss? Absolutely."
This is the statement the players did not want to hear because it makes them look like the bad guys. The veracity of the statement can be debated, but there is no argument this statement puts the union on the defensive.
Smith did provide a copy of the request the union made for financials in 2009, but without seeing exactly what the owners did offer this week, that request form is meaningless to the argument.
There is no doubt progress has been made, but there still is a long way to go. The owners have made concessions, according to some of the latest reports. It is time for the players to swallow their pride and do the same.
For a look at something completely different, enjoy Each Team's Best Late-Round Pick Of All Time.
This article is
What is the duplicate article?
Why is this article offensive?
Where is this article plagiarized from?
Why is this article poorly edited?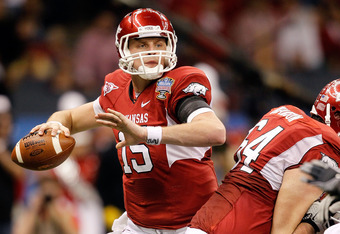 The Charlie Sheen Madness Can Not Be Stopped, Mallett Can Not Be Happy
I have a confession to make. I find the Charlie Sheen meltdown saga to be one of the most fascinating things I've seen in years. I can not take my eyes off of it and I never watch Two And A Half Men.
Sheen's ranting about Warlock Assassins and being infused with tiger's blood just help me get through the day with a smile on my face.
On Wednesday, Sheen called in to the Dan Patrick Radio Show and immediately took a shot at Ryan Mallett, saying he left his drugs and drug paraphernalia at the house and to come and pick it up.
While there are plenty of reasons to be upset with Sheen, taking this shot at Mallett was a pure cheap shot.
Allegations of drug use do surround Mallett, and he has not denied using drugs, but the shot was not necessary.
However, this does bring Mallett's attitude into focus again. Mallett repeatedly has been asked if he has used drugs in the past, and his only answer has been "I never failed a drug test."
That is not exactly a comforting answer. Plenty of other professional athletes have given that answer only to be popped later on. Mallett may have a rocket arm, but it will not do the team who drafts him any good if he is not playing due to suspension.
For a look at the draft, check out a Complete Three-Round Mock Draft Here.
This article is
What is the duplicate article?
Why is this article offensive?
Where is this article plagiarized from?
Why is this article poorly edited?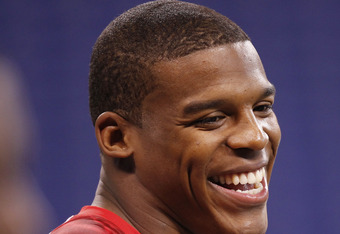 Newton Has Eight Private Workouts Scheduled Prior To The Draft
Cam Newton showed some improvement in his footwork at Auburn's Pro Day, and he showed enough talent with the rest of his workout to have eight private workouts scheduled.
The Buffalo Bills, Carolina Panthers, Cincinnati Bengals, Cleveland Browns, Miami Dolphins, Minnesota Vikings, Tennessee Titans and Washington Redskins are the teams scheduled to work out Newton so far.
With the exception of the Dolphins and the Browns, every other team on this list is a candidate to take Newton in the first round.
The Dolphins and Browns are doing due diligence in case Newton falls as both most likely will draft a quarterback at some point in this year's draft.
The Browns also may be getting some additional scouting in should Newton go to the Bengals. It is a very shrewd move to schedule the private workout as the Browns coaches now will have all their own "up close and personal" data on Newton should they have to face him twice a year for the next few seasons.
The draft is fast approaching and the Pro Days are just beginning. Blaine Gabbert will be the next big name to receive scrutiny, so stay tuned.
For a look at the NFL Draft, check out The Top 25 QB Busts Of All Time.
This article is
What is the duplicate article?
Why is this article offensive?
Where is this article plagiarized from?
Why is this article poorly edited?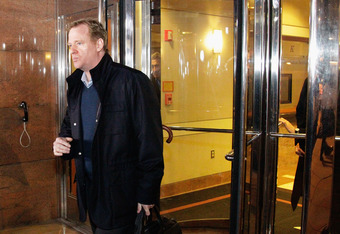 Progress Of Labor Talks Depends On Who You Talk To
The Cone of Silence that blanketed the labor talks between the union and the owners has all but disappeared this past week, and the two sides either are inching closer to a deal or as far apart as ever, depending on which report you read.
Jason Cole of Yahoo! Sports said the two sides came to a basic agreement on a rookie wage scale, but that is being publicly denied. Cole stands by his reporting, according to Profootballtalk.com.
The proposal for 18 games either has or has not been taken off the table. Again, it depends on who you talk to, but a lot of people believe the 18-game schedule was put on the table just so it could be taken off as a "concession" to the players.
Then there is argument over how much of the financials the owners have showed the players versus how much the players want to see.
From what I've read, the owners are showing the players what they need to know but it is not enough for DeMaurice Smith, who seems to be in over his head in this whole game, making promises he may not be able to keep and leading the players down a dangerous road.
The owners are greedy, there is no debating that point, but the players are falling into the kind of trap that will lead them to ruin in the end. The players should hold out for a better deal, but asking for everything will get them nothing.
For a look at the NFL Draft, check out Each Team's Best Late-Round Pick Of All Time.
This article is
What is the duplicate article?
Why is this article offensive?
Where is this article plagiarized from?
Why is this article poorly edited?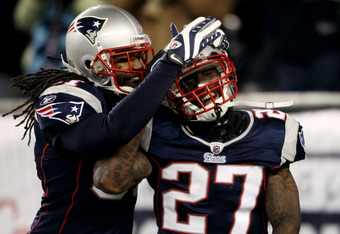 Details Are Scarce On Alleged Shooting Incident That Happened In Florida
Profootballtalk.com reported early Thursday morning New England Patriots safety Brandon Meriweather has been accused of shooting two people at a party Feb. 27. No charges have been filed to date.
The story reports no deaths but if the allegations are true, Meriweather is going to have a lot of explaining to do. Even with no new collective bargaining agreement in place, there is a good chance Meriweather will have a meeting with NFL Commissioner Roger Goodell at some point, charges or no charges.
If Meriweather is charged, and it is a felony, the Patriots now have to completely rethink their offseason plans in regard to the defense.
All that aside, I've been to a lot of parties in my day. I've been to some wild parties. I've even been to that completely crazy party in the upscale neighborhood at the really big house with 500 people you really only see in movies.
I've never been shot at during one of those parties, but it seems to happen frequently with professional athletes.
I have been shot at in my life, but that was a case of being in the wrong place at the wrong time, not because the people I chose to hang out with have a propensity for getting in arguments and then opening fire.
For a look at something completely different, check out The Top 25 QB Busts Of All Time.
This article is
What is the duplicate article?
Why is this article offensive?
Where is this article plagiarized from?
Why is this article poorly edited?