ACC Tournament: 5 Reasons North Carolina Will Take the Crown
Streeter Lecka/Getty Images
The North Carolina Tar Heels are the top seed for the 2011 ACC tournament.
With an 81-67 home win over rival Duke this past Saturday, the Tar Heels captured their fifth ACC regular-season championship under head coach Roy Williams.
This was quite the turnaround for a team that went unranked throughout much of December and January. This followed an abysmal 16-15 regular season in 2010, with a 5-11 record in ACC play.
With a cast led by talented freshman Harrison Barnes, North Carolina rallied at the start of ACC competition this season and tallied a 14-2 mark since January 8.
Now they sit as high as sixth in the Associated Press poll, one spot behind the Duke Blue Devils.
Although Roy Williams and his team weren't hyped coming into the season, they now sit in the driver's seat in the ACC Tournament.
They have a chance to claim a No. 1 seed for the NCAA tournament with a big weekend in Greensboro.
What follows is a list of five reasons why the Tar Heels will do exactly that.
All data courtesy of:
www.kenpom.com
1. They Are the Hottest Team in the ACC
Streeter Lecka/Getty Images
Since losing to Duke on the road 79-73 on February 9, the North Carolina Tar Heels have rattled off seven-straight wins and have staked their claim as one of the hottest teams in the country.
This month-long stretch included two tough two-point road wins at ACC foes Clemson and Florida State.
FSU is likely locked into the NCAA tournament with an 11-5 ACC record. Clemson was 9-7 but can get in with a solid weekend in Greensboro.
The seven-game streak also contained an 11-point home win over an underrated Maryland team, and the 14-point beatdown of Duke on the final day of the season to capture the ACC title.
Roy Williams has watched his squad mature throughout the year.
His best player, Harrison Barnes, is just a freshman. His other two top scorers, Tyler Zeller and John Henson, are a junior and a sophomore, respectively.
The rest of the rotation includes two sophomores, two freshmen and just one senior.
Young teams take time to develop. This is why John Calipari will have a tough time winning a title at Kentucky if he's dealing with new freshmen every year.
But the Heels have clearly figured out their game towards the end of the season. Their 17-2 record since a December 18 loss to Texas speaks volumes.
No one wants to face a hot hand. Especially not one this loaded with NBA-caliber potential.
2. They Have a Dominant Front Court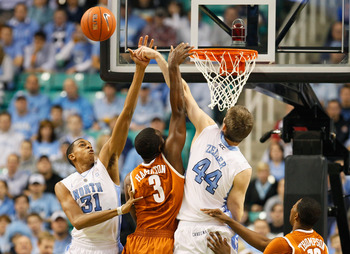 Kevin C. Cox/Getty Images
With seven-foot junior Tyler Zeller, 6'10" sophomore John Henson and the 6'8" freshman small forward Harrison Barnes, North Carolina's starting lineup is tough to rebound against or score inside on.
Teams that have to rely on their mid-range and outside shooting to win games generally struggle to win conference tournaments and the NCAA tournament.
All it takes is one poor-shooting game and the team is sent packing.
But if you can get to the offensive rim and defend the defensive one, you will be in almost every game no matter what.
North Carolina has the size in the starting lineup to carry them through both the ACC and NCAA tournaments.
What they lack is depth. Only 6'9" senior Justin Knox provides a large body off the bench.
But the Tar Heels are still just a poor matchup for most any ACC team. Barnes, Henson and Zeller are the team's three leading scorers.
Their dominance inside allows sophomore sharp-shooter Leslie McDonald to get open from three.
The only way to beat North Carolina is to clog the lane with defenders.
When that happens, if they can knock down their open treys, then they'll be nearly impossible to beat.
3. They Are Battle Tested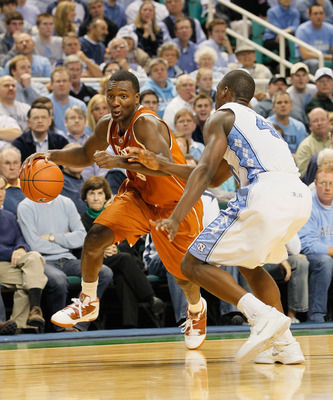 Kevin C. Cox/Getty Images
It's often said that those teams that face tougher competition during the regular season have more adequately prepared themselves to win in close games down the stretch.
Based on their opponents' expected pythagorean winning percentage this season, North Carolina had the 11th-toughest schedule in the country.
The No. 1 spot belonged to 18-13 Michigan State, which supposedly had a very disappointing year.
North Carolina easily faced the toughest schedule of any ACC team. Their two closest competitors were Boston College (25th) and Duke (27th).
But with the exception of a December 4 home win over Kentucky, the Tar Heels lost every big non-conference game that they played.
First they fell to both Minnesota and Vanderbilt within their initial four games.
After being blown out by 12 on the road at Illinois, North Carolina concluded their down non-conference schedule with a 78-76 loss to Texas at the Greensboro Coliseum.
Time will tell if the ACC is that poor of a conference or if the Tar Heels were merely the victims of early-season struggles as their young core continued to develop.
I'd be willing to bet on the latter. If they re-played those four big out-of-conference losses at the end of the year, I'd expect the Heels to go at least 3-1.
4. They Shouldn't Have to Play Florida State Again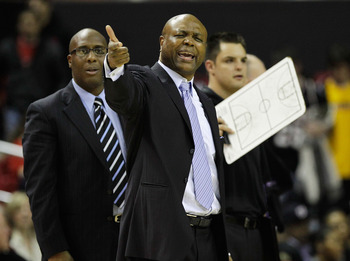 Rob Carr/Getty Images
North Carolina and Duke were once again the class of the ACC in 2011. They each lost once to one another and dropped a seperate unexpected game on the road.
North Carolina got crushed by 20 at Georgia Tech on January 16th. Duke fell at Virginia Tech in the third-to-last game of the season, costing themselves a potential split of the ACC title.
Other than a loss to St. John's in the Madison Square Garden house of horrors for visiting teams, Duke lost just one other game this season.
On January 12, the Blue Devils rolled into Tallahassee with a 15-0 record and the No. 1 ranking in the country. But an extremely-athletic FSU squad stifled Duke all night and walked away with a 66-61 upset.
Leonard Hamilton's squad is actually a tremendous defensive team. The Seminoles finished with the fifth most-efficient defense in the nation this season, allowing just 87.1 points per 100 possessions.
Additionally, the Seminoles ranked first in two-point shot defense, allowing just a 40.5 percent of opposing attempts to fall successfully.
They finished third in defensive possessions ended by a block, at 16.6 percent, and 10th in possessions ended by a steal, at 12.9 percent.
The 'Noles boast a deep-and-versatile roster that can matchup with almost any team and play almost any style. All 11 players are capable of logging big minutes and playing sound defense.
North Carolina has already defeated FSU on two occasions this season. They won by 20 at home, but they were scared on the road with just a two-point win in their second-to-last game of the year.
After two games, Leonard Hamilton may have figured this Tar Heels team out. With tough interior defense, I doubt that North Carolina wants to see him and his Seminoles again for a third matchup.
The two wouldn't meet until the finals, and FSU would likely have to knock Duke off for the second-straight meeting just to get there.
I doubt Coach K will be surprised again.
5. They Have 5 Future NBA Players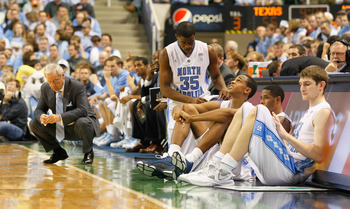 Kevin C. Cox/Getty Images
Harrison Barnes, Tyler Zeller, John Henson, Reggie Bullock and Kendall Marshall should all eventually be NBA draft picks.
With a potential top-five pick for 2012's draft class coming to campus next season in James McAdoo, it remains to be seen how many of his future pros Roy Williams will be able to keep on campus.
With a weak projected draft, if they leave this season, both Henson and Barnes could be top 10 picks.
But the lure of playing in college with great players and having the chance to seriously contend for one more season might be too good to pass up.
Zeller is expected to return for his senior season. If his teammates stick around, North Carolina should rise to No. 1 at some point during the 2012 campaign.
The knock against Duke is that the Blue Devils don't produce enough top NBA talent.
Injured freshman Kyrie Irving could be the No. 1 pick in this year's draft, but Kyle Singler, Nolan Smith and the Plumlee twins project better as college players than as professionals.
Roy Williams has a great eye for top talent. Having five NBA-caliber players on the roster can take a team a very long way.
Keep Reading

UNC Basketball: Like this team?