Fantasy Baseball Draft Strategy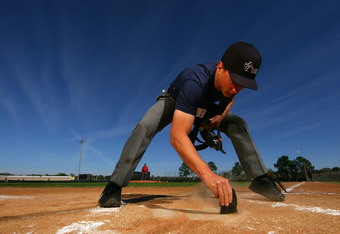 Al Bello/Getty Images
Seemingly the toughest part of being a fantasy baseball manager is the draft. Unlike the other sports, in fantasy baseball there are so many quality players that you need a plan to compete in the ten categories each week. The most one player can affect each week in fantasy baseball is only half of the categories each time they play. Offensive players tend to be more valuable because they can affect five categories, pitchers only four. This week we are going to look at how I plan on drafting this year.
Throughout the years, I've tried all the different baseball draft strategies. Thanks to it raining all weekend and canceling my Mardi Gras plans, I was able to participate in over 20 Mock Drafts this weekend. While my wife may not agree with it, it is invaluable to me in order to get an idea of what players are going when and who is available later in the draft. So far all my draft research has led me to POSITIONAL SCARCITY as the best method this season.
My analysis is geared toward Head-to-Head Leagues with sizes of at least 12 teams. If you are still playing in an eight team league (and it is anything OTHER than a work league where people are just doing it in order not to work) it's time to take the necessary steps to join the rest of society in a competitive league. However, if you need any draft questions answered or have Auction League dilemmas - make like the teenagers and hit me up on Twitter. I'll get back to you whenever I'm not thinking about how I can't order my favorite snow cone – Tiger's Blood – without someone making a Charlie Sheen reference now. Just great.
Let's look at the players I feel good starting at each thin position (These are in the order I would draft each):
CATCHER
Buster Posey
Joe Mauer
Victor Martinez
Brian McCann
THIRD BASE
Evan Longoria
Alex Rodriguez
David Wright
Ryan Zimmerman
Kevin Youkilis
Jose Bautista
Adrian Beltre
SECOND BASE
Robinson Cano
Dustin Pedroia
Brandon Phillips
Chase Utley
Ian Kinsler
Dan Uggla
SHORT STOP
Hanley Ramirez
Troy Tulowitzki
Jose Reyes
Jimmy Rollins
FIRST BASE
Albert Pujols
Miguel Cabrera
Adrian Gonzalez
Joey Votto
Mark Texiera
Prince Fielder
Ryan Howard
Adam Dunn
Justin Morneau
Kendry Morales
If you are in a competitive league, every player above will probably be drafted by the start of the sixth round. This year OF and SP are extremely deep which is why I am waiting til after the first five rounds to take them this year. You can still build a dominant pitching staff in the sixth round when stud arms like Tommy Hanson, David Price, Mat Latos and Cole Hamels are typically available.
Drafting a player from the five positions above maximizes your advantage over opponents. If you are starting above average players at weak positions then at least half of your league are starting options that shouldn't come close to their production. By grabbing a top-tier catcher, you get much more production out of that position than you will lose from the gap in OF.
Bottom line is that the drop off is considerable after these groups, especially at 3B, SS and 2B. You do not want to pass up on these positions early and leave the draft with an infield of Chone Figgins, Erick Aybar and Chase Headley. Simply too big of a hole for your other positions to dig yourself out of each week. This is a year to lock up your infield in the first few rounds.
Let me know your own draft strategy or if you agree/disagree with my thoughts this season.
This article is
What is the duplicate article?
Why is this article offensive?
Where is this article plagiarized from?
Why is this article poorly edited?