NFL Draft 2011: Latest Draft News and Rumors for Every NFC Team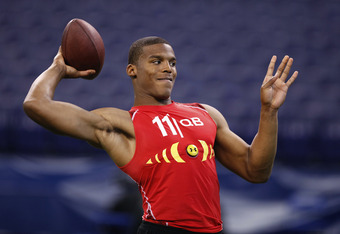 Joe Robbins/Getty Images
NFL Draft 2011: NFC Draft News and Rumors
It's that time of the year again!
With the start of the NFL draft only days away (though granted, 51), the rumors are starting to fly.
But how do we differentiate between a smokescreen of misinformation and legitimate interest? I'll tell you specifically how to do that, and then hope that you've forgotten I definitively claimed that ability by April 28th.
Over the course of the day, we'll be taking a peek at every team in the NFC and reporting/analyzing the latest applicable rumors regarding their draft strategy:
- Could Cam Newton possibly be the first pick in the draft?
- What does Tarvaris Jackson's Minnesota departure signify?
- Is Julio Jones the number one receiver off the board?
- Despite the recent influx of negative press, is there any way Nick Fairley is not the first DT selected?
Provided the labor situation doesn't devolve to the point of the NFC disbanding in the next 12 hours, we'll be with you for the next 12 hours.
Just two guys, on the computer, looking at draft stuff.
It's that time of the year again.
(Check out prognosticator extraordinaire Matt Miller's updated First Round Mock. It's really good.)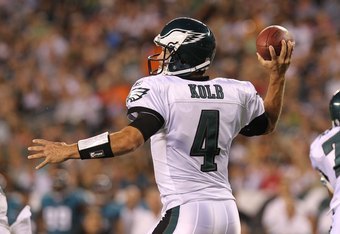 NFL Draft 2011: Can Kevin Kolb bring the Eagles a First Rounder?
Michael Vick has been tendered and he plans to reconcile with Oprah.
Via the Associated Press:
"I just thought the timing wasn't right, based on everything that was going on with the contract, the CBA and certain things that I didn't want to touch on at the time," he said. "I felt like I needed to do more in order to be on the show to talk about the past and to talk about the present and how prosperous things are and how bad they were and how we can move forward. I think when I do go on, it's going to be outstanding."
Okay, so that's taken care of. He's waiting for Oprah to retire. Which I suppose means that the most prescient question remaining for the Eagles this offseason is what can they get for Kevin Kolb?
According to Bleacher Report wunderkind Ryan Braun (who essentially just transcribed Adam Schefter), the entire NFC West might join the bidding.
"Hard to pinpoint specific teams interested in Kevin Kolb, but every NFC West team except St. Louis has to consider him and deal with Eagles."
Sajid Farooq of NBCBayArea.com, covering the proceedings for the 49ers, adds that "some reports have surfaced that the Eagles want a first round draft pick for the quarterback."
He continues:
"Part of that report could be based on word that Cardinals' star wide receiver Larry Fitzgerald was pushing the team to acquire Kolb."
The best thing that could possibly happen for the Eagles (and it seems to be happening) is that several of their quarterback hungry adversaries drive up his price in an effort to score a reasonably young centerpiece around whom they can build.
What will the Eagles ultimately be able to score for Kevin Kolb? In a vacuum, my opinion is if it's anything better than a third-round pick, they made out.
This summer, I think they may get a first.
(Check out this article from B/R's Wes O'Donnell comparing the latest mocks from around the web.)
This article is
What is the duplicate article?
Why is this article offensive?
Where is this article plagiarized from?
Why is this article poorly edited?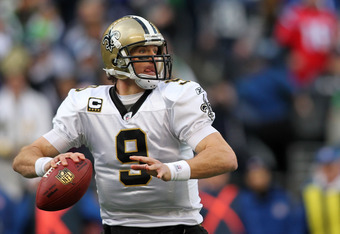 NFL Draft 2011: Is Kyle Rudolph a Good Fit in New Orleans?
Only a year removed from defeating Indianapolis in one of the most feel good title games ever, the 2010 incarnation of the Saints fizzled out in the playoffs' first round, while Aaron Rogers usurped Drew Brees as the preeminent elfin quarterback in the league.
About a month after the 2010 season ended, the Saints cut Jeremy Shockey so as to avoid paying his base salary of $4.7 million. And though Shockey's play was never dominant in New Orleans, his departure is representative of what has been a gradual decay of the Saints' offensive personnel. Be it through age or injury, departure or slump, the Saints offensive lost its edge last year.
So how does New Orleans get back on top of the mountain?
I'm a firm believer in building upon what you do best, and what the Saints do best is score points. Their offense, tops in the league in 2009, slipped all the way to 11th in 2010 behind the lack of a running game, inconsistent perimeter threats, and the disintegration of the Saints' offensive line.
They need to reload around Brees. The tight end position would be a good place to start.
As indicated by many of my previous posts, I'm a big fan of Kyle Rudolph. I think he's a 6-6, 265-pound glob of untapped potential. And I use the term glob beamingly. He has great hands, catches the ball away from his body, and on a team like New Orleans where he wouldn't have to be relied upon as the signature threat, I think he could do some substantial damage immediately.
There is a school of thought that the Saints might go after a running back (Pierre Thomas and Reggie Bush both missed substantial amounts of time last year), but that was before Thomas and the Saints agreed upon a new four-year, $12 million contract last Thursday, a deal reported by Saints beat writer Brian Allee-Walsh of NewOrleans.com.
Coach Sean Payton, also via Allee-Walsh:
"I'm fired up about signing Pierre," Payton said. "He has been a huge asset to what we do offensively. He's versatile in both the running game and the passing game. As the head coach I'm excited. He's been one of our staples in the program. I like, no, I love rewarding guys who have done well for us."
CBS RapidReports goes one step further in denouncing the Saints/RB suggestions. Re: Sean Payton's proclivities to stay away from RBs in the draft:
"The only time in Sean Payton's tenure that the Saints have drafted an [sic] RB higher than the fourth round is when they took Reggie Bush No. 2 overall in 2006. They didn't plan to take Bush that year, but he fell into the team's lap."
The Saints' options on the alternative side of the ball used to (in my mind) most notably include Stephen Paea, who I love as much as Rudolph.
However, that was before New Orleans landed Shaun Rogers.
Rogers, who according to NFL Network's Jason LaCanfora turned down the chance "to make roughly $6M elsewhere to sign with the Saints for about $4M," has reiterated that he just wants to win. The 6-4, 350-pound defensive tackle is 32-years-old, and has played 10 season in the NFL all with the Lions and Browns.
Rogers, per Yahoo! Sports:
"I just felt this was the best situation for me at this point in my career. I wasn't really weighing what teams offered me or didn't offer me. I just felt at the end of the day a team this talented was the best situation for me to be in to achieve the goals that I want to achieve."
Good for Shaun Rogers.
And that's coming from a Browns fan.
Good for the Saints too. Rogers can be remarkably effective in spurts, and he'll surely help them in the immediate. His days as an every down DT are over, but really, how many every down DTs are currently in the NFL? Five?
The Saints allowed 112.3 rushing yards a game last year, and ranked 16th overall in that category. Conversely, their pass defense was ranked 4th in the league (although, admittedly, if teams can run on you, why pass?).
I think it would be short sighted to view Rogers as anything other then a stopgap, but should they choose to do so, the Saints could use even more immediately help at defensive end. Will Smith remains effective, but he will be 30 entering next season and can no longer supply the entirety of the Saints' pass rush. The 6.0 sacks he registered last year seem paltry as compared to the 13.0 he had in the year they won the Super Bowl.
This article is
What is the duplicate article?
Why is this article offensive?
Where is this article plagiarized from?
Why is this article poorly edited?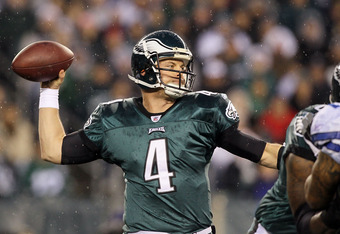 NFL Draft 2011: Is Kevin Kolb the Answer for the Seattle Seahawks?
According to ESPN scribe Adam Schefter's Twitter account (now a legitimate source of news), at least three teams are mulling over a potential trade for Eagles' backup QB Kevin Kolb:
"Teams still can discuss deals, just can't complete them (like NBA in June). At least three teams debating deals for Eagles Kevin Kolb."
"Hard to pinpoint specific teams interested in Kevin Kolb, but every NFC West team except St. Louis has to consider him and deal with Eagles."
Adam Schefter won't reveal his sources. Schefter is a responsible journalist, and a little bit of a tease.
Let's connect the dots on our own ('on our own' meaning with a little help from Pro Football Talk):
Exhibit A – Seattle is in the Schefter-referenced NFC West. That's my hard fact.
Exhibit B – Pete Carroll brought in Darrell Bevell to install a more traditional West Coast offense, a system in which Kolb is well versed after spending his four professional years under Andy Reid.
Exhibit C – What are their other options? Beyond Matt Hasselbeck, the Seahawks have only Charlie Whitehurst and the 25th pick in the draft, and NFL Network's Michael Lombardi reports (via USA Today) that the Seahawks and free agent MH remain a long ways off in negotiating a return:
"Matt Hasselbeck just turned down Seattle's last offer. They're concerned about getting him re-signed. They're not close on a contract yet."
On ESPN 710 AM, John Clayton echoed those sentiments, adding that any Hasselbeck deal potentially consummated with now have be done so in the framework of the new CBA. The deadline for negotiations is Thursday, midnight Eastern time.
"There's not going to be a common ground that they will get a deal done by the start of free agency." said Clayton.
Kolb is twenty-six, and I'm not sure if it's irony or serendipity, but Matt Hasselbeck was months away from twenty-six when he was traded to Seattle as well. Hasselbeck has been quarterbacking the Seahawks for the last 10 years, but with rival teams like San Francisco and Arizona hungry for even passable quarterback play, he seems increasingly inclined to test his worth on the open market.
Matt Hasselbeck is 35-years-old, and has the same head of hair he had in his early twenties.
Kevin Kolb makes too much sense for the Seahawks to pass up.
(Check out this article from B/R Featured Columnist Kevin Roberts taking a peek at 5 Potential Suitors for Kevin Kolb.)
This article is
What is the duplicate article?
Why is this article offensive?
Where is this article plagiarized from?
Why is this article poorly edited?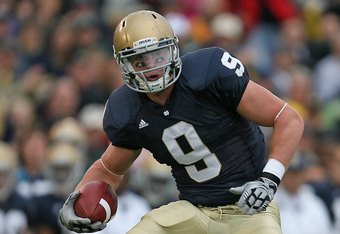 NFL Draft 2011: Should Atlanta Falcons Pursue Kyle Rudolph? They're at Georgia Tech today.
Earlier today, CBS Sports' Jason Butt reported that Atlanta coach Mike Smith attending Georgia Tech's Pro Day, of which he speculates:
"The Falcons have made it clear they're happy with CB Chris Owens, meaning drafting a CB isn't a high priority. Georgia Tech's Jarrard Tarrant, who had a solid NFL Scouting Combine showing, could be of interest as a projected fifth or sixth rounder."
More:
"Other than [Tarrant], RB Anthony Allen is probably the only other prospect the Falcons would be remotely interested in. Allen is projected as a seventh rounder but did run a 4.56 40-yard dash at the NFL Scouting Combine."
Butt says of the Falcons' earlier picks:
"This year's DE class is loaded, and the word has it that the Falcons are please with their options for the first round. DE and WR appear to be the top two needed positions, and Atlanta is leaning toward taking a WR in the second or third round."
Referencing a well-informed mock from the Atlanta Journal-Constitution, what defensive end does JB suggest might be available? None other than UNC-suspendee Robert Quinn.
First of all, if Robert Quinn is there he's the pick.
But let's look at Butt's earlier observation, more specifically the part about the Falcons needing a WR. While the release of Brian Finneran does little more than signal the end of a very respectable era, it also perhaps greases the wheels for the Falcons to pursue a speedier receiver more complementary to the skills of Roddy White.
I would then submit that the most likely scenario is that White's complement becomes available not in the form of a receiver, but an athletic tight end.
Tony Gonzalez has been quietly fading for the past few seasons, and is no sure bet to play beyond the end of the year. Kyle Rudolph, the Notre Dame standout, would be a significant upgrade over Gonzalez (however sacrilegious that may be to write) and a receiver talented enough to draw coverage away from White. He would be a steal in the latter portion of the first round, and quite possibly represent a better value then the DE's I expect to be on the board when the Falcons pick.
(Check out this article from B/R football guru Brian DiTullio on 10 Free Agents Wide Receivers hitting the market this year.)
This article is
What is the duplicate article?
Why is this article offensive?
Where is this article plagiarized from?
Why is this article poorly edited?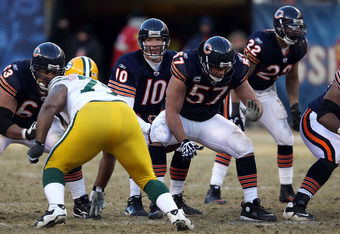 NFL Draft 2011: Will the Chicago Bears bolster their receiving core?
Sitting at a position where Pittsburgh's Jonathan Baldwin may be there for the taking, can the Bears even entertain the thought of selecting him?
If ever there was a case of need outweighing BPA, this is it. Jay Cutler had something of an unlikely renaissance last season in spite of what may have been (at least until the stretch run) the worst offensive line to grace the league in the past decade.
Cutler was sacked 56 times last year, tops in the NFL.
So back to Baldwin. The Bears are coming off a season that saw them reach the NFC's penultimate game while employing the third worst offense in the league. They have the big-armed (if erratic) Cutler, a solid back in Matt Forte, and everyone else is average. The Bears need a receiver in the worst way, someone for Cutler to rely on.
And in spite of all that, they still shouldn't draft one early.
My first substantive football lesson was taught me in 2001, when my dad sat me down (we took this stuff seriously) to explain the merits of not drafting my pick of choice David Terrell third overall. The reason being – and this could not be more apropos to the Bears' dilemma – that you can't build a team from the outside in. Same thing here. The Bears have their quarterback, and regardless of the skill guys they surround him with, he will be completely unreliable until they can keep him upright for more then three seconds.
You know who (in so many words) agrees with me? Division rival and reigning Defensive Rookie of the Year Ndamukong Suh (via Kevin Bull of The Detroit Free Press):
"I think they have a good offensive line, but it's a matter that they're definitely trying to get over the hill, and they're getting there," Suh said Monday. "It's great guys, but they need some younger guys that can step in, and they started to move towards that a little bit in the guard position when we played against them the second time this year, and I think they made the right decision in doing that. But I think that's one of their big things they need to improve."
So there you have it. A criticism wrapped in diplomacy, along with an odd suggestion that the Chicago offensive lineman are actually trying to get older.
Suh recorded his first career sack against the Bears last season.
.........
A few interesting tidbits from CBSsports.com Bears Correspondent Gene Chamerlain, dropped earlier today from his RapidResponse account:
"GM Jerry Angelo has drafted two offensive linemen in the first round and injuries plagued both – T Chris Williams and T Marc Colombo. So they'll be careful if they get a chance to take Wisconsin's OT Gabe Carimi, who has had knee (2008, 2010) and shoulder problems (08) and injured an ankle at the Senior Bowl."
Then, following up:
"The Bears are planning to add as much O-line talent as possible and then see who the best five are in camp regardless of position. Such a situation might fit Alabama G James Carpenter well. 'I think I can play left tackle, left guard, right tackle, or right guard,' he said at the combine. 'I don't think it's a problem.'"
Carpenter is a 6-4, 321 pound guard projected to go on the second day of the draft. Carimi will very possibly be available with the 28th selection in the first round.
(Check out this article from B/R's Joseph Higgins on What Positions the Bears should be Looking to Improve.)
This article is
What is the duplicate article?
Why is this article offensive?
Where is this article plagiarized from?
Why is this article poorly edited?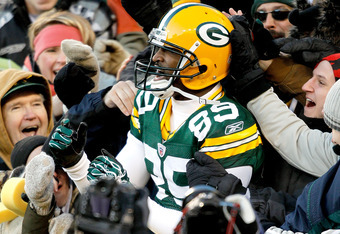 NFL Draft 2011: Do the Green Bay Packers need to reload at wide receiver?
With a Super Bowl in the bag in large part due to the depth of a capable receiving core, could WR possibly be the Packers' greatest need in the upcoming draft?
Most often, Super Bowl winners tend to draft the best player available—a luxury afforded the successful—and it could be strongly argued that Green Bay's best use of a draft pick would come in the form of bolstering their rushing attack, or adding to their defensive line.
But coming on the heels of what seems to be a good move by the Packers—tendering WR James Jones—I can't help but wonder if their greatest strength might disintegrate in a hurry.
Donald Driver is 36, and James Jones, while given a RFA tender by the team, faces an uncertain future in light of the yet-to-be-laid groundwork of the new CBA. (Players with four-plus years of experience are widely expected to become unrestricted.)
It's not inconceivable that Green Bay's potent receiving core could be halved in a calendar year, and in light of that potential, is supporting a strength worth passing on a player of more immediate need?
From Packer GM Ted Thompson himself (bottom of the article, via Mockingthedraft.com):
"We feel very strongly that our best policy is to draft the best player. This isn't fantasy football."
I'm not sure that disallows someone like, say, Jonathan Baldwin, and far be it from me to argue against a Super Bowl-winning GM, but in the NFL more than any other major sport, I'm not sure that the "BPA forever and always" philosophy is indeed consistently productive.
In football you are drafting for an incredibly specific system; you are drafting to fit a mold. Certainly, you select talent over name, talent over commercial viability, but over fit? I'm not so sure.
To an extent, I'm imbuing Thompson's words with something he probably didn't mean to say, but it's an interesting point nonetheless.
One more perspective from the Green Bay Press Gazette's Pete Dougherty:
"Ted Thompson easily could add another tackle with a high pick again this year knowing that his starter on the left side, Chad Clifton, will be 35 years old in June and has a history of knee problems."
Even though the Packers drafted Bryan Bulaga in the first round last year, they could potentially be staring at a BPA tackle in Gabe Carimi, self-anointed "No. 1 tackle" out of Wisconsin. As Dougherty points out, WR isn't the only position at which Green Bay can be proactive.
(Check out where the Packers go in Mike Miller's new One Round Mock.)
This article is
What is the duplicate article?
Why is this article offensive?
Where is this article plagiarized from?
Why is this article poorly edited?