Nate Solder to Tyron Smith: Comparing the 2011 NFL Drafts Top Offensive Tackles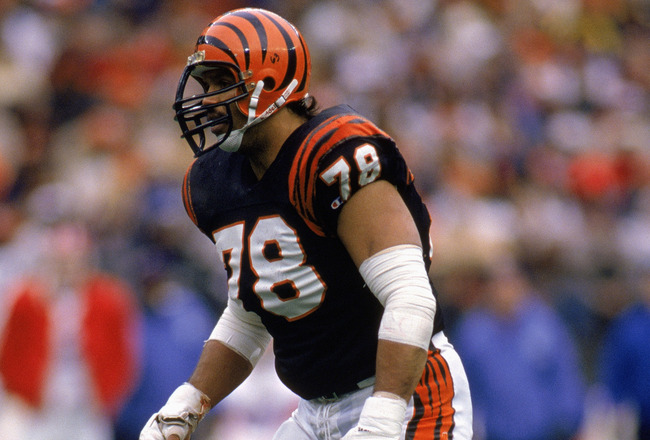 Can anyone from this years draft class be the next Anthony Munoz?
Rick Stewart/Getty Images
What do you look for in an offensive tackle? Ideally, he has the strength to create running lanes. He must also have the intelligence to play within his scheme. Can he pick up stunts and blitzes? Perhaps most important of all: does he posses the ability to keep his quarterback standing tall in the pocket?
Here is a look at the top offensive tackle prospects in the 2011 NFL draft.
Nate Solder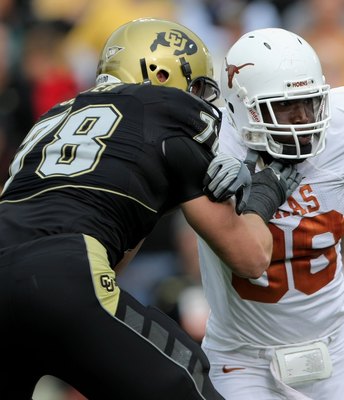 Nate Solder vs Brian Orakpo
Doug Pensinger/Getty Images
At 6'8" and 319 lbs, Nate Solder not only passes the look test, he is the prototype.
He has the size to match up against the best in the NFL. He is a superior athlete with the strength to dominate in the run game and the quickness to shutdown elite speed rushers.
Solder is a safe pick with a high ceiling as well as a high floor because he is ready for the NFL.
The only problem with his game is his balance. Double moves seem to set him up too easily as he has trouble redirecting. Luckily for him, it is a problem that NFL line coaches can probably fix.
If your team drafts Solder in April, you can feel safe about your quarterback's health.
Derrek Sherrod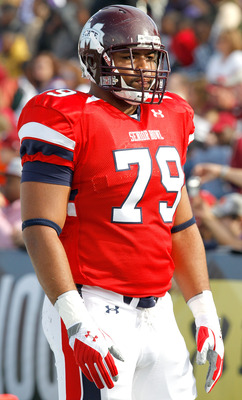 Derrek Sherrod in the Senior Bowl
Sean Gardner/Getty Images
When it comes to fluid pass protectors, Derrek Sherrod is the best of the class.
No one in the 2011 NFL draft moves quite so easily while keeping edge rushers at bay.
Unfortunately, for power running teams, he is not your guy. Sherrod does not play with great strength or aggressiveness. He can wall-off defenders while run blocking, but he does not consistently push level one defenders off the line of scrimmage.
Fortunately for him, many say the NFL has become a pass-first league.
Teams like Indianapolis and New Orleans might have him very high on their boards.
Anthony Costanzo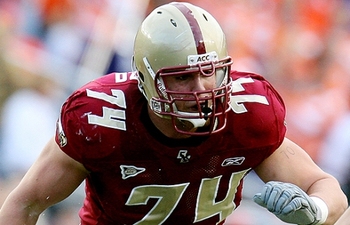 Anthony Costanzo playing at Boston College
When you draft Anthony Costanzo, you know you are getting three things: experience, technique and a guy who plays hard to the whistle.
If you watched the Senior Bowl, then you could see those three qualities on display.
Unfortunately, you also saw his slow feet dominated by the competition. Costanzo had trouble keeping defenders out of the pocket all game long. Playing left tackle against Kent State and Duke is one thing, playing it against NFL level talent is something completely different.
Costanzo will have to play right tackle or guard to be successful at the next level.
Gabe Carimi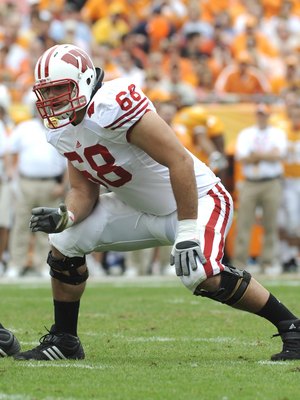 Gabe Carimi playing at Wisconsin
Al Messerschmidt/Getty Images
As we have come to expect of top tier linemen from the Big 10, Gabe Carimi is a powerful blocker who is well coached.
Carimi mauls defenders in the run game and recognizes stunts and blitzes as well as anyone in the Big 10. He has shown the ability to set up and protect the pocket, but is very inconsistent due to high pad level and sometimes sloppy footwork.
Carimi can be a great right tackle and might be able to move to the left side if his technique improves.
Tyron Smith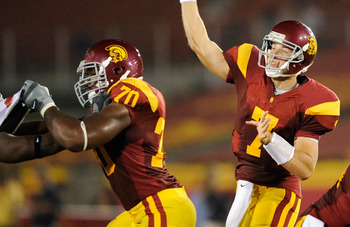 Tyron Smith protecting Matt Barkley
Kevork Djansezian/Getty Images
Tyron Smith may have the highest ceiling of the offensive tackle class this year.
Smith is very quick, agile and nimble on his feet, but he does not play with great strength and lacks football IQ. With only two years of starting in college, his inexperience shows in picking up blitzes and stunts.
Smith has a ton of potential, but will need a good line coach in the NFL to make him the player he can be.
Keep Reading