New York Knicks: Believe It or Not, Defense Is Key to Recent Success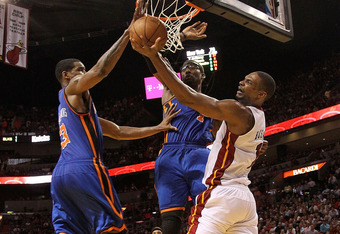 Mike Ehrmann/Getty Images
For the majority of the previous 10 seasons, the Knicks have been a laughingstock and mostly because of their defensive troubles. They just never played any, and most of their coaches after Jeff Van Gundy could care less about stopping opponents.
The Knicks' current coach, Mike D'Antoni, is probably the least defensive-minded coach in the NBA. In his first two seasons and the majority of this season, the Knicks have allowed over 105 points per game, close to the worst in the league.
At this trading deadline, the Knicks brought in Carmelo Anthony and Chauncey Billups as the key players of a 13-player trade, and Anthony is not known to play defense.
The only thing the media and fans would bring up is, "When will the Knicks think about finally playing defense and being consistent at it?"
After the first game with their two new stars, and a 114-108 victory over the Bucks, the Knicks held a two-hour practice focusing mainly on defense. That seemed like a huge joke, but it looks like it's starting to pay off.
The Knicks' last four wins have all been about better defensive play and holding opponents to low scores. Their win over the Jazz on Monday night had them allowing 109 points, but most of those points were scored in the fourth quarter of a blowout, and defense is what propelled them to a 31-point lead in the second half.
If the Knicks play good defense, how good are they?
Their previous three wins had them allowing 86, 88 and 79 points to the Heat, Hornets and Hawks respectively, and as long as they don't run into the Cavaliers, they should keep it up.
There are a few players who were overlooked in the huge Anthony trade. The Knicks also acquired some defensive-minded bench players like Anthony Carter and Shelden Williams.
Last week, they signed Jared Jeffries and he's essentially only about playing defense. Jeffries was the only Knick out of 12 who played in the Jazz game that didn't score a single point. What he did do was bring defensive intensity in the paint and helped get second-chance opportunities.
Suddenly, it's not all about outscoring the opponent. Really, that style will never work over the long haul. It was proven in Phoenix when D'Antoni was their head coach. A team could win 55 or 60 games with an up-tempo, zero-defense system in the regular season, but it won't result in a championship.
The Knicks are starting to put their hands up and stay with their man. They've been forcing turnovers, which is the biggest momentum swing in basketball if you convert on the offensive end which the Knicks can do with their two superstars.
Even before the big trade, they were leading the league in blocked shots, but never did anything else. It was all about back-and-forth scoring and believing that they could win a game 120-118.
Now, let's not get crazy. The Knicks aren't anywhere close to being a great defensive team, mainly because they don't bring it every night. They don't have the size, even with Jeffries, to defend the Celtics, Magic or even the Bulls, whom they've beaten twice. But they are now playing 50 percent better on the defensive end, which is a step in the right direction.
They had to show they would bring effort in back-to-back games and they did so in crushing Utah. The Knicks admitted after their win over Atlanta that they don't have the same energy in every game. Amar'e Stoudemire said the team tends to bring it against top teams and not against the likes of Cleveland. That has to change. When they play the Pacers twice in a row next week, they have to play hard.
They've obviously shown that they have the talent to play defense in doing what they've done lately, now they have to keep it up over the final 20 games and into the playoffs.
With the scoring they have and the stars they have, just imagine if they play defense in every game. They could be a tough out come playoff time.
This article is
What is the duplicate article?
Why is this article offensive?
Where is this article plagiarized from?
Why is this article poorly edited?

New York Knicks: Like this team?