Low Expectations: Come on out and Meet the 2011 New York Mets Part I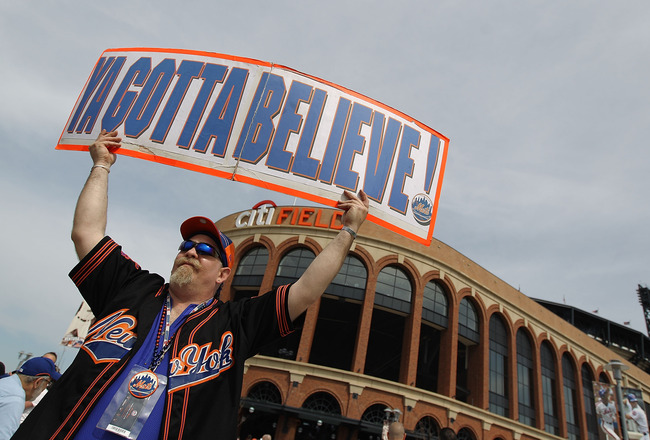 Some Met fans are more optimistic than others
Nick Laham/Getty Images
Winter is finally over, and with it one of the most turbulent offseasons in the history of the New York Mets.
Usually, New York baseball during the months of December, January and February are dominated by the Yankees uncanny ability to sign every single All-Star free agent possible. Instead it was a quiet and disappointing off-season for the Bombers, as Cliff Lee instead opted to head back to Philadelphia.
As for the Flushing Bumbers, the Mets have been in the news just about every day.
First it was the firing of general manager Omar Minaya and manager Jerry Manuel, which was preceded by the hiring of Sandy Alderson as GM. Alderson was once the architect of the Oakland Athletics dynasty during the late 1980s, and has recently served in the commissioner's office as VP of Baseball Operations.
Alderson brought in a great team of other bright minds to help in the front office in former Blue Jays GM J.P. Ricciardi and former Dodgers executive Paul DePodesta. This three-headed monster is expected to lead the Mets back to respectability using the moneyball approach to baseball operations that made the A's fairly successful two decades ago.
Still it remains to be seen how long these three can get together, considering that both Ricciardi and DePodesta have been and would one day like to be GM's again.
Terry Collins was soon brought in to be the next manager. An unpopular pick by the fans, who wanted either Bobby Valentine or Wally Backman, Collins is best known for rubbing people the wrong way, which led to his firing in both Houston and Anaheim in the 1990s. This is Collins first managerial job since 1999.
Did I forget to mention Bernie Madoff? Oops, silly me.
Yes, the Mets are also getting sued for $1 billion from former Madoff trustee Irving Picard, who is trying to claim the losses of Madoff's investors. Apparently the Mets made money on the scheme, making them as much of a culprit as Madoff.
Fred and Jeff Wilpon have offered upwards of 25 percent ownership in the team, with the likes of Martin Luther King III and Donald Trump throwing their hats into the ring, but it is presumed that either would want more than 50 percent control of the franchise.
Then there is a baseball team. That's right, a baseball team and a baseball season to be played. Expectations are very low for the 2011 Mets, who are pinching pennies in light of the lawsuit. In the first part of a three part series, we will take an in-depth look at this year's Mets everyday lineup, and continuing in Parts II and III with the starting rotation, bullpen and bench.
Leading off for the New York Mets: Jose Reyes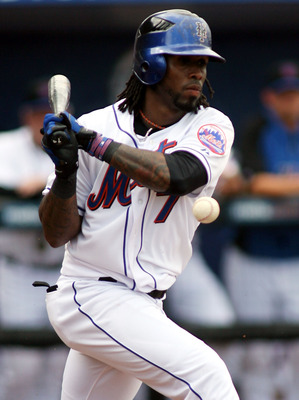 Marc Serota/Getty Images
This is a huge year for Jose Reyes.
Reyes is a free agent at the end of this season, and he has to show, for his own stock on the market, that he can return to the player that hit around .285-.290, hit with some power, drove in 60-65 runs and stole over 70 bases.
Last year was a forgettable one for Reyes. He started off with an overactive thyroid gland, followed by an injured oblique muscle that kept Reyes on the shelf for much of the second half of the season.
Rumors swirled all offseason that Sandy Alderson would look to trade Reyes either during the offseason or during the regular season, if the Mets are out of it.
That could still happen. A healthy Reyes would gauge a steep price for any interested suitors, and the Mets could make out pretty good. Also, considering that Reyes is only 27, a shortstop with terrific lead-off ability, he will easily see a lucrative multi-million dollar contract in the offseason.
The Mets, with all of their financial woes, may not be able to re-sign Reyes, even though he is worth it.
That being said, if the Mets are to go anywhere this season, they will need Reyes and his legs. From 2005-2008, Reyes stole 258 bases combined and averaged around .285 as a hitter. If healthy, expect Reyes to put up similar numbers.
Center Fielder Angel Pagan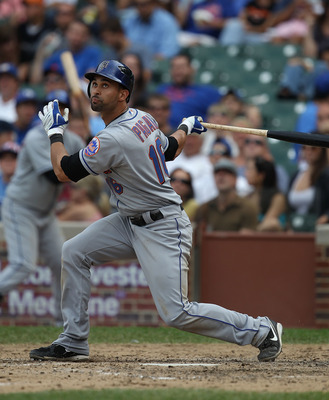 Jonathan Daniel/Getty Images
The Mets MVP of 2010 was clearly Angel Pagan.
Coming out of nowhere to replace the injured Carlos Beltran, Pagan was the lone bright spot on a pretty forgettable Mets season.
It was easy to sit back and wonder when Pagan would tail off, and begin to show the world why he was a bench player the first four years of his career, but that never happened.
Pagan did a solid job in center field, making only four errors while recording two double plays to go along with a .985 fielding percentage in 94 games at a position he played sparingly in previous years.
With the bat, Pagan was surprisingly consistent last year. He hit .290 with 11 homers and 69 RBI. These numbers don't exactly jump out at the average baseball fan, but considering the role that Pagan had to undertake on this team, it was quite impressive.
Some will question whether Pagan was a one hit wonder, but this guy is for real. Pagan, who turns 30 this year, is still in the prime of his career, and with more of an opportunity to establish himself as an every day player, he should only get better.
Third Baseman David Wright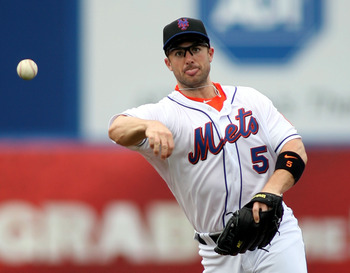 Marc Serota/Getty Images
Now for David Wright.
The last two years have been quite cumbersome for Wright, who has watched his overall numbers take a hit because of his inability to adjust to the dimensions of CIti Field.
2009 was a disaster for Wright, when he produced only 10 homers and 72 RBI for the season. Last year was better, as Wright returned to 103 RBI with 29 homers, yet his numbers at Citi Field were still troubling.
In 2010 Wright hit only 12 homers at home, compared to 17 on the road. Wright is a guy who thrives on going the opposite field with his power, and outside of an opening day homer in the right field corner, Wright still struggled to find his power at home.
One would think that in year three of Citi Field, Wright will find his stroke once again and become that lethal number three hitter that everyone knows he can be.
Still, the biggest concern with Wright are his clutch numbers, or better known as situational stats. Wright hit only .250 with the bases loaded with no home runs, and .236 with runners in scoring position and two out. Plus, Wright hit .255 with a runner on and two out.
Even though Wright is always a consistent .300 hitter over the course of the year, the fact is when it matters most, Wright is never there.
The pressure will be on Wright again. Even though he has Carlos Beltran and Jason Bay behind him, and healthy, there will be lingering questions all year to the effectiveness of both those players who are coming off season crippling injuries.
Wright is the face of the Mets franchise for years to come, especially with the team in transition mode. It is now time for him to step up and become the leader of the Metropolitans.
Left Fielder Jason Bay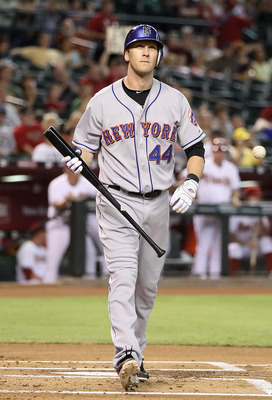 Christian Petersen/Getty Images
Who is the real Jason Bay?
Is he the guy that hit 36 homers and drove in 119 in 2009 with the Boston Red Sox, or is he the guy who looked lost in Citi Field before suffering a season ending injury?
We will know soon. If Bay gets off to a slow start in 2011, he is guaranteed to hear it from the less than two million people brave enough to waste their—I mean buy—a Mets ticket this year.
Throughout his career Bay has been a very solid hitter, hitting around 25 homers and driving in 90 a year with both the Pirates and Red Sox. Bay is a guy who could carry a team. For the first half of 2009 he was a MVP of the Red Sox, and was in the early running for league MVP, as he shrugged off the pressure of replacing Manny Ramirez.
New York brings its own challenges, and I find it hard to believe that Bay will struggle again this year, it's not his track record.
This will be his second year at Citi Field, and a bounce back season should be expected from him. If Bay bounces back, he will be a solid clean-up hitter for the Mets.
containing Williams
Right Fielder Carlos Beltran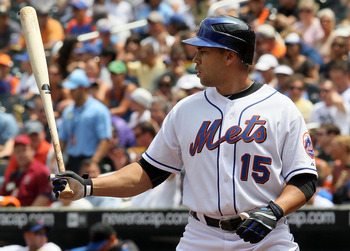 Jim McIsaac/Getty Images
This could very well be the final time we ever see Carlos Beltran in a Mets uniform.
With Luis Castillo and Oliver Perez gone, Met fans can turn their hatred back to Beltran, who they have disliked since the man came here in 2005.
For far too long, Beltran has been the bane of Mets fans existence; first it was his terrible 2005 season, when he struggled to adapt to Shea Stadium and New York, then it was getting caught looking at strike three in game seven of the NLCS in 2006.
Just turn on WFAN in New York, and listen to Joe Beningo, game seven of the NLCS is all he ever talks about when discussing Carlos Beltran.
Just this morning, fans were ripping Beltran for his lack of hustle.
Beltran will not start in center field this year, but in right, that is when he returns from left knee tendinitis that has kept him on the shelf for much of spring training. The Mets insist that Beltran will not head for the DL. They have been nursing him back to health with minor league rehab assignments and simulated games with the hope that he will be ready for opening day.
If Beltran doesn't go on April 1, Scott Hairston will likely get the start in right field.
Fact is the Mets need Beltran, even if the fanbase hates to admit it. Beltran, once a five tool player, still has a lot of pop in his bat, and when he is hot can carry a ball club. In 2006 and 2007 Beltran was one of the best players on the entire Mets roster, hitting a combined 74 homers and 228 RBI between those two seasons.
The reason Beltran will be in right has a lot to do with the knee injuries that have robbed him of his speed in the outfield. Understanding the situation, Beltran gave his blessing to Terry Collins that Angel Pagan should start in center field this season.
This is a big year for Beltran. He is in the walk year of his seven year contract with the Mets. Typically players in their walk year break out offensively in hopes of landing an new contract. Beltran has a chance to become a reliable 25-30 home run right fielder for some team next year.
Plus, if the Mets are out of the running by June, don't be surprised to see Sandy Alderson ship Beltran somewhere. The Mets could get a lot for him, if he plays well.
First Baseman Ike Davis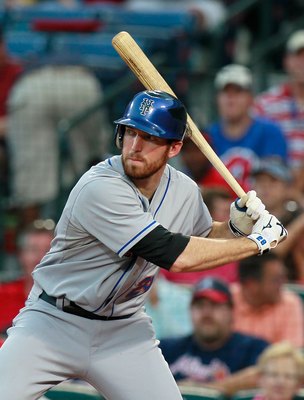 Kevin C. Cox/Getty Images
Ike Davis broke onto the scene last year with the Mets.
From acrobatic catches over the first base dugout to terrific poise and pop at the plate, Davis gave the Mets confidence that he could be their first baseman moving forward.
Hitting .264 with 19 homers and 71 RBI is more than anyone could have asked for from a rookie playing an important position on a baseball team in New York.
This year expectations will be higher for Davis, who has .300/30/100 potential.
Could Davis struggle? Sure, he's still young, and major league pitchers will continue to make adjustments to him. Davis struck out 138 times last year, so look for pitchers to give more off speed stuff on the outside part of the plate.
In clutch situations, Davis hit .162 when the count was 0-2, .090 when the count was 1-2, and .190 when the count was 2-2. Over time, Davis will have to show more discipline at the plate in those situations if he is to become a truly successful major league hitter.
Second Baseman Brad Emaus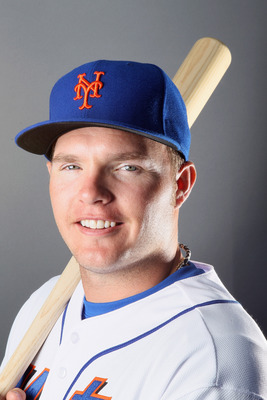 Elsa/Getty Images
Who is Brad Emaus?
Second base has been a quagmire for the Mets for quite sometime. With Luis Castillo banished from the team last week, the Mets were down to three candidates for the second base job—Daniel Murphy, who is a favorite of manager Terry Collins, Luis Hernandez, and Emaus.
Two weeks ago, Collins eluded that Hernandez could be his opening day starter at second base. The light hitting Hernandez hit only .250 with two homers and six RBI late last season, and hit .269 with three RBI this spring, yet the kid did enough to impress him.
Then management stepped in. Sandy Alderson bowed down to his assistant J.P. Ricciardi who drafted Emaus when he was in Tornonto, and the former Blue Jays manager got his way, Emaus will be the starter.
To say we know really nothing about Emaus is an understatement.
He has never recorded an at bat in the major leagues, and has never been shown on video. Yet Mets management believes he is their best option.
Sounds kinda like Big Foot. Nobody has actual proof it exists, yet there is a group of people willing to believe its alive.
Emaus underwhelmed in spring training this year, hitting .216 with zero homers and one RBI, yet his minor league statistics tell a story of a .270 hitter who has moderate power.
In short, who the heck knows?
You have to feel for Daniel Murphy. Even though Murphy can be a liability defensively, he is a force offensively. This spring Murphy has torn the cover off the baseball, and when given the chance to play every day in 2009, was a solid power hitter.
Catcher Josh Thole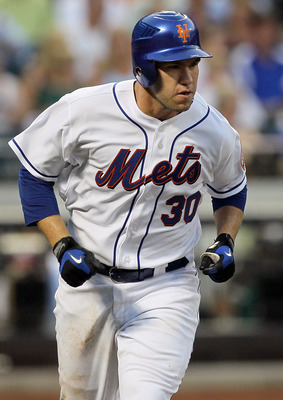 Jim McIsaac/Getty Images
As a franchise the Mets have always had two things: 1) Great starting pitching, 2) an All-Star catcher.
When the Mets are at their best they have always had a solid catcher behind the plate, from Jerry Grote, to the Kid Gary Carter, Todd Hundley, Mike Piazza, Todd Pratt, and Paul LoDuca, catcher has always been a position of strength for the Mets.
Not the case anymore.
Ever since the Mets parted with Paul LoDuca after the 2007 season, they have struggled to find a reliable backstop. Brian Schiender couldn't hit. Ramon Casto could hit, but couldn't play defense. Omir Santos had potential, but fell apart during last year's spring training, and Rod Barajas, after an exhilarating start to 2010, was pathetic to look at.
Enter Josh Thole.
Thole, who is only 24 years old, will be the Mets starting catcher this year. He played 61 games last year, and showed some potential, hitting .277 with three homers and 26 RBI. What is most impressive is that Thole had a .357 OBP and a .366 SLG.
As a lefty bat, the whacky dimensions to Citi Field could be a boon to him, allowing him to drill the ball into the corner and advance runners around the bases.
Truth is though, even with 61 games under his belt, we really know nothing about Thole. It is obvious that he has a good bat—this spring he is hitting .405—and is not bad defensively, having committed only four errors and has nabbing 42 percent of potential base stealers.
The word on what kind of player Thole will be is yet to be determined. He has to have a full year under his belt before anyone can pass any judgement on the young man.
Keep Reading

New York Mets: Like this team?