Toronto Raptors: 10 Coaches to Potentially Replace Jay Triano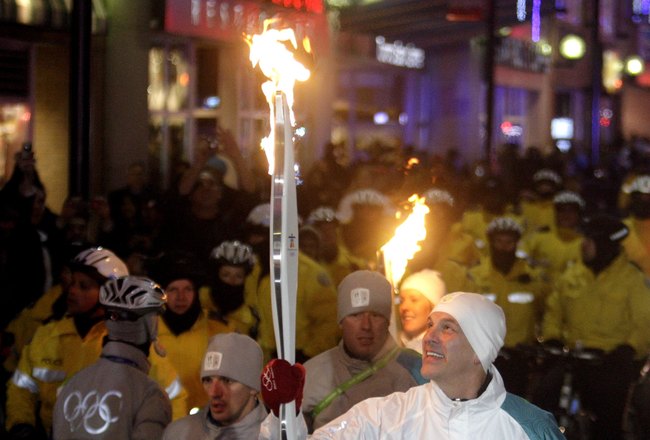 Abelimages/Getty Images
Jay Triano has been getting quite a bit of guff as of late which is usually what happens when a team has as bad a record as the Toronto Raptors have right now.
That being said, it is important to understand that the Raptors are in the midst of a rebuilding period and they are not expected to win. Therefore, Jay Triano is not under achieving he just simply is not overachieving.
Basically, he is breaking even and hovering right around where the Raptors were expected to rank this season.
Is this reason enough to let him go? We knew the Raps would do poorly and so did Bryan Colangelo and Jay Triano. As a matter of fact, Jay Triano is taking a huge bullet for this team because he knew he lacked the pieces to succeed and he knows this season will be horrible for his career win/loss total.
Nevertheless, he has made a huge sacrifice by agreeing to coach this team which shows that he is willing to work through the rough patches with this team in the hopes of eventually becoming a consistent and respectable playoff team and maybe even a contender down the road.
So there's my disclaimer, I am not saying that Jay Triano should be fired instead I intend to give a list of ten plausible replacements should that happen.
Honourable Mention: Alex English, Assistant Coach, Toronto Raptors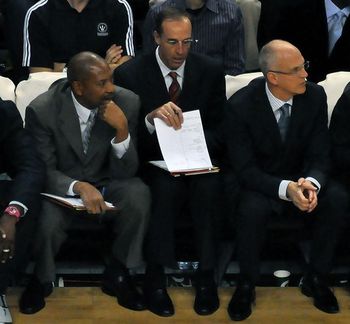 Alex English is the current assistant coach for the Toronto Raptors, and I think that if they are to let Jay Triano go this will most likely be the guy that will take over for the remainder of the season.
The Raptors would then have to decide whether they would want to sign him like, as they did with Jay Triano after Sam Mitchell was let go, or if they would prefer to bring in someone else over the offseason and demote Alex English back to assistant coach.
Either way, I gave him an honourable mention because if Triano is let go before the end of the season Alex English will be the new head coach for the time being, however, in the long-term I do not think he is the answer.
Honourable Mention: Alvin Williams, Assistant Coach, Toronto Raptors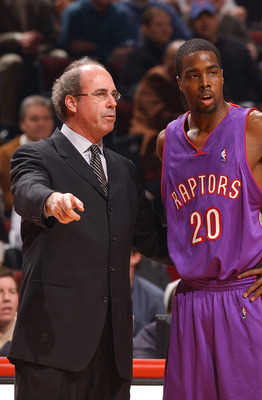 Jonathan Daniel/Getty Images
Alvin Williams played with the Raptors for several seasons and is currently an assistant coach with the team (I think he is also the director of player development).
I put Alvin Williams on this list because he has quite a bit of experience as a player and he also played six full seasons with the Raptors.
Furthermore, he played point guard which means he should naturally be able to lead a team. I remember hearing about him working with many of the younger Raptors players near the end of his final contract with the Raptors so he must have something to contribute to the team.
That being said, I think he could be a good fit and you can't go wrong hiring a former Raptor who was quite popular with the organization and the fans, however, I think he needs more experience as an assistant coach under one of the 10 guys I am about to mention before I would justify having him as the head coach.
10. Leo Rautins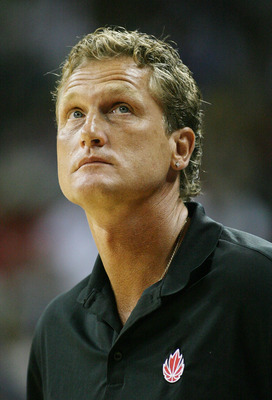 Ethan Miller/Getty Images
10. Leo Rautins,
Leo Rautins is currently the head coach of the Canadian National Basketball team and an analyst for the Toronto Raptors.
As much as I like having him call the Raptors games I think I would get more enjoyment from seeing him as the head coach of the Toronto Raptors.
I'm not really sure what he would be able to bring to this team, however, he seems to understand the game quite well. Also, if the Raptors do in fact decide to look for a new coach I presume they will look internally first and once they've passed on all the assistant coaches Leo Rautins seems to be the best fit.
He's been loyal to Canadian Basketball and the Raptors so why not give the guy a chance.
9. Mike D'Antoni, New York Knicks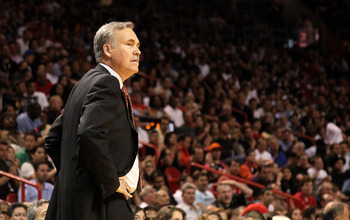 Mike Ehrmann/Getty Images
This one is sort of a stretch because the chances of D'Antoni leaving New York are slim to none.
However, let's assume for a second that he is on the market…
Most importantly I would like to point out that Mike D'Antoni's run and gun offense would fit this young Raptors team perfectly.
In addition, he is also a player coach. He played five seasons in the NBA but his real success cam came while he was playing Euroleague basketball where he had success as both a player and coach and was named to the list of the "50 Greatest Contributors in Euroleague History."

Furthermore, while playing the Euroleague he was known for his incredible ability to steal the ball. That being said, he should certainly be able to contribute something to the lacklustre Toronto Defence that may in face motivate them to force some turnovers à la Euroleague Mike D'Antoni.
I think D'Antoni would be a big steal for the Raptors if for some reason he becomes available, however, that is a big "if" since he is poised to have tons of success over his next couple seasons in New York.
8. Greg Popovich, San Antonio Spurs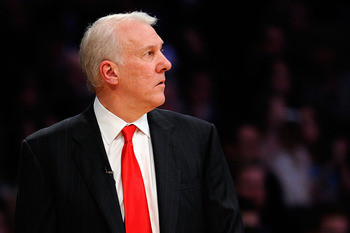 Kevork Djansezian/Getty Images
The only reason Popovich is so low on this list is because although his contract expires at the end of the season, I cannot see any reason why he would want to leave the Spurs.
Another knock on Popovich is the fact that he has been known to be a little too hard on younger players, and as is the case with his Spurs teams, the majority of the playing time has been given to the older more experienced players.
Nevertheless, I can't see this being a very big problem in Toronto since we have a pretty young team with no real experienced veteran players that even come close to the likes of Tim Duncan, Manu Ginobli and Tony Parker. So basically, him not giving our younger guys the playing time they need should not be a problem at all.
Moving on, he is a very successful coach with one heck of a winning percentage. Albeit his success and consistency (which have earned him the fourth highest winning percentage in league history) have all come with the smart and talented Spurs teams of the last decade which made it nearly possible for him to screw up… or is it the other way around?
The fact that his team was incredibly talented should not be used to devalue his accomplishments and his ability to get his team to the point where they win on such a consistent basis.
He is almost a lock to win the Coach of the Year award and if the Spurs decide they want to go younger in the offseason by letting Popovich go, which would be incredibly stupid on their part, nevertheless, if they let him go then Toronto had better jump on him before the other teams do.
7. Rick Adelman, Houston Rockets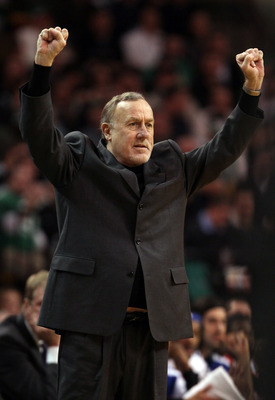 Elsa/Getty Images
He has the eight highest winning percentage as a head coach in league history and he is less than a 100 wins away from joining the 1,000 wins club.
He is a very good offensive minded that could help with the offensive development of young players Ed Davis, Jerryd Bayless and Amir Johnson.
He is currently in the final year of his contract with the Houston Rockets and since things seem to be going down hill for the Rockets he may very well be looking for a way out.
6. Stan Van Gundy, Orlando Magic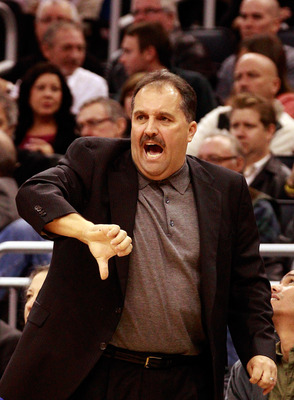 Sam Greenwood/Getty Images
Stan Van Gundy is in the final year of his contract with the Magic and if they underperform in this year's playoffs he could very well not be brought back by the team next season.
In addition, Van Gundy may also be looking for a way to avoid all the Dwight Howard drama that could possibly ensue next season, and if that is the case then he can come on down to Toronto where things will be far more relaxed.
Van Gundy is great when it comes to motivating his players and this talent will certainly not be lost on the Raptors. Coming off this terrible year it is crucial that the Raptors find some sort of spark to get them going next season, Stan Van Gundy may very well be the man to generate that spark for the team.
Basketball and coaching run in the Van Gundy family, his father Bill and his younger brother Jeff were NBA coaches and I would love to see the Van Gundy family coaching tradition continue here in Toronto.
If the Magic do not bring him back then Toronto should make a move, he will certainly motivate this young team!
5. George Karl, Denver Nuggets: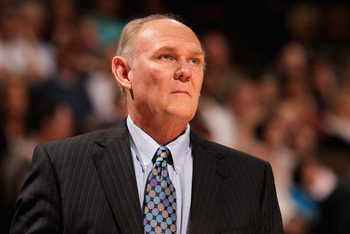 Doug Pensinger/Getty Images
After losing Carmelo Anthony and Chauncey Billups, the latter being the player he was most sad to see go, George Karl may be looking for a way out of Denver once his contract expires at the end of the season.
If this is in fact the case then the Raptors should certainly pursue him.
There are only seven NBA coaches that have amassed more than 1,000 wins in their careers and you guessed Karl is one of them. He knows what he is doing and the Raptors know they need him, so make it happen Toronto.
4. Byron Scott, Cleveland Cavaliers
Jared Wickerham/Getty Images
As we all know, following the departure of LeBron James, things are going as expected in Cleveland… horribly. The Cavs head office and their new head coach, Byron Scott knew this was going to happen for the first couple years but nonetheless, Scott may still be looking for a way out.
He is currently in a four0year contract so in order for him to come to Toronto he would have to be released by Cleveland or resign. In a mean selfish way I say here's hoping that happens, and I hope he decides to come to Toronto afterwards.
First of all, Byron Scott is a defensive minded coach which is exactly what the Raptors need.
Also, Byron Scott has played the game so he knows what needs to be done.
Finally he is a very relatable guy for the players. He has always been liked by his players and this would go a long way in developing some chemistry on this young and culturally diverse Raptors team.
3. Nate McMillan, Portland Trial Blazers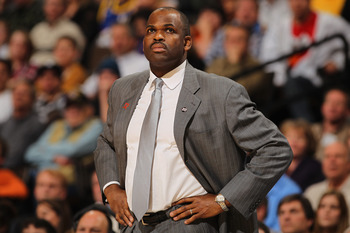 Doug Pensinger/Getty Images
Nate McMillan is in the final year of his contract with the Portland Trail Blazers, however, if you look at what he has been able to do with that team this year considering all the injuries they have then you must be thinking: wow, it doesn't get much better than this… well actually it does…
In December of 2009, Nate McMillan ruptured his right Achilles tendon in a scrimmage during a practice with his Portland team, however, he did not give up and after surgery he continued to coach the rest of the season wearing a protective boot as he led his injury riddled team to a 50 win season.
This kind of determination is exactly what the Raptors need to get them motivated and energized next season.
If he is available, the head office should show the fans that they are determined as well and they should really make a push to bring Nate McMillan to Toronto.
2. Sam Mitchell, Assistant Coach, New Jersey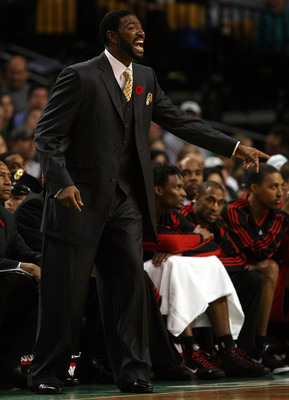 Elsa/Getty Images
My argument for why Sam Mitchell should resign as the assistant coach of the New Jersey Nets was much stronger before their shocking blockbuster trade for Deron Williams; however, I still think it is a legitimate option for him and the Raptors.
First of all, I can't see Mitchell refusing to turn down his current job as an assistant coach with the Nets in exchange for an opportunity to be the head coach of the Raptors once again.
He was quite successful in Toronto, which of course earned him the Coach of the Year award in the 2006-2007 season. However, two seasons later he was released by the team following an 8-9 start to the season. Colangelo and company certainly screwed this one up since his replacement; Jay Triano did not fare much better as he went 25-40 for the remainder of the season.
Aside from the team's 8-9 record, there may have been other reasons why Colangelo would have wanted to let Sam Mitchell go, maybe they just didn't see eye to eye. However, if it were up to me we would not have to worry about this being a problem since Colangelo would not be around next season if I was calling the shots for the Raptors.
So I say we give Sam a second chance, he was liked by the fans and although his first two seasons with the Raps were not so great, he was quite successful in his last two before prior to being released.
I have always been a big fan of his and I do not think we should have let him go in the first place, so let's bring him back and see what he can do his second time around.
If we are to let Jay Triano go then I want Sam Mitchell as a replacement… that being said, here's number one…
1. Jay Triano, Toronto Raptors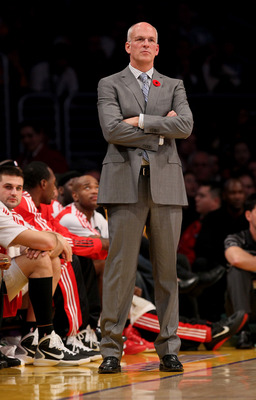 Stephen Dunn/Getty Images
Jay Triano has done so much for Canadian Basketball, he played for and later coached the basketball team at Simon Frasier University, played on the Canadian National Basketball team for 10 seasons and was the captain for seven, he played in the 1984 and 1988 Olympic games, and he coached the Olympic team in 2000 and he was also involved with the Vancouver Grizzlies before coming to the Raptors.
He was the first Canadian born head coach in the NBA and he has been with the Toronto Raptors for nine years during which time he served as the assistant coach under Lenny Wilkens, Kevin O'Neill and Sam Mitchell, prior to replacing Sam Mitchell as head coach in December 2008.
The point I am trying to make here is that Triano has done a lot for Canadian basketball and the Toronto Raptors and I think that certainly merits some added respect.
Everyone knew this would be a rough season for the Raptors, including Jay Triano, yet he was still willing to take a hit to his win/lose record in order to coach this team.
This shows that he is loyal to the team and although it may not be that evident so far this season, he really does want to see them win.
I say we give our fellow Canadian one more chance next season when he will hopefully have a couple more pieces to work with.
Make us proud Jay!
Want More?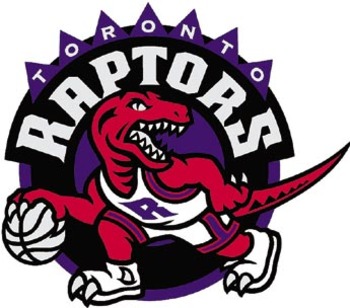 Keep Reading

Toronto Raptors: Like this team?