Strikeforce Columbus: Top 6 Moments From the Feijao vs Henderson Fight Card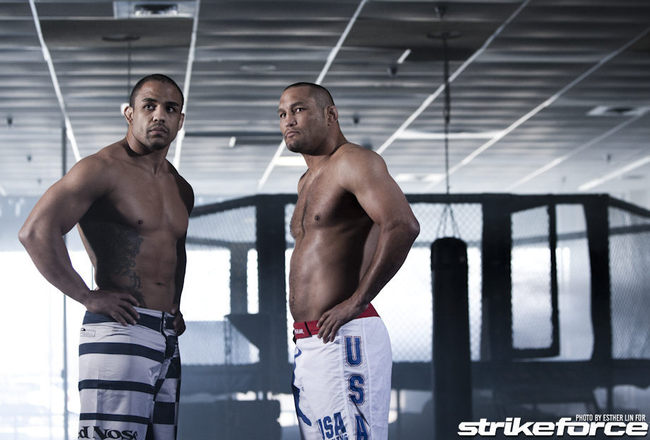 Another strong night of Strikeforce fights took place on Saturday, March 5th from the Nationwide Arena in Columbus, Ohio.
Stikeforce's streak of televised fights ending in finishes sadly ended during the first fight of the night. However the next three bouts all failed to go the distance. If you're counting at home, that's 15 out of 16 fights that ended in a finish; exciting televised cards as of late from Strikeforce.
The results from the main card:
Jorge Masvidal def. Billy Evangelista via Unanimous Decision (30-27, All Three Judges)
Tim Kennedy def. Melvin Manhoef via Submission (Rear-Naked Choke) at 3:41 in the 1stRound
Marloes Coenen def. Liz Carmouche via Submission (Triangle Choke) at 1:29 in the 4thRound (Successful defense of the Strikeforce women's 135-Pound Title)
Dan Henderson def. Rafael "Feijão" Cavalcante via KO (Strikes) at 0:50 in the 3rdRound (Henderson becomes Strikeforce light heavyweight champion)
Without further delay, the most memorable moments from the Strikeforce Columbus: Feijao vs Henderson fight card.
Jorge Masvidal's Performance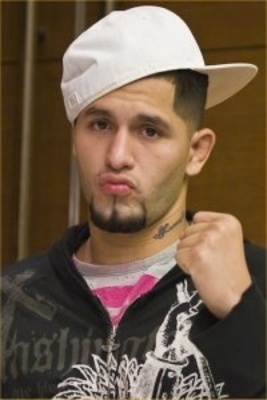 This fight will produce some debate, was it a boring fight or a dominant performance?
Jorge Masvidal made his return to Strikeforce in this bout after being away from the promotion for three years. His opponent, Billy Evangelista was an 11-0-1 up and coming fighter that Strikeforce seemed to be grooming for an eventual shot at the lightweight title, currently held by Gilbert Melendez.
Masvidal used his size advantage to keep Evangelista at bay for most of the fight, outstriking him and exposing him as a fighter that was unable to adjust his game plan in mid-fight.
Masvidal exposed himself as a fighter that had no desire to finish a fight that he was clearly winning.
The Columbus crowd was unhappy with this fight, booing the 30-27 unanimous decision verdict.
Evangelista most likely drops back to the Challenger series after this loss while Masvidal most likely moves up the rankings, but with an uninspired, unwilling to finish performance, I doubt anyone is clamoring to see him fight Melendez any time soon.
Melvin Manhoef's Leg Kick on Tim Kennedy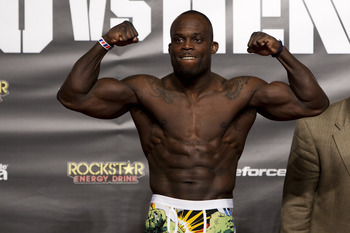 Esther Lin for Strikeforce
Two minutes into his bout with Tim Kennedy, Melvin Manhoef landed a kick to the leg of Kennedy that folded Kennedy's leg under him.
It was a brutal kick that induced Kennedy to go for a takedown and work from the ground where he held a distinct advantage over Manhoef.
Manhoef only really landed that one powerful kick, but it was strong enough to let Kennedy know he didn't want to be feel another.
Smart move on Kennedy's part.
Tim Kennedy's Submission of Melvin Manhoef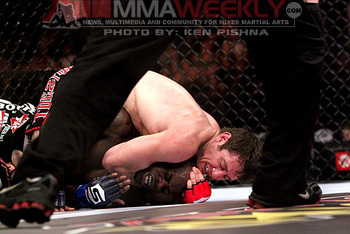 Tim Kennedy absorbed a leg kick that appeared strong enough to drop a small tree during the first round of his bout with Melvin Manhoef on Saturday's Strikeforce card. The kick upped Kennedy's take down attack, which had failed in earlier attempts.
Kennedy was able to secure the take down after absorbing the leg kick and quickly moved into back mount landing some punches to the head of Manhoef, he then clamped on the rear naked choke, ending the fight at the 3:41 mark of round one.
After the win, Kennedy called for a fight against either Jacare Souza or Robbie Lawler.
Liz Carmouche Impressive on Short Notice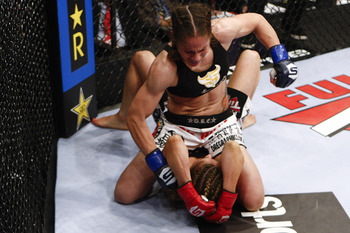 Liz Carmouche replaced the injured Miesha Tate in a Strikeforce 135 pound women's title bout against champion Marloes Coenen. Carmouche took the fight on very short notice and her stock in Strikeforce skyrocketed after her performance.
Carmouche took the fight to the champion, out striking Coenen 221 to 48 with most of those blows coming from from full mount at the end of the second and third rounds.
Coenen was able to pull the win out with a fourth round submission, but it was clear she felt a bit lucky when she was seen to breathe a huge sigh of relief after the submission.
As for Carmouche, Coenen praised the now 5-1 fighter at the post fight press conference, saying, "Liz is very, very talented, and she will be a champion someday."
Marloes Coenen Pulls an "Anderson Silva" to Keep Her Title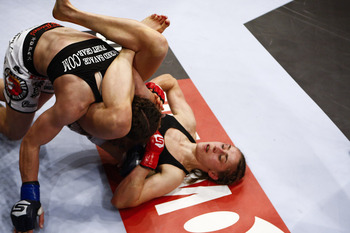 Esther Lin for Strikeforce
Strikeforce 135 pound women's champion Marloes Coenen had a tough first title defense on Saturday, March 5th when she faced Liz Carmouche.
Coenen was positively dominated by Carmouche in rounds two and three and looked to be in trouble in round four as well when she was able to clamp on a triangle choke and force the tap from Carmouche.
As the fighters separated a look of relief washed over Coenen's face.
Dan Henderson Captures the Strikeforce Light Heavyweight Title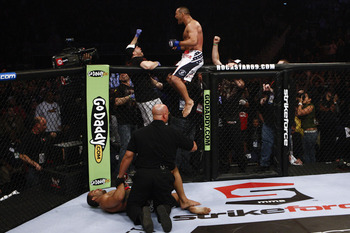 Dan Henderson faced off against Rafael 'Feijao' Cavalcante on Saturday, March 5th at Columbus, Ohio's Nationwide Arena.
On the line was Feijao's light heavyweight title.
Pre-fight, many pundits gave the edge to Feijao, but clarified that with, "but with Hendo, you never know."
In the end Henderson was able to catch Feijao with a right that sent the champion face first into the mat. Henderson then jumped on Feijao's back and teed off with more rights, ending the fight at the :50 mark of round three.
With the knockout win, Henderson, at 40 years of age, became the new Strikeforce light heavyweight champion.
Keep Reading