2011 Philadelphia Phillies: Do They Have the Depth to Weather the Injury Storm?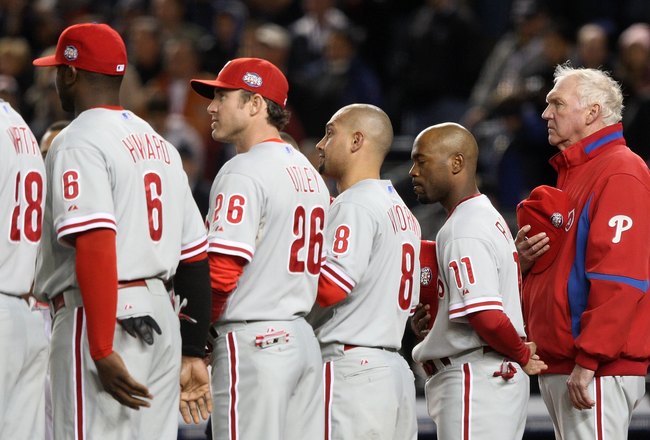 Hopefully, Charlie's horses do not come up lame at any point this season.
Jed Jacobsohn/Getty Images
We are all well aware that virtually no MLB team goes through an entire season without injury, and very few can make it through 162 games without a major one.
With that in mind, my question is: Do the Philadelphia Phillies have enough in reserve to overcome the inevitable injury bug?
Now, I'm not going to predict anywhere near the bad luck of last season. Just about every regular position player suffered at least one physical setback last year, with every major contributor being out for at least a few weeks.
With a little luck, the Phillies can avoid major injury, and this article will be rendered completely useless.
However, with All-Star second baseman Chase Utley already in pain at the beginning of spring training, the prospect of their bench bears some consideration and the question remains, is it enough?
Wilson Valdez had a very surprising year for the '10 Phillies and truly was one of the unsung heroes on the club. He filled in for Utley, Jimmy Rollins and Placido Polanco at one time or another during the season, playing admirable defense supplemented with some timely hitting.
He's back this year to resume his utility infielder role, but can anyone expect him to perform as well?
Should anyone have to?
How many at bats will Wilson Valdez have this year?
Aside from Valdez, there really is no other solid option heading into the season, unless somebody else establishes himself in spring training.
As for the outfield, with Dominic Brown's recent injury, it looks as though Ben Francisco will be the everyday right fielder, with John Mayberry Jr. and Ross Gload (who, admittedly, can also play first base) as the fourth and fifth outfielders.
Gload is what he is. He'll never be a regular and will never even be mistaken for one, but he is a decent stop-gap with a bit of punch from the left side.
As for Mayberry, I believe that he has what it takes to be a decent fourth or fifth outfielder, but he has yet to prove this in MLB competition.
When it comes to the "backstop backup," the Phillies are very solid with veteran Brian Schneider, who still could probably start for eight to 10 teams out there. He is actually more than solid, and though he'll never be mistaken for Johnny Bench at the dish, can still produce some important knocks when he is needed.
To sum it all up, it would seem that heading into the regular season, the Phillies' bench is strong behind the plate, solid in the infield (albeit with only one reliable player) and, at best, questionable in the outfield.
Is anyone starting to worry yet? Honestly, it is probably no cause for concern, as long as the regulars stay relatively healthy.
What Is the Phillies' Most Glaring Bench Need?
A few injuries for a team throughout a regular season is commonplace, but with every starter except one (Francisco, 29) at 30 years of age or older—and with Charlie Manuel's tendency to run his starters into the ground—the depth of performers on the bench could become a concern.
Think of it this way. Let's say Utley begins the year on the DL, and Valdez, barring a last-minute pickup, begins the year as the starter. Who is the reserve infielder now?
This team has an excellent chance to dominate this season. The starting pitching, if healthy, has a chance to go down as one of the best rotations in history. The bullpen, with a healthy and confident Brad Lidge, should be strong, and the team is poised for comeback years from its three biggest stars.
It is the sincere hope of all Phillies fans that this article will be rendered moot with healthy years from the regulars.
Here's hoping the bench will be needed only minimally.
Please share your thoughts. I'd love to hear them!
This article is
What is the duplicate article?
Why is this article offensive?
Where is this article plagiarized from?
Why is this article poorly edited?

Philadelphia Phillies: Like this team?