JaMarcus Russell, Detroit Tigers, NFL Lockout and Saturday's Sports News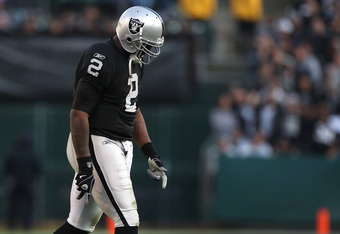 Jed Jacobsohn/Getty Images
It's the first Saturday in March, and we all know what that means.
By this time next week, brackets will be projected, bracketologists will be furiously making their cases, bubbles will be burst and Joe Lunardi comes out of the shadows for the final time as conference tournaments kick off and crown their champions.
But while some of the smaller conferences are already in their tournaments (the Atlantic Sun, Big South and Ohio Valley hand out their automatic bids today), that's another discussion for another day. This is for the news of the day for everyone who wonders what in the world a Chanticleer is.
And it's a day where JaMarcus Russell has made the news, though unfortunately for him it's more bad news. Although it's not as serious as what happened the last time he made the news, it's not good either.
Then there's the topic everyone's talking about—the NFL Lockout. Or more specifically, it's not a lockout yet after the two sides agreed to another extension that takes it to next Friday. We'll have to see whether or not that makes a difference.
But regardless, this is the place to be for all the latest news regarding the sports stories of the day. So read on for the latest updates.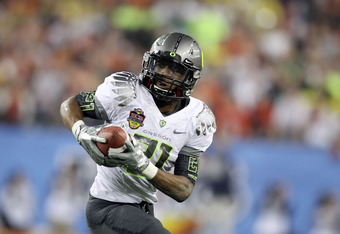 NCAA Looking Into Potential Recruiting Violations at Oregon Stemming From Recruiting Service
Well it wasn't long before we found the next hot-button issue the NCAA will dig in to.
Over the last couple of days, the heat is now on the Oregon football program for whether or not a recruiting service out of Texas helped bring recruits to Oregon.
ESPN reported that the NCAA is now looking at whether Willie Lyles, a Texas-based trainer, helped steer running back Lache Seastrunk to Oregon. According to the report, Oregon told ESPN that the school paid Lyles $25,000 for "recruiting services" but the report specifies that the payment was made to Lyles after Seastrunk signed his letter of intent last February.
And here I thought it was the uniforms that were bringing kids to Oregon.
Obviously the NCAA has a lot to review in this case.
Specifically, the ESPN report states the NCAA will see whether or not the school was informed of what service they were receiving from Lyles and whether or not Lyles violated a NCAA bylaw that "a student-athlete may allow a scouting service or agent to distribute personal information to a school -- provided a fee is not based on placing the player at a school", according to the report.
The bylaw is NCAA Bylaw 12.3.3.1, for anyone who's interested.
As you can tell, it's a somewhat complicated issue. But it's just another example of how big the recruiting world has gotten now that third party recruiters can basically be playing match-maker for schools and athletes. It's sounding like this is going to be the next big thing in terms of the NCAA, and one has to wonder if it finds something with Oregon, will the NCAA throw the book at Oregon as a deterrent?
Either way, this will be a very interesting case to watch, considering the ESPN report also goes into detail about the relationship Lyles had with Seastrunk and with LaMichael James. Which then could make 2010 the year of "if both schools in the BCS National Championship possibly had ineligible players, did the season actually happen?"
For more College Football news: College Football 2011: The 25 Toughest Stadiums In The Country
This article is
What is the duplicate article?
Why is this article offensive?
Where is this article plagiarized from?
Why is this article poorly edited?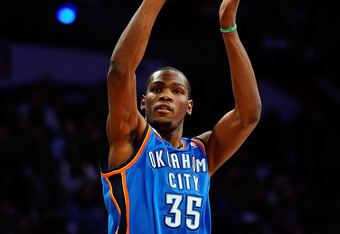 Kevin Durant Scores 29 Points On Sprained Ankle In Thunder Win
So Kevin Durant had a ho-hum 29 points last night in the Oklahoma City Thunder's 111-104 win in Atlanta last night. No big deal, that's expected of a guy who's leading the NBA in scoring.
Now when you mention Durant wasn't expected to play because of a sprained ankle and did that while injured, that makes it a little more impressive. But then again, when a player like Durant is becoming the best scorer in the game, you don't expect anything less.
And yes, I said it. Kevin Durant is the best scorer in the NBA.
I won't go so far as to say he's the best player, but he's definitely putting himself in the argument. But you can definitely argue he's the best scorer in the game right now. He's so dangerous that he can score from anywhere on the floor, either by driving to the net or by stepping out from the outside and knocking down a shot.
And let's not get it twisted. Scoring 29 points on a sprained ankle in a regular season game in March is not the most sparkling performance with an injury or an ailment we've ever seen. It's not going to be compared with Willis Reed hobbling out onto the floor in 1970 or Michael's infamous "Stomach Virus" performance against the Jazz, among others.
But that's the type of performance that can be a threshold for some players, something that proves he has the ability to be one of the great ones, because the truly great ones do that when they're injured and not at their best. They still find a way to do something amazing.
Kevin Durant isn't one of the great ones yet, but he's very good. He has more games like he did Friday night when it really counts, he will be.
For more NBA news: NBA Playoff Predictions: Ranking Anticipation Level for Each First-Round Matchup
This article is
What is the duplicate article?
Why is this article offensive?
Where is this article plagiarized from?
Why is this article poorly edited?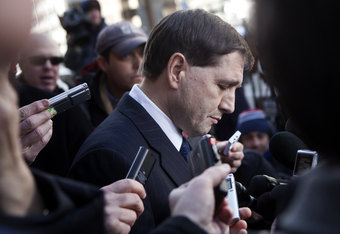 NFL and NFLPA To Re-Start Negotiations On Monday After Getting CBA Deadline Extension
So the NFL Lockout Armageddon has been delayed for another week after both sides have agreed to an extension to the collective bargaining agreement deadline. All the reports out of Washington are saying that both sides will take the weekend off, then return Monday to re-start negotiations.
From what it sounds like, nothing is imminent or close to being imminent between the two sides. But the fact that they've reached an extension twice in the last couple of days to push the deadline back to where it is now.
And that's at least something.
That means while there might be little to no progress at all, both sides saw enough of a glimmer to schedule another week of negotiations. According to the ESPN report, both sides have started to make headway on dividing up the revenue pot, but there's still a long way to go.
But the fact that they're talking is at least progress.
There have been enough labor negotiations that have gone south in the last 20 years to see how bad it can get for the NFL. You don't think somewhere in the back of Roger Goodell's mind, he remembers the backlash Bud Selig got when he announced the cancelation of the World Series or how Gary Bettman almost single-handedly helped kill his league by canceling an entire season.
You would think the NFL would be smarter than that, knowing how devastating a lockout can be in terms of public relations. But then again, we thought the NBA, NHL and baseball were smarter than that too.
Unless something drastic happens in the next week, nothing will get done before the extended deadline. But something will get done before the season.
The NFL is too smart to let that happen, and the extended deadline proves it.
For more NFL news: NFL Draft 2011: Ranking Each Team's Draft Success Over The Last Five Years


This article is
What is the duplicate article?
Why is this article offensive?
Where is this article plagiarized from?
Why is this article poorly edited?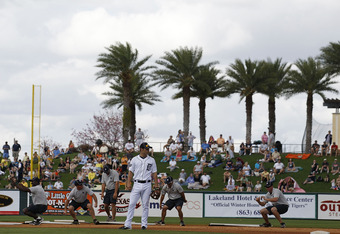 Detroit Tigers Have The Potential To Make A Lot Of Noise In The American League Central
The Tigers took a step backward last year, going from a one-game playoff in the A.L. Central in 2009 to a .500 record and 13 games back in 2010.
But as camp continues down in Lakeland, there's still a lot of buzz around the Tigers, and not just surrounding Miguel Cabrera's legal trouble either.
No, instead looking at this roster there's a feeling that the Tigers could be a surprise team in a very competitive A.L. Central. The Twins have basically owned this division for most of the century save for a few seasons here or there, but the Tigers have been competitive ever since that 119-loss season in 2003.
There are a couple of holes on the roster but there's still Cabrera, who's one of the best right-handed power bats in the game. There's still Justin Verlander, who just might be very underrated as an ace, and there's the electric Austin Jackson at the top of the order. Now that doesn't mean the Tigers aren't a lock for the division crown.
If Detroit wants to make noise, they'll have to get Rick Porcello back into his 2009 form when he pitched some crucial innings for the Tigers. They also need Victor Martinez to be the middle-of-the-order bat they signed him to be.
They'll need some things to fall their way. But the Tigers will have a chance to compete in the A.L. Central. With the players they've compiled, they have to compete.
For MLB news: Detroit Tigers: Phil Coke is Pitching Concentrate And Must Be Diluted
This article is
What is the duplicate article?
Why is this article offensive?
Where is this article plagiarized from?
Why is this article poorly edited?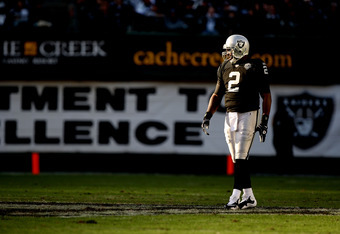 JaMarcus Russell Looking For Work After His Mansion Is Foreclosed
Well to say JaMarcus Russell has had a dubious career in the NFL would be an understatement to say the least. He went from being the No. 1 Draft Pick in 2007 to being considered one of the biggest busts in NFL history by the time the Raiders finally did cut ties with him. Although to his credit, Al Davis didn't cut with the help of a PowerPoint, so that's a plus for Russell.
But it's been a downhill spiral ever since, as he's tried to look for work but succeeded only in bringing the term "purple drank" into the public realm. Unfortunately for him, it's only getting worse after TMZ.com broke the news that Russell's mansion is in foreclosure. NESN.com added he will have three months to try and pay off the remaining balance on the house before it goes to auction.
It's just the latest in a string of missteps that have plagued Russell his whole career. And one has to wonder despite still possessing the talent that made him a No. 1 overall pick not that long ago, whether or not Russell will ever play in the NFL again.
To quote Reverend Lovejoy: "Short answer, yes with an if. Long answer no...with a but." (extra points if you can guess which Simpsons episode that's from)
Hidden inside the fur coats and the horrible work ethic is the guy who is still able to throw bombs from his knees and built like a linebacker. Hey, someone will be willing to give him a shot. Dan Snyder almost gave him a shot last season. But eventually that work ethic and his decision making (not to mention his on-field play) would have to preclude any team going after him.
So basically, I wouldn't be surprised if some team decided to take a flyer and hope they can change him. I just wouldn't hold my breath on it.
For more NFL news: NFL Draft 2011: Ranking Each Team's Draft Success Over The Last Five Years
This article is
What is the duplicate article?
Why is this article offensive?
Where is this article plagiarized from?
Why is this article poorly edited?