Best of the Rest: What Is the Best EPL XI You Could Field Minus the Top 5?
Clive Mason/Getty Images
So here we go.
Forgetting the top five teams (Manchester United, Arsenal, Manchester City, Tottenham Hotspur and Chelsea), who are the best players in the English Premier League?
Without the likes of Nemanja Vidic and Nani, Frank Lampard and Didier Drogba or Carlos Tevez, what is the best XI you could field?
Goalkeeper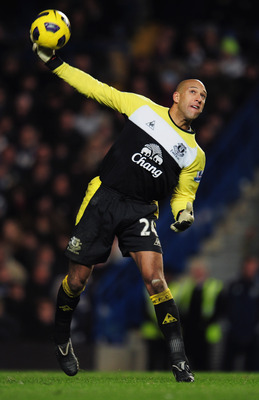 Shaun Botterill/Getty Images
Tim Howard
The American International has become a stalwart between the sticks for Everton ever since his original loan move from Manchester United in 2006. His biggest quality for me is his shot-stopping ability and the unique gift of being a match winner as shown on numerous occasions for Everton, with many spectacular performances in penalty shootouts.
Pepe Reina
Jose Manuel Pepe Reina, to give him his full name, has played 208 league games for Liverpool and has racked up 102 clean sheets which is a phenomenal feat. Liverpool' s No. 25 is arguably the best goalkeeper in the Premier League and maybe even the world. His statistics and more importantly his consistency make him one of the best to put on the gloves at Anfield.
Ben Foster
Another former Manchester United goalkeeper, Foster has thrived since his permanent move to Birmingham City in 2010, culminating with him winning the Man of the Match accolade in the 2011 Carling Cup final, producing a string of saves to thwart Arsenal's advances. Foster is a top keeper but sometimes suffers from a lack of concentration which mean errors may ensue.
Honorable Mentions
Paul Robinson, Jussi Jaaskelainen and Brad Friedel
Right Back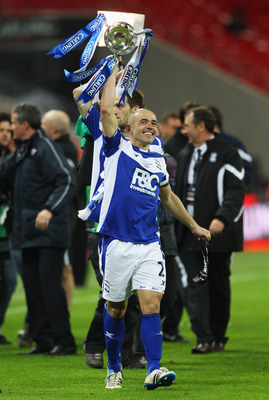 Alex Livesey/Getty Images
Glen Johnson
Another Liverpool player on this list. Johnson is no doubt one of the league's premier attacking fullbacks, as he is a threat when running at defences and also is likely to produce more goals than your average fullback.
There is clear doubt over Johnson's ability to defend, and he has been found out numerous times since his move from Portsmouth in 2009. Regardless, Johnson is usually an automatic starter for club and country even though he has been operating in an unfamiliar role at left back for Liverpool under the new management of Kenny Dalglish.
Stephen Carr
After his release from Newcastle United in 2008, Stephen Carr was going to hang up his boots and give up the beautiful game, and what a shame that would of been if Big Eck (Alex McLeish) had not offered him a one month contract.
Ever since Birmingham and Carr have not looked blacked. Carr was part of the Birmingham City side which successfully captured the 2011 Carling Cup.
Phil Neville
This may be an unpopular choice as Phil Neville has always lived in the lingering shadow of his older silbling Gary. But Phil is a consummate professional in the way he handles himself on and off the pitch.
He is a cut above your average footballer and carries himself with dignity and pride, something that was etched into him at his time at Manchester United and in taking the role of captain at Everton. He is a model of consistency and can be relied on to rally the troops and lead on the pitch. He may be a jack of all trades, master of none, but Neville is still one of the finest fullbacks in the English game.
Honorable Mentions
Martin Kelly, Nedum Onouha and Kyle Walker
Centre Back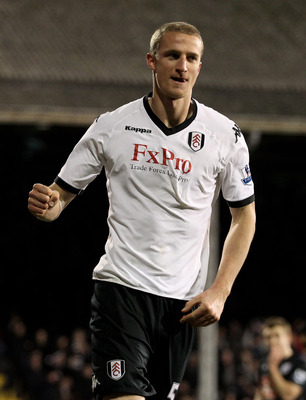 Scott Heavey/Getty Images
Phil Jagielka
Encouragingly for England fans, four out of the five listed here are English, and three of them have already represented England at some stage. First off we have Everton's Phil Jagielka.
Although Everton have struggled this season, Jagielka has been the proverbial rock at the back. His tenacity, speed and agilty make him the ideal modern centre half, with admirers including Arsenal and Fabio Capello. It is without doubt Jagielka is one of the best and consistent centre halves out there.
Gary Cahill
The former Aston Villa academy graduate has flourished this season at resurgent Bolton Wanderers and under the guidance of Owen Coyle he seems to be getting better each season. What has impressed me most this season about Cahill is he has started including goals into his arsenal, so not only is he now a top defender but also a threat to the opposition's goalkeeper especially from set pieces.
Jamie Carragher
Liverpool's No. 23 has started to show signs of age catching up with him in recent years, but there is still no doubt he has the warrior-like attitude to still lead the Liverpool defence into battle.
He adds much needed mettle and battle hardened experience to the Liverpool side. he may not have many years left in him but Carragher is still a fine defender as shown in his heroic display against Chelsea and in particular Fernando Torres, last month.
Brede Hangeland
The Fulham man always goes under the radar and never hogs the limelight or attention his giant performances deserve. Standing nearly 6'5", Hangeland towers above most forwards in the league and is a match for anyone when it comes to an aerial battle. Similarly to Cahill, Hangeland does get his name on the score sheet regularly and is a danger for the opposition from dead ball territories.
Roger Johnson
Another member of the victorious 2011 Carling Cup winning side. Johnson like many Birmingham players was superb on their day in Wembley, but his form and performances have been consistent since his £5 million move from Cardiff City in 2009. Johnson was part of a successful partnership at the hub of Birmingham's defence with Scott Dann, until the former got injured. Since then, Johnson's form has maintained at its highest with able deputies, Liam Ridgewell and Martin Jiranek.
Honorable Mentions
Ryan Nelsen, Chris Samba, Ryan Shawcross, Scott Dann and Richard Dunne
Left Back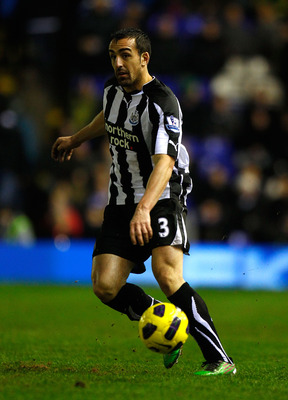 Stu Forster/Getty Images
Leighton Baines
Baines has been in phenomenal form for Everton this season and including the top 5, is probably the best left back out there at the moment. With 10 assists and a left foot which has led Jack Wilshere to dub Baines "A left-footed David Beckham," Baines has got to be a shoe-in for the left back slot.
Liam Ridgewell
Birmingham City's Mr. Versatile has shown on many occasions he can easily switch from his natural position in the heart of defence to left back with consummate ease. Due to the injury of Scott Dann, Ridgewell has been shifted alongside Roger Johnson in the Birmingham defence, but prior to this, he was one of the most consistent performers for Birmingham and was one of the reasons for Birmigham's success in recent years.
Jose Enrique
Enrique moved to St James Park in the summer of 2007 by Sam Allardyce. At first, the Spainard struggled to adjust to the English game, but in recent times has been an roaming and marrauding force for the Magpies on the left hand side of the pitch. He has been a regular for Newcastle this season and has been instrumental in them having a succesful return to the Barclays Premier League.
Honorable Mentions
Maynor Figueroa, Carlos Salcido and Wayne Bridge
Right Wing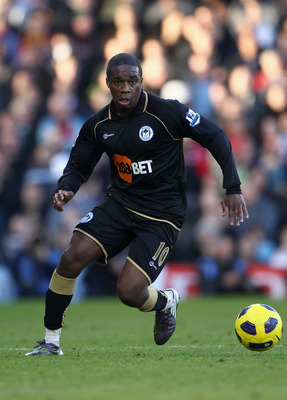 Julian Finney/Getty Images
Charles N'Zogbia
N'Zogbia used to operate on the left flank in his days at Newcastle United, but in recent times at Wigan Athletic, he has made the transition to the right side with ease. He is naturally left-footed but can use either foot to great effect. After a recent France call up, do not expect Roberto Martinez to be able to keep his hands on his prize asset.
Seb Larsson
Larsson was subject to numerous bids during the January transfer window, with even Manchester City keen admirers, and with good reason. Larsson who began his career at Arsenal is an excellent wide man with brilliant work rate and also has an abundance of technical ability. He is also known to be dangerous with dead balls scoring numerous free kicks during his time at St. Andrews.
Marc Albrighton
The 21-year-old Aston Villa youth product has played 27 games for Villa this season scoring five and laying on four goals for his team mates. In his first proper season as a regular, Albrighton has made the right hand side of midfield spot his own, which is impressive when you look at the midfield talent Aston Villa possess.
Honorable Mentions
Seamus Coleman, Maxi Rodriguez, Damien Duff and Jermaine Pennant
Centre Midfield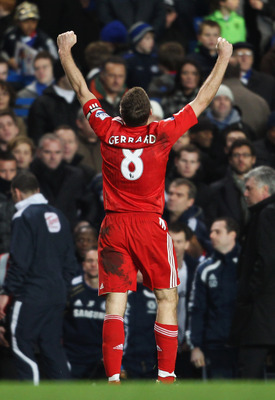 Scott Heavey/Getty Images
Stuart Holden
The Scottish-born American international has been the driving force in Bolton Wanderers thrilling season. Combining tenacious tackling, adventurous forward play with relentless running and work rate gives Holden all the qualities of being a top central midfielder.
Tim Cahill
Cahill scoring nine goals from midfield is not a shocking stat anymore as he is Mr. Reliable for the Toffees. Including strikes against Liverpool, Arsenal and Manchester City, Cahill has tried his hardest to help kick start a stuttering campaign for Everton. As deadly as anyone in the air and one of the few players who actually enjoys the aerial part of the game.
Scott Parker
At times Parker has been out on his own for West Ham United this season. The former Charlton, Chelsea and Newcastle man is as important to West Ham as anyone similarly to the way Steven Gerrard is at Liverpool. Tenacious tackling and picking apart opposition defences with precise passing are just two of the many qualities Parker has acquired.
Steven Gerrard
Captain Fantastic. What else is there to say about Steven Gerrard that already has not been said about the lad from Huyton. He is one of the most complete midfielders in world football, he has no weaknesses in his game, and he shows no signs of slowing down. He may be having a quiet season for Liverpool by his own high standards but without doubt is one of the most talented players of his generation.
Charlie Adam
For me, the surprise package of the season. Charlie Adam's career has sky rocketed ever since he clinched promotion for Blackpool back at Wembley in May 2010. Adam is extremely pivotal for Blackpool, all their play runs through him and that trusty left foot.
He is deadly accurate and precise with his free kicks, corners and penalty kicks, so much so Sir Alex Ferguson claimed, "His corner kicks are worth £10 million in themselves. The boy is an incredible striker of the ball.". Adam has many admirers and it seems his Tangerine dream maybe coming to a climax as he sets his sights on a move to one of the top sides in England.
Maroaune Fellaini
Everything about this man is unique, and I am not just talking about his hairstyle which many seem to focus on. If you look behind the curly black mop of hair, there is an absolute colossus of a midfielder.
Standing well over 6'4", Fellaini is like no other in the EPL, and no other midfielder can compete with him physically or his aerial threat. The only negatives I have with Fellaini is the fact he does seem a little injury-prone, and also his temper does lead him to pick up a lot of silly cautions. Maybe he is a victim of his own enthusiasm.
Joey Barton
There has never been any doubt that Joey Barton had the talent and potential to be a top drawer player. This is the first season since his stint at Manchester City that Barton has shown us what he is really about.
Power, swagger and confidence are what Barton is all about, and his passing range is up there with the best in the league. He has been Newcastle's best player this term and should be in with a shout of making future England squads.
Honorable Mentions
Kevin Nolan, Danny Murphy, Lucas Leiva, Jordan Henderson, Craig Gardner and Lee Cattermole
Left Wing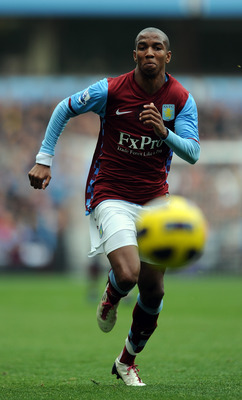 Chris Brunskill/Getty Images
Ashley Young
The England international, has been plying his trade in a more advanced midfield role this year to accommodate the gaping hole left by the departure of James Milner. Regardless of this, Young is still one of the best in the business when it comes to crossing.
He usually hugs the left touchline and swings in absolute quality deliveries with that trusty left foot. He has 38 assists to his name in the last three seasons which is phenomenal, and adding more goals to his game this year has added an other dimension to the ex-Watford man's game.
Mikel Arteta
The basque Spaniard has suffered from the demise of Everton as much as anyone. His form has nose dived and even led to himself admitting he has had a pig of a season. You may wonder and question why he is even in consideration?
Any doubters out there, watch Everton's recent visit to St James Park. Arteta was the orchestrator of everything that was good about Everton. He dazzled and confused the Magpies fullback for 90 minutes and should have been rewarded with a goal and more assists, but unfortunately Everton's wastefulness stopped Arteta grabbing more headlines. Like the age old saying reads: form is temporary, class is permanent.
Matt Jarvis
Jarvis has been in inspiring form for Wolverhampton Wanderers this season, Jarvis' penetration with his direct dribbling and precise crossing has been the catalyst for some of Wolves biggest victories this season. Many have praised Jarvis and say he should of been awarded his first England cap this year, if he keeps up his current form it will be impossible for Mr. Capello to ignore the Wolves winger.
Honorable Mentions
Stewart Downing, Matthew Etherington, Morten Gamst Pedersen, Diniyar Bilyaletdinov, Kieran Richardson, Martin Petrov and Hatem Ben Arfa
Striker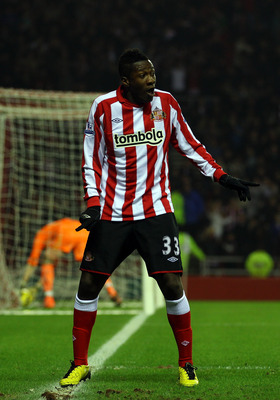 Julian Finney/Getty Images
Louis Saha
The French international has had a very dissapointing season for Everton but in recent times has faired a lot better. He hit a purple patch between January and February where he scored eight goals in six league games.
There is no doubting the "Kings" talent as on his day, he is as clinical as any striker in the Barclays Premier League. But he has two major flaws: injuries and consistency. If he had stayed injury free and consistent, there is no doubt in my mind he would still be a Manchester United player.
Darren Bent
Players like Darren Bent are priceless. He is guaranteed 20 goals a season and more. There is not a lot you can say about him besides the fact he has that knack for scoring goals and lots of them. I believe the transfer of Bent to Aston Villa was the shrewdest piece of business to be completed in the January window.
Johan Elmander
Currently Elmander is enjoying his best goal scoring season in the EPL since his big money move from Toulouse . He was brought in to replace the departed Nicholas Anelka who left for Chelsea. In his first and second seasons, Elmander look out of his depth at this level, but under the guidance of former Bolton striker Owen Coyle, Elmander's fortunes have changed.
He has scored 10 goals in all competitions this season including a superb individual finish against Wolves earlier in the season. Elmander is underrated, and his partnership with Kevin Davies has caused a lot of centre halves problems this season.
Luis Suarez
I know he has only played a handful of times in the EPL, but how could you not be impressed by the little Uruguayan? His slalom-like run against Manchester United would have made Leo Messi envious.
It may be early in Suarez' Anfield career, but I predict a huge future for "El Pistolero." From what I have seen of him, he reminds me very much of Carlos Tevez, and if he can recreate the Argentine's success, the £23 million outlay will look like a pittance.
Asamoah Gyan
After a hugely successful World Cup, Gyan departed Stade Rennais for the Stadium of Light, and this move has been a massive success and coup for manager Steve Bruce. He has scored 11 times for the Black Cats and looks to be taking the goal scoring mantle from former fan favourites Kenwyne Jones and Darren Bent.
Andy Carroll
Forget the £35 million move and mega price tag. Before all of this hullabaloo, Carroll was enjoying an extremely fruitful season for Newcastle United. This season he has scored 11 league goals, including a superb hat trick against Aston Villa very early in the season.
Carroll is reminiscent to centre forwards who are from a long gone era, a modern day Duncan Ferguson if you will. The man is only 21 years old but swaggers round the pitch like he is a champion race horse. Anyone who is not excited about the possible strike force of Suarez and Carroll is obviously not a football fan, or they support Everton or Manchester United.
Supremely powerful in the air, Carroll is a beast for any centre half, never mind in the EPL, in Europe even.
Honorable Mentions
Kevin Davies, Jermaine Beckford, Hugo Rodallega, Daniel Sturridge and Kevin Doyle
My Team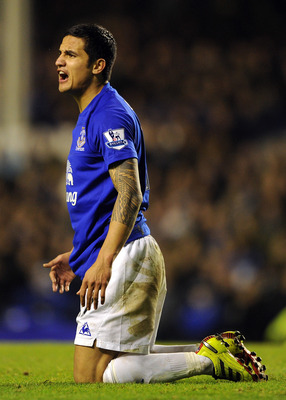 Chris Brunskill/Getty Images
GK- Pepe Reina
DR- Glen Johnson
DC- Gary Cahill
DC- Phil Jagielka
DL- Leighton Baines
MR- Charles N'Zogbia
MC- Scott Parker
MC- Steven Gerrard (Captain)
ML- Ashley Young
AMC- Tim Cahill
ST- Darren Bent
Subs: Tim Howard, Jamie Carragher, Mikel Arteta, Charlie Adam, Stuart Holden, Luis Suarez, Andy Carroll
I have opted for a 4-4-1-1 formation. This formation allows me to get the best out of the likes of Tim Cahill and Steven Gerrard and also allows alot of width and pace. Tim Howard, Mikel Arteta, Charlie Adam were very unfortunate to miss out, and they were the hardest to leave out.
Thanks!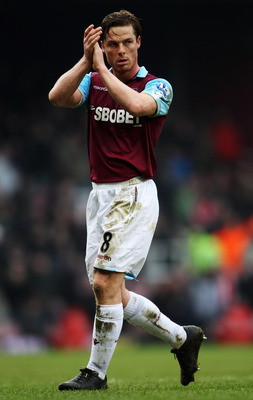 Scott Heavey/Getty Images
Thank you for taking the time to read my article.
What do you guys think? Do you agree with my team? Should I have included some other players?
Please, any feedback is welcomed with open arms, postive or negative.
Have a Prosperous and Happy week Bleachers!
Keep Reading