NFL Labor Talks Go South, Players Plan To Decertify To Avoid Lockout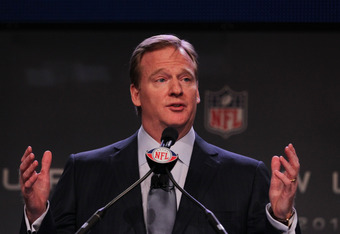 Roger Goodell has a big mess on his hands.
Doug Pensinger/Getty Images
The NFL and the NFLPA failed to come to terms on a new collective bargaining agreement, according to NFL.com, that could leave America without it's most popular sport for the first time since 1987.
What does it mean? It means that the players have to decertify and sue the league if there is a lockout, otherwise the prospects of a seeing a fall and winter without NFL football is very, very likely.
Decertification is a hard thing to understand and comprehend. With it, the players can now sue the NFL on an individual basis according to antitrust law. The players union feels that they will be more successful in their lawsuit if they sue on an individual basis than as a union, because judges feel that labor problems should be ironed out without any court intervention.
The owners have refused to open up their accounts to players, and are not budging on negotiating a monster $9 billion pizza pie, as both sides grapple over active player salaries.The players feel the owners are being greedy in not allowing them to get their piece of the pie with higher salaries.
On top of that the players want nothing to do with the prospects of an 18 game regular season, which they feel would lead to more injuries and concussions. The owners want the new format so they make a killing on two extra games, instead of ripping customers off on meaningless pre-season games.
It is clear that the owners will lock the players out, even if it hurts. There will be no free agency, there will be no mini-camps, training camps and (gulp!) regular season football until this new CBA is finalized.
Will we see NFL football this fall?
Waiting for players to get their cases out, argued and won in court could take months, if not years to finalize. It's court, remember that.
This is a huge disaster for American football fans, and for the national economy.
The NFL has found a way in a terrible economy to become the biggest league on the planet. In the last few years, the NFL has seen its TV ratings skyrocket, even for regular season games at 1 p.m. The last two Super Bowls, each earned ratings that made it the highest rated television program in US history, and those were Super Bowls without a team from major media market in New York, Chicago, California or Boston.
The league has made millions of dollars on jerseys, memorabilia and various team merchandise during this time, and the exposure of the league is never been better. From the NFL Network, to HBO's Hard Knocks, fans had more access to the league than ever before.
And now the owners are willing to throw it all away because they won't allow active players to make the money they deserve or need. Remember the NFL is a league of no guaranteed contracts, and little in the way of retirement benefits.
On the football fan front, everyone will have to find a way to live without one of the most profitable sports and businesses in America.
Football Sundays are a tradition in the United States. From fantasy drafts and leagues, to weekly office pools, to Football Fridays, where fans go to work in their favorite teams apparel, to tailgates, and house parities, all of it will come to a sudden halt.
Al Bello/Getty Images
Imagine Green Bay, Wisconsin on a crisp October afternoon without any football taking place at Lambeau Field. It will happen.
The national economy, an economy where the latest numbers "technically" say that 8.9 million people are out of work, will see a huge spike in unemployment. Bet on it.
NFL teams will start laying off workers in their front offices, coaches and assistant coaches will have to take pay-cuts. In fact, that process started a couple weeks ago, when it was reported by the New York Post that the New York Jets would lay off several staffers because of the pending lockout.
Stadium business will suffer, as concessions and stadium workers will feel the hurt because of this lockout. Sure these buildings will try to load up on summer concerts, but it is not enough to make up the amount of money that can come into a football stadium on a Sunday or Monday night.
Beer companies and car companies which make a ton of money on advertising in football stadiums and television commercials will most certainly feel the crunch, and will likely lay off people to make up the losses.
Sure there is baseball and the NBA Finals coming up in the next few months for these companies to advertise and make money, but, the NFL is the big money maker. Not many people sit at home at 1 pm on a Sunday afternoon in June and July to watch baseball, they are all outside.
Rob Carr/Getty Images
As for the media, on the outside they should be fine; but if there is no NFL season, then a lot of workers in the broadcast and print industry will be scrambling to find other stories to cover. There is certainly no need for team beat reporters until the NFL returns, and little use of color analysts until a season begins. Trust me the journalism industry is suffering enough -- it could get worse.
So what does this all mean? Where does it leave all of us? Right now, we are between Scylla and Charybdis. Nobody knows where decertification will take us or how it will play out over the next few months.
The only reason for hope is that NFL training camp is still five months away and perhaps both sides can wake up and get this CBA worked out by then, but it appears that both sides are too stubborn to see eye to eye right now.
In the meantime, get ready for a world without the NFL.
This article is
What is the duplicate article?
Why is this article offensive?
Where is this article plagiarized from?
Why is this article poorly edited?