LeBron James: 10 Reasons LeBron and Miami Heat Will Not Win a Title This Season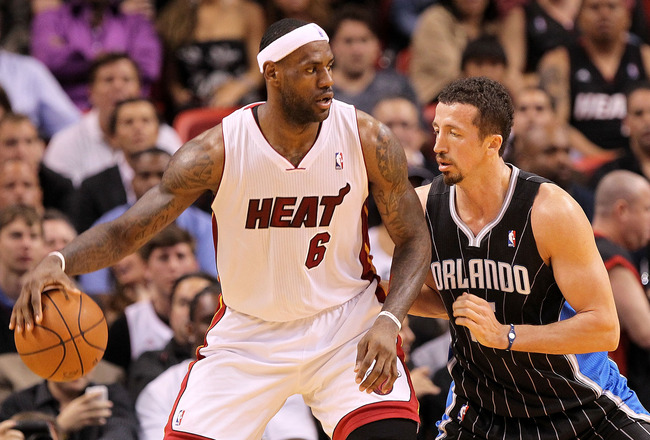 Mike Ehrmann/Getty Images
LeBron James and the Miami Heat currently own a record of 43-18 and are two games behind the Eastern Conference-leading Boston Celtics.
While the Heat probably have the most talent on one roster in the NBA, they still have a lot of work to do before they are championship-ready.
Here's why the Miami Heat will not win an NBA championship this season.
No. 10: Erik Spoelstra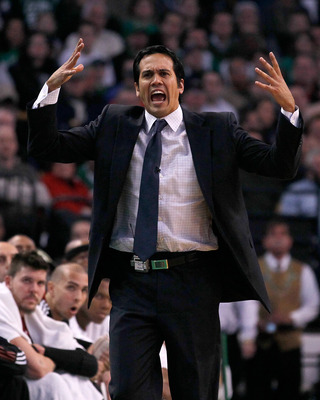 Jim Rogash/Getty Images
Since taking over the head coaching position two years ago, Erik Spoelstra has helped the Heat to two postseason appearances.
Now in his third season, the Heat will obviously get to the playoffs, with either a one or two seed. The problem is that now he is coaching All-Stars besides Dwyane Wade. There really isn't much he can say or do to change how anyone on his team is going to play.
Spoelstra may be a decent coach, but he might as well be coaching from the locker room, because the Heat is not his team anymore.
No. 9: Big Men Have Not Stepped Up Enough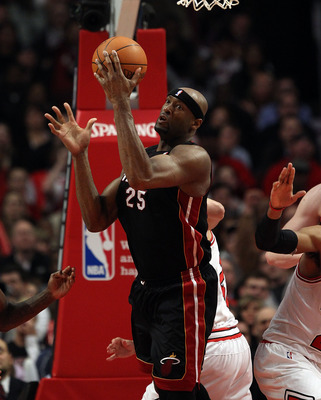 Jonathan Daniel/Getty Images
Erick Dampier is the current center for the Miami Heat and took over the role after Zydrunas Ilgauskas was demoted.
Dampier is only averaging 3.2 rebounds per game, which is extremely poor for a big man. That, along with his 2.5 points per game, makes him pretty much irrelevant.
Most of the good teams that Miami will face have decent, if not great, big men, and the Heat aren't going to be in good shape for the playoffs if their starting center can only manage two or three rebounds a game.
No. 8: Orlando Magic Collapse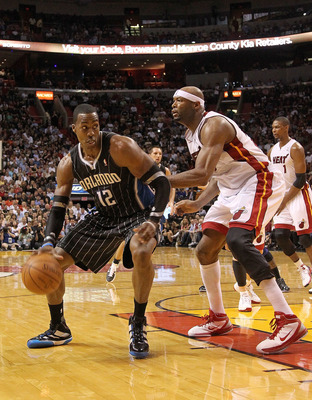 Mike Ehrmann/Getty Images
The specific loss from Thursday isn't the reason why the Miami Heat won't win a championship this season, but it is a good example of something that has come up during the season more than once.
Going into halftime, the Heat were leading the Magic 63-45 and then promptly collapsed in the second half, scoring only 36 more points.
If the Heat were to do this in the playoffs, they would give a huge confidence boost and momentum swing to whomever they were playing. That just cannot happen, ever.
No. 7: Carmelo Anthony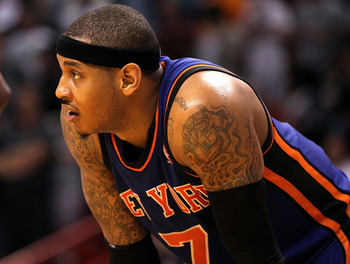 Mike Ehrmann/Getty Images
Moving Carmelo Anthony to the New York Knicks shifted the whole dynamic of the Eastern Conference.
Winning in the playoffs is all about being able to consistently defeat your opponents, as opposed to trying win four seven-game series in a row.
While Carmelo Anthony won't singlehandedly destroy the Heat's chances, there's a good chance he will provide a lot of defiance if those two teams match up in the playoffs.
No. 6: Inconsistency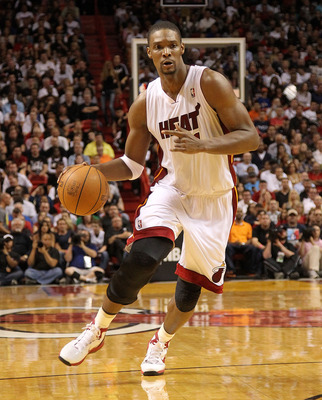 Mike Ehrmann/Getty Images
Right now, the Miami Heat are just inconsistent.
There are games where they can blow their opponent out of the water, and there are games where they crumble and fall apart.
Miami is 6-4 in its last 10 games, which is okay, but it should be winning eight out of 10 if it wants to go anywhere in the playoffs. Consistency is key to a championship squad.
No. 5: Pressure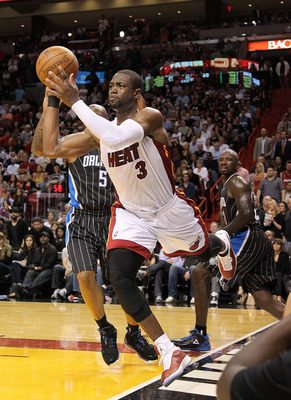 Mike Ehrmann/Getty Images
The trio of Wade, James and Chris Bosh has played well overall so far into the season, but the playoffs are a whole different story.
The pressure that comes with the regular season is nothing compared to that of the playoffs. Wade has won a championship already, but LeBron failed in his only Finals appearance, and Bosh has almost no postseason experience at all.
Undoubtedly, the Heat together are better than each individual by itself, but the pressure on them is enormous, and I wouldn't be surprised to see a collapse at some point.
No. 4: Los Angeles Lakers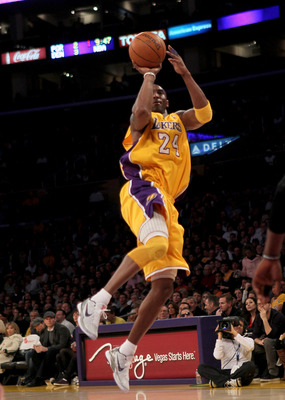 Stephen Dunn/Getty Images
If the Heat are able to make it all the way to the Finals, which I don't think they will, Kobe Bryant and the Los Angeles Lakers will most likely be waiting for them.
The Lakers and the Heat match up pretty well, but LA is looking for its third title in a row and will be a very hard to beat.
No. 3: First Season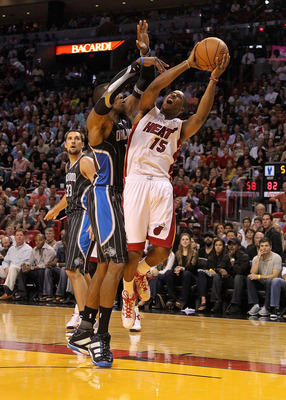 Mike Ehrmann/Getty Images
Everyone knows that one player alone cannot win a championship.
While LeBron James and Dwyane Wade are two of the best players in the NBA, they still need to figure out how to complement each other well enough to play at an elite level as a whole.
This is only their first season of many, and they have come a long way since the beginning of the year, but there is definitely still room for improvement.
No. 2: They Struggle Against Elite Teams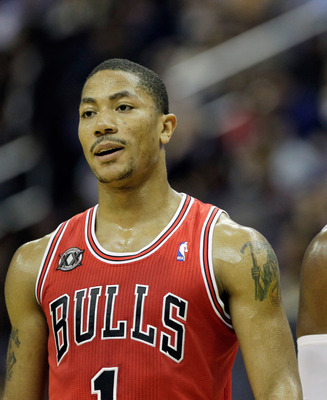 Rob Carr/Getty Images
Winning in the postseason means beating elite teams, over and over again.
The Heat have struggled against elite Eastern Conference teams, with a record of 2-2 vs. Orlando, 2-2 vs. New York and 0-2 vs. Chicago.
If the Heat have any hopes of winning a title this year, they will need to drastically improve against elite teams.
No. 1: Boston Celtics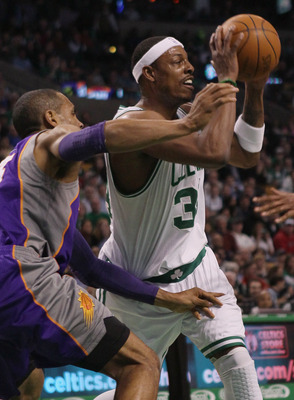 Elsa/Getty Images
Oops, did I forget to mention the Heat's 0-3 record against Boston?
Well, that brings me to my main point, which is that the Heat won't be able to get past Boston if they match up in the playoffs.
Miami has yet to win a game against the Celtics, and Boston has had Miami's number in every game they've played.
A seven-game series does help Miami out a little bit because it should be able to grab at least a win or two, but I can't see the Heat taking four of seven.
Keep Reading

Miami Heat: Like this team?