NBA Power Rankings: Kevin Love and the Most Improved Player from Every Team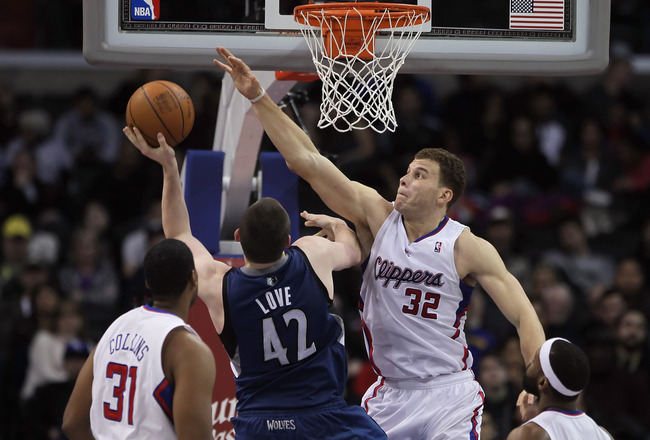 Jeff Gross/Getty Images
Sometimes the most interesting part of sports is watching young players develop or watching role players turn into established players or even stars. Team executives and general managers love those type of players.
But every team needs those players who play above their heads, the ones who have that special season where everything seems to work for them. Sometimes it's a hot prospect that everyone's waiting to develop, other times it's players who were once at the end of the bench who are finally getting a chance to play. Sometimes it's a mirage, other times it's the start of a long, productive career.
So in that vein, we decided to take a look at every team in the NBA and see who fits the description of the most improved player and rank them. You can bet that Mr. Love will be on this list, but where?
Read on to find out.
30. Marcin Gortat, Phoenix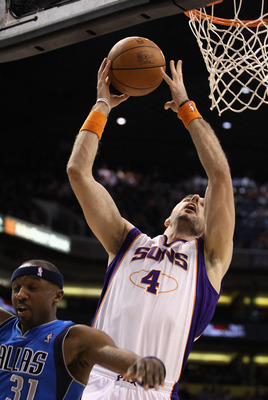 Christian Petersen/Getty Images
Gortat was a contributing role player for the Magic in his young career before he was shipped off to Phoenix as part of the massive trade that involved Jason Richardson and Vince Carter.
Obviously the trade was the best thing to happen to Gortat.
Gortat's getting a chance to play more with the Suns and he's responded by putting up the best numbers of his career. In 32 games with the Suns he's averaging 11 points and eight rebounds per game despite only making one start. Of course, playing 26 minutes a night might be helping too.
29. James Jones, Miami
Kevork Djansezian/Getty Images
Jones is never going to be a star in the NBA, and he's become well-established as a role player. Still, he's found a spot in Miami as an important bench player, especially with Udonis Haslem out.
Jones is now one of the main scoring options off the bench, and his lethal shooting from outside is a great asset and game-changer for the Heat to take some of the pressure off the Big Three. Jones might be starting to accrue a reputation as a poor man's Jim Jackson, but he has use in Miami.
28. Roy Hibbert, Indiana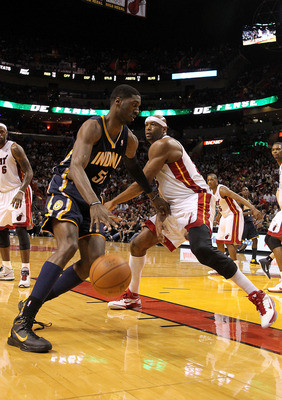 Mike Ehrmann/Getty Images
With each passing game and each passing year, Hibbert just seems to become more and more confident.
In his third season in the league, Hibbert's numbers are on the rise again. His key numbers (points per game, rebounds, minutes, blocks) have gone up every year and he's posting career highs in those categories yet again. At this rate, it won't be long until Hibbert starts to become a nice player in the paint for Indiana.
27. Marcus Thornton, Sacramento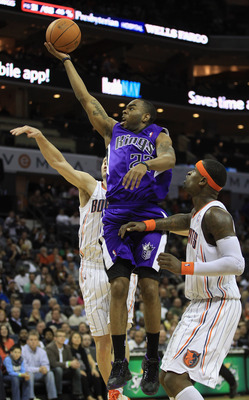 Streeter Lecka/Getty Images
Yes, it's a very small sample set in Sacramento (four games to be exact). But what a four games it has been.
Thornton was shipped to Sacramento for Carl Landry before the trade deadline, and since he's gotten more playing time in Sac-Town his numbers have skyrocketed. In the four games with the Kings, Thornton is averaging 21 points per game, shooting better than 51 percent from the field (including 40 percent from three) and averaging almost two steals a game.
The Kings may have stumbled onto a star.
26. Tyson Chandler, Dallas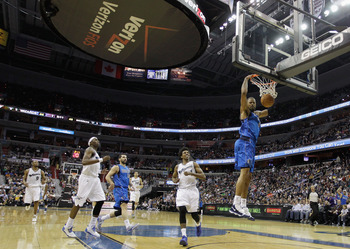 Rob Carr/Getty Images
Chandler has made a career out of being a premier rebounder, and he's putting up nice rebounding numbers yet again in his first year in Dallas.
But for the first time in a few years, Chandler has brought an offensive game to his repertoire. He's averaging 10.4 points per game, which is the second highest average of his career, and he's also shooting a career-high field goal percentage. Of course that doesn't mean he's still not doing what he's best at. But the addition of an offensive game makes him more valuable than Erick Dampier was for the Mavs back in the day.
25. Shannon Brown, Los Angeles Lakers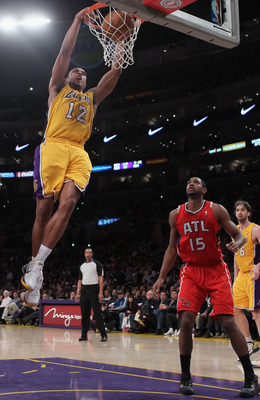 Jeff Gross/Getty Images
Okay, so 9.3 points per game in 32 games is not going to jump out at you.
But Brown has evolved from a roster-filler to a key bench player in Los Angeles. And this year, he has career-highs in field goal percentage, three-point percentage and free-throw percentage. And while 9.3 points per game isn't earth-shattering, doing it while averaging about 19 minutes a night makes it look a lot better.
24. J.J. Hickson, Cleveland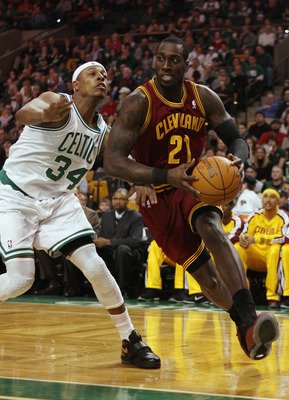 Elsa/Getty Images
In the absence of LeBron James, there haven't been many bright spots in Cleveland.
While King James took his talents to South Beach, what's left of the Cavaliers has had to struggle through a dismal season. The highlights have been few and far between, but the development of Hickson has at least been promising. He's averaging career highs in points (12.6), minutes and rebounds, and doing it with not much help around him.
Cavaliers fans are hoping he continues to develop, considering the team wouldn't give him up for Amar'e Stoudemire last season.
23. Kris Humphries, New Jersey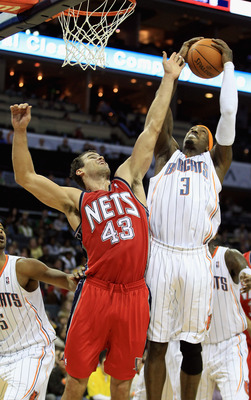 Streeter Lecka/Getty Images
Like Brown, Humphries spent most of his time on the bench during his career.
And like Brown, Humphries has finally gotten a chance to play and made the most of it. He's averaging nine points a night, which is pretty good considering his previous career-high of 5.4 points per game. But his real worth is the nine-plus rebounds he gives the Nets a night. In that department, he's among the best in the NBA.
22. J.J. Redick, Orlando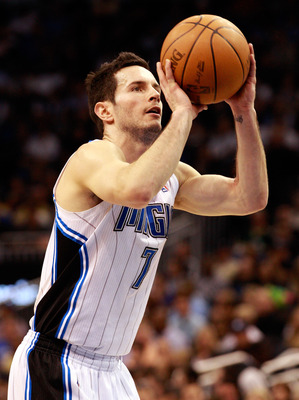 Sam Greenwood/Getty Images
It wasn't that long ago that Redick was filling up the nets and making Dick Vitale run out of adjectives to describe him as a senior at Duke. But it also wasn't that long ago that Redick was mired on the bench in Orlando and was talked about as a bust.
While Redick might not become a star, he's at least become a serviceable pro and he continues to develop into a big role-player in Orlando off the bench. He continues to become an important player, averaging more than 10 points per game and shooting better than 40 percent from three.
21. Marco Belinelli, New Orleans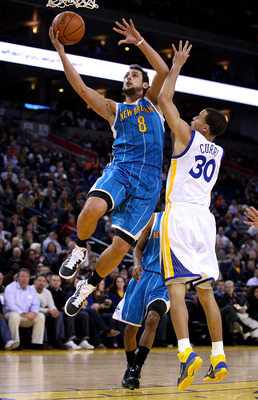 Ezra Shaw/Getty Images
Belinelli is not a star by any means, but he was never able to get on the floor in Golden State playing for Don Nelson.
And while he hasn't taken the world by storm in New Orleans, he's been a solid starter for the Hornets. He's putting up the best numbers of his career (albeit very modest numbers), and he's been a nice piece for the Hornets.
20. Gary Neal, San Antonio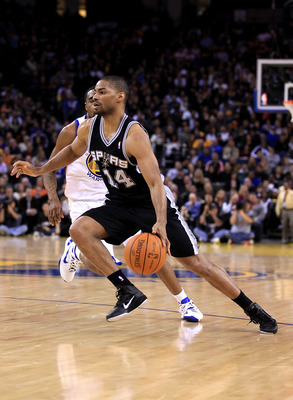 Ezra Shaw/Getty Images
It's hard to put a rookie on this list, because he has nothing to compare to. But Neal was an undrafted player out of college and spent time in Europe before the Spurs found him.
Not surprisingly, he's been another European find for the Spurs as he's flourished into a nice role-player and possibly a young shooting guard who can develop into a starter down the road. Because that's just what the Spurs do. They take unknown players and turn them into productive starters and even stars.
19. Mike Conley, Memphis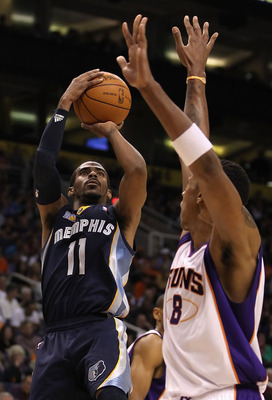 Christian Petersen/Getty Images
In the draft that produced Greg Oden and Kevin Durant, Conley very quietly went No. 3 to Memphis and somewhat disappeared on the Grizzlies.
So you'll probably be surprised to find that in his fourth season, Conley is averaging 13.9 points and 6.5 assists per night while shooting 45 percent from the floor. All of a sudden, Conley has become a very nice point guard on a very young and very hungry Memphis team that's battling for a playoff spot.
18. Rodney Stuckey, Detroit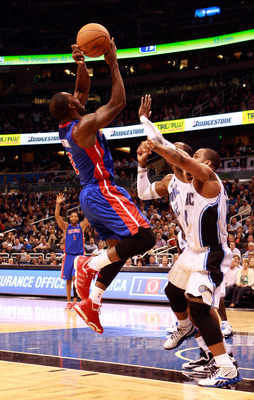 Sam Greenwood/Getty Images
It's been a very trying season in Detroit. A season that has a reported mutiny against the coach will make that label stick.
But Stuckey has emerged as the most consistent Piston on offense. His numbers are a little down, but he's become the face of the offense and he's still the leading scorer in Detroit. The offense now goes through him and it won't be long before it's Stuckey's team, if it's not already.
17. Paul Millsap, Utah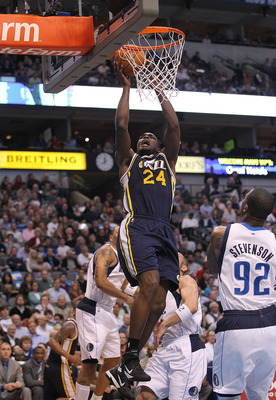 Ronald Martinez/Getty Images
This could've very easily been C.J. Miles, who's had a very nice year himself and started to turn into a nice player.
But Millsap has also gone from a bench player to the team's second leading scorer and also the go-to guy on offense now with Deron Williams gone. Millsap is averaging better than 17 points per night, six points more than his career average, and he's continued to blossom into a very strong post player.
16. Jrue Holiday, Philadelphia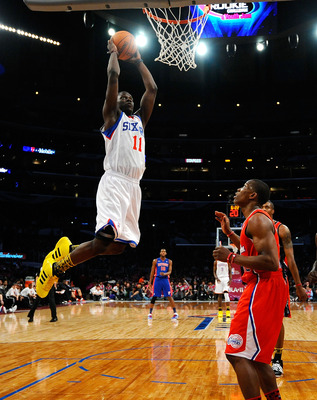 Pool/Getty Images
The Sixers don't have a star player, nor do they have a go-to guy. But Holiday is starting to grow from his rookie struggles last season and develop into more of a complete guard. He's become more of a distributor and is playing better with the ball in his hands.
He's averaging a career-high in points (13.8 points per game) and averaging better than six assists per game. As he's starting to play better, the Sixers have started to play better too. Whatever the future holds for the Sixers, Holiday's going to be a big part of it.
15. Arron Afflalo, Denver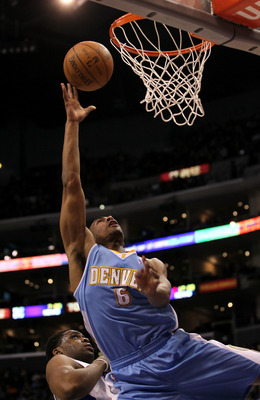 Stephen Dunn/Getty Images
Arron Afflalo might be best remembered in the history books as the other guy who went to Denver as part of the Allen Iverson-for-Chauncey Billups trade. But as Iverson faded away in Detroit and Billups has moved on to New York, Afflalo has started to come into his own in Denver.
He's averaging career highs in points (13 per game), field goal percentage (50.4 percent), assists and rebounds, but that only tells part of the story. Afflalo's also starting to get a reputation as someone who hits clutch shots at the best times.
Just ask the Mavericks after he drained a game-winner at the buzzer this season.
14. Andrew Bogut, Milwaukee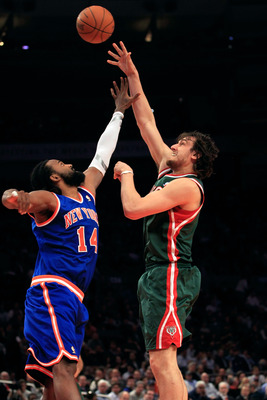 Chris Trotman/Getty Images
Bogut blasted onto the scene last season, teaming with Brandon Jennings to create a dynamic duo that carried Milwaukee into the playoffs.
He's somewhat struggled this season, as his scoring is down from a year ago. But he's averaging more than 11 rebounds per game and he's the league leader in blocks. Bogut is starting to show signs of living up to the hype as the No. 1 overall pick. Now if he could just stay healthy.
13. Nick Young, Washington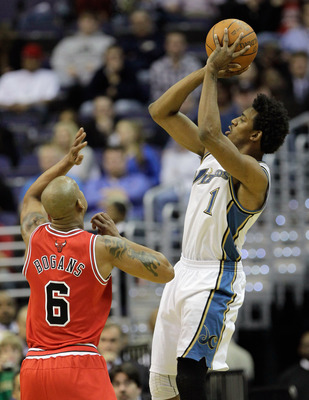 Rob Carr/Getty Images
Nick Young has started to emerge as a nice player in Washington.
With Gilbert Arenas out of the way, Young has finally emerged as a starter and has taken over the role as the No. 1 scoring option. He leads the Wizards in scoring and as a starter, he's averaging better than 20 points per night.
Between him and John Wall in the backcourt, the Wizards are starting to compile some young talent.
12. D.J. Augustin, Charlotte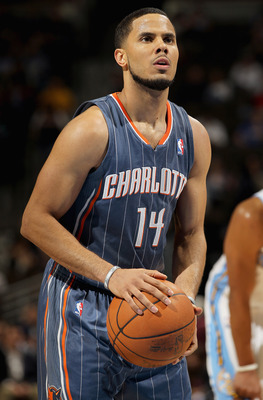 Doug Pensinger/Getty Images
When the Bobcats decided to part ways with Raymond Felton during the offseason, it was because they felt they had seen enough from D.J. Augustin to hand him the keys at point guard.
From what he's done this season, averaging 14 points and six assists a night while taking over the starting point guard position, the Bobcats made the right choice. Augustin may not be a pure point guard, but he has the talent to become a pretty good player in this league. And so far this season, he's well on his way.
11. Dorell Wright, Golden State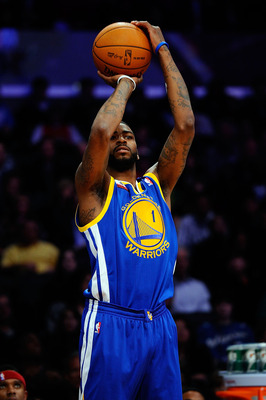 Kevork Djansezian/Getty Images
For his career, Wright averages 8.5 points per game. But before this season, he hadn't averaged more than 7.9 points per game.
Wright's averaging more than double that this season, 16.5 points per game to be exact. He's been one of the best finds of the year and while he's not on a winning team, between him and the fantastic backcourt in Golden State, there's a lot of hope towards turning the Warriors around. It doesn't hurt that he's a sharpshooter from long range too.
10. Kyle Lowry, Houston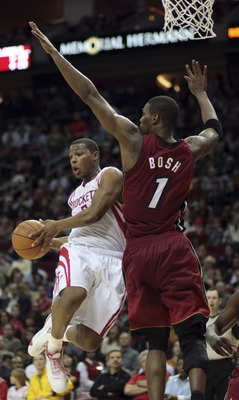 Bob Levey/Getty Images
The touted guard from Villanova is finally starting to come into his own this season in Houston, posting career highs across the board.
But it's more than just his numbers. The way he's played in Houston has been good enough for the Rockets to move away and trade Aaron Brooks to Phoenix at the trade deadline. If that doesn't mean they've found a point guard in Lowry, nothing else does, especially considering the talent Brooks has.
9. Al Horford, Atlanta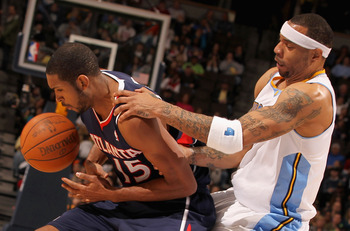 Doug Pensinger/Getty Images
Horford had a winning pedigree when he came to Atlanta after winning two national championships at Florida, and he hasn't disappointed.
He's started to become a very good center, adding the best points per game average of his career (16-plus per game) while almost averaging a double-double. He's currently sixth in the league in rebounding, giving the Hawks a low-post defender to mesh with the super athletic Josh Smith while also being a traditional post player on offense.
8. DeMar DeRozan, Toronto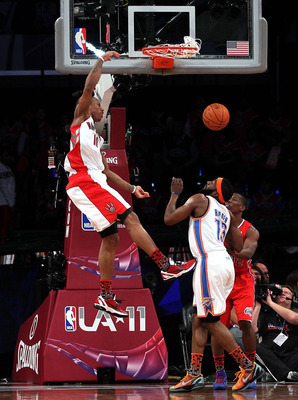 Jeff Gross/Getty Images
If nothing else, the Raptors seem to develop exciting dunkers very well.
They have another one in DeRozan, who made a lot of noise at All-Star Weekend. But he's also becoming a very strong guard for the Raptors, almost doubling his scoring average while posting career highs. He's a classic slashing guard in the style of Andre Iguodala who should continue to get better.
If he can develop an outside game and a jumper, he'll continue to just get better.
7. Chauncey Billups, New York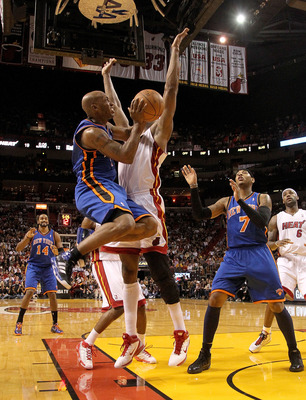 Mike Ehrmann/Getty Images
Like Marcus Thornton in Sacramento, it's a small sample set for Billups since he came from Denver in the massive Carmelo Anthony trade.
But he's played some of the best basketball of his career with the Knicks. He's averaging 23.3 points per game in three games as a Knick, while also averaging six assists and almost two steals a night. Obviously Amar'e Stoudemire and Anthony are the two stars on the Knicks, but Billups has been remarkable in New York.
6. Eric Gordon, Los Angeles Clippers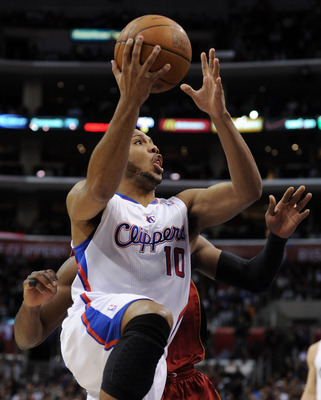 Harry How/Getty Images
It would've been easy to put Blake Griffin at this spot, but he's a rookie.
Instead I decided to go with Gordon, who's made a major leap this season. Perhaps it's because of Griffin, but Gordon is averaging 24 points a night for the Clippers. He's taking that leap to becoming an elite scorer, all while adding four-plus assists a night. The Clippers imagined this when they took Gordon in the draft, and now they have a duo to be the face of the franchise.
5. Rajon Rondo, Boston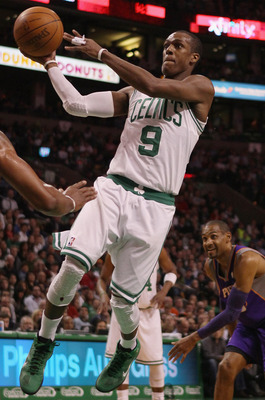 Elsa/Getty Images
Rondo is not going to be an elite scorer, although he does have the potential to do so when he wants or has to.
He's also not the best shooter in the world. But he's quickly entering the realm of star point guards with his 12-plus assists a night and the plays he makes with his work ethic and hustle. It wasn't that long ago that Rondo was considered the weak point of the Celtics. Now it might not be that long before it officially becomes his team.
4. LaMarcus Aldridge, Portland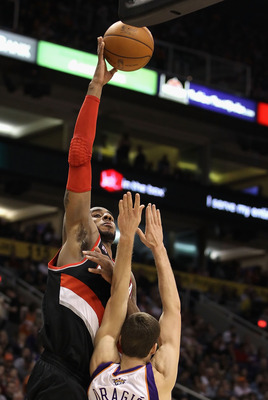 Christian Petersen/Getty Images
Aldridge has always been on the fringes of stardom.
He has the talent, he has the ability and he has the game to be the guy. But when Brandon Roy went down with an injury, Aldridge became the man in Portland. All he's done this season is average 22.2 points per night and nine rebounds. He's quietly become one of the best power forwards in the league, and he just keeps getting better.
If the Blazers could just stay healthy.
3. Derrick Rose, Chicago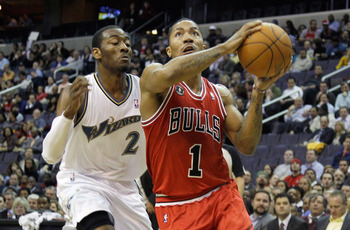 Rob Carr/Getty Images
We didn't need this to know how dynamic and how good Rose is as a player.
But what gets him on this list is how he's raised his game to another level this season after the low-post reinforcements of Carlos Boozer and Joakim Noah. Rose has had to do it by himself for most of the season and he's been one of the best players in the league, averaging better than 24 points a night and also becoming a distributor as well.
He's not just the most improved player on the Bulls, he could also be the MVP.
2. Russell Westbrook, Oklahoma City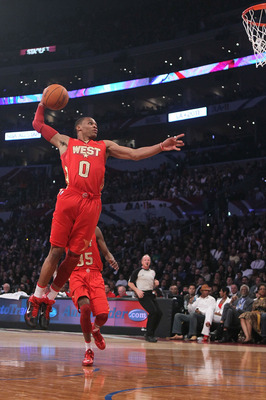 Jeff Gross/Getty Images
Westbrook has come into his own this season and in more ways than one. He has jumped from 15 points and five assists his rookie season to 22 points and eight assists this season and a trip to the All-Star Game.
But more than that, he's become the running mate for Kevin Durant. He's become the floor general that's also not afraid to make a play himself. He's quickly entering the discussion of the elite point guards in the game.
And this is only his third year in the league. He's only going to get better.
1. Kevin Love, Minnesota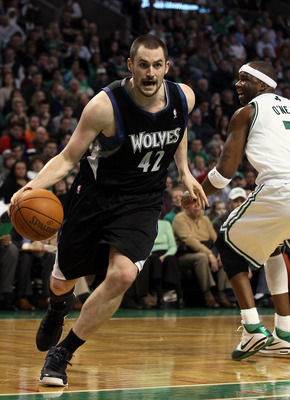 Elsa/Getty Images
Love has been one of the best stories of the season, and perhaps one of the quietest. It's interesting because as a rookie, Love averaged 11 points and nine rebounds and those totals have only gone up since.
Then there was this year, when he exploded to become the current king of the double-double. He's now averaging 20.9 points and 15.5 rebounds, and he's become the next great power forward in Minnesota following Mr. Garnett.
And the scary part? Like Westbrook, he's only going to get better.
Keep Reading